The Great Charity Challenge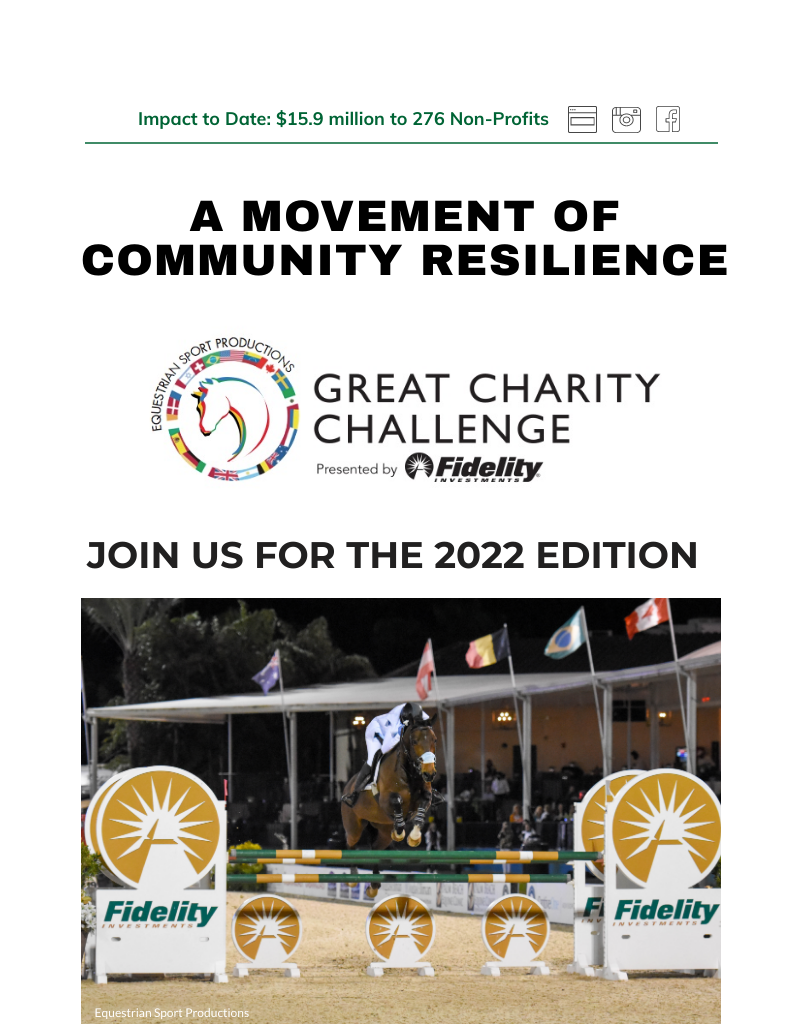 The Great Charity Challenge sponsored by Fidelity Investments® (GCC) was founded by Mark Bellissimo and his daughter Paige in 2010 as a way for the equestrian community to give back to Palm Beach County.
Over the last twelve years, the GCC has distributed over $15.9 million to 276 Palm Beach County Charities.
The 2022 event will be held during the 4th week of the Winter Equestrian Festival on Saturday, February 5, 2022, at the Palm Beach International Equestrian Center.
Celebrating "Children's Story Books," this year's event will see equestrians compete on behalf of 20+ randomly drawn charities while representing their favorite nation or country of origin. At stake: a share of the $1+ million-dollar purse.
The GCC is a relay-style equestrian jumping competition with teams consisting of two junior/amateur riders combined with one Olympic or world-class rider. The rider teams are randomly paired with charities that serve Palm Beach County.
Some features of the GCC Event:
100% of all proceeds go straight to benefit charities
The winning team of riders will be awarded $100,000 for its charity
Every charity selected will win a guaranteed minimum of $15,000
Not a selected charity for the Challenge? Don't panic.  In addition to the selected teams, we hold random drawings and award grants to deserving charities during the months of December and January.
The application process to participate in the 2022 GCC is open to all Palm Beach County-based nonprofits yearly from Monday, October 25 through Monday, November 15, 2021. All participating charities are required to utilize 75% of their funds in Palm Beach County, so these donations directly impact the community.
To view the complete list of charities and donations received since the beginning of the Challenge, please visit the event website: www.greatcharitychallenge.com.
Equestrian Sport Productions, which produces the event, wishes to thank all the generous individuals, families and corporate sponsors who contribute to making this event a success every year.
For more event information, please contact: acv@greatcharitychallenge.com​