For Immediate Release
Lindsay Brock, Sabrina Brashares, and Juliana Chapman for Jennifer Wood Media, Inc.
Wellington, FL – February 29, 2020 – The future of U.S. show jumping was shining bright as a team of up-and-coming athletes dominated the $150,000 Nations Cup CSIO4* in the International Arena during week eight on Saturday evening, February 29, at the Winter Equestrian Festival (WEF) in Wellington, FL.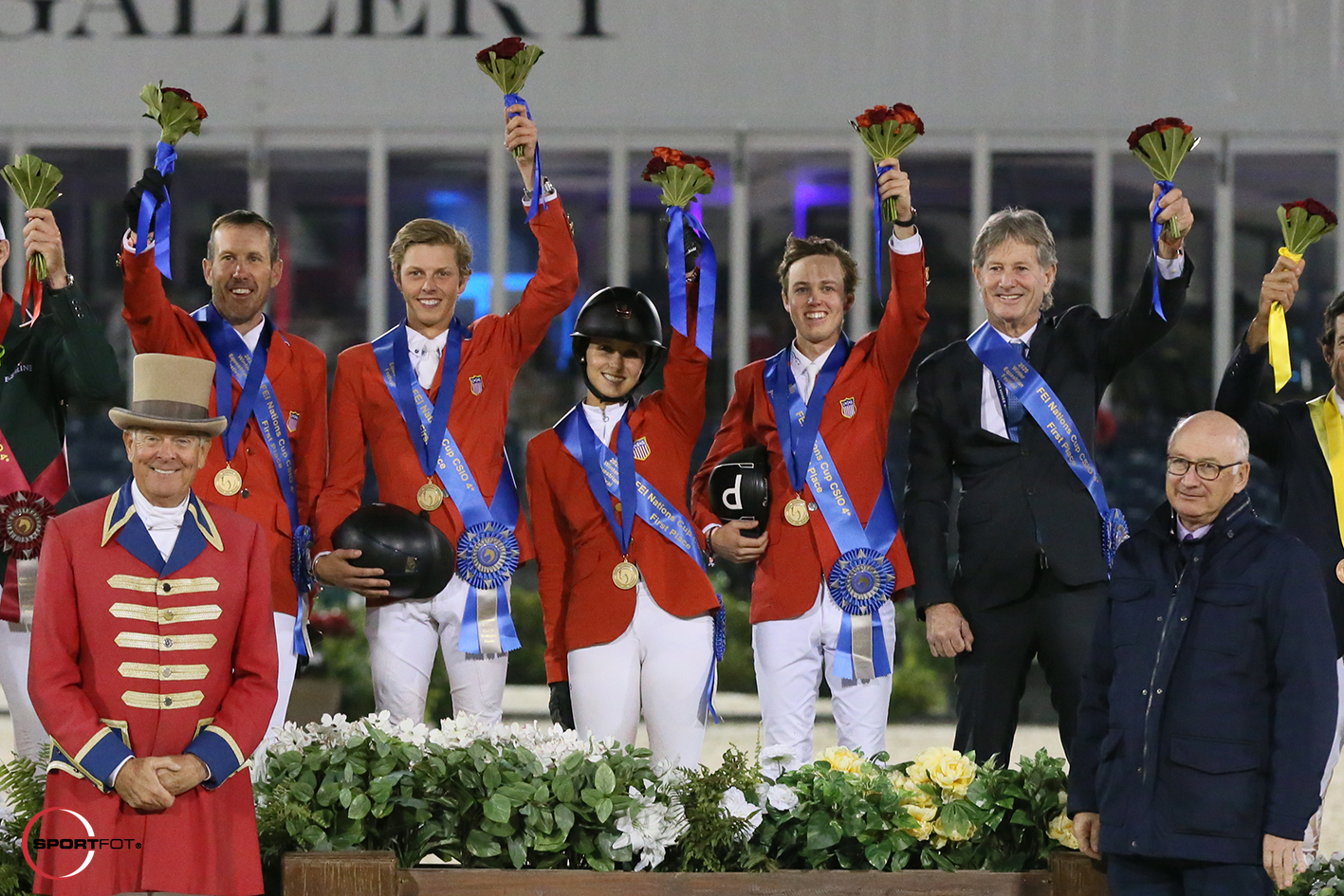 WEF continues at the Palm Beach International Equestrian Center (PBIEC) through March 29, 2020, with 12 consecutive weeks of world-class competition and $13 million dollars on offer. The eighth week of competition, sponsored by Premier Equestrian, concludes on Sunday, March 1, with the $214,000 Premier Equestrian CSIO4* Grand Prix.
The "Saturday Night Lights" Nations Cup consisted of two rounds over a course set by the USA's Ken Krome. Teams of four represented the nations of Australia, Brazil, Canada, Chile, Colombia, Ireland, Israel, Mexico, and the United States. After the first round, each team dropped their highest score, and the top-six teams returned in order of highest to lowest total faults in the second round. The winner was determined by the lowest total of each team's top-three riders from each round.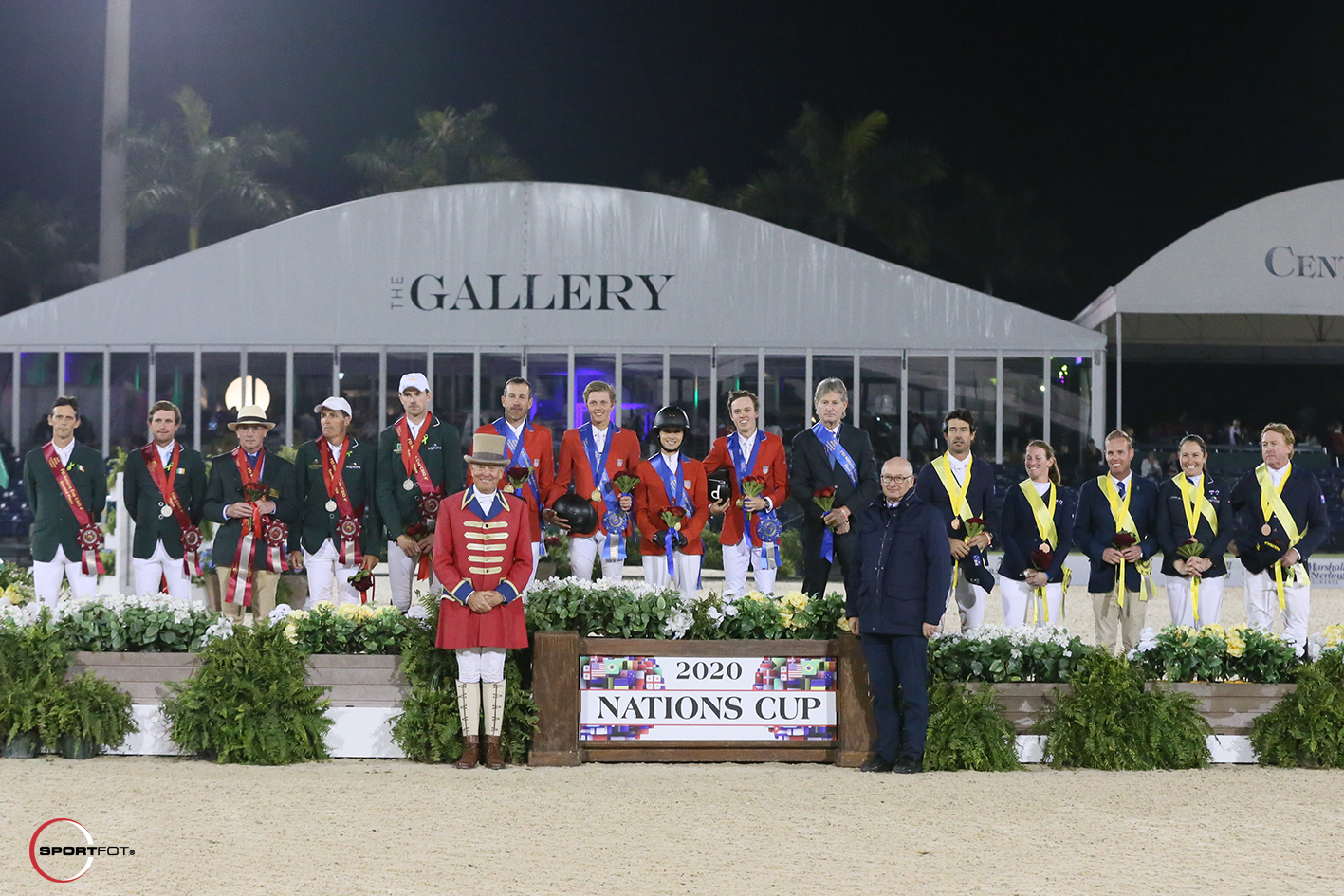 The six teams that returned for the second round included the fault-free United States, Ireland on five faults, Brazil and Canada on a tally of 13 faults apiece, and Australia and Israel with 17 faults each.
Leading the way, the NetJets U.S. Jumping Team consisting of Andy Kocher aboard Squirt Gun, Brian Moggre on MTM Vivre le Reve, Lucas Porter with C Hunter, and Adrienne Sternlicht riding Just A Gamble, carried the leading scores in both rounds and finished the night on just four penalties for the win. The U.S. riders were coached by Chef d'Équipe Robert Ridland.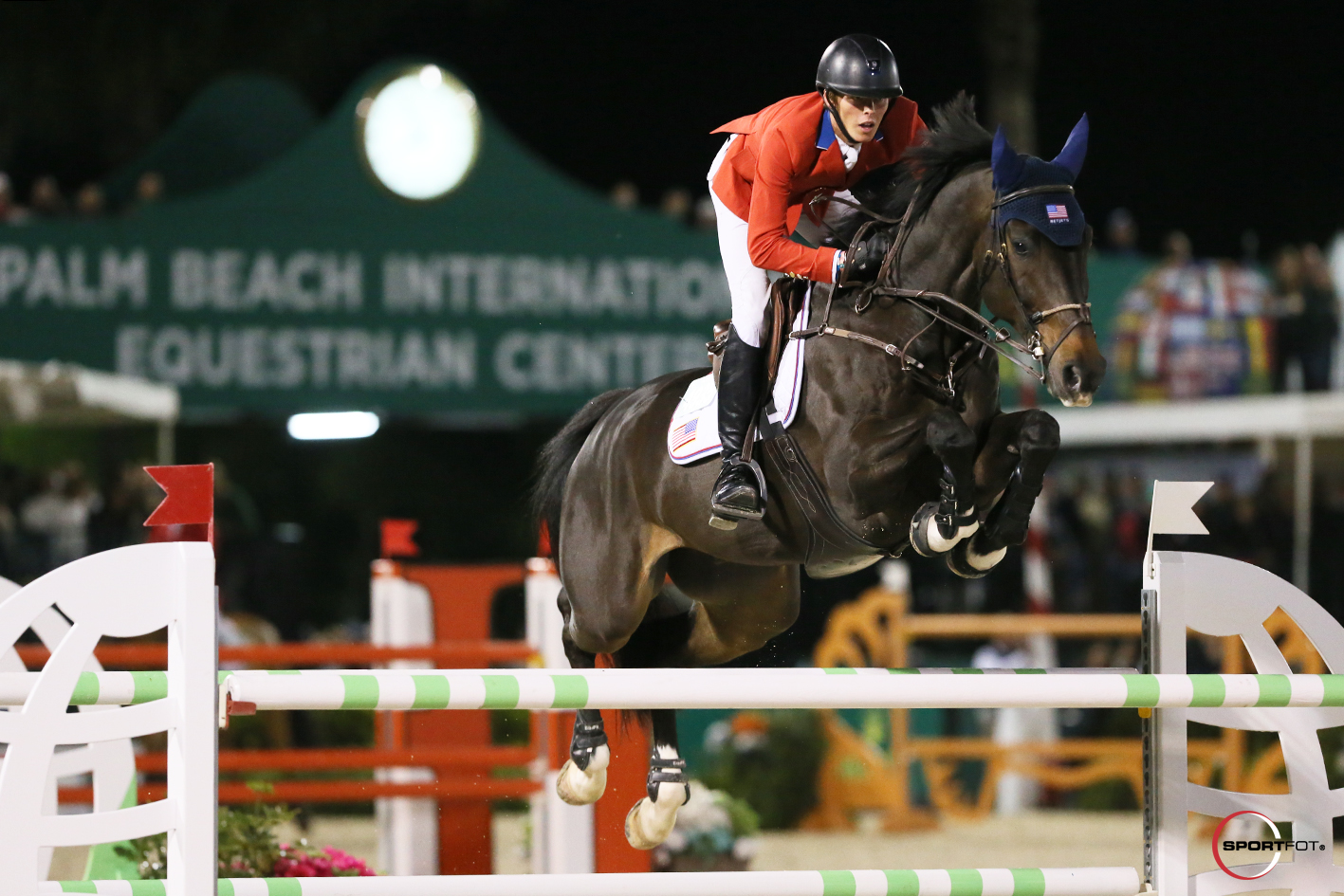 Irish riders David Blake, Darragh Kenny, Paul O'Shea, and Billy Twomey took the silver-medal position on 13 faults, while Australia's Amy Graham, Scott Keach, Hilary Scott, and Rowan Willis rounded out the podium.
Sitting pretty on a perfect score after Kocher's lone time fault served as the drop score from round one, U.S. riders were primed for a win on home soil. A double-clear performance from 18-year-old Moggre and his 11-year-old Westphalian gelding (Ustinov x Chello II) sealed the victory for his team in his senior Nations Cup debut.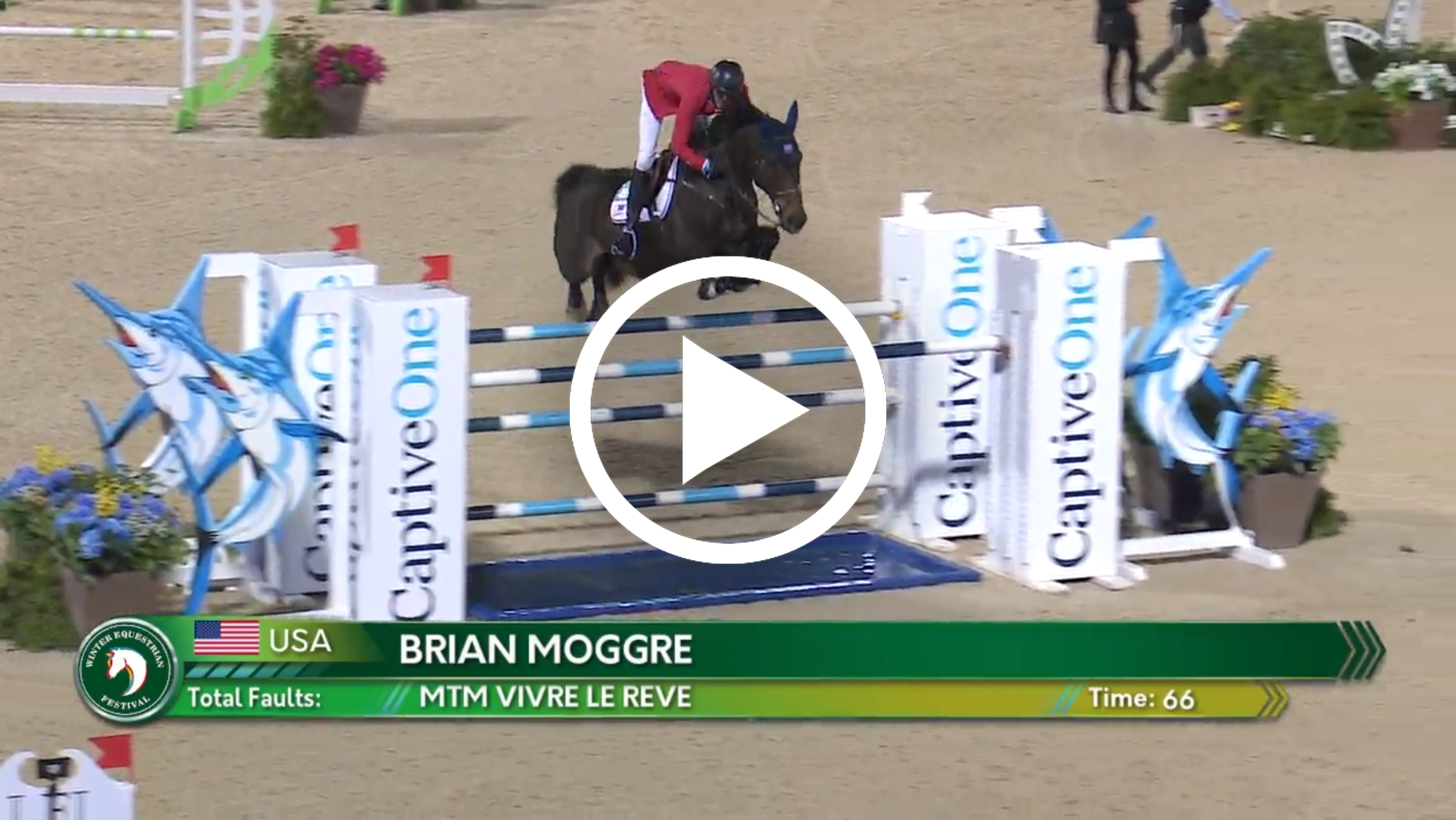 "Everybody wants to jump clear their first time on the team, so for my horse to make that happen for me, I couldn't be more thankful," said Moggre of Flower Mound, TX. "It's quite a surreal feeling. To be on the team here really meant a lot. MTM Vivre la Reve is my top horse at the moment. He's a horse I know like the back of my hand."
Fellow young rider Porter, 22, of Wellington, FL, notched a fault-free ride in the opening round and settled on a single rail in the second riding longtime partner C Hunter, a 13-year-old Zangersheide stallion (Cassini II x Corland).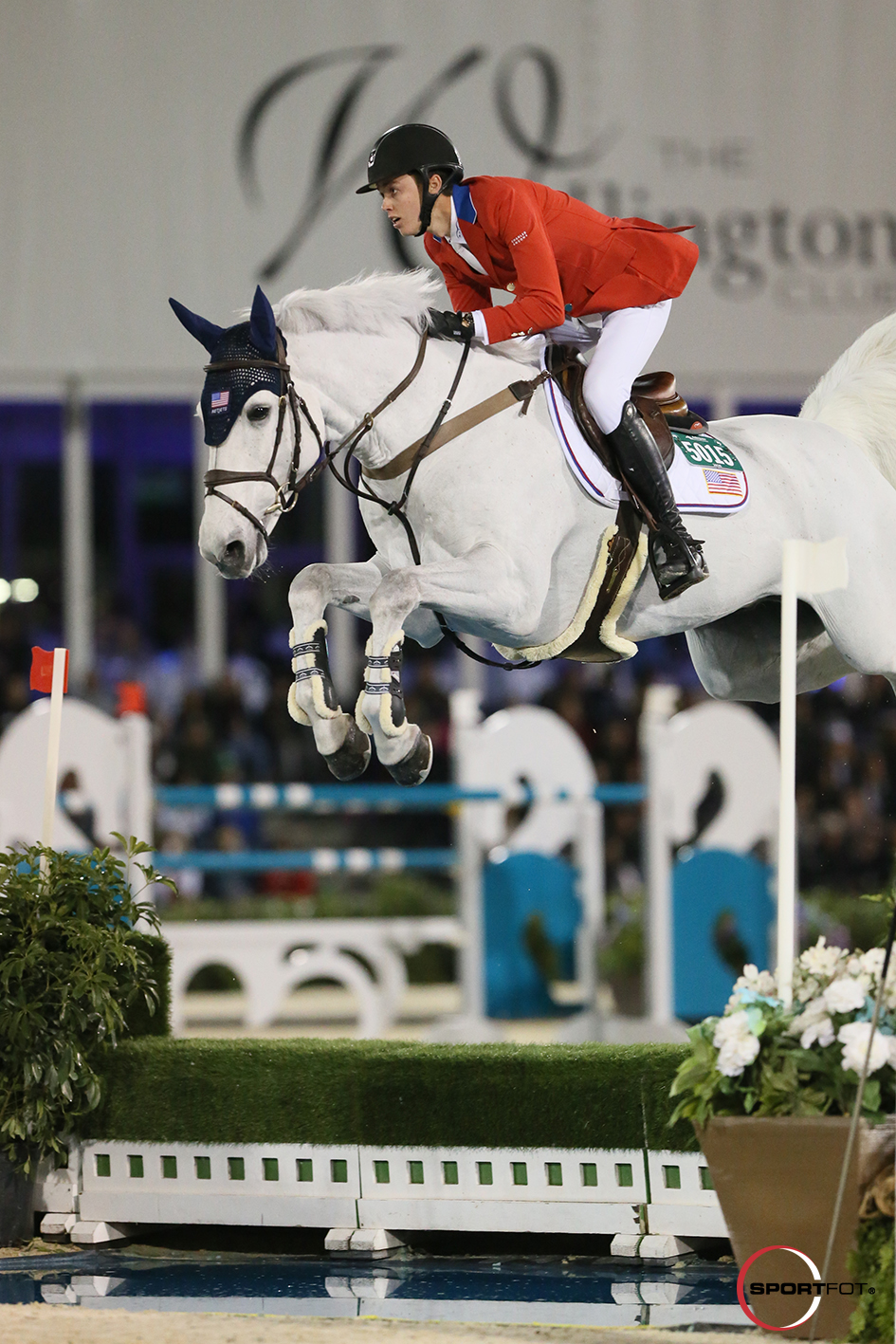 "I was really thankful to be a part of the team, and I aimed at this Nations Cup since the start of the season here in Florida," said Porter, who was also making his senior Nations Cup debut. "I thought my horse jumped two great rounds tonight. He jumped a really amazing first round and was a bit unlucky with my rail, but I'm really happy with him. We've come a long way together. I look forward to what the future holds with him. He's a really special horse to me and our family."
Pulling through for a clear in the second round to help his team's total, Kocher, 36, of Wellington, FL, and Squirt Gun were pivotal for their team in the rider's second Nations Cup team appearance.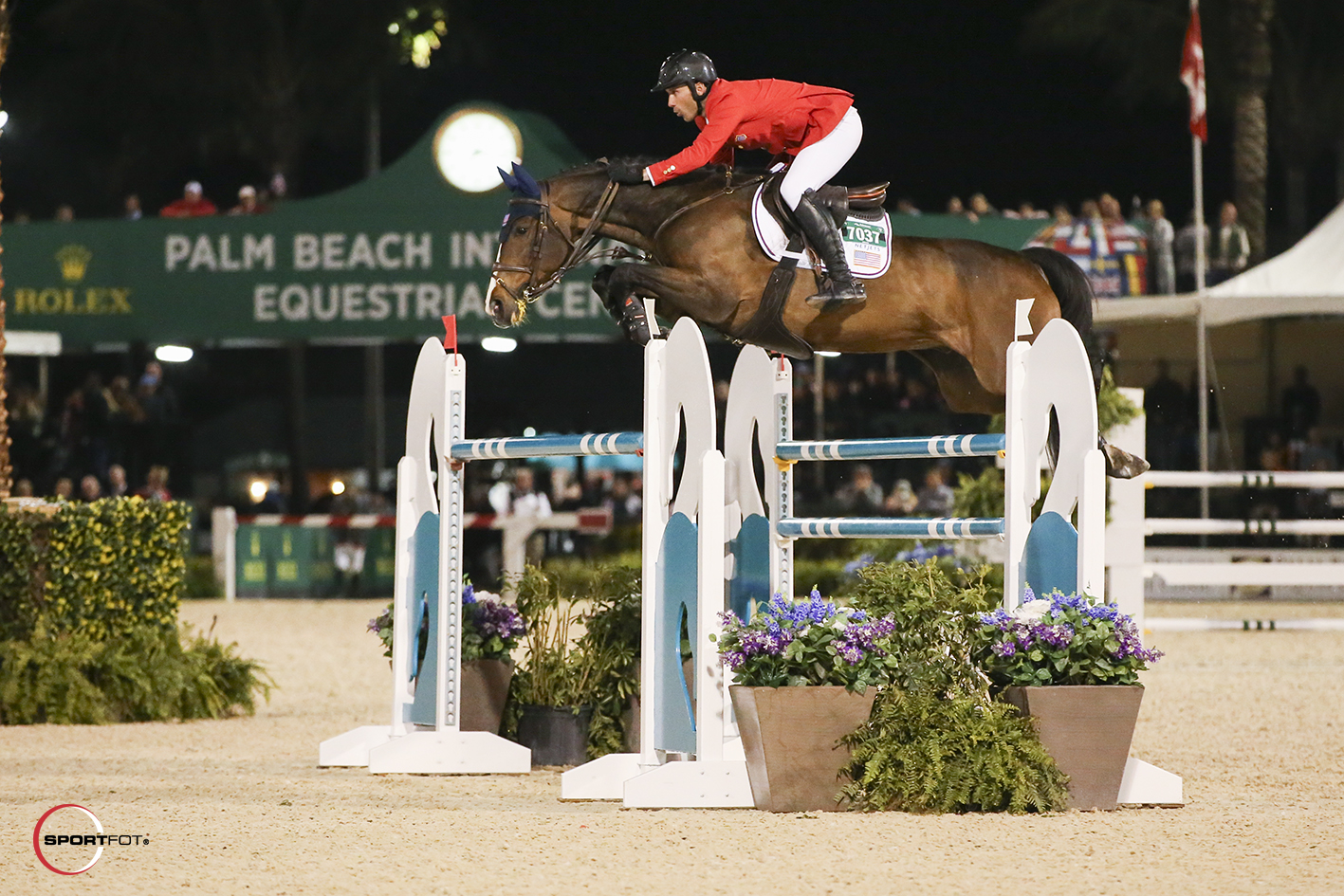 "He's by far the best horse that I have at the moment," said Kocher of the nine-year-old Oldenburg gelding (Diarado x Quick Star) owned by Eye Candy Jumpers. "Last year in the high schooling [jumpers] at WEF, I fell off him our first time out, so it's incredible what 18 months can do. He's the best horse I've ever had so far in my career."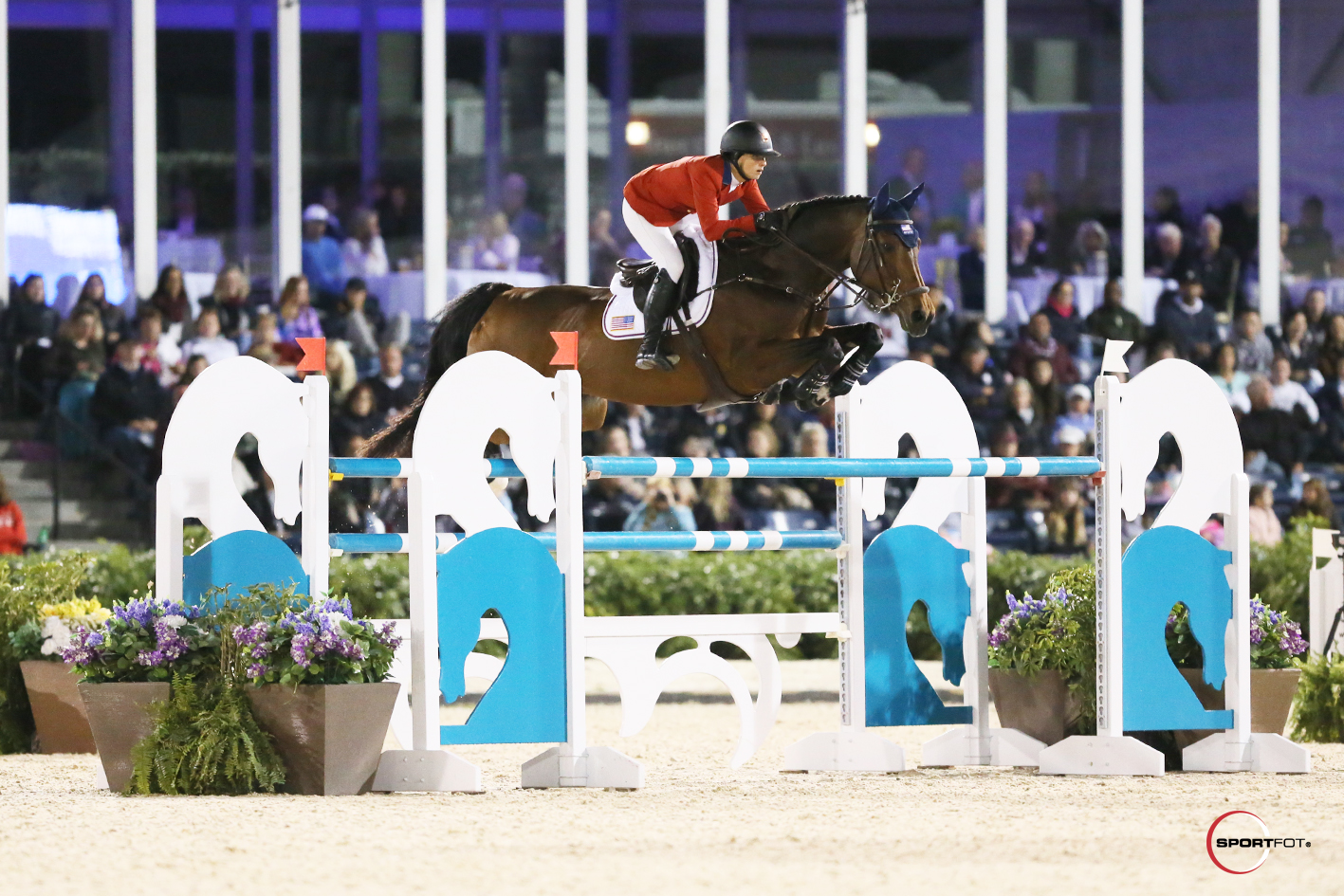 Coming in with the most team experience under her belt, Sternlicht, 26, hailing from Greenwich, CT, served as the anchor rider and posted a clear round with Just A Gamble, but did not return for the second round thanks to her teammates scores securing the win.
"I'm very thankful for my teammates who made it very easy for me," she said. "I think we're a young team, but have a lot of strong riders who have had consistencies leading up to this event. I think that was showcased in their awesome rides.
"It took me awhile to get to know [Just A Gamble], but I think our partnership really started to solidify," said Sternlicht of her 11-year-old Belgian Warmblood mare. "She's been very consistent. I would say that she ranks as my second or third horse, and she's been an unbelievable support system for my top mare, Cristalline, just coming back."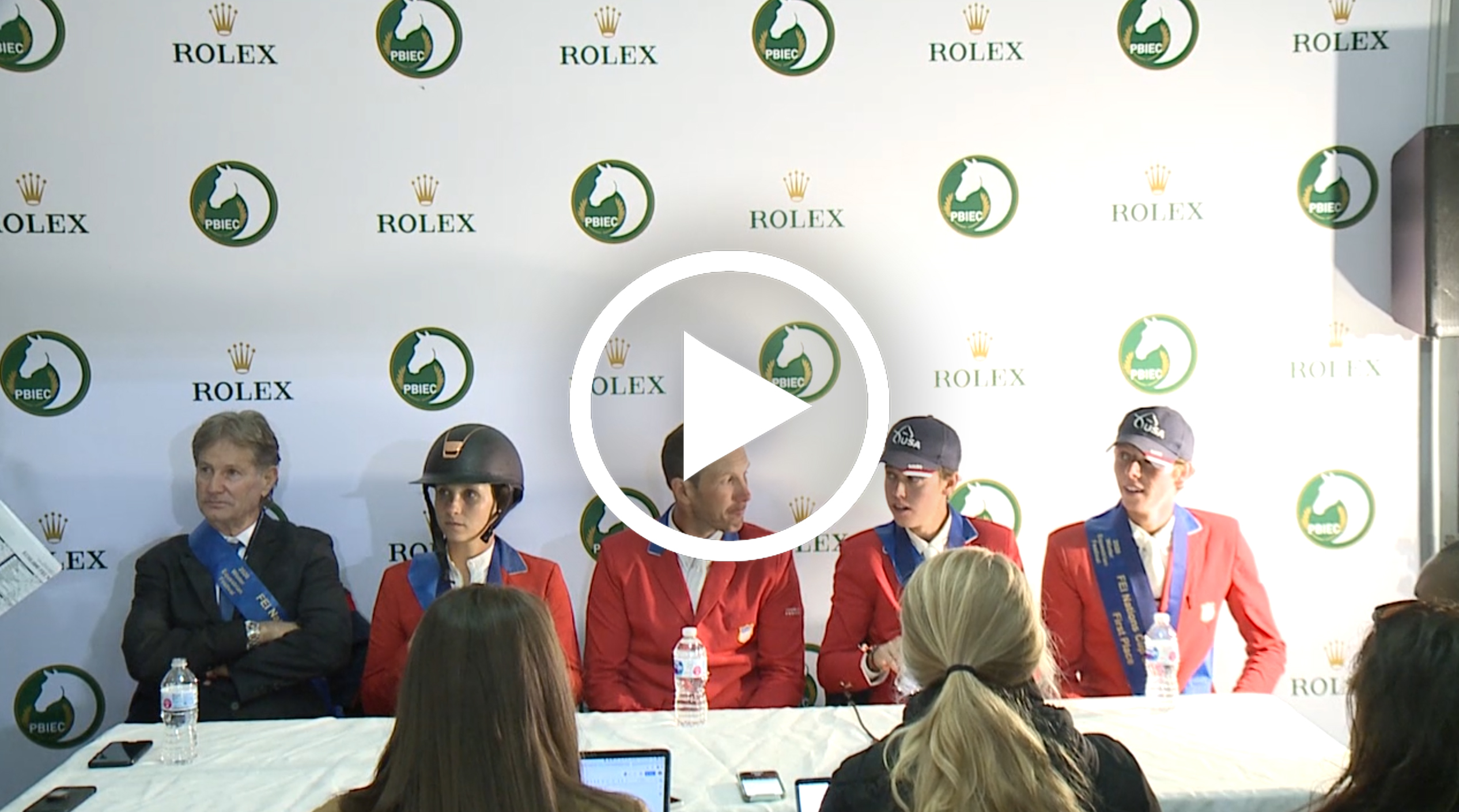 A very proud Chef d'Équipe, Ridland noted of his young team, "This team was chosen right down the ranking list of the applicants, and to see them do that tonight was just amazing.
"It really fits into what we've always tried to do; you can have a team of three veterans and two newer riders, but it's all in the same spirit of giving experience when it really counts," continued Ridland. "There's nothing like pressure at home; it's Saturday night with everything on the line, and nobody in the stands cares that this is their debut. They're rooting for the Americans! The American flag was everywhere, and it's a different kind of pressure at home. For these riders to experience that and to have the flag on the saddle pad for the first time, this is invaluable."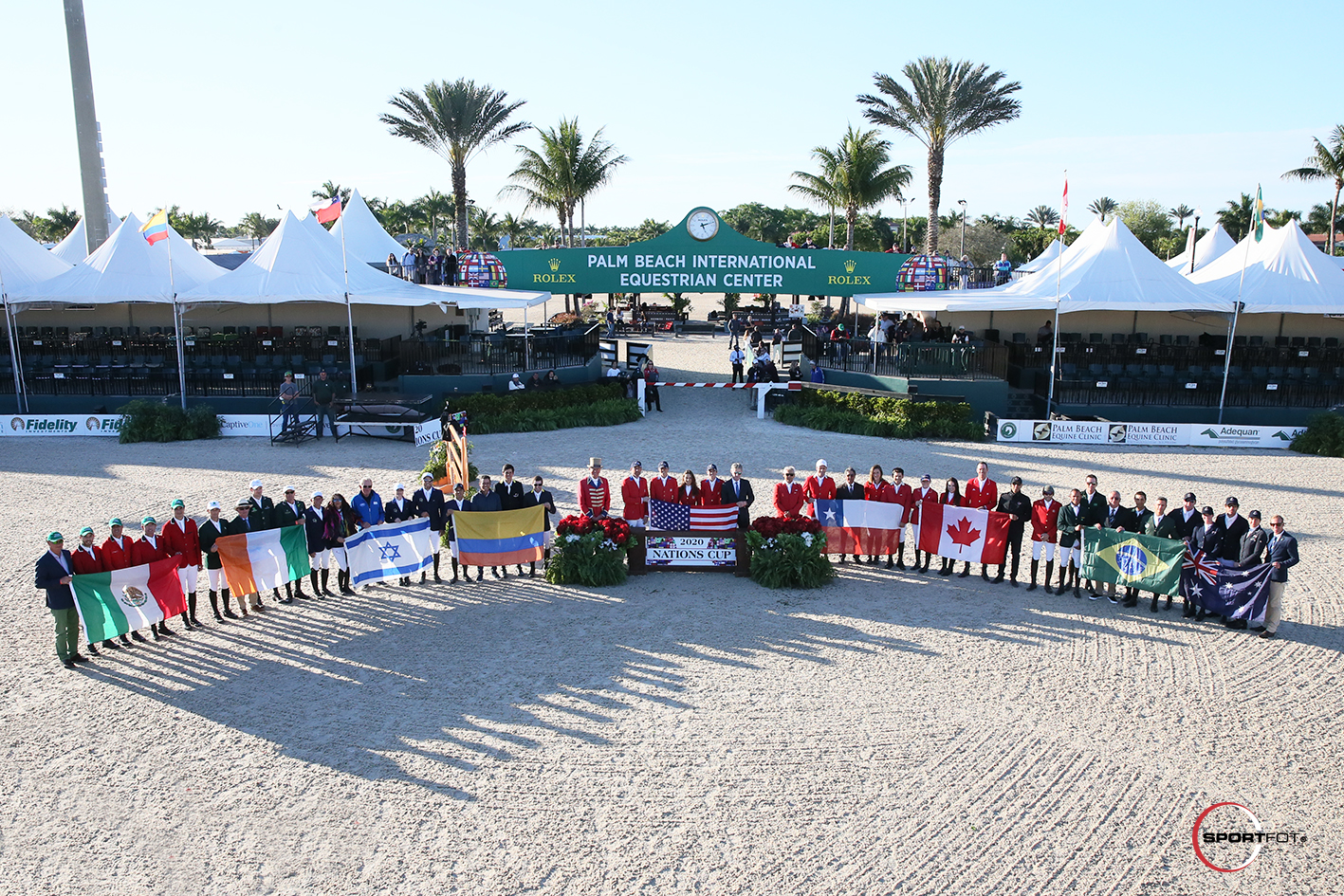 Final Results: $150,000 Nations Cup CSIO4*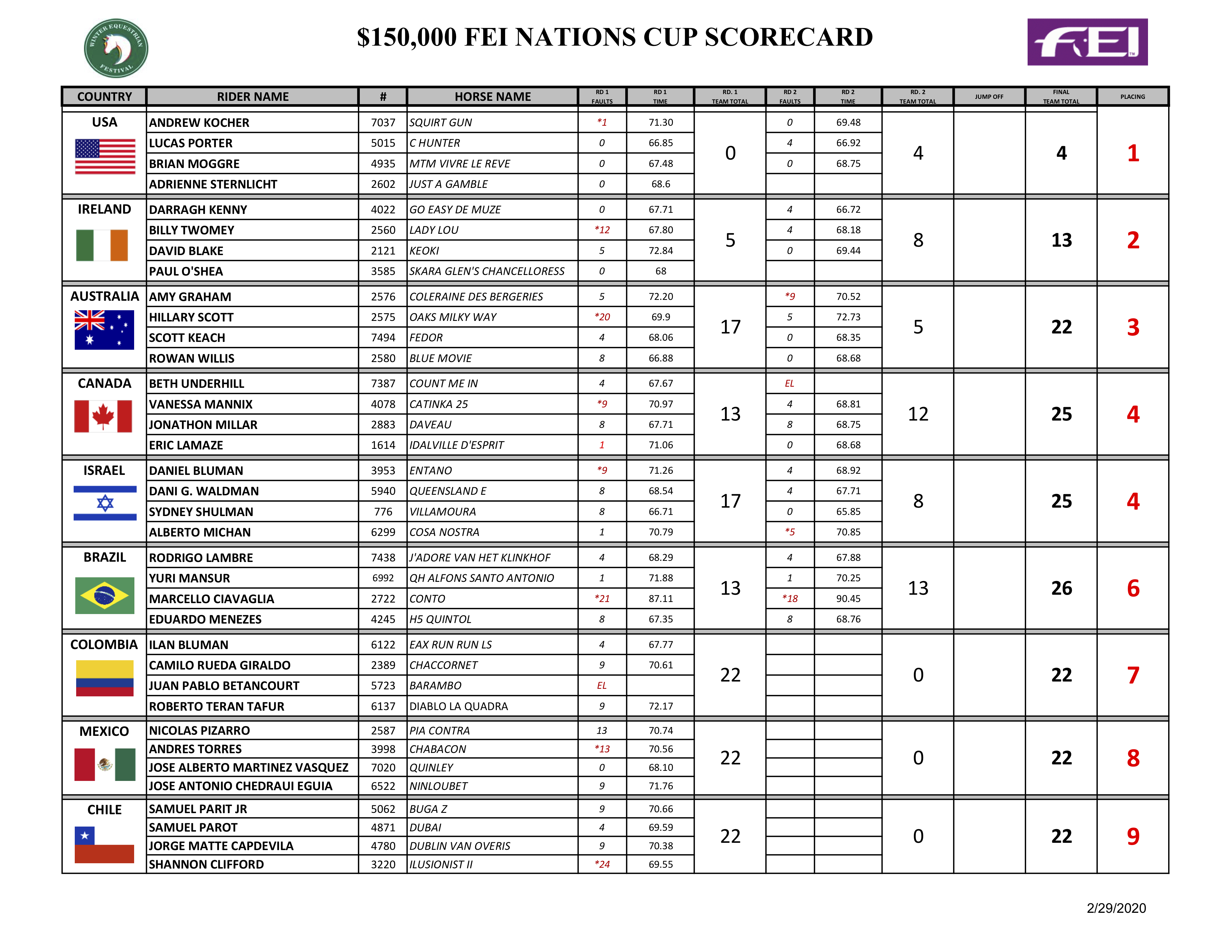 Super Speedy Finish for Ireland's Darragh Kenny and Important de Muze
Ireland's Darragh Kenny led a twelve-horse jump-off with a speedy finish in Saturday's $50,000 CaptiveOne Advisors 1.50m National Grand Prix riding 12-year-old Belgian Warmblood gelding Important De Muze, owned by Kerry Anne LLC. The pair posted a time of 35.96 seconds to best an international field.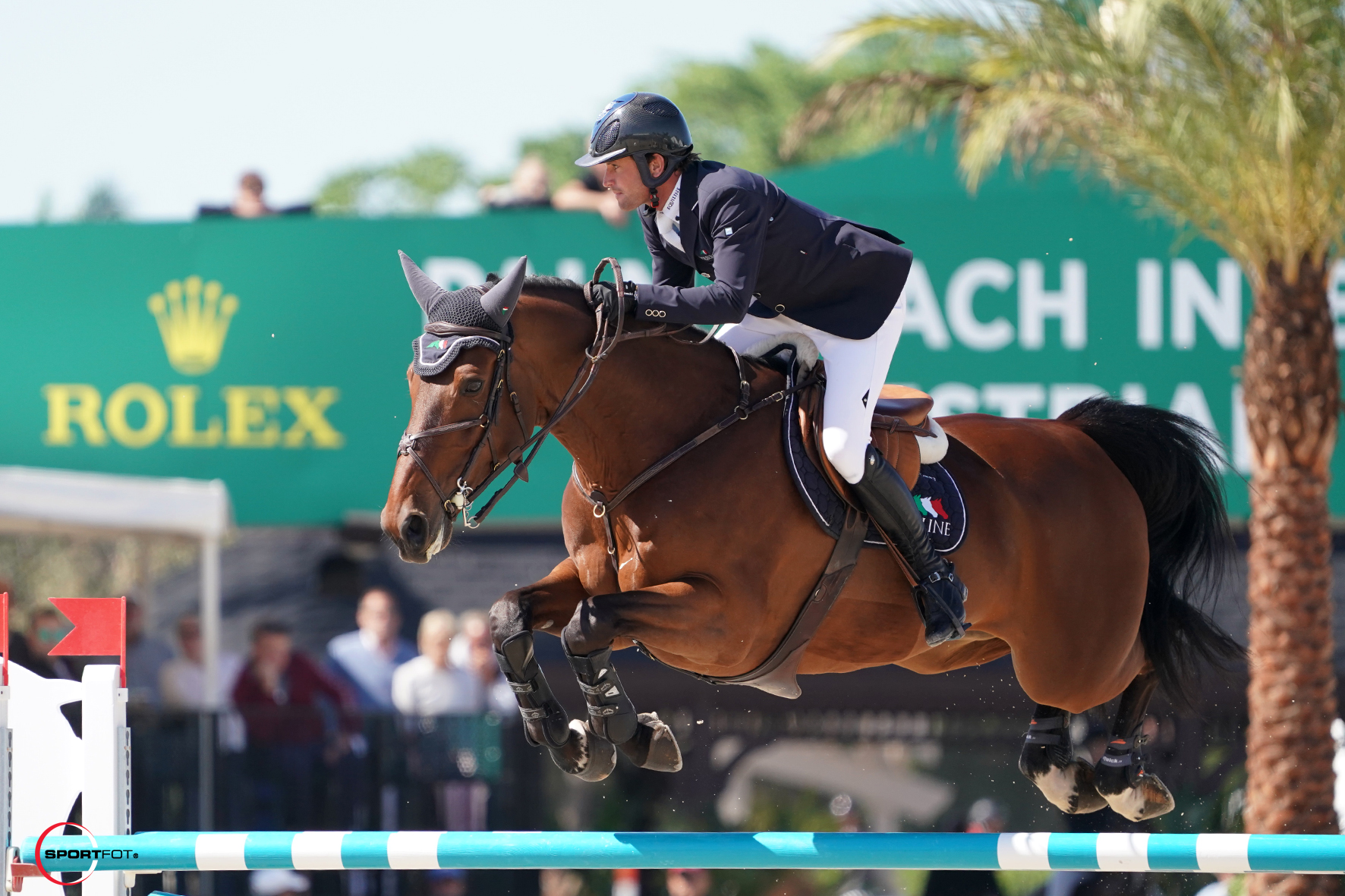 "My horse felt really good in the first round, and the course was straightforward as I walked it," said Kenny of Ken Krome's track. "Going into the jump-off, I felt confident with my horse because he is quite experienced and he has done a good number of these classes. I knew I could do one less stride than most of my competitors from one to two and then I had to stay on and hope it went well."
Kenny has had the ride on Important de Muze for more than a year and developed a strong partnership with the mount.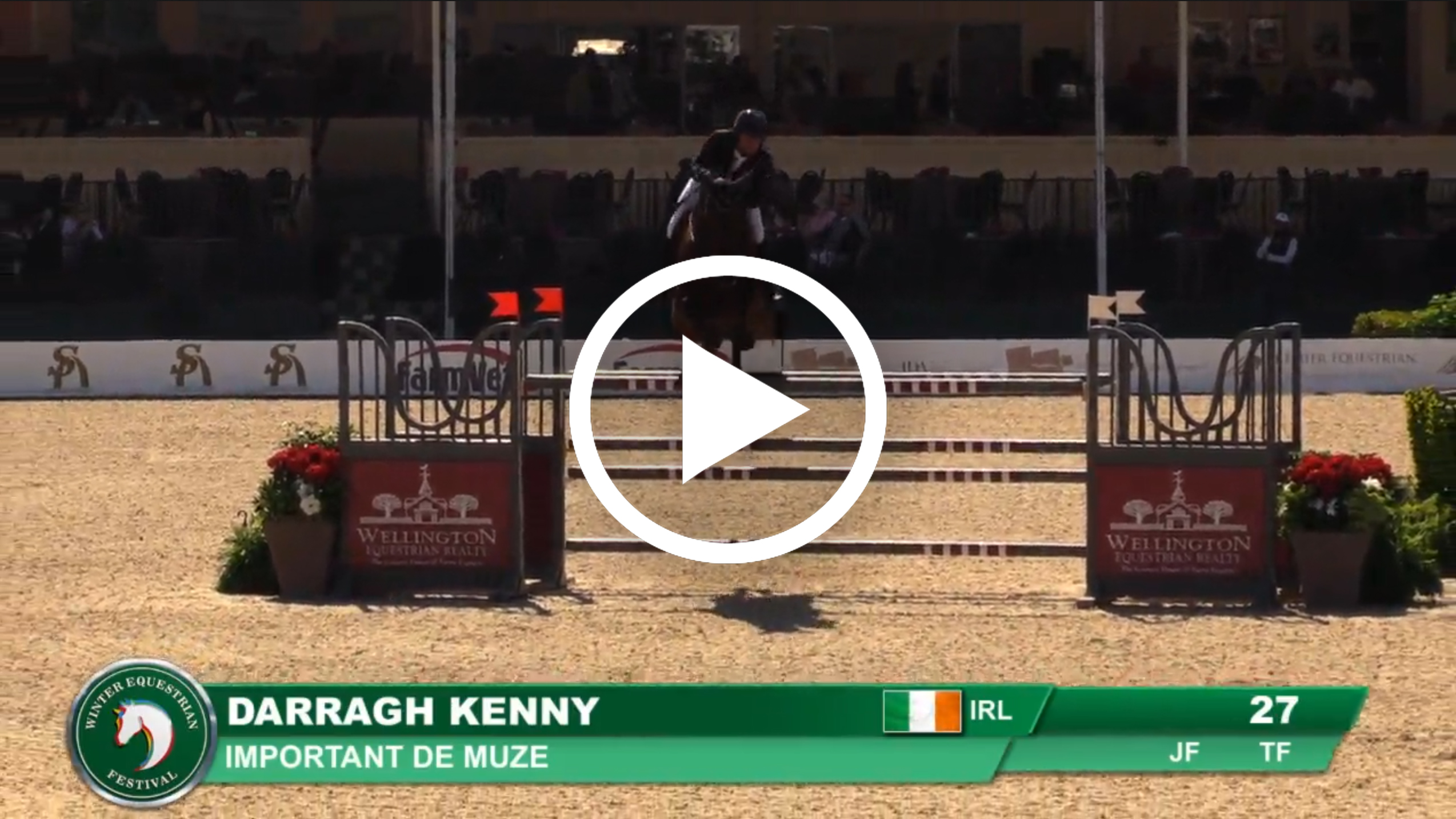 "He has been a super horse for me," said Kenny, who has been a familiar face at WEF for the last decade, and is having a memorable 2020 season with consistent top results. "This year has been great, and they have done a great job with the footing in the International Arena which has made a big difference."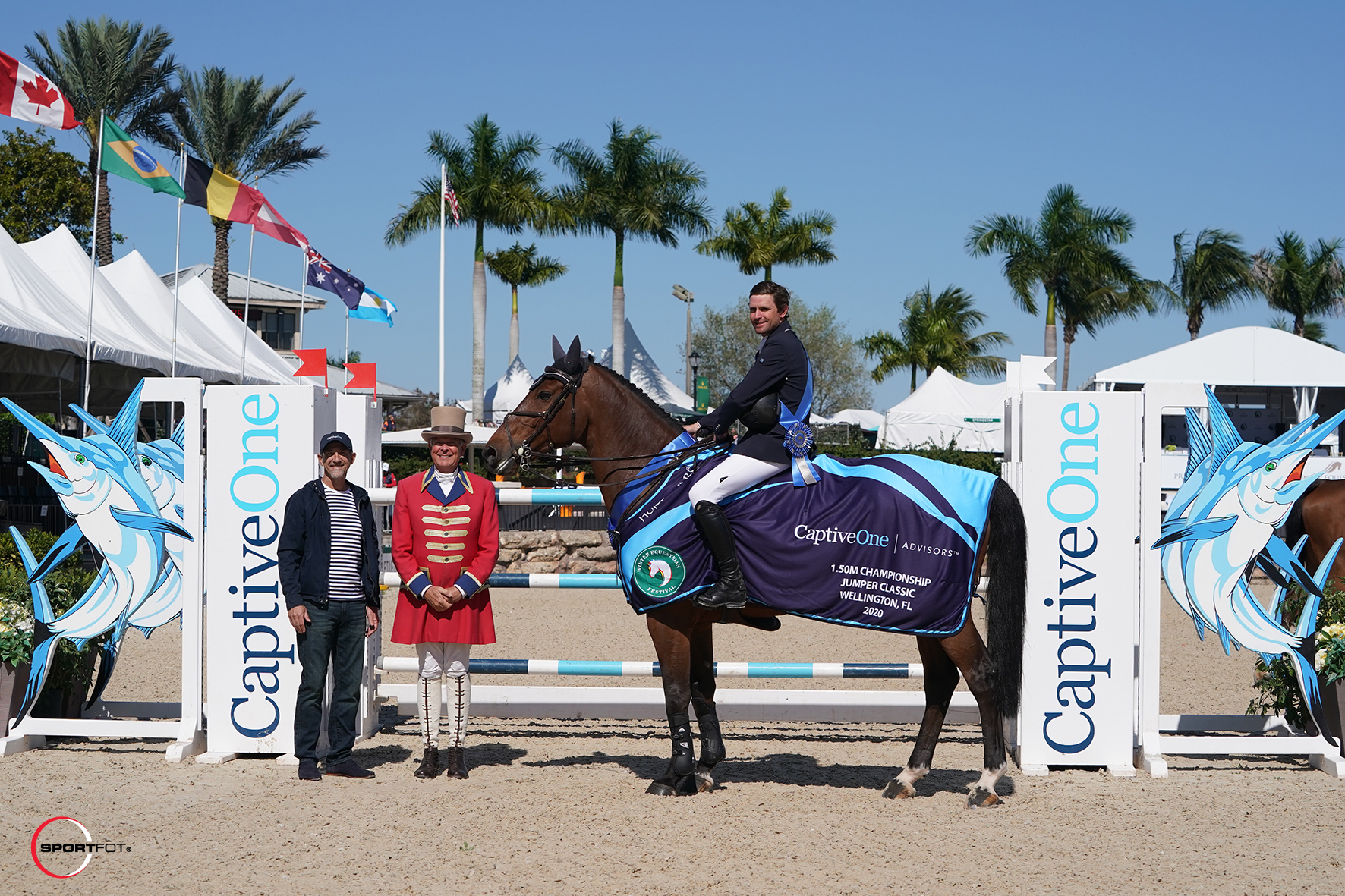 Behind Kenny in second place, McLain Ward (USA) rode his own Mundill to a time of 36.555 seconds. Finishing close behind in third place was Jessica Mendoza from Great Britain aboard Dollar Girl producing a clear round with a time of 36.827 seconds for owner Winsor Farms. Fourth place went to Antonio Martinez, Jr. (VEN) and Forman De Virton, owned by Tack Up Stable Corp. with no faults and a time of 37.553 seconds. Rounding out the top five, Molly Ashe Cawley (USA) rode Van De Emma to a time of 39.093 seconds for owner Oakridge Farm.
Final Results: $50,000 CaptiveOne Advisors 1.50m National Grand Prix
1 IMPORTANT DE MUZE: 2008 BWP gelding by Erco van't Roosakker x Nabab de Reve
DARRAGH KENNY (IRL), Kerry Anne LLC: 0/0/35.960
2 MUNDILL DS: 2012 BWP gelding by Darco x Elke-Mariam
MCLAIN WARD (USA), McLain Ward: 0/0/36.555
3 DOLLAR GIRL 46: 2009 Hanoverian mare by Dollar du Murier x Escudo I
JESSICA MENDOZA (GBR), Windsor Farms: 0/0/36.827
4 FORMAN DE VIRTON: 2011 BWP gelding by Aragen x Unknown
ANTONIO MARTINEZ, JR. (VEN), Tack Up Stable Corp: 0/0/37.553
5 VAN DE EMMA: 2008 Dutch Warmblood mare by Van de Vivaldi x Almiro Z
MOLLY ASHE CAWLEY (USA), Oakridge Farm: 0/0/39.093
6 DISNEYLAND: 2011 Holsteiner mare
NICOLAS PIZARRO (MEX), Nicolas Pizarro: 0/0/40.568
7 LIMBRIDGE: 2009 Holsteiner stallion by Limbus x Cambridge
DARRAGH KERINS (IRL), Eve Jobs: 0/0/46.979
8 UK: 2010 ISH gelding by Kannan x Un
ANNE KURSINSKI (USA), Market Street, Inc.: 0/4/37.094
9 LORIELLE 2: 2008 WEST mare by Lordanos x Chocolate Daisy
FLO NORRIS (GBR), Cisca Norris: 0/4/37.914
10 TEDDY DU BOSQUETIAU: 2003 Belgian Sport Horse gelding by Ogano Sitte x Albion du Chene Brule
KAREN SPARKS (CAN), Brookstreet Stables: 0/8/40.384
11 OUT OF IRELAND: 2006 Anglo European mare by Lougherne Connaught x Amiro M
LAURA CHAPOT (USA), The Edge & Laura Chapot: 0/8/49.576
12 HARVESTER: 2012 KWPN gelding by Dakar Vdl x Samsara
ERYNN BALLARD (CAN), Ilan Ferder and Skymaster: 0/12/42.045
Becky Gochman Sweeps Equiline Amateur-Owner Hunter 3'3" 36 and Over Division
On Saturday afternoon, Becky Gochman was crowned both champion and reserve in the Equiline Amateur-Owner Hunter 3'3" 36 and Over division. Gochman received top honors with Last Man Darling after earning two firsts, a third, and a fourth place.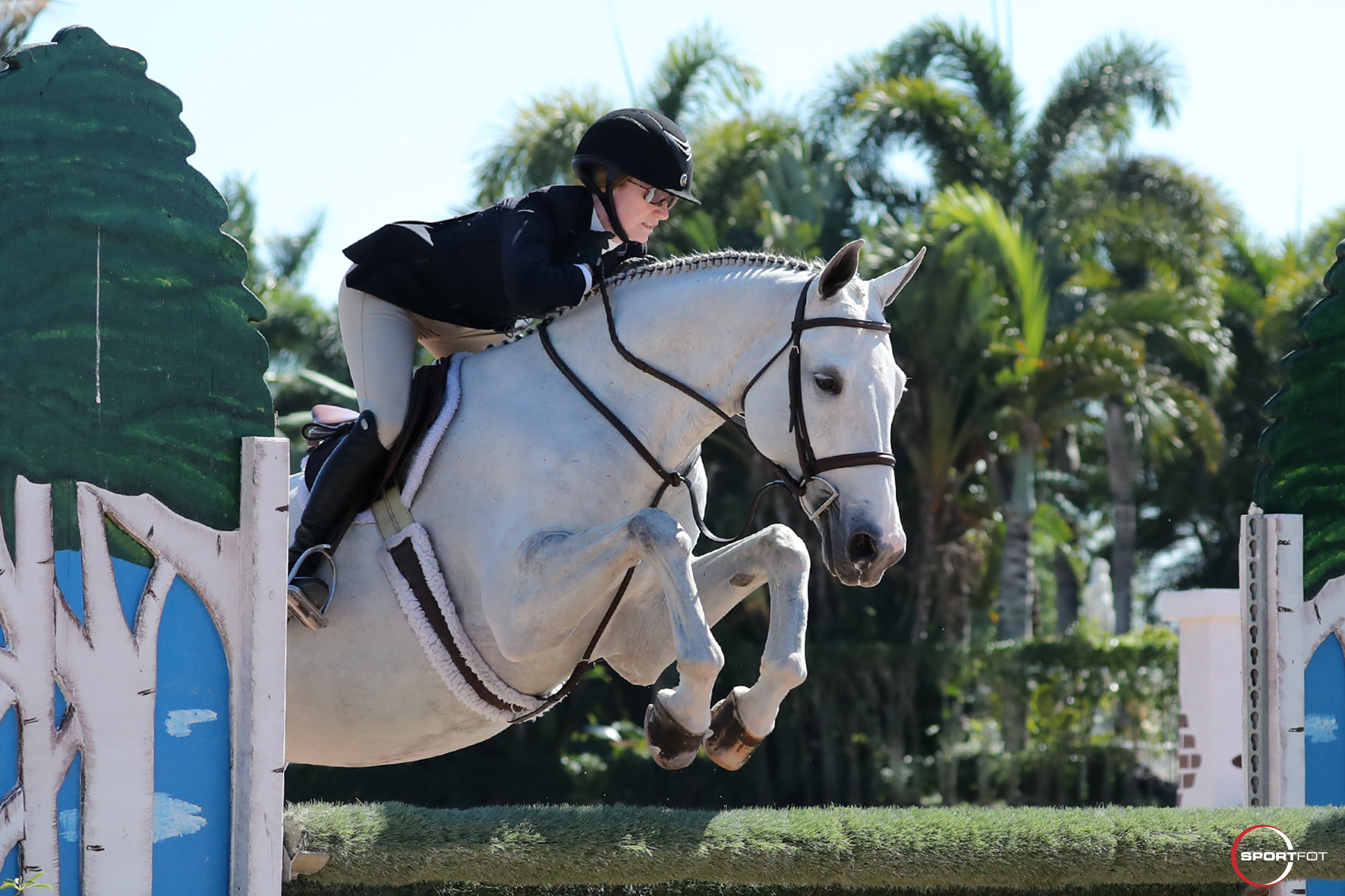 Gochman, of Wellington FL, has been paired with Last Man Darling, owned by Gochman Sport Horses LLC, for several years. Prior to Gochman taking over the reins, both of her daughters, Sophie and Mimi, showed Last Man Darling in the junior hunter divisions. The 14-year-old Mecklenburg mare has a beautiful expression going around the show ring and easily stands out to the judges.
"She lives up to her name; she is a total darling," said Gochman. "She is a great mover, and has a terrific jump."
The pair won a class each day of the division and received a high score of 87 on the second day. Although Gochman felt a little rusty after having week seven off from showing, she came back strong on Saturday. "I feel like I gave them both nice rides today and they were again perfect," Gochman explained.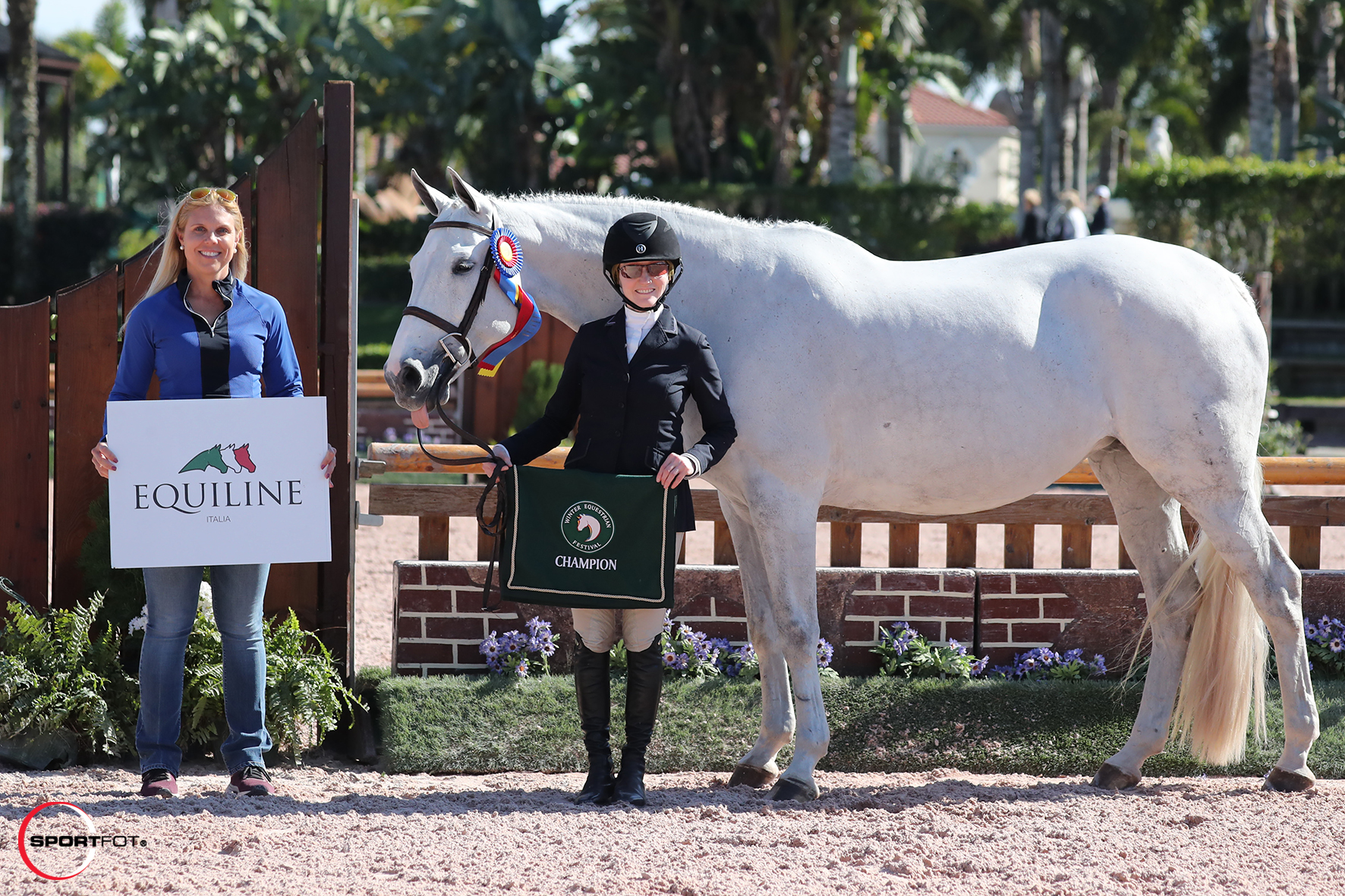 Gochman also piloted her second mount in the division, Mythical, to reserve champion. Gochman rode Mythical, also owned by Gochman Sport Horses LLC, to a first, third, and seventh-place finishes.
After WEF, Gochman hopes to enjoy a nice summer show season and hopefully attend the Devon Horse Show with both Last Man Darling and Mythical.
"My goal is really just to enjoy them for as long as I can and take the best care of them that we can," Gochman explained. "Darling and Mythical are true family horses, everyone in our family has ridden them. It makes the success that much sweeter."
For full results, visit www.PBIEC.com.
Photo credit: Photos © Sportfot, official photographer of the Winter Equestrian Festival. These photos may be used only in relation to this press release and must include photo credit.