Any exhibitors who intend to show at the 2022 ESP Fall Series, 2022 ESP Holiday Series, 2023 Winter Equestrian Festival, or 2023 Spring Series can now reserve tent stabling for their horses! 

The 2022 – 2023 Tent Stabling Plan from Equestrian Sport Productions includes four stabling options, each offering various lengths of time to reserve stalls. Stabling options begin during the 2022 ESP Fall Series and go all the way through the 2023 ESP Spring Series, offering long-term competitors cost-saving options.

Please note that any exhibitors who previously had stalls in the Permanent Stabling are being offered the chance to renew their spaces in the Permanent Stabling first. After October 15, any unclaimed stalls will become available. If you were previously stabled in the tents and wish to be put on the waitlist for Permanent Stabling, please fill out the Permanent Stabling Plan waiting list form and email Tom Blankenship at tomblank@bellsouth.net or Jenn Glosson at jglosson@wellingtoninternational.com.
Over the course of the spring and summer, the Wellington International property has undergone some significant renovations, specifically to the barns. Thanks to the hard work of IDA Development, as well as BarnWalkers and Equitan, we will have completely renovated the original permanent barns 1-4 to include new BarnWalkers Stalls, Equitan Flooring, remodeled bathrooms, and electricity, among other upgrades, within the coming weeks. We have also replaced Tents 1, 2, and C with beautiful permanent stables to keep you and your horses more comfortable. This added an additional 175 permanent stalls to our inventory.
Take a look at the new stables, then come see them for yourself at our upcoming October horse shows!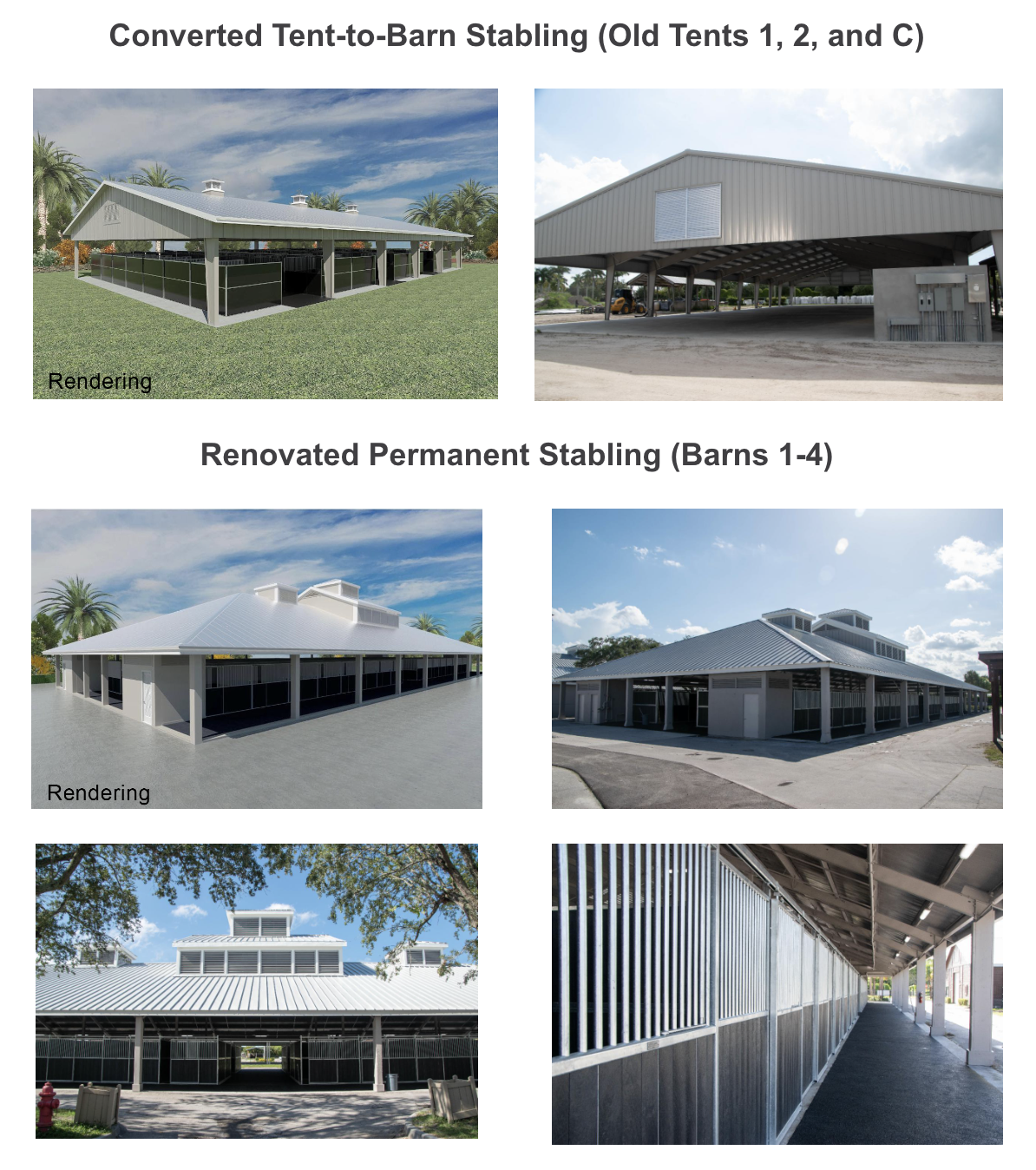 All horses stabling or competing on the Wellington International Show Grounds must be accompanied by a Statement of Health. The Statement of Health must be signed by a licensed veterinarian within 7 days of arrival at the Wellington International show grounds.
We request that the owners, trainers, and/or riders of all national show horses familiarize themselves with the WEF 2023 biosecurity protocols. These are very important to the health and safety of everyone's horses and are an integral part of ensuring that horse showing can continue for the 13 weeks of WEF.