It's Hunter Week and today's rider spotlight is on hunter rider, Martha Ingram! Riding has been a family affair for Ingram, and with her eye on qualifying for the Hunter Spectacular we had to know more! Continue reading to find out about this amateur rider's background, goals, and advice she has for riders new to #WEF!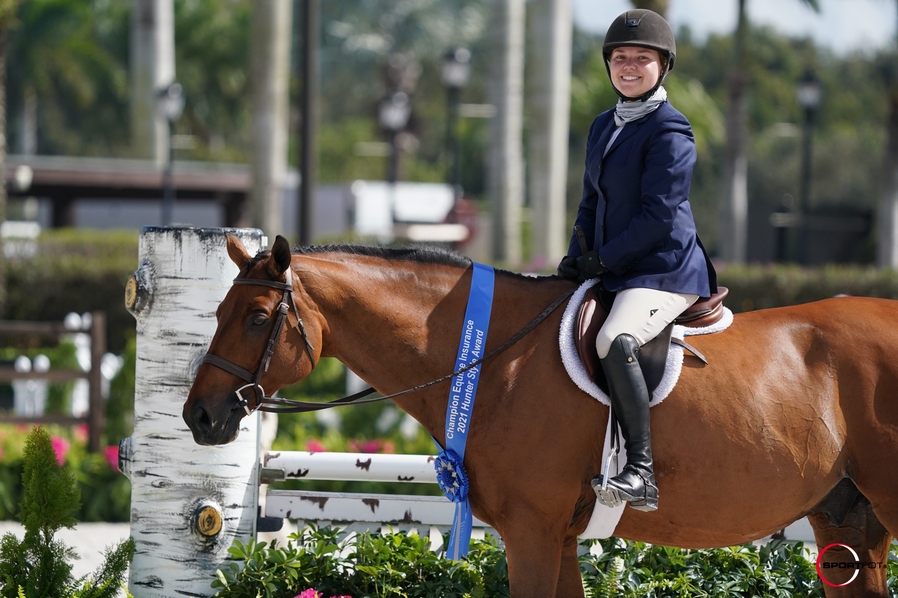 Your family rides and shows, as well. What do you like about sharing the sport with them?
It has been really wonderful to share this amazing sport with not only my parents, but with other family members, as well. It is not too often that you have multiple competitive equestrians in one family, but it really is a blessing. It is wonderful to be able to spend time doing what we love together. I love that my parents are able to be really involved in my riding because they know the sport very well as competitors themselves, and they know the dedication and the passion that it takes to compete at the highest levels. Additionally, we get to share the glorious and not so glorious moments that come with riding.
Tell us about your horses!
Currently I have five horses, but I am actively competing three of them. My horses are Private Practice, Airport 48, Catbird, Antinori, and Ice Time. Most people in the hunter discipline probably know my two top mounts, Private Practice and Airport 48. Private Practice, or "Peter," is a new mount for me, and I am incredibly grateful to my parents and Brad Wolf for allowing me to have such a magnificent animal. Peter is quite special and very spoiled. He really gets whatever he wants, but in all honesty, he deserves it. He is a competitor and always wants to win and never wants to let you down. It has also been very exciting because I finally moved back up to the 3'6″ after a 5-year hiatus from that height, and I am having more fun than ever. My other top mount is Airport 48, or "Port," and there really are no words to describe this horse and what he means to my family. He is such a puppy dog and would climb in your lap if he could. He really is a jack of all trades. He has done the International Hunter Derbies, 3'6″ Amateur-Owners with my dad John, the 3'3″ Amateur-Owners, and Adult Equitation Finals with me. We love all our horses of course, but I can definitely say he is a family and barn favorite. Catbird, or "Cookie," is also a newish mount for me. We have had him for a couple of years but he has battled injuries along the way. Now he is back and better than ever. I am really excited about my future with him because we believe he has all the qualities to make a top amateur horse. Cookie rivals Airport as the sweetest horse in the barn. He would love it if we could hug and love on him all day long. Antinori, or "Kane," is coming back from injury so I am excited to have him back, and Ice Time, known as "Sunny," (or as I like to say "Sunny Bunny") has become more of a practice horse for me, but you may see his face in the show ring a few times this winter.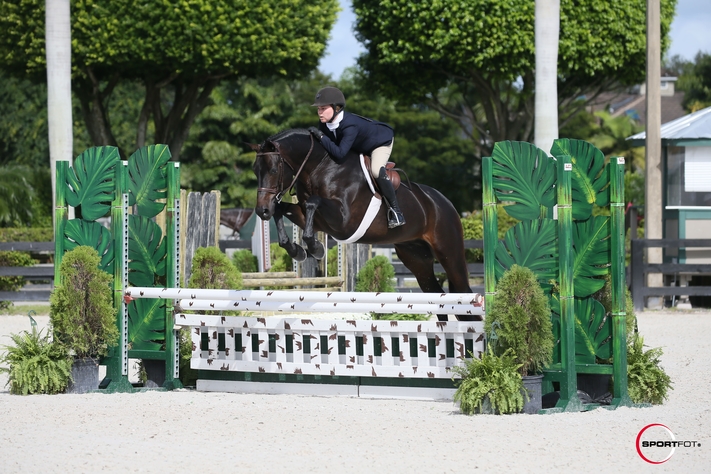 What goals do you have for this season?
One of my main goals for this winter is to continue learning on Private Practice and Catbird and form a strong partnership with them. Performing well during WCHR Week 6 is always a goal of mine, and now that I am back in the 3'6″, qualifying for the Hunter Spectacular would be the cherry on the cake. But overall, I would say my goal is to stay consistent and continue developing my new partnerships
What is one of your earliest memories showing at WEF?
One of my earliest memories showing at WEF has to be competing in the Walk-Trot on a pony named Dare Me Little Willy at Littlewood.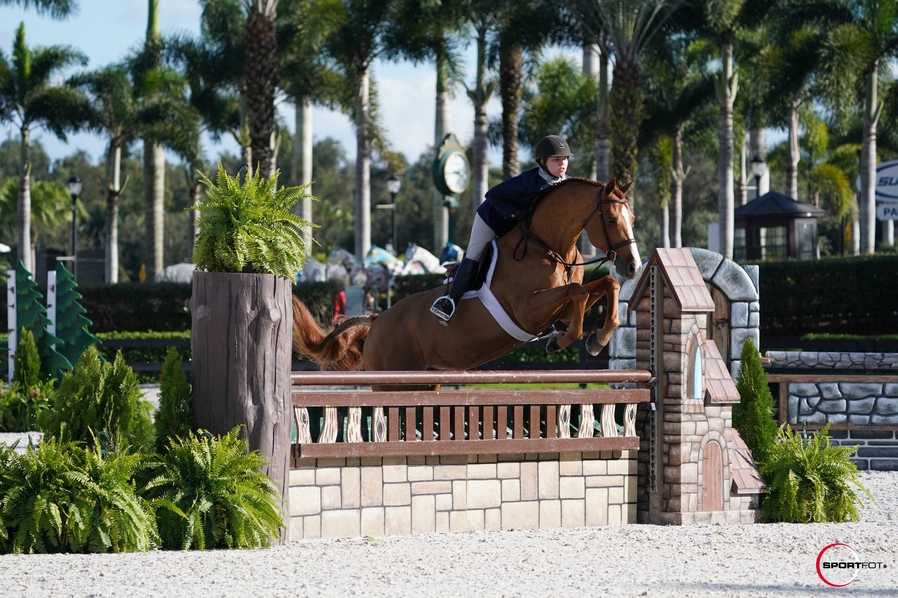 What does a typical day for you look like?
A typical day consists of waking up around 7:00 or earlier, depending on whether my dog wakes me up or not, and making some coffee. I cannot go on with my day without a cup of coffee in the morning. Then I feed and let out my dog before getting ready for the barn. I typically ride around 8 or 8:30 on a non-show day. What I do when I am done riding can vary a little every day depending on what is happening around the barn. When I am done with the barn usually Tom Wright and I will go on a solid 45-minute to an hour walk around the polo club with our dogs just to get a little more exercise in. After that, I usually head home, shower, and get some work done.
What advice would you give another amateur coming to compete at WEF for the first time?
WEF is a highly competitive circuit and many of the top riders in the U.S. and abroad come to compete. So I would say to just take in the whole experience and do not put pressure on yourself or your horse to perform. Remember, the most important part is to have fun. If you are doing that then the results do not really matter. Also, I would add to take advantage of all the incredible talent that is available by watching and studying how the various professionals handle different types of situations.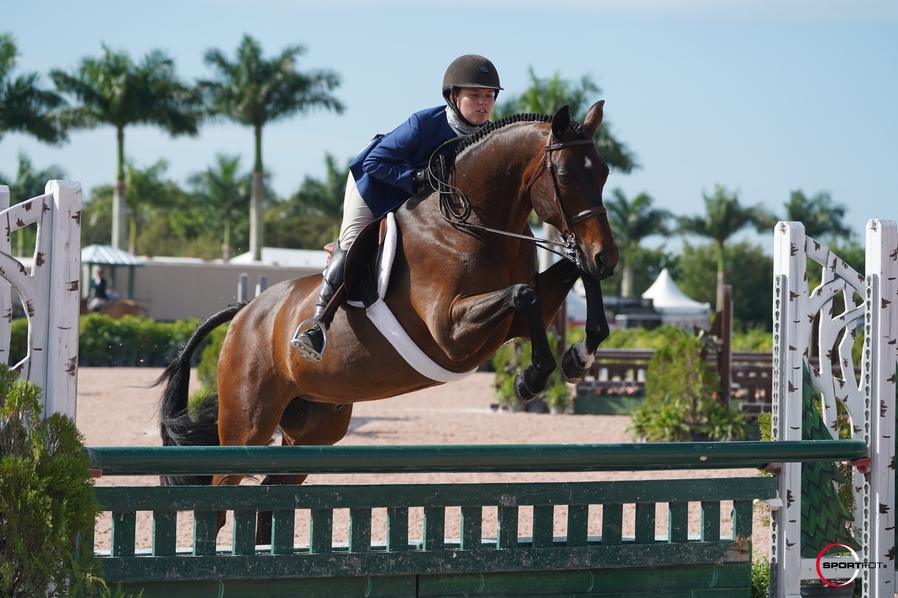 Thank you, Martha! Good luck this #WEF2021 Season!