Wellington, FL – February 25, 2022 – Week 7 of the 2022 Winter Equestrian Festival (WEF), sponsored by Lugano Diamonds, featured top hunter and jumper competition at two facilities on Thursday, February 25. Hunter riders took their turn on the grass Derby Field at Equestrian Village in the $10,000 USHJA National Hunter Derby, which awarded prizes to the top 12 in sections for Open, Junior, and Amateur out of 110 entries. Victories went to Tiffany Morrissey riding Dr. Kathryn Withers's Copernicus K, Clara Propp on Aquitaine Equine's Inquisitive, and Angela Calicchio with City Walk, owned by Cali Horse Sales LLC. Jumpers were featured in the International Arena at Palm Beach International Equestrian Center with Lorenzo de Luca (ITA) and Fabio Leivas Da Costa (BRA) winning five-star and two-star classes, respectively. WEF continues with world-class competition through April 3.
In the $10,000 USHJA National Hunter Derby, all three winners would equal or better their first-round scores with their second handy round. Morrissey and Copernicus K entered the handy round in fifth place with a plan, after a first-round score of 93, which included high option points. They moved up to the win with a second-round score of 95, giving them a total of 188.
"I thought he was great in the first round, but I knew I'd have to pull out all the stops, go inside everywhere, gallop the last fence, be as neat and tidy as I possibly could," said Morrissey of the 12-year-old Zwiebrucker gelding by Popeye K.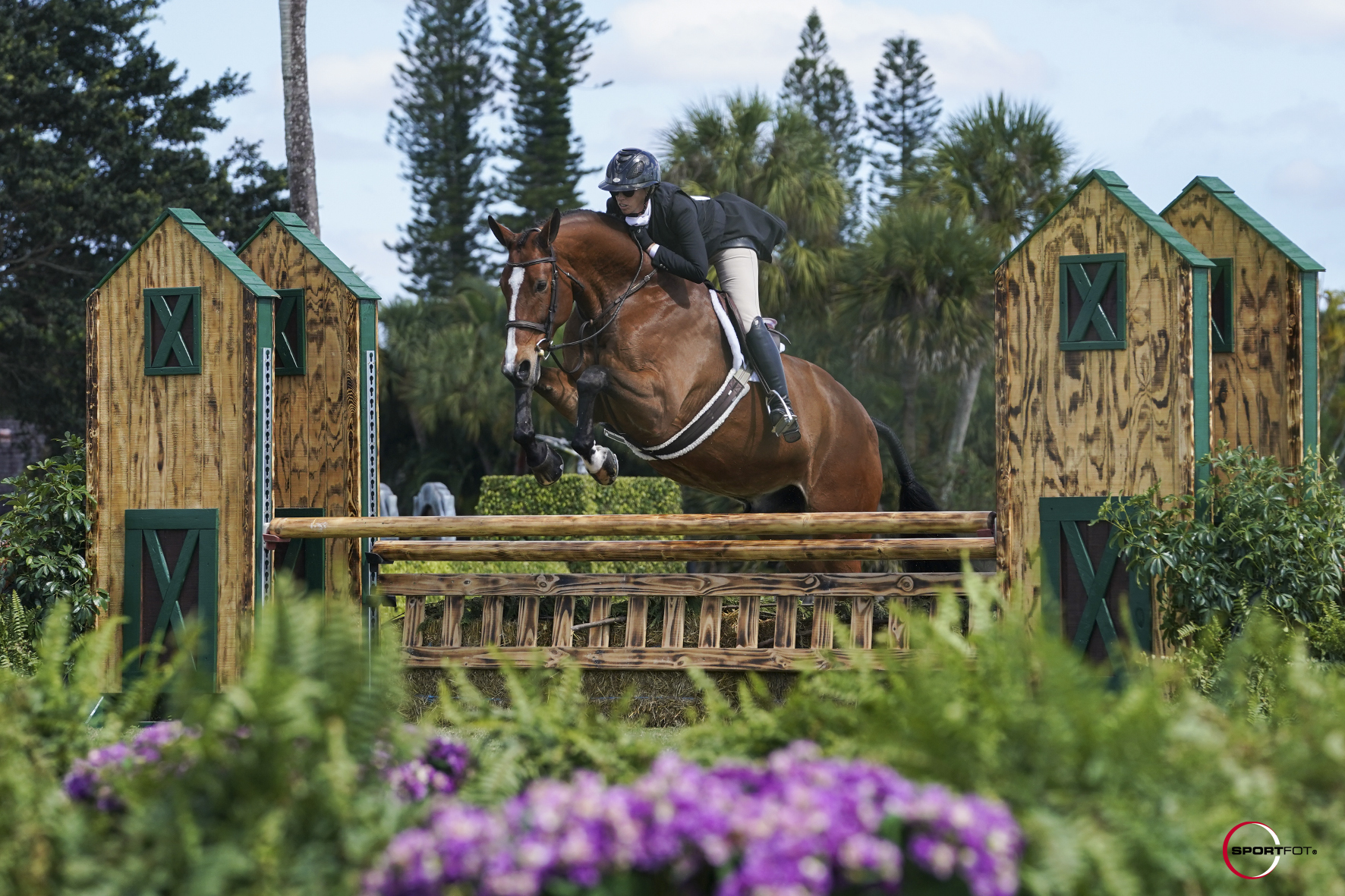 "He's been an unbelievable derby horse for us," said Morrissey said of the homebred. "He qualified for derby finals last year, and he's already qualified this year, so he knows the drill now. He's my number one derby horse right now."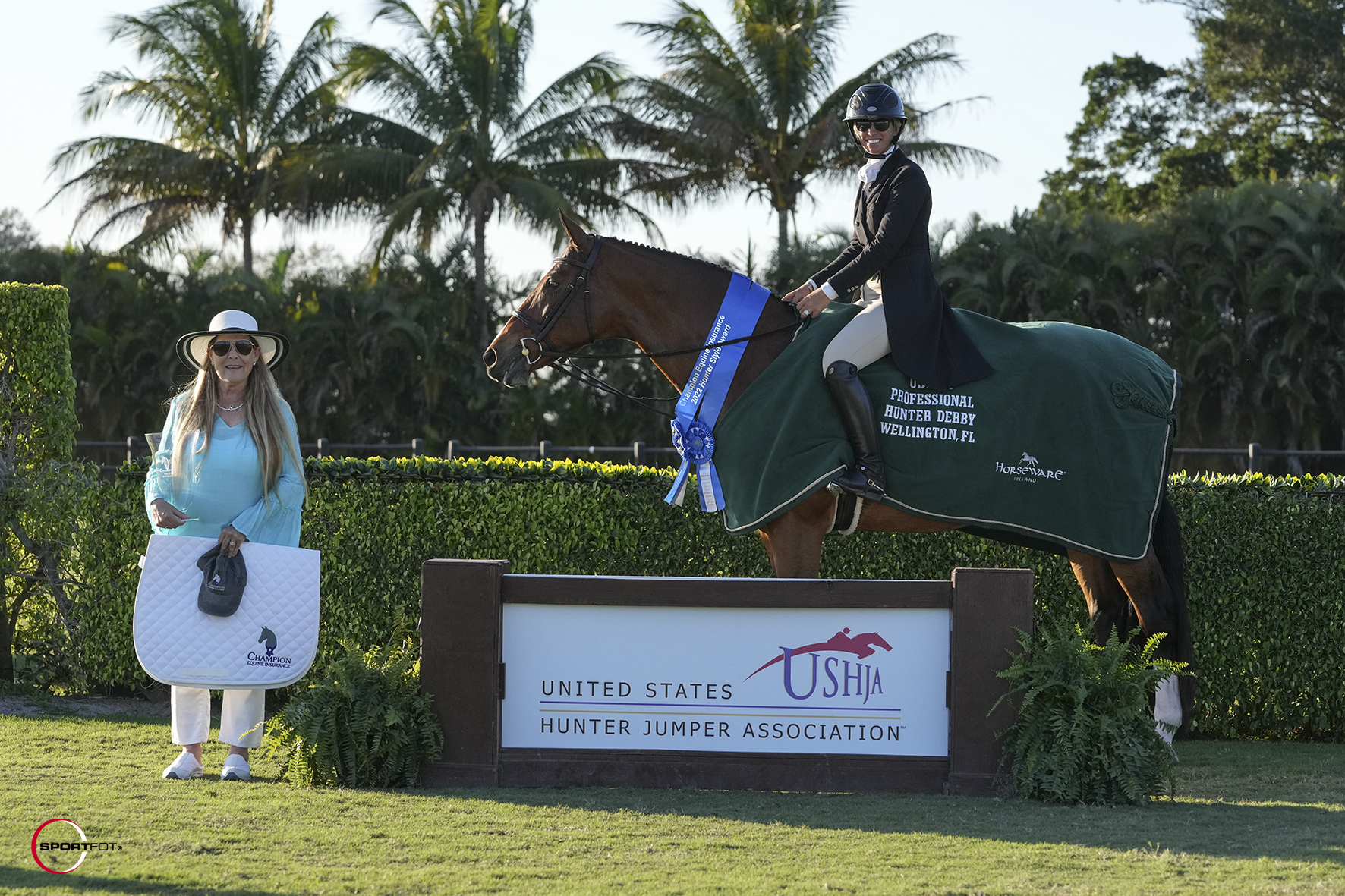 Along with their derby win, Morrissey and Copernicus K were presented with the Champion Equine Insurance Hunter Style Award by Laura Fetterman. Kelsey Epperson and Didgereedoo VDL, owned by Lashier Properties LLC, finished in second with an overall score of 187.25 points. Colin Syquia and Cynthia Sulzberger's Front Page were third with 186 points.
In the Junior section, Clara Propp and Inquisitive also came into the second round looking to improve their rank after a first-round score of 85. The two sat in sixth place, but with only a fairly recent return to the ring.
"I didn't feel too much pressure with it being his first show back in a while," said Propp said of the 14-year-old Warmblood gelding. "He was better than I could have expected, so I just wanted to just to step it up in the handy. I wanted to do all the turns that I could. I had a nice gallop to the last fence, because I just wanted to show off a little, and everything went to plan."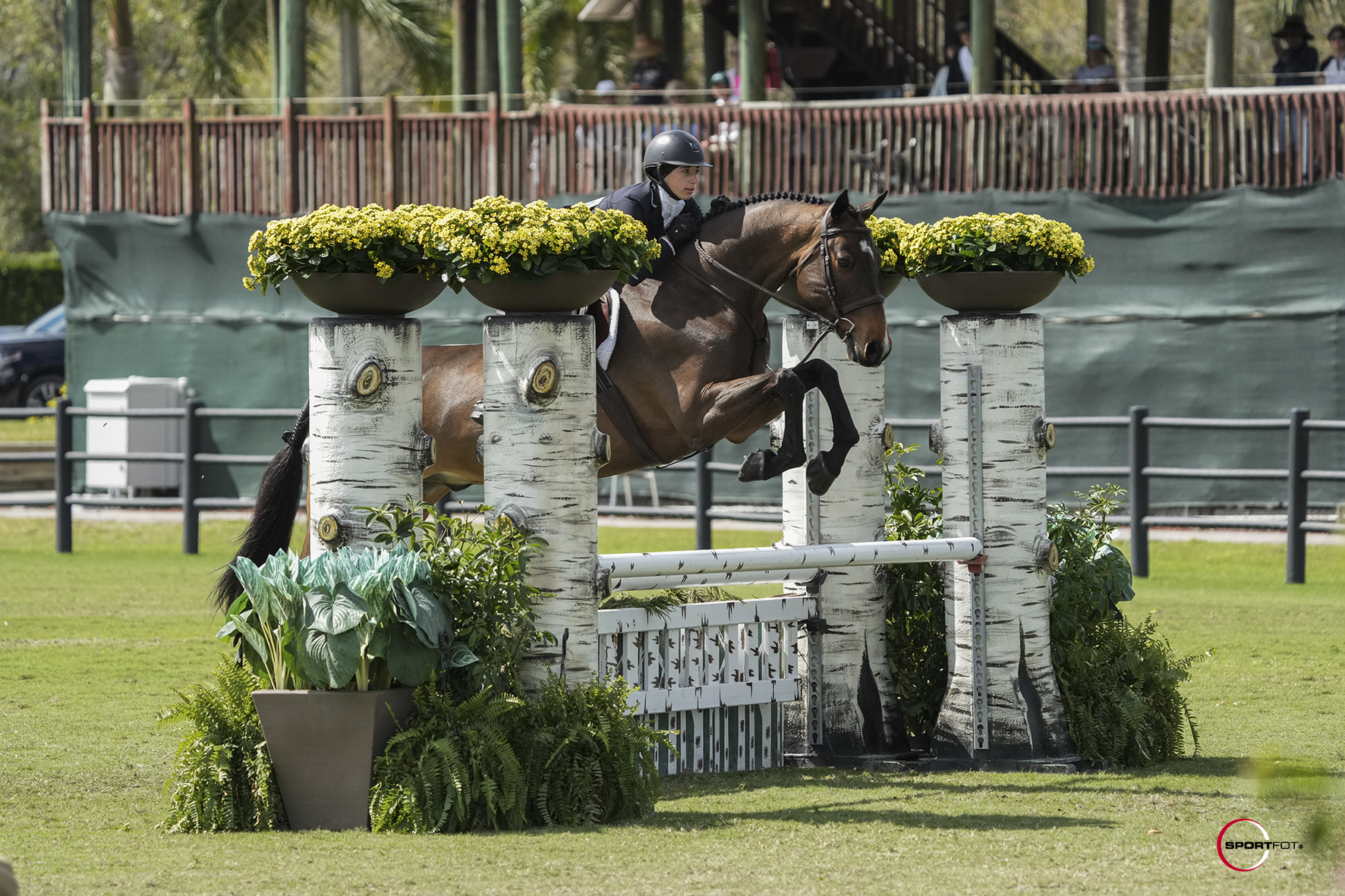 The plan led to a second-round score of 92, giving them 177 for the win. Neither Propp nor Inquisitive are new to derbies, and they both thoroughly enjoy them. Propp finished fourth in last year's derby with Arabesque and won a pony derby at WEF as well.
"He'd been my sister's horse for a long time," said Propp. "She won the Deeridge derby, so he's a pro. He knows his job, and he's so reliable.
"I love the derbies," she continued, "and so does he. He always has his ears perked. You can tell he's really enjoying what he's doing, which is just so nice to see. He's pretty much perfect and always comes out the same horse."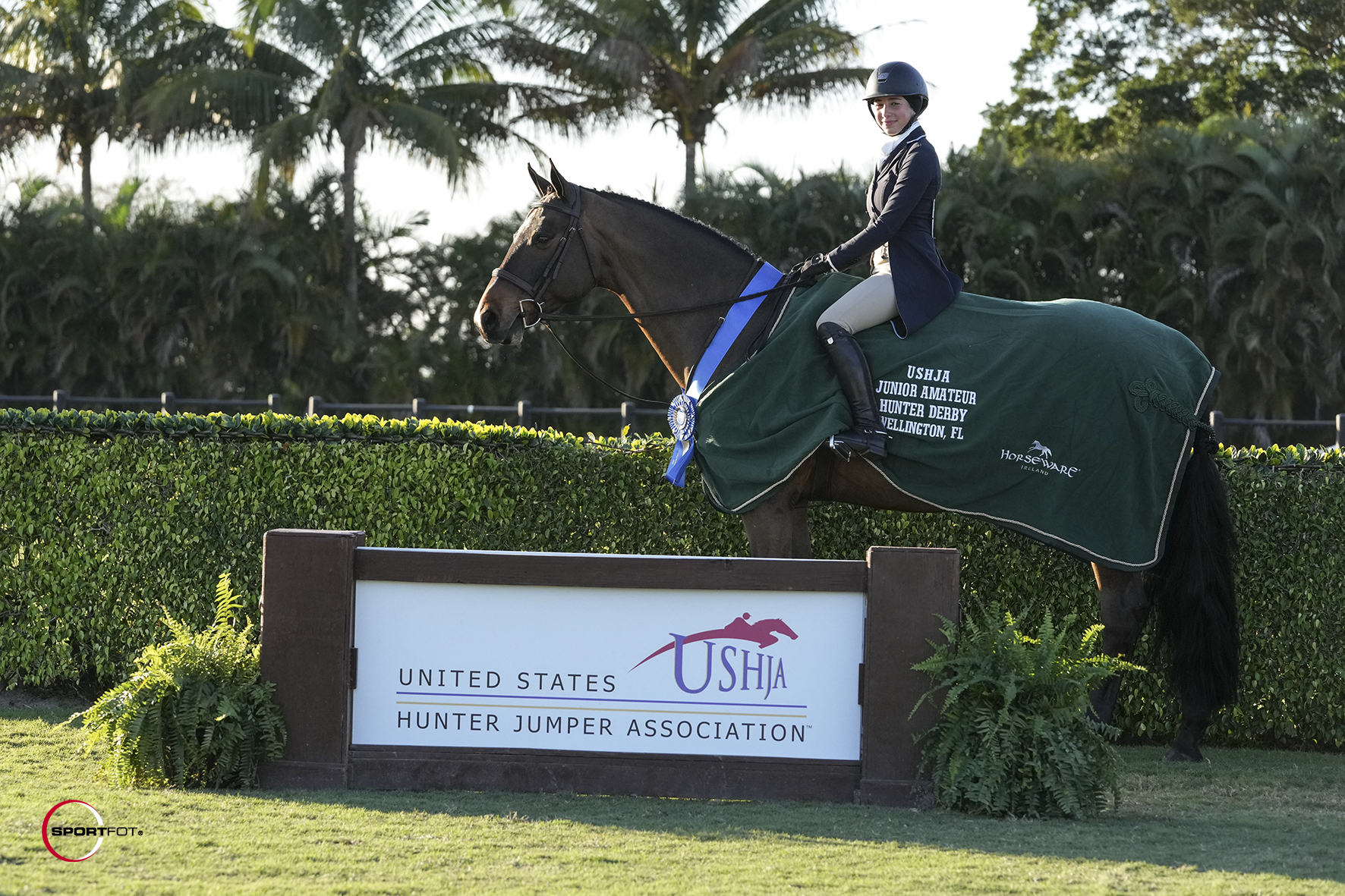 Second place in the Junior section went to Sydney Raidy and Dominik, owned by Joe Currais. They finished with a score of 176. Just behind with a score of 173 in third place were Elizabeth Lowham-Ruzzo and her own Secret's Out.
Unlike Morrissey and Propp, Calicchio started her handy round in the top position with a score of 84.
"Coming into the handy, I was a little nervous, to be honest," said Calicchio. "I ended up getting over it though. As soon as I picked up the canter, I knew I we were on it. He's always been so good, and he listened to me when I asked him to leave from where I did. He's a great boy."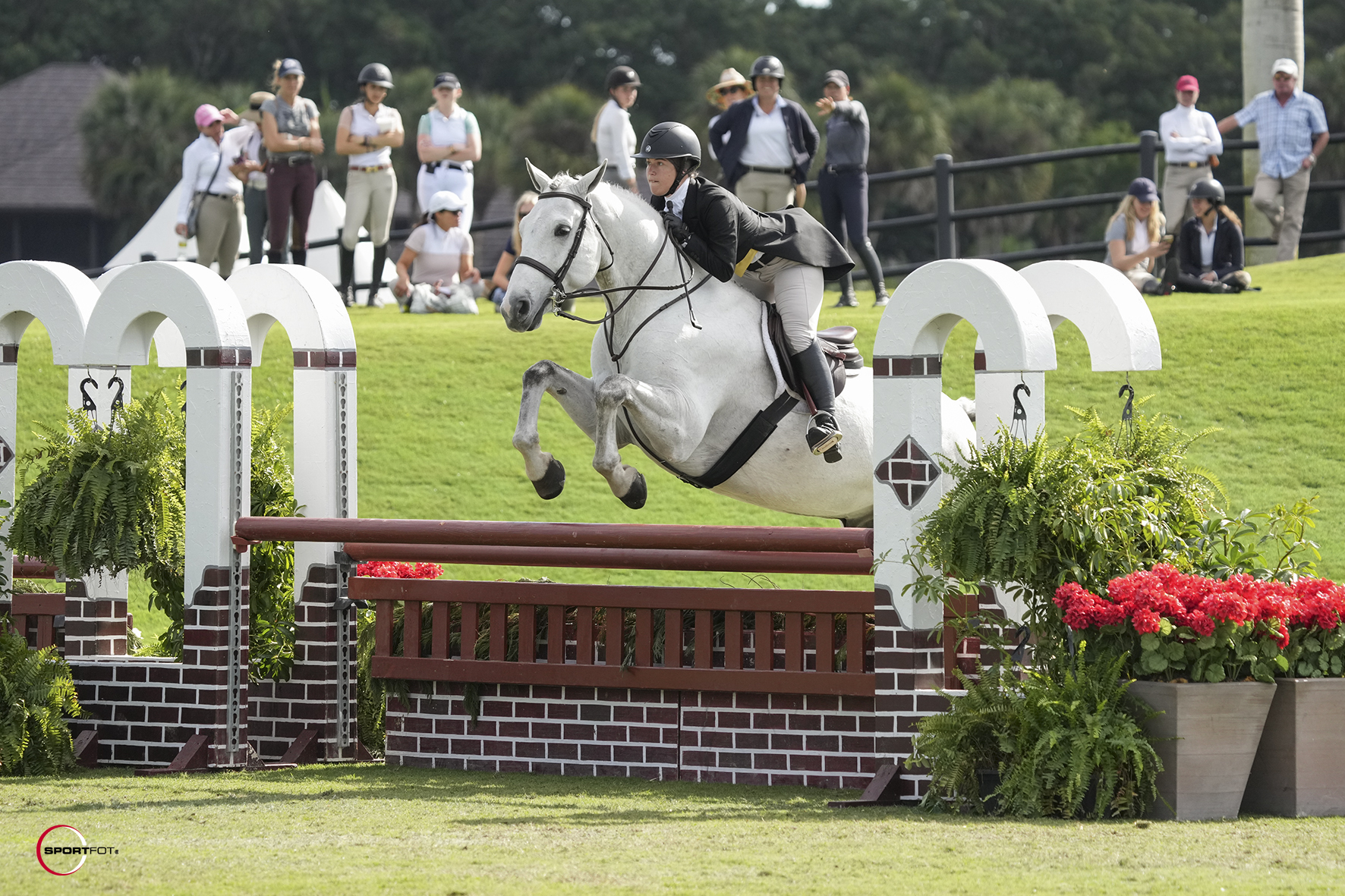 The pair equaled their first-round score with another 84 to win on 168. City Walk is a 10-year-old Selle Francais gelding and had a career change once Calicchio acquired him.
"I've had him for almost three years now," she said. "He was doing the jumpers when I first bought him, but now we do the equitation and hunters. We do the 3'6" Amateur-Owners at WEF, and then also the Ariat and Taylor Harris Adult Medals. This was actually my first time out on the grass out here, and it was a blast. I would love to do it again."
As for his personality, Calicchio noted that he's consistent both in and out of the ring.
"He's really funny, because whenever he gets to stand around like this, he likes to take naps all the time," said Calicchio. "He's always super relaxed. He's always with me and is a really great partner."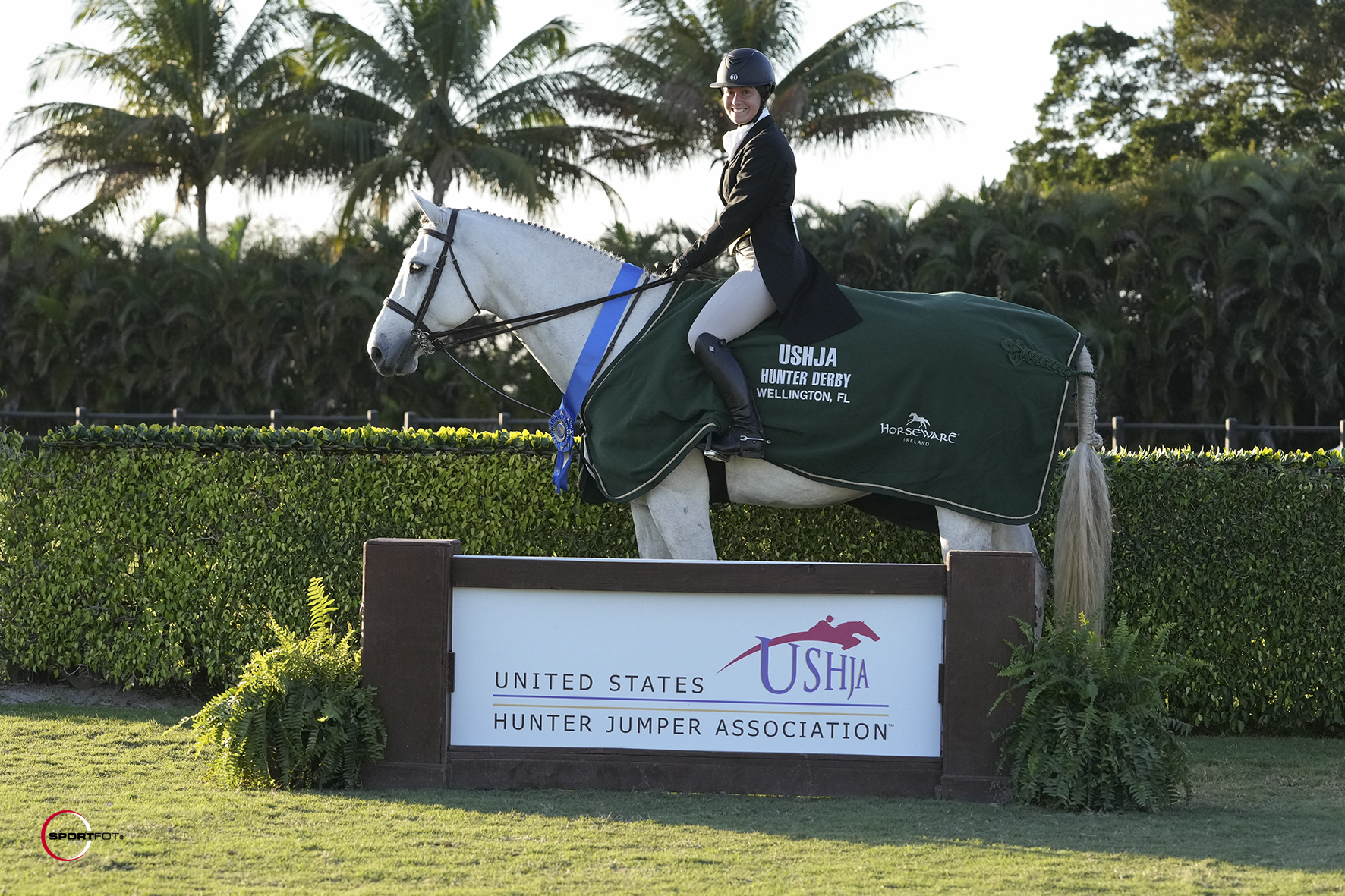 Lindsay Mutschler and her own Concord finished second with a total score of 153, while third place with a score of 152 went to Leah Patipa and her own Regard.

Lorenzo De Luca Leads the Way in $37,000 Bainbridge Companies 1.45m CSI5* 
The $37,000 Bainbridge Companies 1.45m CSI5* concluded with a win for Lorenzo de Luca (ITA) aboard Dirka De Blondel.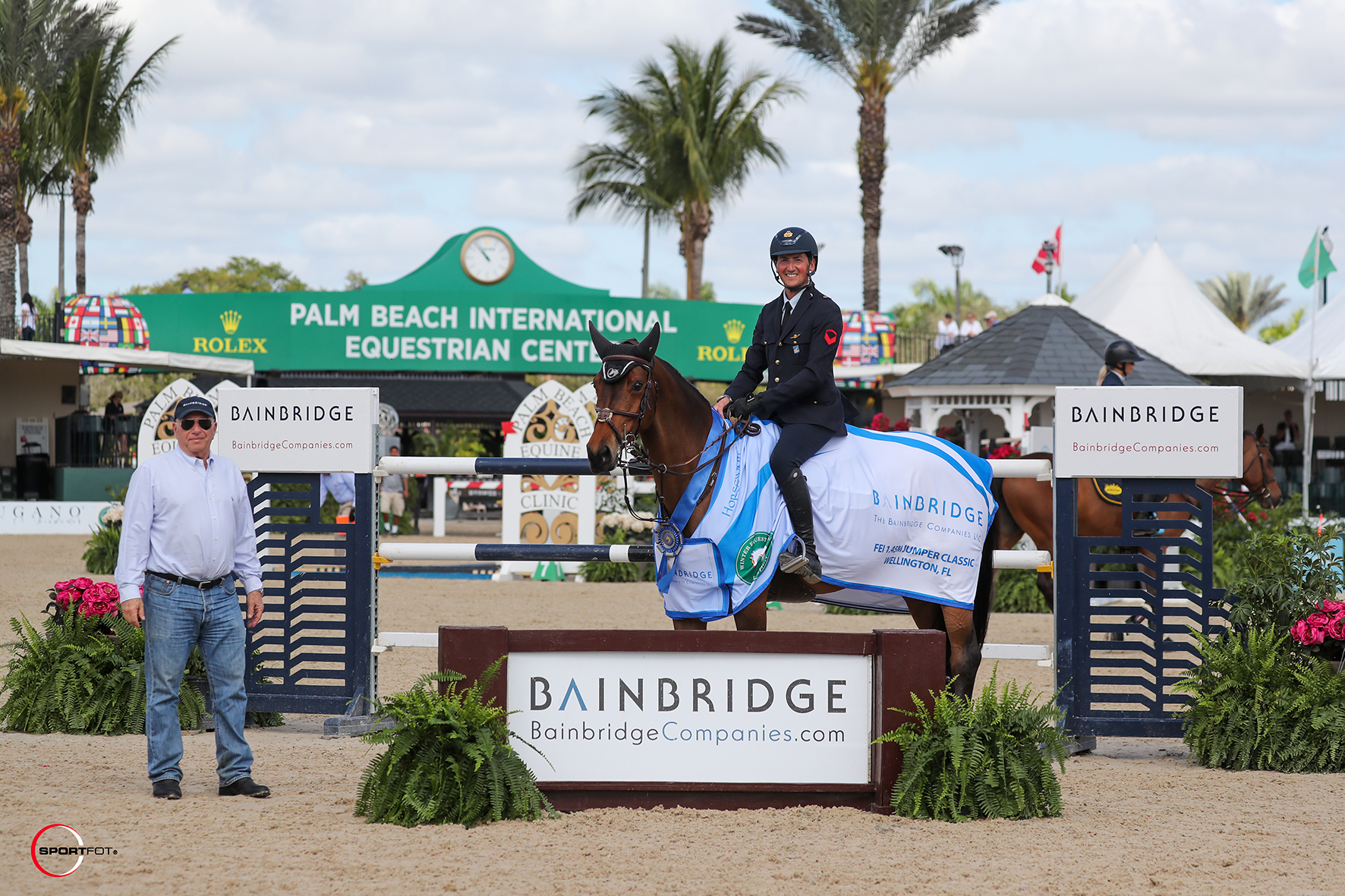 Course designer Anthony D'Ambrosio (USA) made the most of the space in the large arena and set a track that challenged riders to come home clear in less than 83 seconds. As a one-round speed course, the class saw the lead change hands several times before settling on its final victor. Israel's Ashlee Bond produced the tightest time early in the class with Contefina LVF, and it appeared that the pair would be the class victors but with eight left to contest, de Luca shaved off precious time to shake up the order.
 "I was planning to do one stride less in the end, but I didn't see it," explained De Luca. "Even so, she is very fast, and she has been winning a lot of her classes since we started this winter. I just started bringing her out for some international classes, and it has been going well so I am glad I can count on her."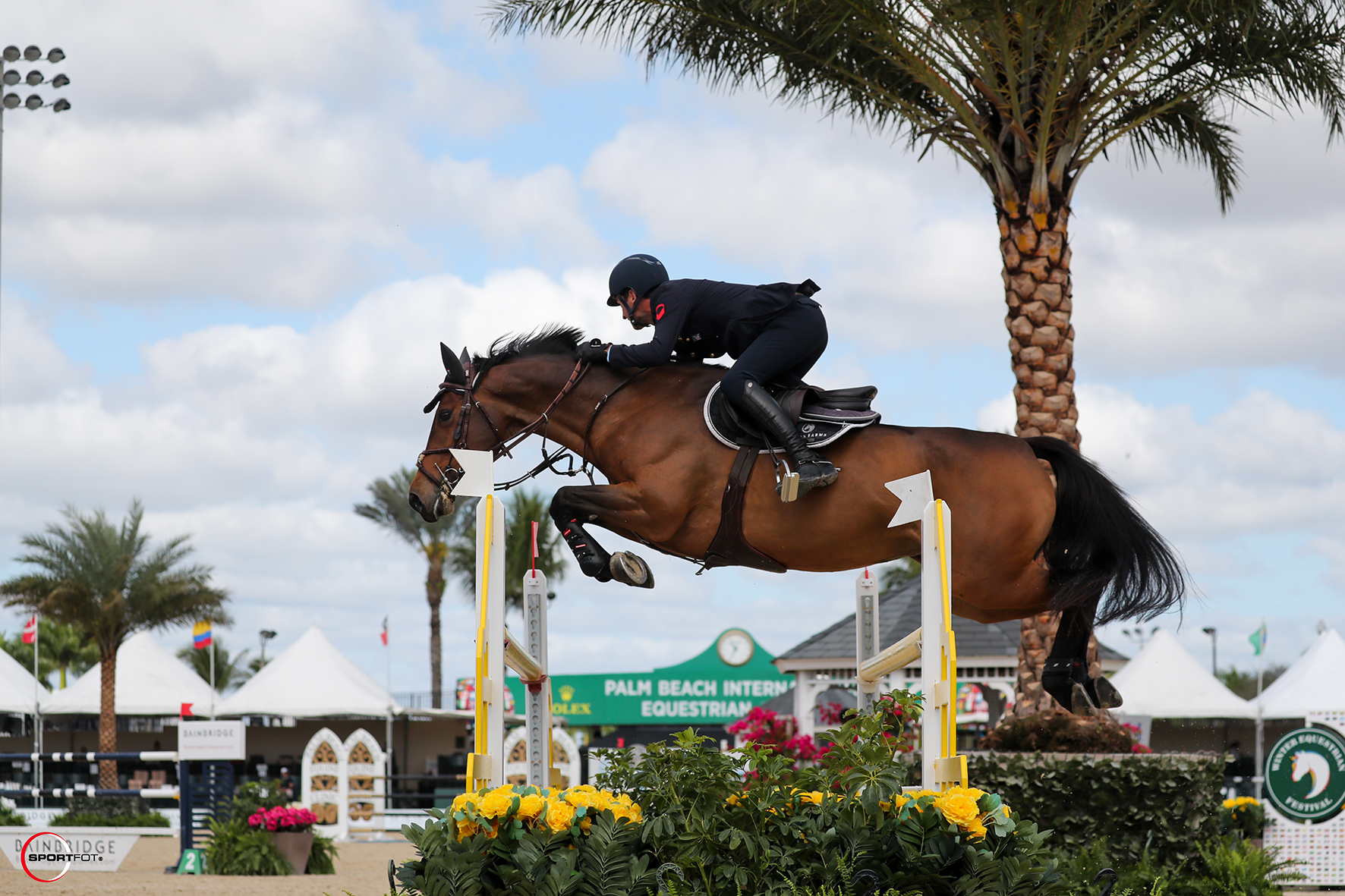 The nine-year-old Selle Francais mare (Very Berlin De Castel x Lauterbach) is one of several that de Luca now pilots for Poden Farms, and he said the level of quality horses he has this winter has made it the best season yet.
"This has been my best year here so far, without a doubt," said de Luca. "I have a very good group of horses, and it is motivating to have a rider like Emily Moffitt who wants to step up and has good horses as well. I am busy all day, but I love what I do, and I could not ask for a better group of horses."
Click to watch Lorenzo de Luca's winning ride!
Bond's time of 64.26 seconds with Ashlee Bond Show Jumping's 10-year-old Holsteiner mare (Contefino 2 x South Pacific) held strong for the second-place position out of the 61 entries. Carlos Hank Guerriero (MEX) and H5 Sport Horses LLC's 11-year-old Hanoverian gelding H5 Chacco-San (Chacco-Blue x Sandro Boy) slipped into third place by clocking in a clean round in 65.73 seconds.
Final Results: $37,000 Bainbridge Companies 1.45m CSI5* 
1. DIRKA DE BLONDEL: 2013 Selle Francais mare by Very Berlin De Castel x Lauterbach
LORENZO DE LUCA (ITA), Poden Farms: 0/63.86
2. CONTEFINA LVF: 2012 Holsteiner mare by Contefino 2 x South Pacific
ASHLEE BOND (ISR), Ashlee Bond Show Jumping: 0/64.26
3. H5 CHACCO-SAN: 2011 Hannoverian gelding by Chacco-Blue x Sandro Boy
CARLOS HANK GUERREIRO (MEX), H5 Sport Horses LLC: 0/65.73
4. NANINI VAN D'ABELDREEF: 2013 BWP mare by Kannan x Heartbreaker
ERYNN BALLARD (CAN), Ilan Ferder and Esperanza Imports LLC: 0/66.95
5. CONTHINDER: 2011 OS gelding by Conthargos x Nintender
ANDRZEJ OPLATEK (POL), Gospodarstwo Rolne and Andrzej Oplatek: 0/67.46
6. FTS KILLOSSERY KONFUSION: 2010 ISH gelding by SIEC Livello x Cruising
JOS VERLOOY (BEL), Eurohorse BVBA: 0/67.85
7. NESPRESSO VAN'T LAEKHOF: 2013 BWP gelding by Cicero Z x Grandeur
NATALIE DEAN (USA), Marigold Sporthorses, LLC: 0/68.25
8. JIMINY CRICKET: 2011 Westphalian gelding by Colestus x Cornet Obolensky
NAYEL NASSAR (EGY), Evergate Stables, LLC: 0/68.97
9. CHILI: 2012 Westphalian mare by Consolidator x Berlin
RODRIGO PESSOA (BRA), Artemis Equestrian Farm LLC: 0/69.23
10. CADEAUMINKA: 2013 NRPS mare by Kannan x Jodokus
LILLIE KEENAN (USA), Chansonnette Farm LLC: 0/72.13
11. MYLORD MARLEY: 2012 Holsteiner gelding by Mylord Carthago*hn x Clarimo
EOIN MCMAHON (IRL), Beerbau, Stables: 0/72.23
12. VICTER FINN DH Z: 2008 Zangersheide gelding by Va Vite x Stakkato
EUGENIO GARZA PEREZ (MEX), El Milagro: 0/73.13

Fabio Leivas Da Costa Captures the Win in $37,000 Palm Beach Equine Clinic Grand Prix Qualifier CSI2*
The afternoon featured the $37,000 Palm Beach Equine Clinic Grand Prix Qualifier CSI2* saw an impressive 76 horse-and-rider combinations set to contest the first phase. A total of 17 nations were represented in the International Arena's final class. As the second and sixth on course, Kelly Arani (USA) and Jad Dana (LBN) were both successful over the obstacles which ensured a jump-off. By the halfway point, three more competitors consisting of Ashley Vogel, Sarah Segal, and Quentin Judge had added their names to the returning list.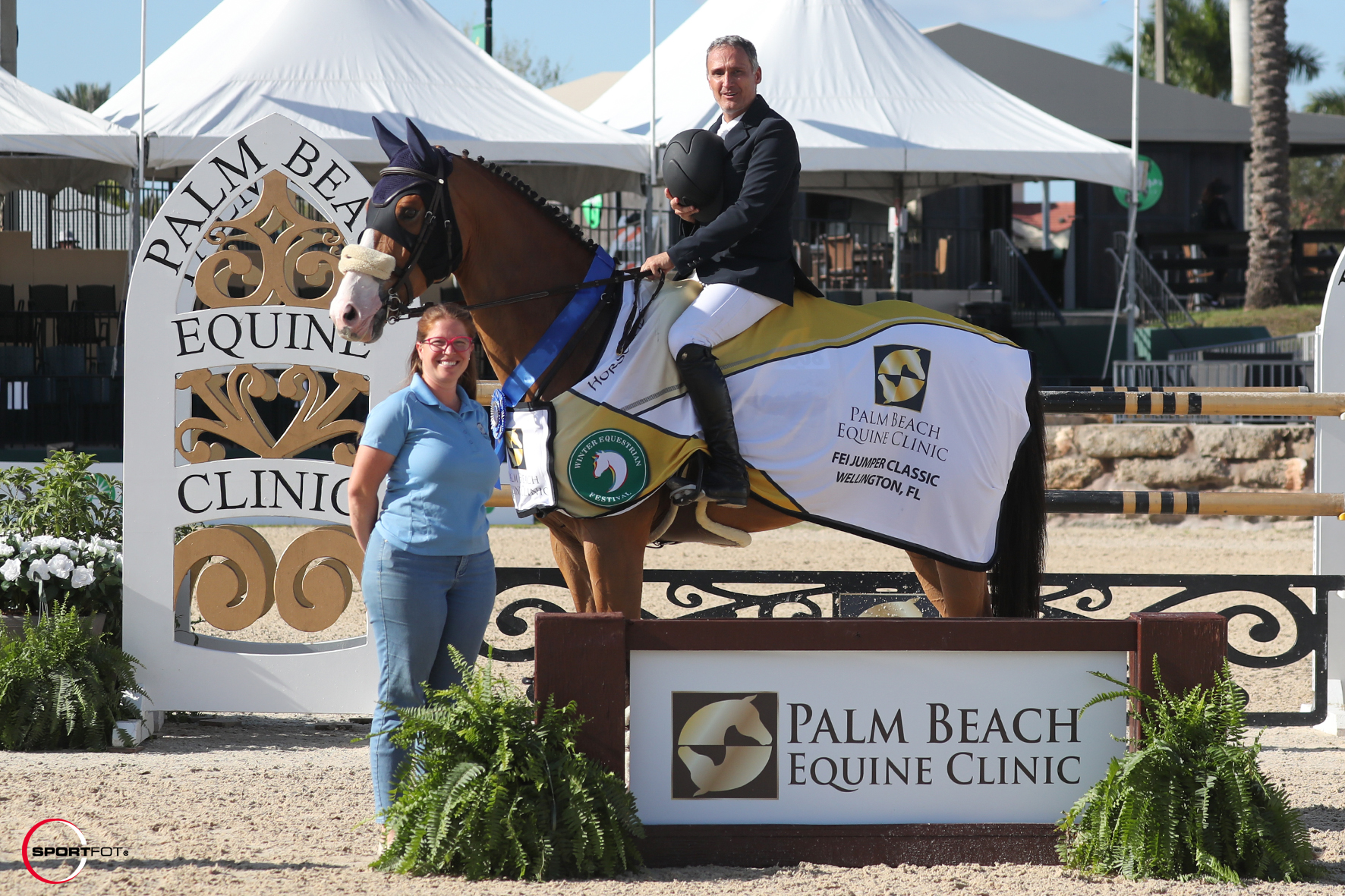 In the end, a total of 12 combinations representing the USA, Ireland, Brazil, and Lebanon qualified for the short track. The class changed leaders several times before settling on Fabio Leivas Da Costa (BRA) and Bonne Chance Farm LLC's nine-year-old KWPN gelding Ilex (Baltic VDL x Chn Chin). They both gave it all they had and managed to leave all the rails in the cups with a blazing fast time of 41.78 seconds.
It is the pair's first season competing at this level together and Da Costa was honestly surprised by the victory stating that "he probably would not have been the winner in this class before now because of his age. He is a big horse, but he is careful and has a ton of scope."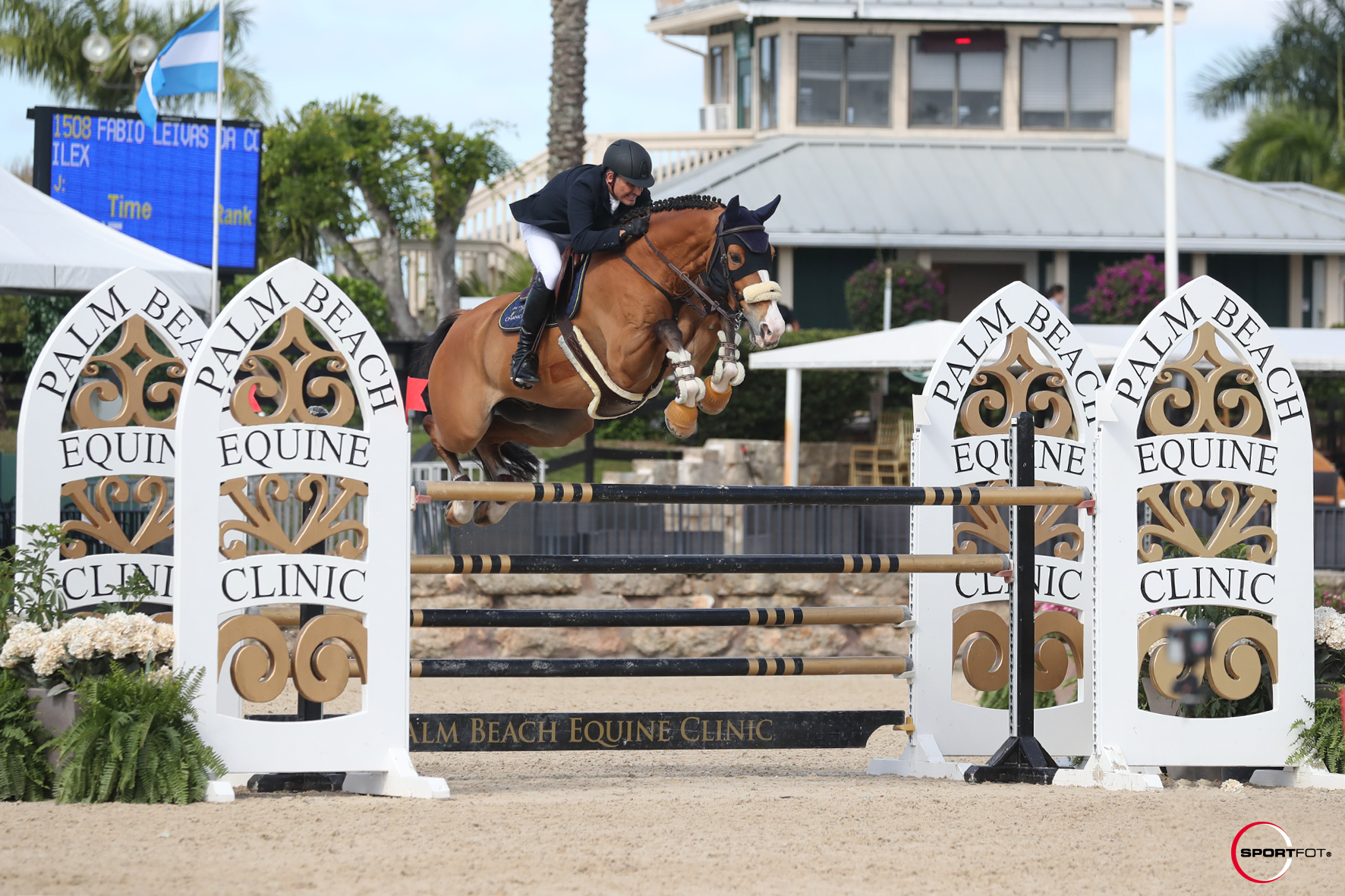 The gelding was most recently fourth in the $50,000 Griffis Residential Grand Prix CSI2* during the fifth week of WEF with Da Costa in the irons.
"I have owned him since he was a five-year-old, but we just started bringing him to compete when he was seven," explained Da Costa. "He is now starting to get into the swing of competing in the two-star grands prix, and we hope to move forward into the three-star events following the end of this season."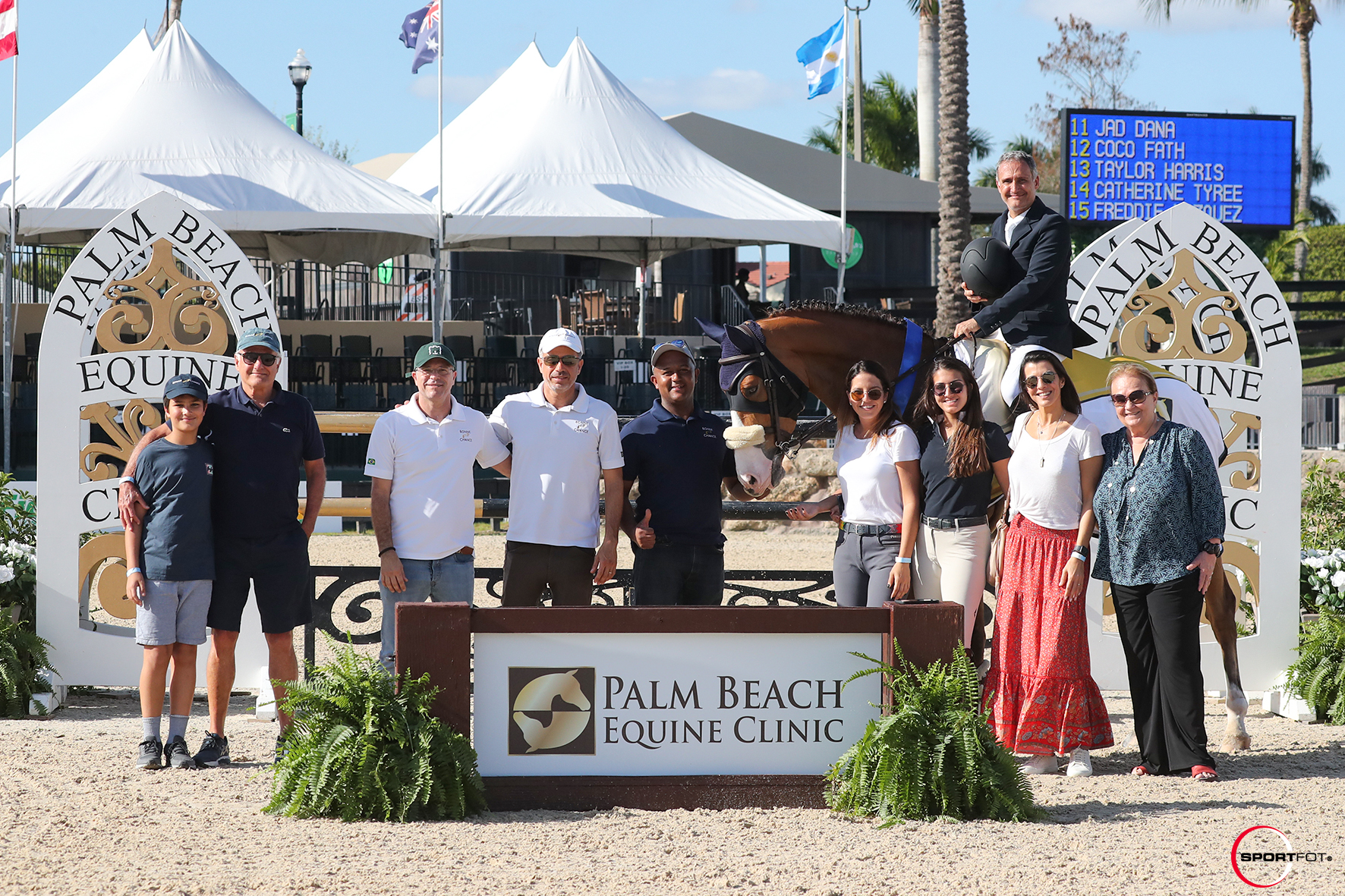 Ireland's Lorcan Gallagher put forth a solid effort with the HKC Collection LLC's 11-year-old KWPN mare Ariana (Cantos x Tolan R) stopping the clock just a second slower than Da Costa with a time of 42.79 seconds to take second place. Callie Schott and Southern Arches, LLC's 14-year-old Oldenburg gelding Charlie (Chacco-Blue x Charlie Z) rounded out the members of the victory gallop as they took third place with a time of 44.06 seconds.
Final Results: $37,000 Palm Beach Equine Clinic Grand Prix Qualifier CSI2*
1. ILEX: 2013 KWPN gelding by Baltic VDL x Chn Chin
FABIO LEIVAS DA COSTA (BRA), Bonne Chance Farm LLC: 0/0/41.78
2. ARIANA: 2011 KWPN mare by Cantos x Tolan R
LORCAN GALLAGHER (IRL), HKC Collection LLC: 0/0/42.79
3. CHARLIE: 2008 OS gelding by Chacco-Blue x Charlie Z
CALLIE SCHOTT (USA), Southern Arches, LLC: 0/0/44.06
4. CONDOR DU VALDECIE: 2012 Selle Francais gelding by Quite Easy x Quito De Baussy
CHRIS EWANOUSKI (USA), Polo Jump LLC: 0/0/44.08
5. BIRDY DU THOT: 2011 Selle Francais mare by Magic D'Elle x Le Tot De Semilly
ASHLEY VOGEL (USA), Ashley Vogel: 0/0/44.11
6. SPEEDY JUMP: 2010 Oldenburg gelding by Stakkato Gold x Quidam's Rubin
SARAH SEGAL (USA), Horatio Street Ventures LLC: 0/0/46.28
7. HH N-JOY: 2013 BWP gelding by Elvis Ter Putte x Bentley vd Heffinck
QUENTIN JUDGE (USA), Double H Farm: 0/4/40.89
8. VALMONT DE VIZY: 2009 Selle Francais stallion by Zandor x Brandy De La Cour
KELLY ARANI (USA), Marigot Bay Farm, LLC: 0/4/43.51
9. VALENTINO V Z: 2009 Zangersheide stallion by Verdi TN x Converter
MARIA COSTA (USA), Maria Costa: 0/4/45.54
10. JET BLUE: 2011 KWPN gelding by VDL Zirocco Blue x Cindoctro
CARLY ANTHONY (USA), Portfolio Horses LLC: 0/8/42.78
11. CARO W: 2012 Holsteiner gelding by Castelan II x Aragorn
JAD DANA (LBN), Peter Howard and Laure Sudreau: 0/8/44.67
12. EXOTIK SITTE: 2010 SBS gelding by Ogano Sitte x Clinton
COCO FATH (USA), Hillside Farm LLC: 8/47.93