For Immediate Release
Summer Grace and Amanda Picciotto Feitosa for Jennifer Wood Media, Inc.
Wellington, FL – February 3, 2022 – International competition resumed Thursday, February 3, 2022, with athletes from across the globe setting up to challenge the track on the Derby Field at Equestrian Village. Week 4, sponsored by The Bainbridge Companies, is the second week of the Winter Equestrian Festival (WEF) circuit  to feature FEIl classes on the turf. The highlight event of the day was the $50,000 Adequan® WEF Challenge Cup Round IV CSI4* which saw 65 of the world's best combinations. Olympic team gold medalist McLain Ward (USA) once again saved the best for last as the final contender to return and captured the victory aboard successful partner, Contagious, owned by Beechwood Stables.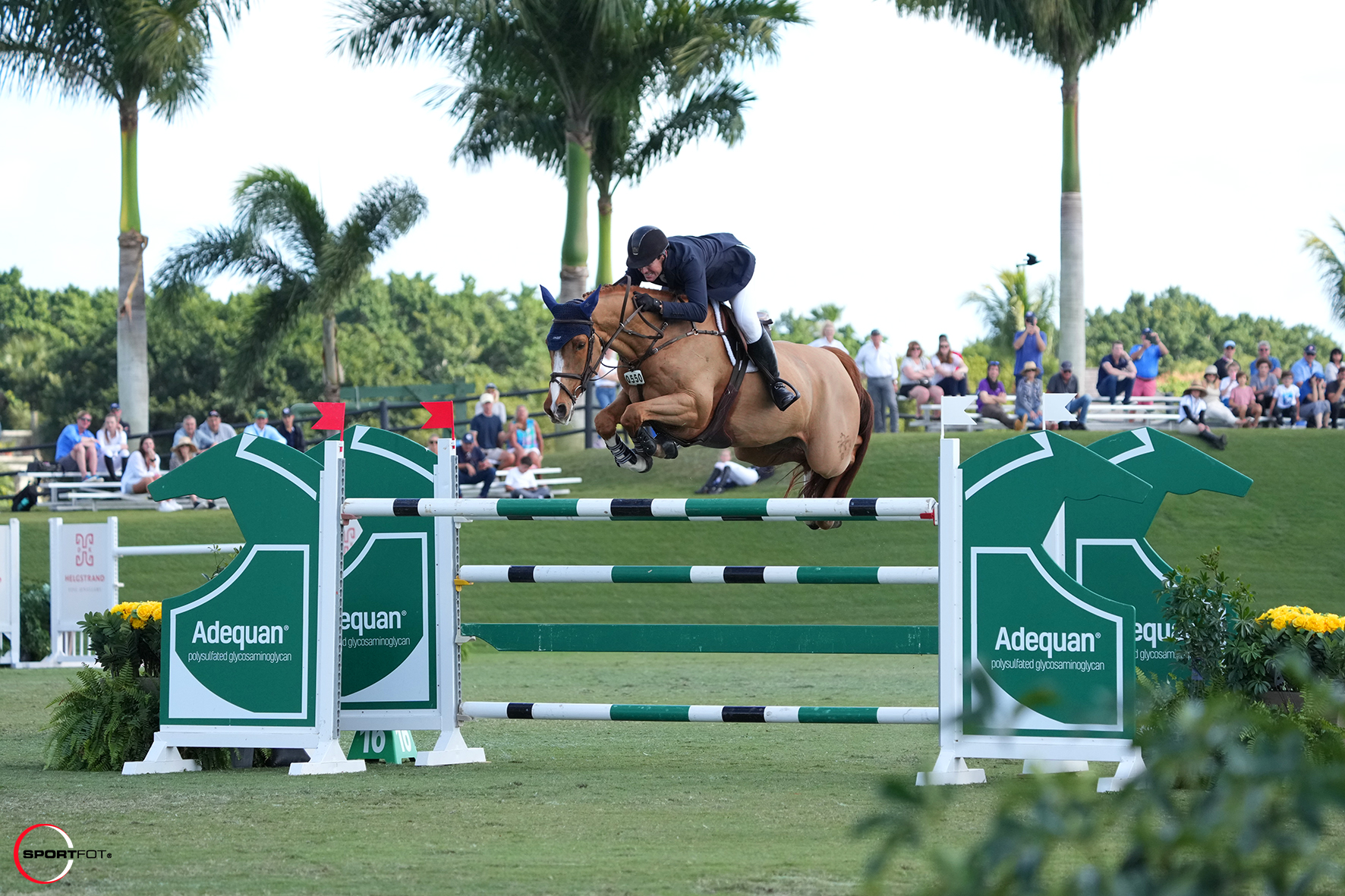 Anderson Lima (BRA) designed the two-round test and at the halfway mark only seven entries were lined up for the return. By the end of the first round,12 of the original field had qualified for the jump-off, but three entries – made up of Kent Farrington, Margie Goldstein-Engle, and Carlos Hank Guerreiro – chose to save their jumps for another day and withdrew. The nine pairs that remained represented the United States, Egypt, Brazil, Spain, and Mexico.
Each duo gave it their best effort and the lead was exchanged several times, but Spain's Sergio Alvarez Moya and his own 10-year-old BWP gelding Malibu De Muze (Nabab De Reve x Tornedo FCS) had a flawless round with a time of 43.34 seconds. However, the victory was not yet sealed and, as the last to take the field, Ward once again proved his skill with an effortless round, shaving almost an entire second off of the previous leading time in 42.57 seconds. 
Click to watch the winning jump-off!
"As we get further into the circuit, the level of competition for these qualifiers gets significantly stronger," stated Ward. "I thought Anderson [Lima] did a great job with the course today, and this field is interesting because it is quite beautiful but there are a lot of distractions for the horses. Today's course was impressive, and I was fortunate to be in the last position of both phases because I had a very clear idea of what I needed to do."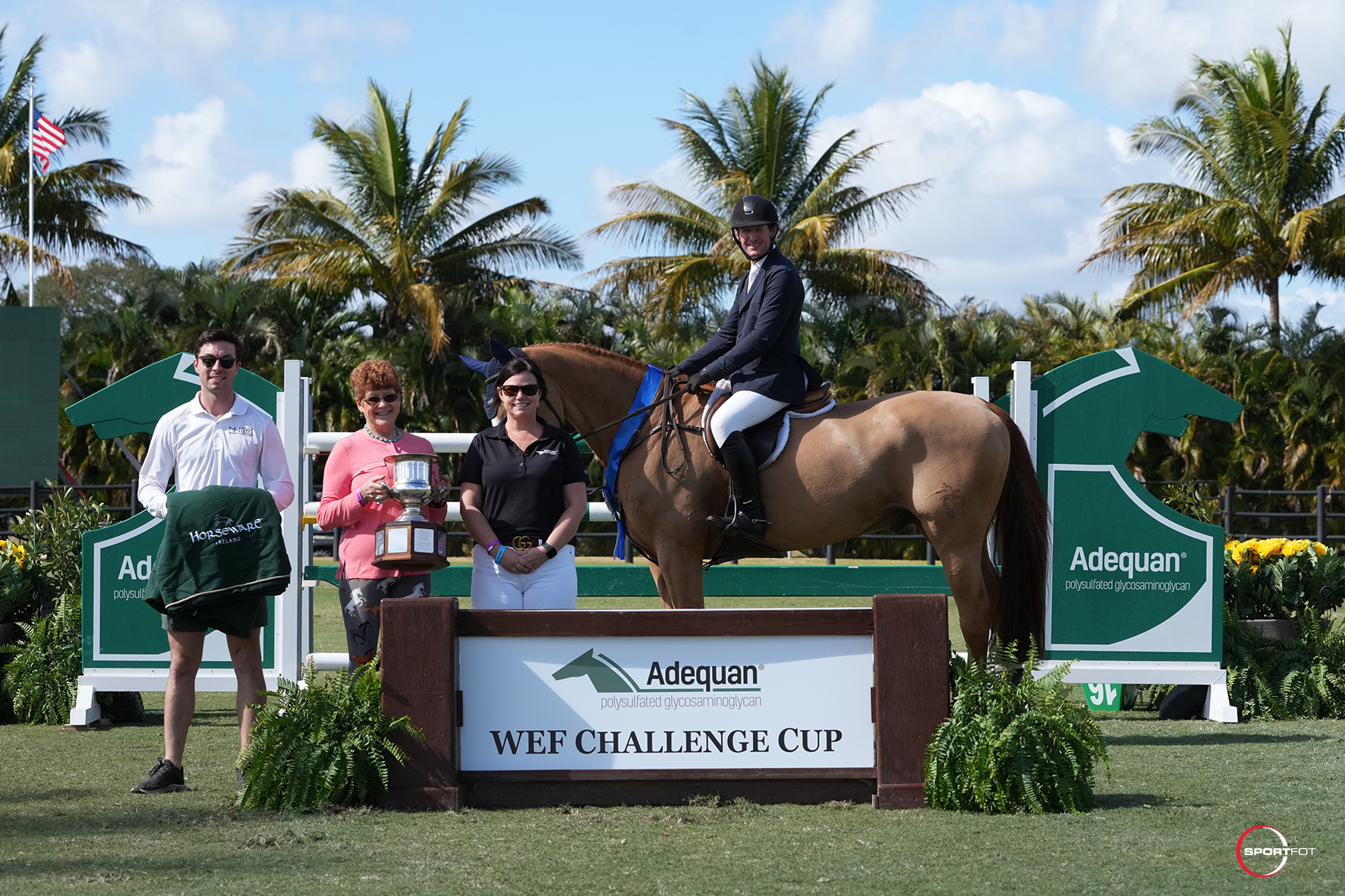 Ward has seen his share of victories aboard the 13-year-old German Sport Horse gelding (Contagio x For Keeps), including the team silver medal at the 2020 Tokyo Olympic Games, and credits his partner's experience as part of his success.  
"I was able to catch the first to second fence pretty fast, and I didn't catch fence three how I wanted but Contagious handled it well," explained Ward. "Then on the final three fences I just tried to keep everything together because I felt like I was on track or close to the time so I did not want to do anything risky. Contagious has been out here on the grass quite a lot and is pretty comfortable out here, but for the younger horses it can certainly be a bit more of a challenge."
Moya held on to the runner-up position while Chloe Reid (USA) shot into the third-place position. Reid and Souper Shuttle (Stakkato x Luise Marie), an 11-year-old Hanoverian mare owned by Live Oak Plantation LLC, ticked in on the timers only 0.03 seconds behind Moya for a final time of 43.46 seconds. 
Final Results: $50,000 Adequan® WEF Challenge Cup Round IV CSI4*
1. CONTAGIOUS: 2009 German Sport Horse gelding by Contagio x For Keeps
MCLAIN WARD (USA), Beechwood Stables LLC: 0/0/42.57
2. MALIBU DE MUZE: 2012 BWP gelding by Nabab De Reve x Tornedo FCS
SERGIO ALVAREZ MOYA (ESP), Sergio Alvarez Moya: 0/0/43.34
3. SOUPER SHUTTLE: 2011 Hanovarian mare by Stakkato x Luise Marie
CHLOE REID (USA), Live Oak Plantation LLC: 0/0/43.46
4. ROBIN DU PONTHUAL: 2010 Selle Francais gelding by Elf D'or x Io De La Grange
SCHUYLER RILEY (USA), Katherine Gallagher: 0/0/43.59
5. KAMILLA D: 2011 SCSL mare by Kashmir von Schuttershof x Canturo*Bois Margot
NATALIE DEAN (USA), Marigold Sporthorses, LLC: 0/0/44.68
6. CLEAR WATER: 2007 Holsteiner gelding by Clearway x Come On
GABRIEL DE MATOS MACHADO (BRA), Karen O'Connor: 0/0/45.27
7. DOLINN: 2008 KWPN mare by Cardento x Lux
HARRIE SMOLDERS (NED), Evergate Stables, LLC: 0/0/47.75
8. DARRY LOU: 2008 KWPN gelding by Tangelo van de Zuuthoeve x Nabab de Reve
NAYAL NASSAR (EGY), Evergate Stables, LLC: 0/0/47.75
9. CONTAGO: 2011 Oldenburg gelding by Cornet Obolensky x Cassandra
EUGENIO GARZA PEREZ (MEX), El Milagro: 0/8/54.15
10. ROYCE: 2004 Oldenburg stallion by Café au Lait x Grandilot
MARGIE GOLDSTEIN-ENGLE (USA), Gladewinds Partners, LLC: 0/80.07
11. H5 SUNSHINE: 2006 Belgian Warmblood gelding by Diamant de Semilly x Hardi
CARLOS HANK GUERRIERO (MEX), H5 Sport Horses LLC: 0/80.17
12. EASY GIRL: 2011 Oldenburg mare by Conthargos x Nintender
KENT FARRINGTON (USA), Kent Farrington, LLC: 0/80.50

Tamara Provost and Cayman Lead the Way in the TRM Green Hunter 3' Division
The Equine Tack and Nutritionals Ring 6 played host to the young and green hunter divisions today where Tamara Provost, of Westfield, IN, rode Cayman to the championship title in the Green Hunter 3' division, sponsored by TRM.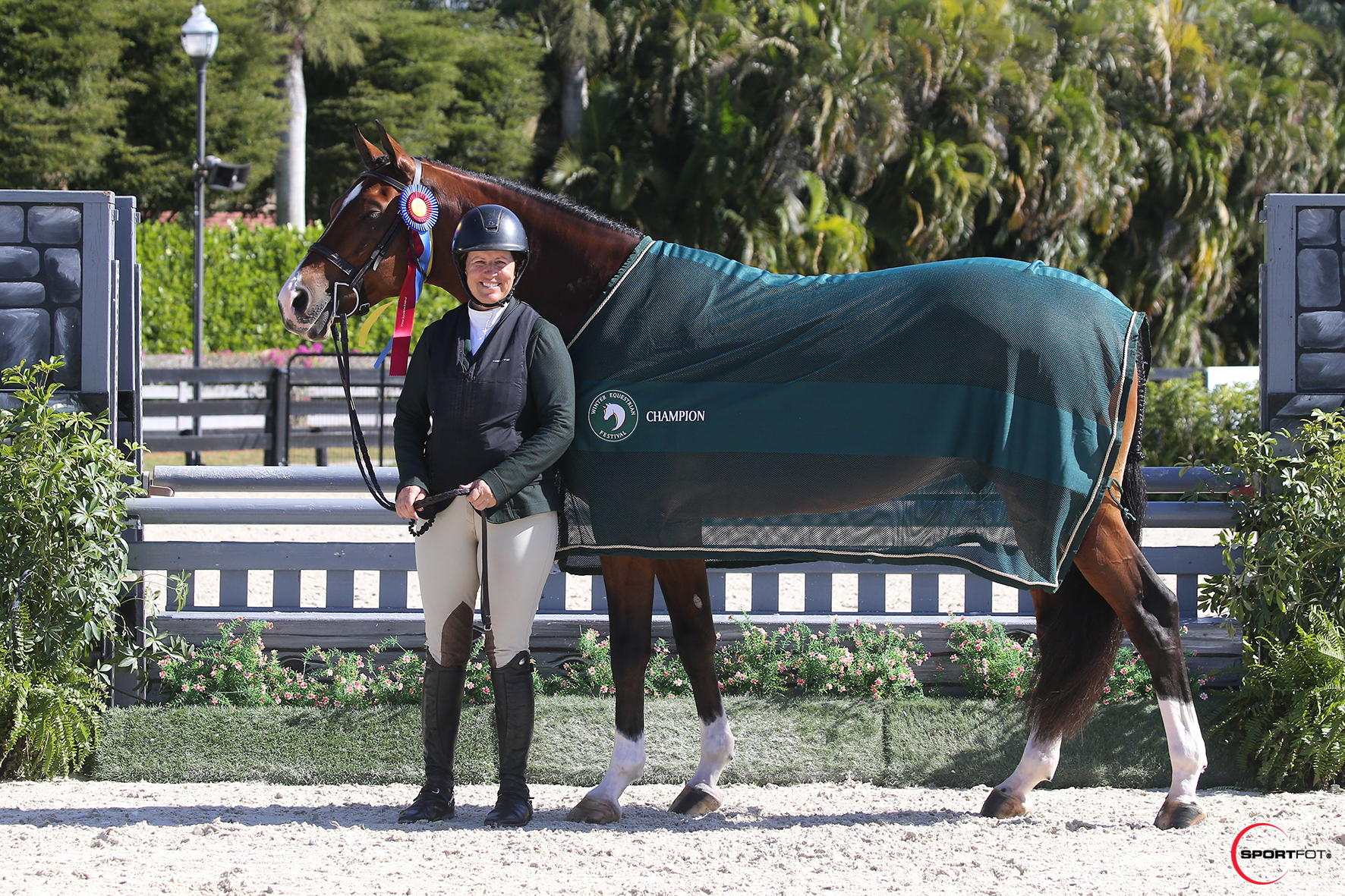 It was an auspicious start yesterday as Jennifer Hannan piloted Surf City, owned by Nina Winoker, to a win in the under saddle class, as well as first and second places over fences with scores of 88 and 83. Provost was right behind, finishing in second in the under saddle and trading first and second places with Hannan over fences with scores of 83 and 86.
The close results made for a deciding second day of competition. Provost and Cayman bested the field in both over fences classes on Thursday with scores of 86 and 88 to push them to the top of the leaderboard for the overall championship title. Hannan and Surf City finished with the reserve championship honors.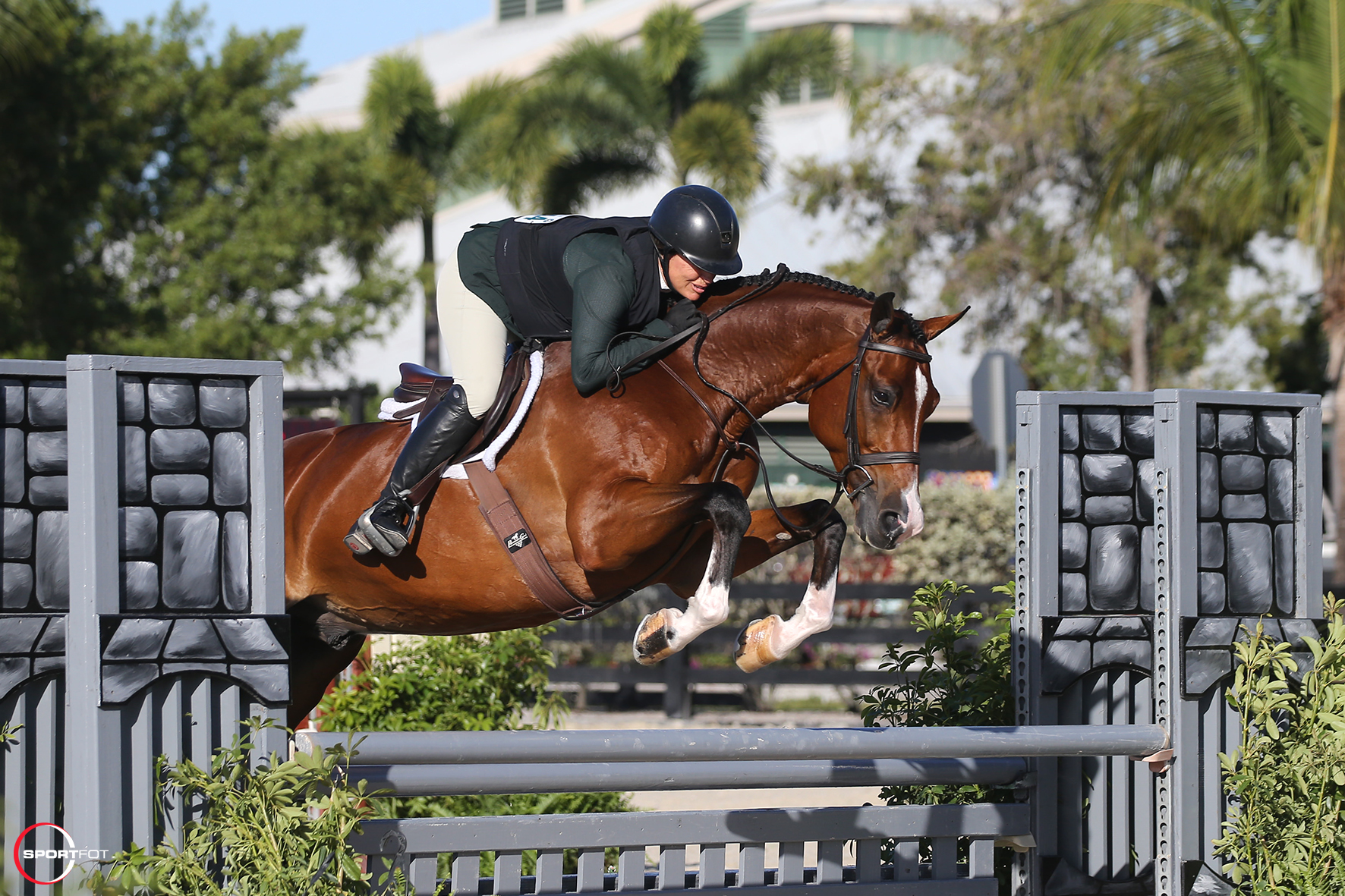 Cayman, a 10-year-old Holsteiner gelding by Casall La Silla, is owned by Laurie Stevens (Boca Raton, FL) and was imported from Germany last summer through Stevens's friend Desiree Johnson. Neither Stevens nor Provost was able to travel to try Cayman first hand due to COVID, so they trusted Johnson's eye for talent.
Stevens recalled, "Desi sent me a text, and she goes, 'When I saw this horse, this one had your name on it.'"
It's been smooth sailing for Cayman since Provost has taken over the ride, winning almost every division he's been entered in.
"He's just been lovely from the time he set foot in America. He's got a super jump and a super attitude. I can't say a bad thing about the horse," commented Provost. "It's just incredible when you walk into the ring on a horse that tries to win every time."
Cayman's winning ways and friendly personality have made quite the impression with Provost.
"He's in my top four group of horses I've ever had, and I'm 51 years old, so I've had a lot of them!" she said.
Provost and Stevens will now have to decide what Cayman's goals will be; either he'll become a nice amateur horse for Stevens, or Provost will keep the ride and aim him for the derbies.
"He could do either. He's got the attitude for her, but he's got the ability for me. It's a 50/50 either way right now," explained Provost.
Competition continues on Friday with an action-packed day. Hunters take to the International Arena for the $25,000 USHJA International Hunter Derby. Meanwhile, international jumper competition continues at Equestrian Village on the field with the $37,000 Douglas Elliman 1.45m Speed CSI4* and the $37,000 Helgstrand Jewellery Grand Prix Qualifier CSI2*. Also, taking place in the Global International Arena is the $25,000 Hermès U25 Grand Prix Series Team Event.