McLain Ward and HH Carlos Z Win $35,000 Suncast® 1.50m Championship Jumper Classic at WEF 3

Emma Pell and Wink And Smile Victorious in the Visse Wedell Small Pony Hunters
For Immediate Release
Lauren Fisher and Callie Seaman for Jennifer Wood Media, Inc.
Wellington, FL – January 31, 2016 – Week three of the 2016 Winter Equestrian Festival (WEF), sponsored by Adequan®, concluded on Sunday, January 31, with the $35,000 Suncast® 1.50m Championship Jumper Classic. Held in the International Ring at the Palm Beach International Equestrian Center (PBIEC), McLain Ward and HH Carlos Z jumped to victory out of 54 entries and a 13-horse jump-off.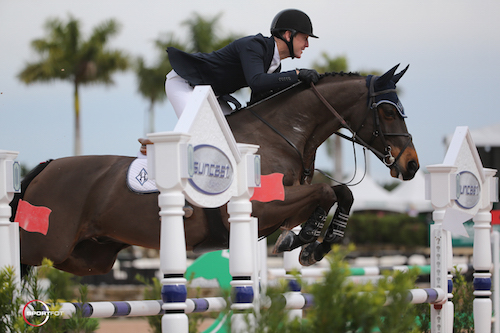 McLain Ward and HH Carlos Z
Luc Musette of Belgium set the course for Sunday's 1.50m. With 13 in the jump-off, only four were able to clear the short course without fault. Meredith Michaels-Beerbaum (GER) and Unbelievable 5, owned by Windward Farm and Jessica Suida, were the first pair to clear the jump-off in 38.45 seconds. They won the class last week, but settled for second place this time around. Richard Spooner (USA) and Little Valley Farms' Chivas Z cleared the course next to take third place honors with a time of 40.08 seconds. Mac Cone (CAN) and Chadburn Holdings Inc.'s Gasper van den Doorn jumped the next clear round in 44.73 seconds to finish fourth. Last to go, Ward and Double H Farm's HH Carlos Z blazed the winning time of 37.14 seconds.
The 14-year-old Zangersheide gelding (Chellano Z x Voltaire) had a long break after the Royal Winter Fair in November and is getting back into top form to begin his 2016 season.
Commenting on the build up to Sunday's win, Ward noted, "Our schedule got a little screwed up this week with the weather. Normally I like a warm-up class with him, but he had to go straight into the WEF (Challenge Cup) on Friday. He actually jumped great. I did not ride very well. I think I over-rode him a lot, so I tried to settle down a little bit today and just ride him normal. I thought he jumped a good first round. There were a few kinks I still wanted to work out, and then when he gets in the jump-off, you normally have a pretty good chance."
"There was an option from jumps two to three," Ward detailed. "I saw Meredith get the five (strides), and when I walked it, I thought I could do it. He is a funny horse because he is a small, little horse, but he has this huge stride at times, but not always. I definitely was going back and forth on it a little bit, but I decided that if I got one and two the way I wanted, I would keep going and I did. Then the last line was a little long, but he stayed really careful."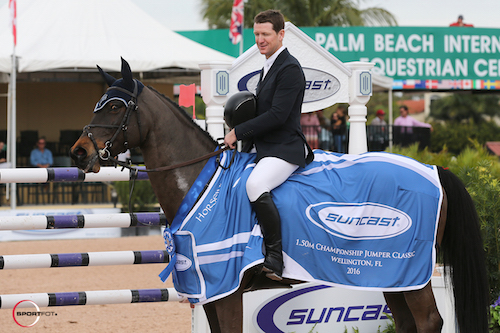 McLain Ward and HH Carlos Z in their winning presentation
"We needed a clear round and a win," Ward admitted. "I always feel like I start a little rusty after the break and it is certainly good for the confidence."
The rider also commented on the first round course, stating, "It was good. I think Luc is a great course builder. For me, I think he actually comes a little early in the season because I think he builds difficult and I don't know if I am quite ready for difficult, but I thought he had the right number clear for the number in the class."
Also competing in the International Ring on Sunday, Lucy Deslauriers and Lisa Deslauriers' Hester topped the $10,000 SJHOF High Junior Jumper Classic, sponsored by Sleepy P Ranch. Nicole Bellissimo was victorious in the $10,000 Medium Amateur-Owner Jumper Classic, sponsored by Animo USA, riding Bellissimo LLC's Visette.
Emma Pell and Wink And Smile Victorious in the Visse Wedell Small Pony Hunters 
It was tough competition at "Pony Island" on Sunday morning as some of WEF's youngest riders duked it out for the Small Pony Hunter championship presented by Visse Wedell. Emma Pell, who rides at Skyland Farm in Virginia, guided Virginia Bonnie's Wink And Smile to the top of the class. The pair earned two blue ribbons over fences on Saturday and placed third and eighth over jumps on Sunday. Reilly Gogul piloted Sweet Oak Farm's Mr. Magoo to the reserve honors, winning the handy round as well as second and sixth over fences and sixth in the under saddle.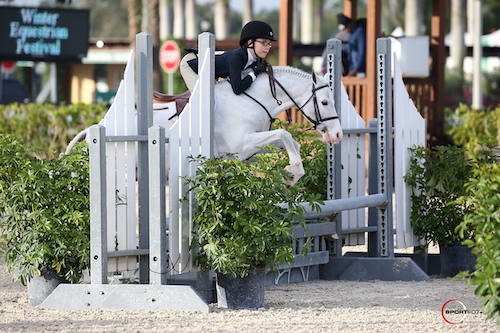 Emma Pell and Wink and Smile
Pell has only been riding the 14-year-old Welsh Pony gelding for three weeks, but it has proven to be a successful match. During WEF 2 the pair earned two second-place ribbons over fences in the Small Pony Hunter division.
"He's really fun," Pell remarked about her mount. "He's a really good pony."
"He is really easy, and he helps me a lot," Pell commented about her catch ride on Wink And Smile, who she will continue showing until he is sold. Pell also competed in the division with her own mare Forget Me Not, who she earned consistent ribbons with throughout the weekend, including a fourth place finish over fences on Sunday.
"It was really good competition," Pell commented about the field of 18 she competed against. "I'm glad I was champion because I think he deserved it."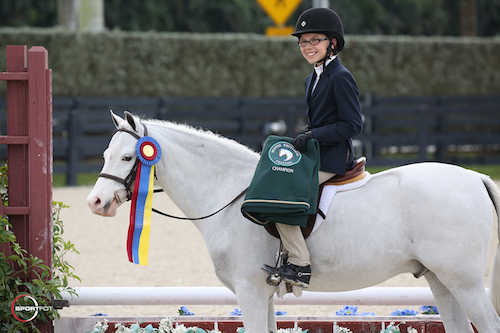 Emma Pell and Wink and Smile in their championship presentation
WEF continues with its fourth week of competition, sponsored by Ariat®, on February 3-7, 2016. The week will feature the Great Charity Challenge, presented by Fidelity Investments®, on Saturday, February 6, and the $216,000 Ariat® Grand Prix CSI 4* on the derby field on Sunday, February 7. More fun continues at The Stadium at PBIEC where the Asheville Regional Airport Wellington Eventing Showcase, presented by Wellington Equestrian Realty, will have some of the best Eventing horses and riders compete on Friday and Saturday, February 5-6. For more information and full results, please visit www.PBIEC.com.
Final Results: $35,000 Suncast® 1.50m Championship Jumper Classic
1. HH CARLOS Z: 2002 Zangersheide gelding by Chellano Z x Voltaire
MCLAIN WARD (USA), Double H Farm: 0/0/37.14
2. UNBELIEVABLE 5: 2001 KWPN gelding by Manhattan x Democraat
MEREDITH MICHAELS-BEERBAUM (GER), Windward Farm & Jessica Siuda: 0/0/38.45
3. CHIVAS Z: 1999 Zangersheide gelding by Cumano x Lord Gotthard
RICHARD SPOONER (USA), Little Valley Farms: 0/0/40.08
4. GASPER VAN DEN DOORN: 2006 Belgian Warmblood mare by Calvaro Z x Larome
MAC CONE (CAN), Chadburn Holdings Inc: 0/0/44.73
5. CASSIDY 35: 2005 Holsteiner gelding by Cassini I x Briscar
BRIAN WALKER (USA), Gut Einhaus LLC: 0/4/37.81
6. THORNHILL KATE: 2005 Irish Sport Horse mare by Courage II x Clover Hill
LAURA CHAPOT (USA), Laura & Mary Chapot: 0/4/40.36
7. CALIFORNIA 62: 2004 Holsteiner mare by Cassini I x Galant Vert
ANDREW RAMSAY (USA), The California Group: 0/4/40.56
8. COURAGE: 2007 KWPN gelding by Namelus R x Ferro
MANUEL LECUONA (MEX), Sycamore Station LLC: 0/4/41.41
9. ARICA DU CAILLOU: 2006 mare by Carre d'As Z x Ueleme du Longpre
MARCOS RIBEIRO JR (BRA), Jose Martha: 0/4/41.79
10. ZEREMONIE: 2007 Holsteiner mare by Cero II x Quick Star
LAURA KRAUT (USA), Old Willow Farms LLC: 0/4/45.29
11. CORIANDOLO DI RIBANI: 2007 ASSI stallion by Cassini II x Baldini
LUIS PEDRO BIRABEN (ARG), Miguel Madero: 0/8/55.52
12. HOLD ON TIGHT II: 2007 Belgian Warmblood gelding by Cassini II x Parcival
MARK BLUMAN (COL), Stransky's Mission Farms, Inc: 0/12/43.05
Photo Credit: Photos © Sportfot, An Official Photographer of the Winter Equestrian Festival, sportfot.com. These photos may be used only in relation to this press release and must include photo credit.