For Immediate Release
Kate Pettersen, Summer Grace, and Sabrina Brashares for Jennifer Wood Media, Inc.
Wellington, FL – March 19, 2021 – Ben Maher (GBR) and Ginger-Blue, owned by Jane Forbes Clark, moved masterfully across the 1.50m course to win the $37,000 Adequan® WEF Challenge Cup Round 10 CSI3* on Friday, March 19, in the International Arena at the Palm Beach International Equestrian Center (PBIEC) in the tenth week of the 2021 Winter Equestrian Festival (WEF).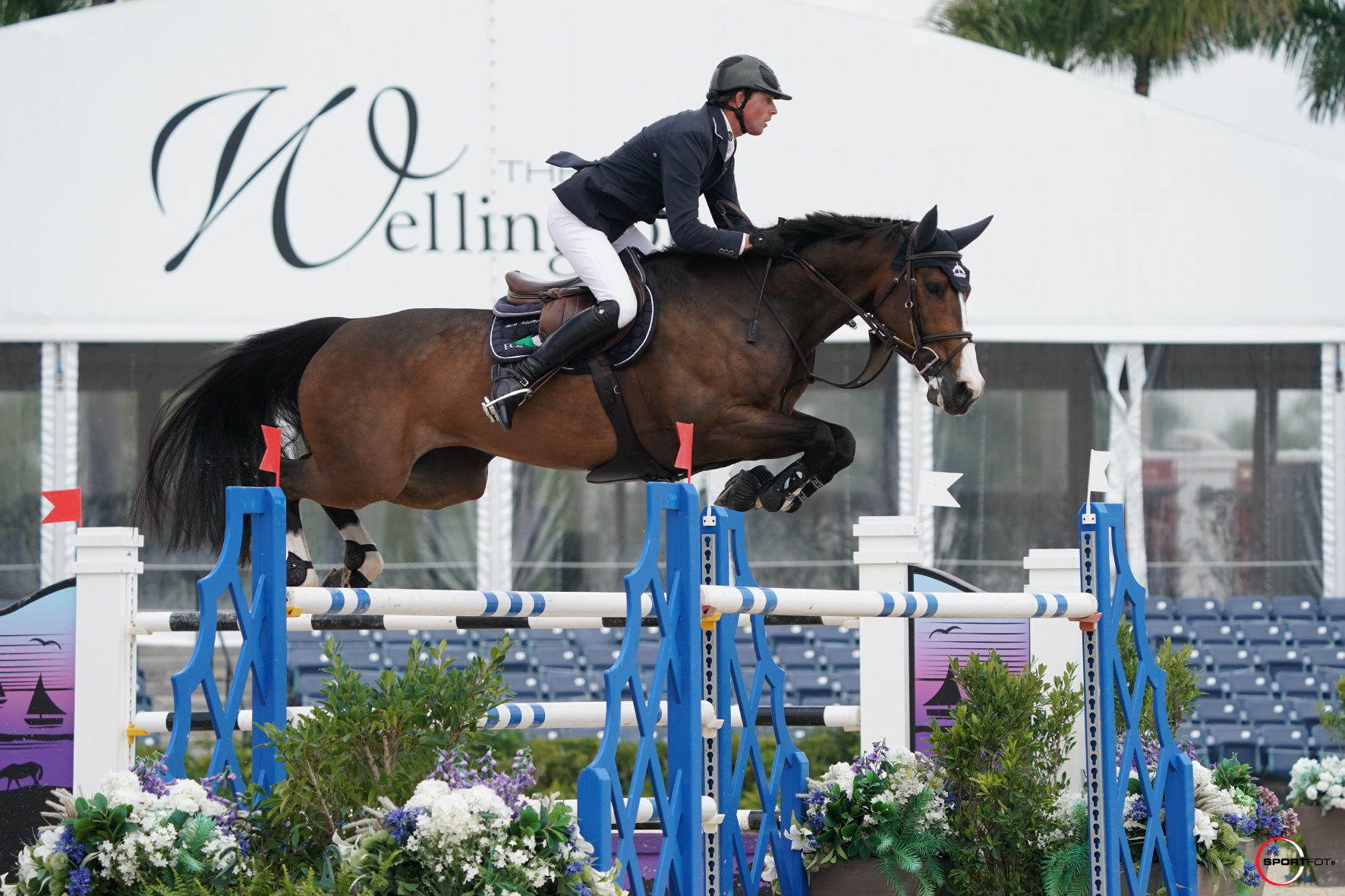 WEF 10 features three-star competition in the International Arena, sponsored by Horseware Ireland, which runs through March 21. Saturday's schedule is highlighted by the $37,000 CaptiveOne Advisors 1.50m Classic, and it's an action-packed Sunday schedule with the $50,000 Hermès Under 25 Final as well as the $137,000 Horseware Ireland Grand Prix CSI3*. Feature classes are available free live and on-demand on the livestream.
Course designer Michel Vaillancourt (CAN) challenged the competition with a technical 1.50m track that featured 16 jumping efforts. A starting field of 93 entries was narrowed down to just nine qualifying and seven electing to return for the jump-off. Maher led the way as the first to return in the subsequent round, setting the pace aboard the 10-year-old Dutch Warmblood mare by Plot Blue x Royal Bravour, with a clear effort in 39.66 seconds.
"I thought it was a big enough course for her," said Maher of the mare's double clear performance. "It's tough here at WEF because the CSI3* weeks are very competitive, and the track is probably a lot bigger than a typical three-star grand prix qualifier. I think that proved it with only nine clears out of 93 horses, so it was clever course building and quite technical in the middle [of the course].
"It was a long day; I think she jumped three and a half hours ago and thought it was dinner time," Maher continued with a laugh. "It was difficult to go first, but I rode the plan, and fortunately for me I forced the others to make mistakes."
Watch their winning jump-off here!
Third to return in the jump-off, Margie Engle (USA) and Dicas, a 12-year-old Rheinlander gelding (Diarado x Cassini I) owned by Storm Ridge Capital LLC, Show Horses, Selma Garber, and Gladewinds Partners LLC, gave it a solid run, clearing all the fences in a time of 39.96 seconds.
Last to go, Darrah Kenny (IRL) rounded at the podium with just one rail aboard Great-Tikila J for Whiterock Farm and HKC Collection. Kenny and the 10-year-old Dutch Warmblood mare by Carosso VDL x Nabab De Reve stopped the clock with the fastest time of the day in 38.20 seconds.
Maher and 'Cookie,' as she's affectionately referred to in the stable, have been developing their partnership for two years now. The talented mare missed most of 2020 competition, but continues to grow with experience at this level.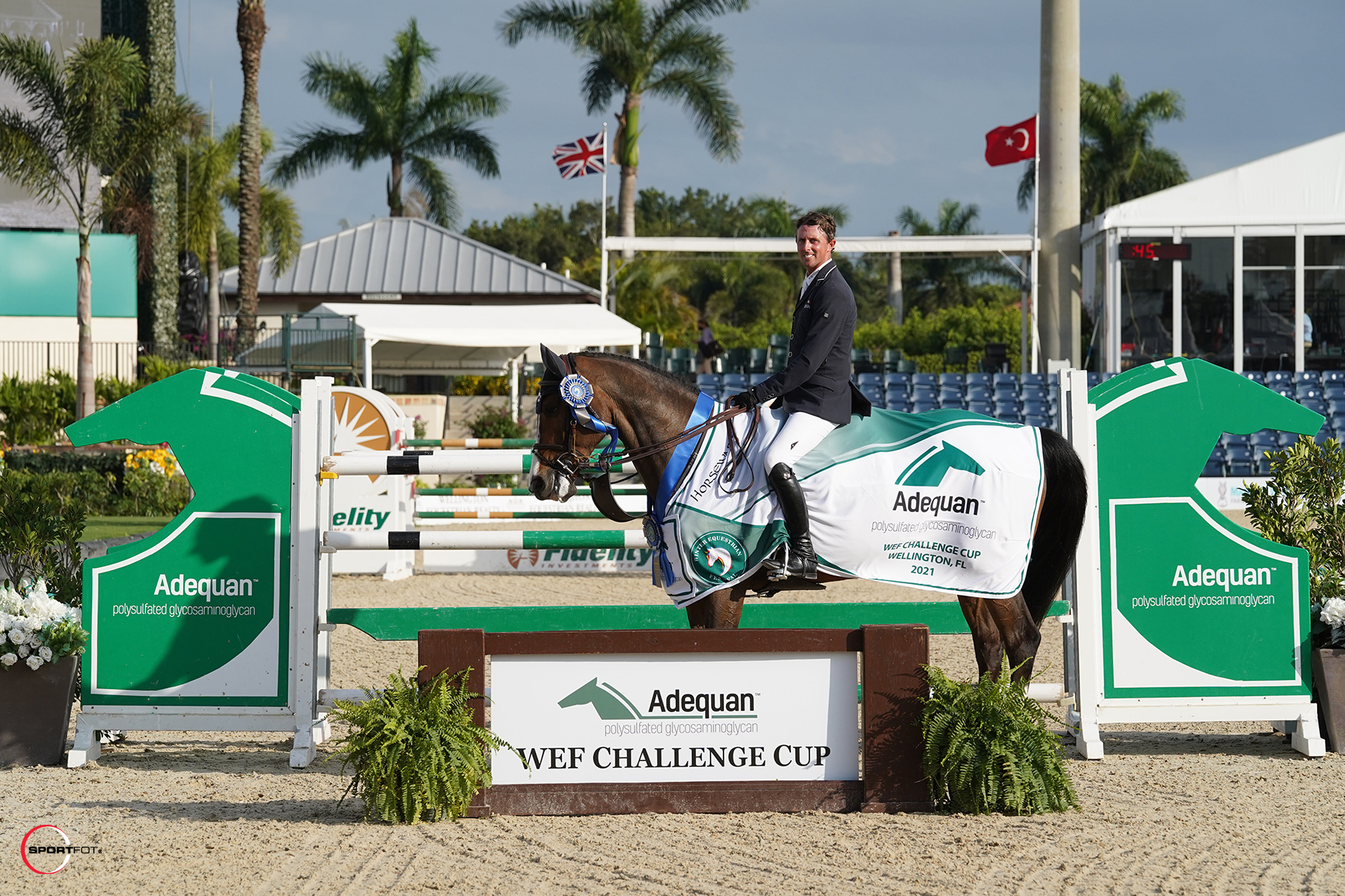 "She's still learning a lot," said Maher. "We didn't jump anything last year at all due to my back surgery and then COVID, so she really is behind for her age. She's very careful and has all the ability; she just needs the experience. I'm hoping with that kind of course today she walks back to the stable feeling confident in herself and we can really build on this kind of result because I think there's a lot more to come from her in the future."
There will be an opportunity to continue growing that confidence on Sunday at WEF for Ginger-Blue as she'll get the chance to jump in the $137,000 Horseware Ireland Grand Prix CSI3*.
"We've done a lot of smaller classes to build her up," said Maher. "Hopefully now we're ready to go, so I'm really looking forward to Sunday."
Final Results: $37,000 Adequan® WEF Challenge Cup Round 10 CSI3*
1. GINGER-BLUE: 2011 Dutch Warmblood mare by Plot Blue x Royal Bravour
BEN MAHER (GBR), Jane Forbes Clark:  0/0/39.66
2. DICAS: 2009 Rheinlander gelding by Diarado x Cassini I
MARGIE ENGLE (USA), Storm Ridge Capital LLC, Show Horses, Selma Garber & Gladewinds Partners LLC: 0/0/39.96
3. GREAT-TIKILA J: 2011 KWPN mare by Carosso VDL x Nabab De Reve
DARRAGH KENNY (IRL), Whiterock Farm and HKC Collection: 0/4/38.20
4. LAZZARO DELLE SCHIAVE: 2009 Italian Sporthorse gelding by Acodetto 2 x Gluecksgriff
MAX WACHMAN (IRL), Coolmore Show Jumping: 0/4/42.97
5. H5 ELVARO: 2009 KWPN stallion by Calvaro F.C. x Heartbreaker
EDUARDO MENEZES (BRA), H5 Sport Horses LLC: 0/8/38.93
6. ACUERO: 2010 Hanoverian gelding by Acorado x Citoka
ALONSO VALDEZ PRADO (PER), Alonso Valdez Prado: 0/12/41.27
7.= VITI DE LONGA: 2009 Selle Français mare by Contendro I x Galoubet A
LACEY GILBERTSON (USA), Seabrook LLC: 0/EL
7.= OAKS REDWOOD: 2005 Warmblood gelding by ASB Conquistador x Verdi
NAYEL NASSAR (EGY), Evergate Stable LLC: 0/WD
7.= OAK GROVE'S LAITH: 2011 Selle Français gelding by London x Sirene De Riverland
ABDEL SAID (EGY), AB Sporthorses: 0/WD
10. MANHATTAN: 2012 BWP mare by Cardento x Indoctro
GEORGIAN BLOOMBERG (USA), Gotham Enterprizes, LLC: 1/74.34
11. GAZELLE: 2006 Belgian Warmblood mare by Kashmir van Schuttershof x Indoctro
KENT FARRINGTON (USA), Kent Farrington & Robin Parsky: 1/74.42
12. LISSINO: 2011 Holsteiner stallion by Limbus x San Patrignano Cassini
DARRAGH KERINS (IRL), Eve Jobs: 1/75.46
Alex Matz and Jillz Jump to the Top in $20,000 Developing Jumper Series Seven-Year-Old Classic, Presented by Spy Coast Farm
Competition in the International Arena at the Palm Beach International Equestrian Center kicked off Friday morning with the final competition for young five-, six-, and seven-year-old horses in the Developing Jumper Series (DJS) sponsored by Spy Coast Farm. The seven-year-old horses were the first to debut in the $20,000 DJS 7-Year-Old Classic where Alex Matz (USA) took the victory aboard the Vintage Sales entry, Jillz. Jillz was also presented with the Champion Equine Insurance Jumper Style Award presented by Laura Fetterman.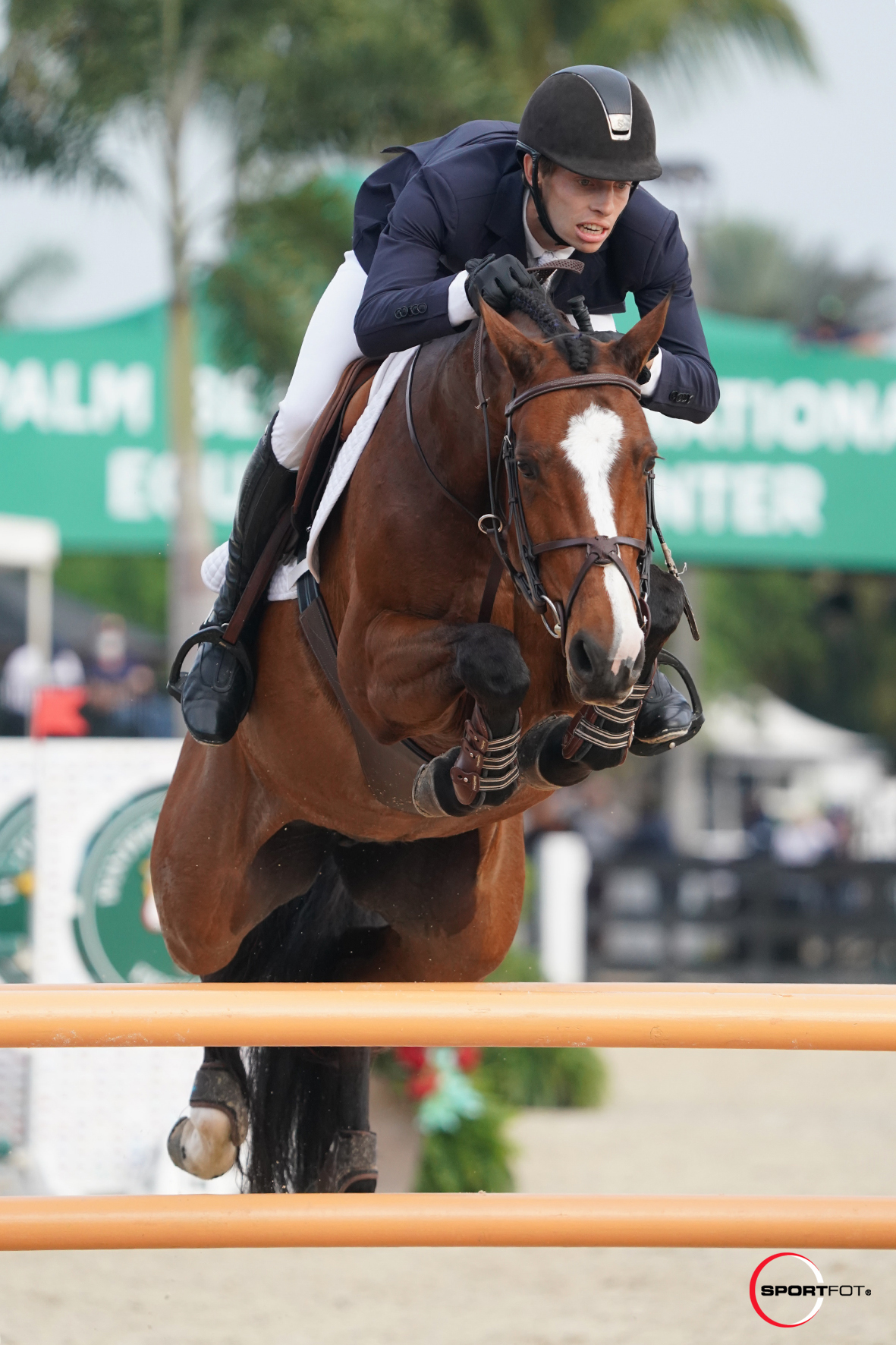 Matz and Jillz navigated both the first round and jump-off track fault-free and ultimately cleared the shortened effort the fastest by clocking in at 33.63 seconds. Matz has been partnered with the seven-year-old KWPN mare (Denzel VT Meulenhof x Cartina) since she was purchased at the VDL auction in Wellington, FL, last season and has big plans for the bright young horse.
"This mare has quite a lot of scope when I ride her the right way," Matz detailed. "I think she has a good future ahead of her so I have been careful not to push her too fast, but she has a big personality and is a lot of fun to work with. She has won probably at least 10 classes since we purchased her last year."
He added that the Developing Jumper Series gives young horses a great chance to get immersed in a more competitive environment.
"Today's course was nice," Matz said. "It was a bigger track than the previous seven-year-old courses have been, which was appropriate as it was the final. It is really great to have a championship event to introduce these young horses to, and I am very thankful to Spy Coast for sponsoring."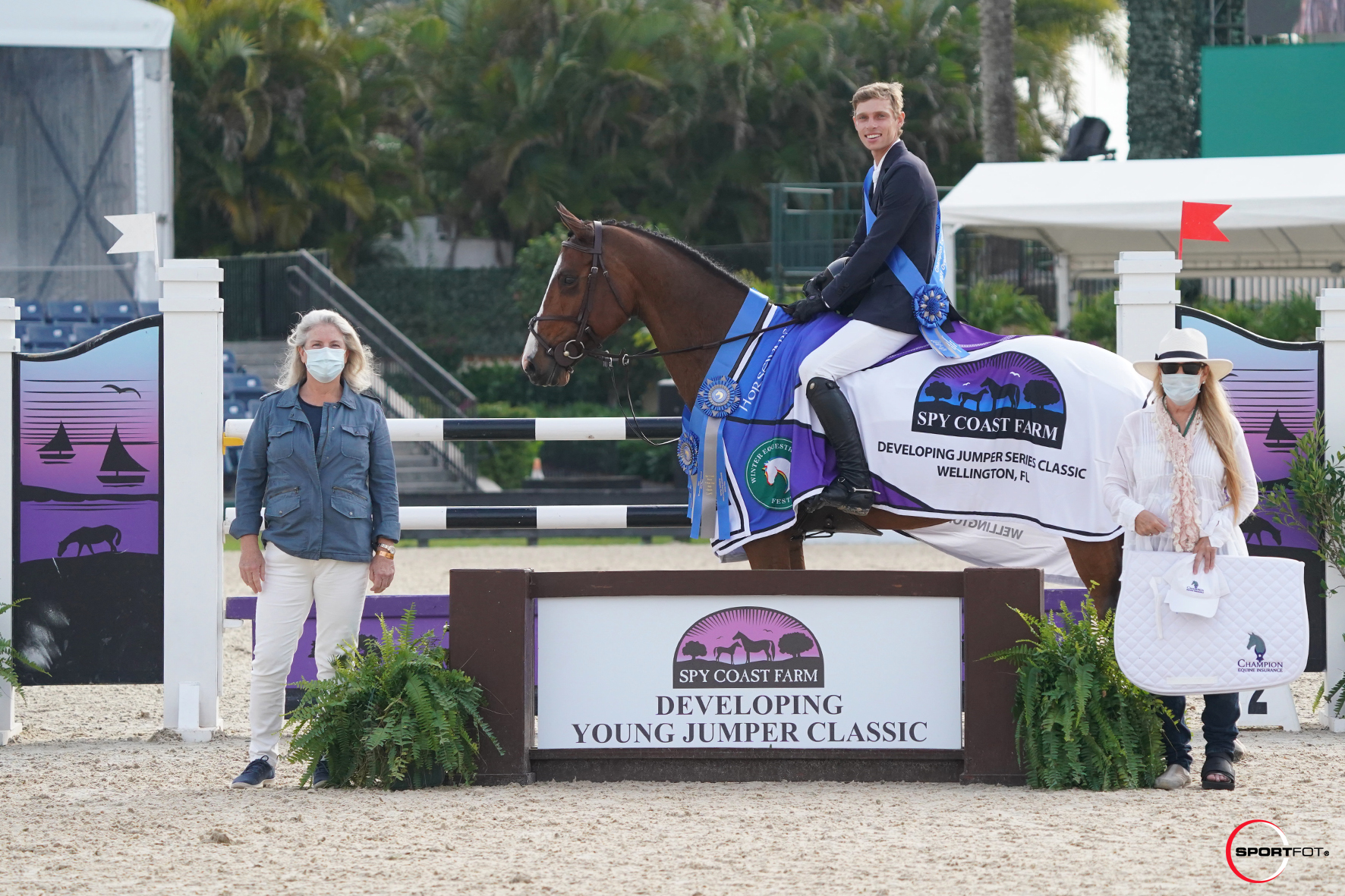 The second place honors went to Ashlee Bond (ISR) aboard Ionesco Sitte, a Belgian Warmblood gelding (Hunters Scendro x Adora Sitte). Bond piloted the Aurora Farms, LLC-owned entry to one of five clear jump-off rounds with a runner-up time of 33.68 seconds. Rounding out the top three was young professional Wilton Porter (USA) aboard Whisker EB, owned by Sleepy P Ranch LLC. Porter piloted the Zangersheide gelding (Chellano Alpha Z x Tamina I) into third with a time of 36.77 seconds.
Christian Coyle and C&C Willow Win $15,000 DJS Six-Year-Old Classic, Presented by Spy Coast Farm
The six-year-old horses in the Developing Jumper Series classic were the next to take center stage in the International Arena. The top-placing 25 entries from the series returned to contest the track but Christian Coyle (IRL) ultimately piloted C&C Willow to the winning title. He expertly rode his young Irish Sport Horse mount (Emerald Van't Ruytershof x Cortynan Loughahoe Girl)  through double-clear rounds with a leading time of 35.00 seconds.
Coyle has had the young mare since she was a four-year-old after seeing her at the Northern Ireland Championships.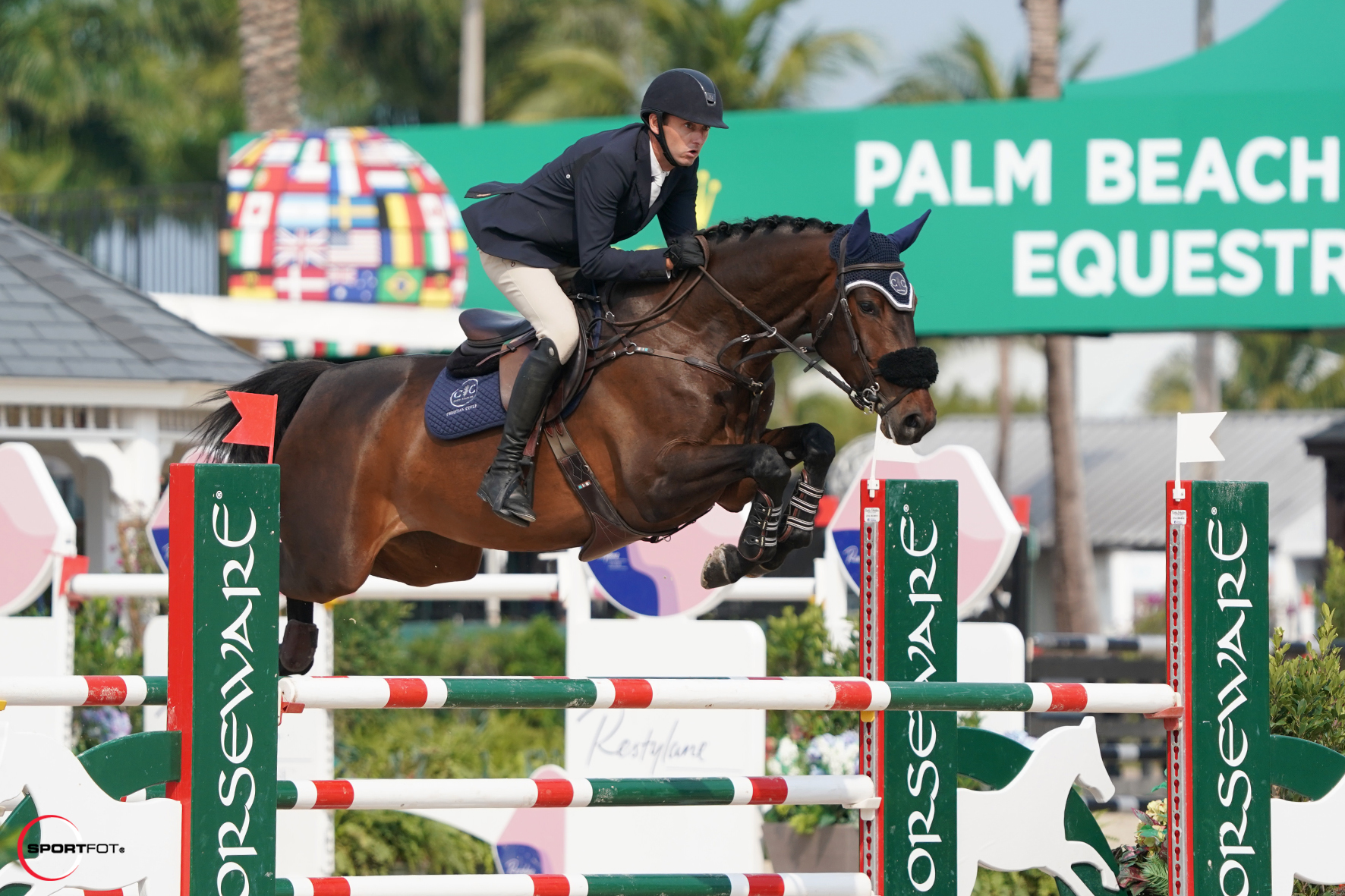 "She has always been a brilliant horse," Coyle explained. "I brought her to Florida at the end of last year with these classes in mind, and she has really been exceptional."
C&C Willow not only won Friday's Classic but also took the top spot in the qualifier for her division as well.
"She is everything you would look for in a young horse," Coyle added. "She is very easy on the eyes, has a phenomenal jump, and I have yet to get to the end of her because she truly enjoys her work. She is one of the best horses I have sat on."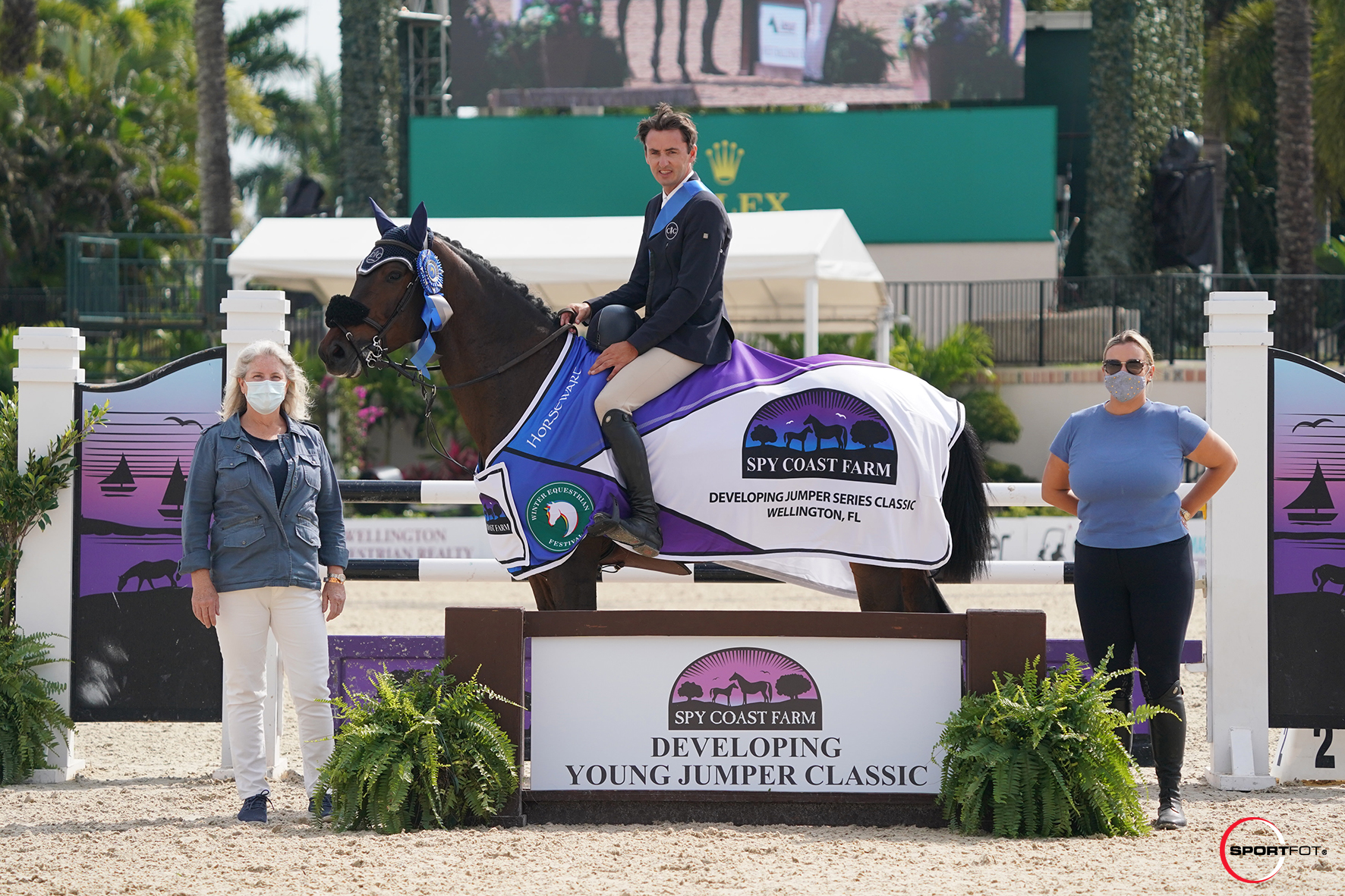 Söhnke Theymann (GER) and Henrietta were the second fastest and fault-free combination to earn the red ribbon. Theymann and the Platinum Capital Management LLC-owned Holsteiner mare (Contefino x O Black Cherry) left all the fences standing with a time of 36.34 seconds. The final top three honors were earned by Candice King (USA) and Ventura Z. King guided the Dutch Warmblood gelding (Cidane x Twirania Z) owned by Brock Clermont in double clear with a final time of 36.38 seconds.
Lovely Finish for Ireland's Daniel Coyle and Lovely Boy P in the $10,000 Developing Jumper Series Five-Year-Old Classic, Presented by Spy Coast Farm
In the series finale of the Developing Jumper Series (DJS) sponsored by Spy Coast Farm, for five-year-old Developing Jumpers, Daniel Coyle (IRL) and Lovely Boy P, owned by Ariel Grange, produced a stellar double clear effort to take the blue ribbon. The new partnership is blossoming quickly as Friday's win marked just the third time Coyle has ever ridden the five-year-old Dutch Warmblood gelding by Campbell VDL x Arezzo VDL. The pair finished in a tie for fourth place on Wednesday in the qualifier.
With eight horse-and-rider combinations qualifying to jump-off over a shortened track in Sunday's final, Coyle piloted the talented youngster effortlessly around the course to finish in a time of 35.17 seconds, taking the win by nearly a full second.
"On Wednesday I thought he jumped just okay, and today he was much better," explained Coyle. "I didn't make any adjustments after Wednesday because I don't know him, and he doesn't know me, so I thought I'd just jump him again and see how it goes. Today he was great! It's always a sign of a good horse, when they get better every time you jump them, so it's exciting."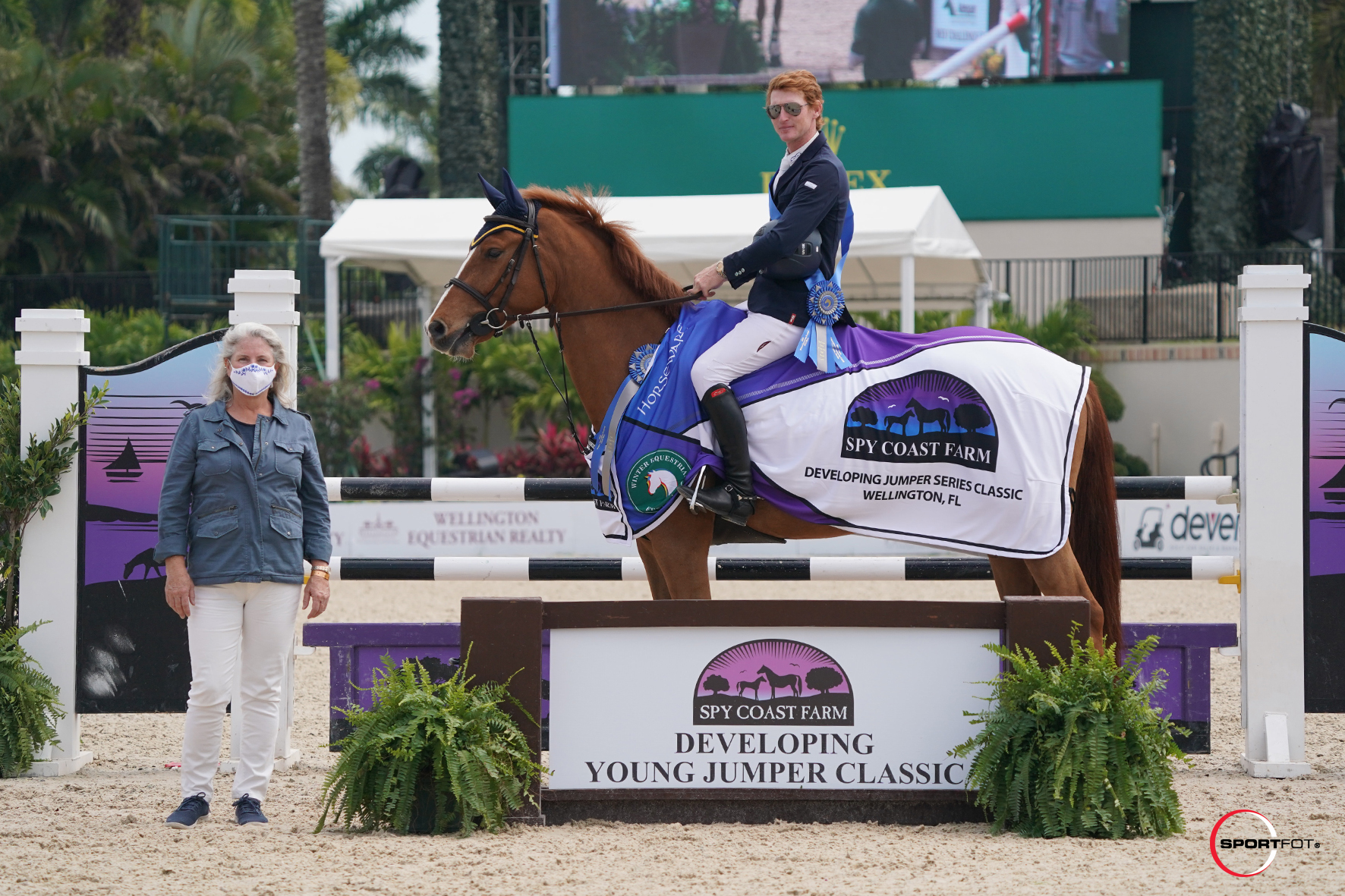 Lovely Boy P was purchased by Ariel Grange a few weeks ago in the WEF Sport Horse Auction, which features horses from the distinguished VDL Stud.
"I watched him in the auction and thought he was super," said Coyle. "He has everything you want in a young horse; he's very, very balanced, easy, and a very good jumper on top of that. Hyde Moffat tried the horse before the auction and also said it was very good, so Ariel [Grange] decided to buy him and I'm glad she did."
Grange and her team have experienced great success over the years with horses purchased from the WEF Sport Horse Auction including Farrel, an 11-year-old Dutch Warmblood gelding by Cardento 933 x Stakkato, who continues to produce top results with Coyle in the irons at the top international level.
"With the young horses, you can see a lot without a rider on them. His innate skill as a youngster is very impressive," said Grange of Lovely Boy P. "His mental state is very good. He's very calm on his own, which is rare.
"Janko Van De Lageweg's program [VDL Stud] and all of his horses are really, really top end," continued Grange continued. "I've seen the stallions and his handlers. Everything is very well done. The sport horse coming here fits the atmosphere really well. I have confidence that the horses [in the auction] are brought up properly for the most important years when they're growing and that they get all the basics done right."
Following the class, a series of special awards were presented for both horses and riders in each category.
In the seven-year-old division, Victoria Colvin (USA) was named the Best Under 25-year-old Rider, Ben Meredith (AUS) was awarded the Best Over 25-year-old Rider and Katherine Kaneb was recognized for the Best American Bred seven-year-old with One and Only.
In the six-year-old division, Delaney Flynn (USA) was named the Best Under 25-year-old Rider and Taylor Flury (USA) was awarded the Best Over 25-year-old Rider as well as being recognized for the Best American Bred 6-year-old with Palano ABF.
In the five-year-old division, Hayley Ianotti (USA) was crowned the Best Under 25-year-old Rider and Matthew Boddy (GBR) was named the Best Over 25-year-old Rider while also being recognized for having the best scores over the week aboard Roxette, bred by Gotham Enterprizes, as the Best American Bred five-year-old horse.
Sofia Moskowitz and Erica Felder Dominate the Hamel Foundation 3'3" NHS Medal
Competition in Equine Tack and Nutritionals Ring 6 started on Friday with the Hamel Foundation 3'3" NHS Medal. Riders were tested over an intricate first round course and then the top 12 competitors returned for a flat phase. The class was split into two sections with Sofia Moskowitz, of Colts Neck, NJ, aboard Heineking Show Stables LLC's First VDL taking the win in Section A, while Erica Felder, of Durham, NC, piloted her own Envol De Riverland to the Section B blue ribbon.
Moskowitz and First VDL, an 11-year-old Warmblood gelding by Cardento, just recently began their partnership. The pair, trained by Laura Bowery, is hoping to continue their success through the equitation finals this fall.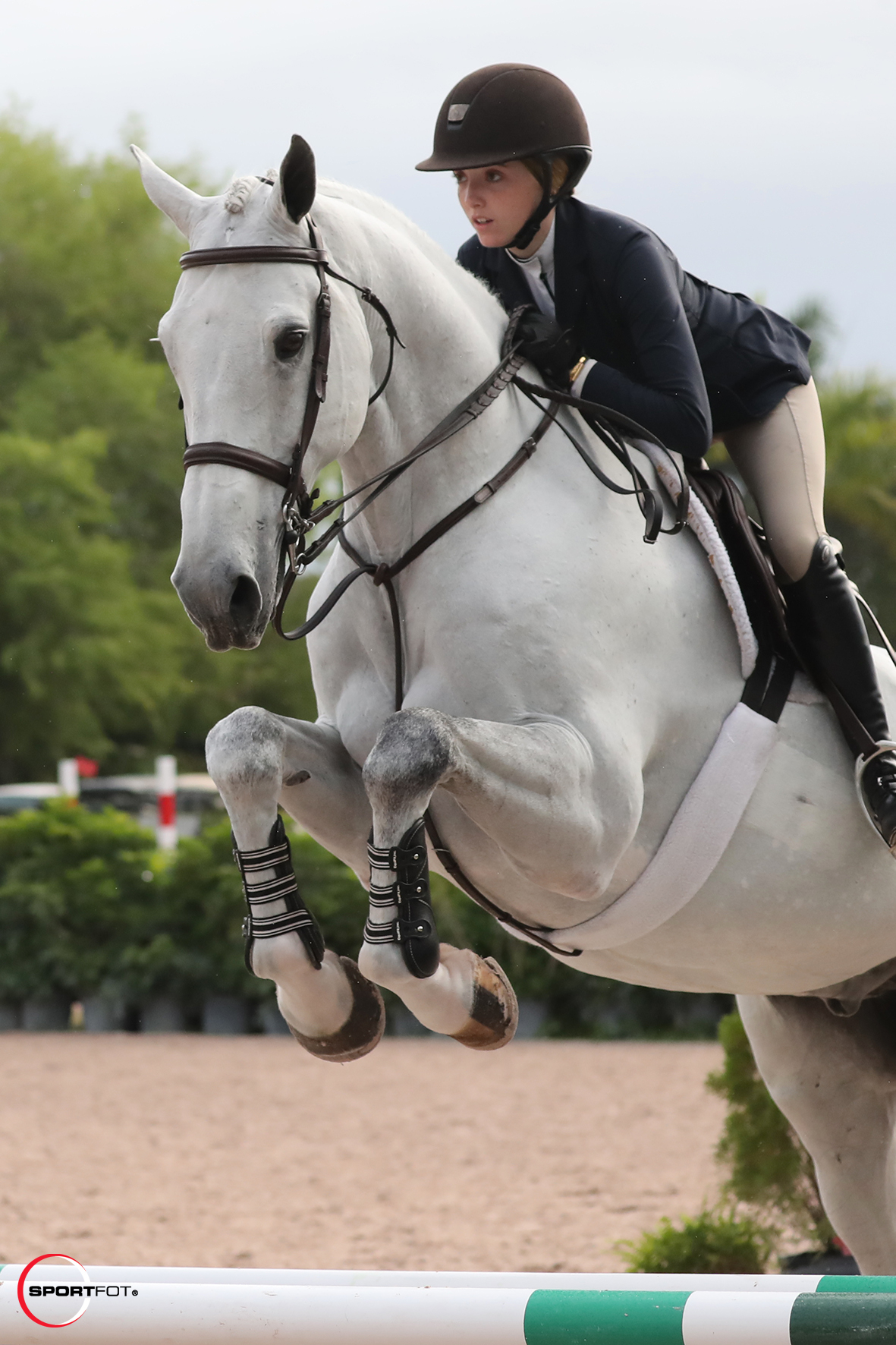 "I recently got him at the beginning of WEF, and I'm starting to figure him out," explained Moskowitz. "I started the big eq with him, and he's been great. He tries so hard every time we go in the ring and never puts a foot wrong."
Moskowitz and her mount navigated the first round track with ease to score an 86, which put them at the top of the class. The duo maintained their lead during the flat phase to secure the win.
"I thought my first round was great," commented Moskowitz. "He was consistent and smooth the whole time, and that was my goal. In the flat I'm definitely strongest in the canter because he is just so smooth. Overall I thought it was a pretty good flat."
Olivia Sweetnam, of Wellington, FL and Sweet Oak Farm's Coppertone earned second place in Section A of the medal with a first round score of 83. Third place went to Red Bank, NJ, resident Kaitlyn Kiely and Kiely Equestrian, LLC's Cool De Reve. The pair received a score of 80 in the first round.
Felder piloted her new mount Envol De Riverland to a first round high score of 84 to take home the Section B top prize. The rider recently purchased Envol De Riverland from Australian grand prix rider Rowan Willis, and the pair began their partnership on a high note. Today was not only the seven-year-old gelding's first equitation win, but it also was his first time doing the equitation.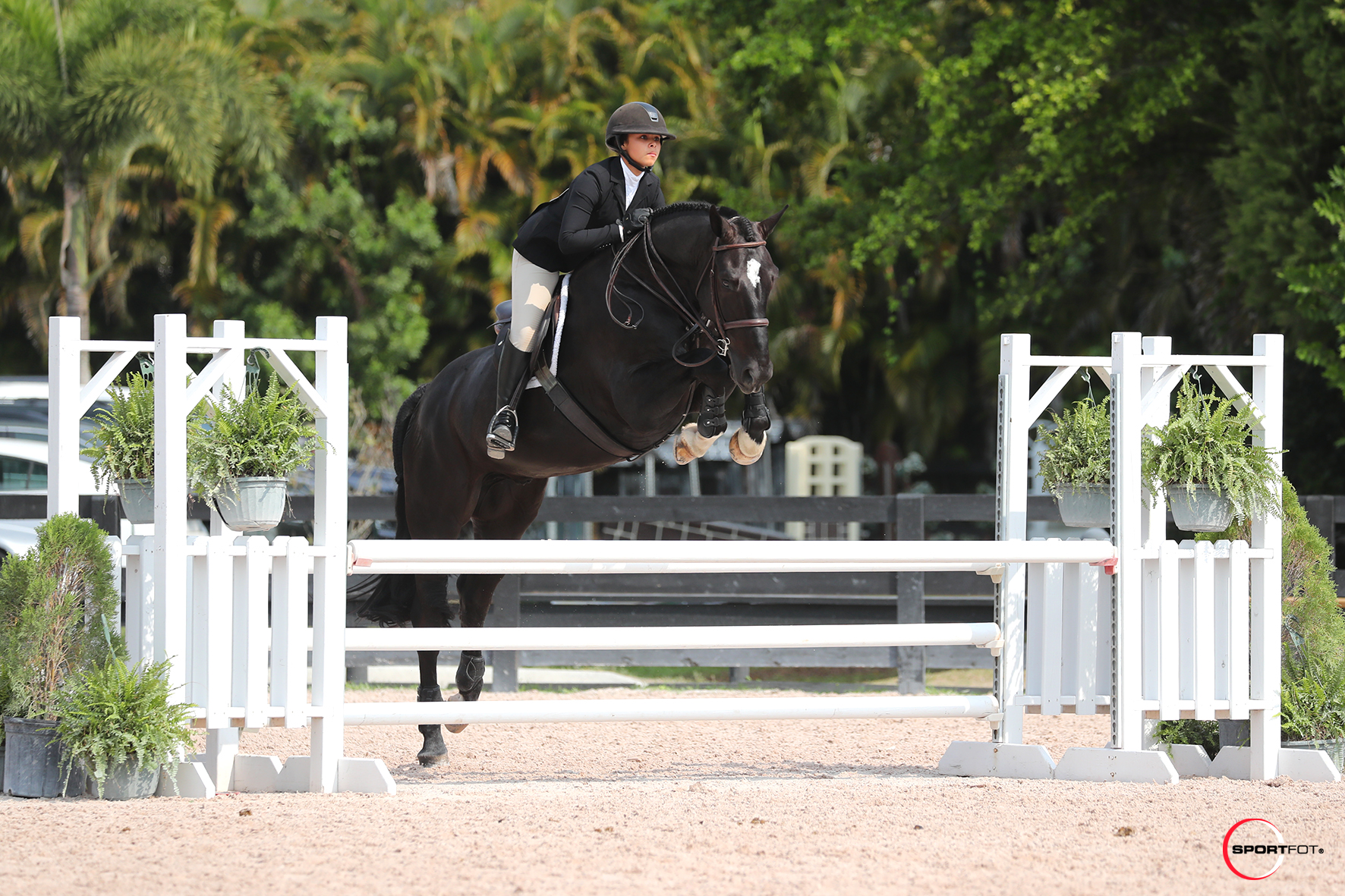 "He was really good, and he is super straightforward," described Felder. "It's kind of funny because I feel like he doesn't know very much, but because he doesn't know very much, he doesn't really care where you put him. He will do anything you ask, and he's not afraid of anything. He is super brave."
Although Envol De Riverland is just beginning his equitation career, Felder already feels that the gelding is improving and believes he has a very bright future ahead of him. Trained by Valerie Renihan, the duo held onto their lead in the class through a competitive flat test.
"In the flat portion I could feel that he's definitely getting better about collecting," said Felder. "When I first got him he wasn't very good about lengthening and shortening, and now that he is better, the transitions are easier. He is not super advanced yet, but everyday he just keeps getting better."
Section B second place honors went to Campbell Brown, of Fayetteville, AR, and MMK Equestrian LLC's Vuccello. Brown and Vuccello moved up one spot after they received a first round score of 80. Paris Levy, of Youngstown, OH, and her own Maserati VDL moved up three places in the flat phase to take home a third place ribbon with a score of 74.
Saturday competition will highlight the $37,000 CaptiveOne Advisors 1.50m Classic in the International Arena. In the Rost Arena, the Large Junior Hunter 3'6" 16-17 will wrap up with the naming of the champion.