Wellington, FL – December 10, 2022 – The 2022 Year End Awards weekend kicked off on Friday with the $1,500 USHJA National Hunter Derby presented by Elite Horse Transport. Nine riders competed in Friday's National Hunter Derby, but at the end of the class, Kyla Makhloghi, out of Wellington, FL, and Quebec VD Withoeve, owned by Redfield Farm, stood at the top of the scorecard with a final score of 163.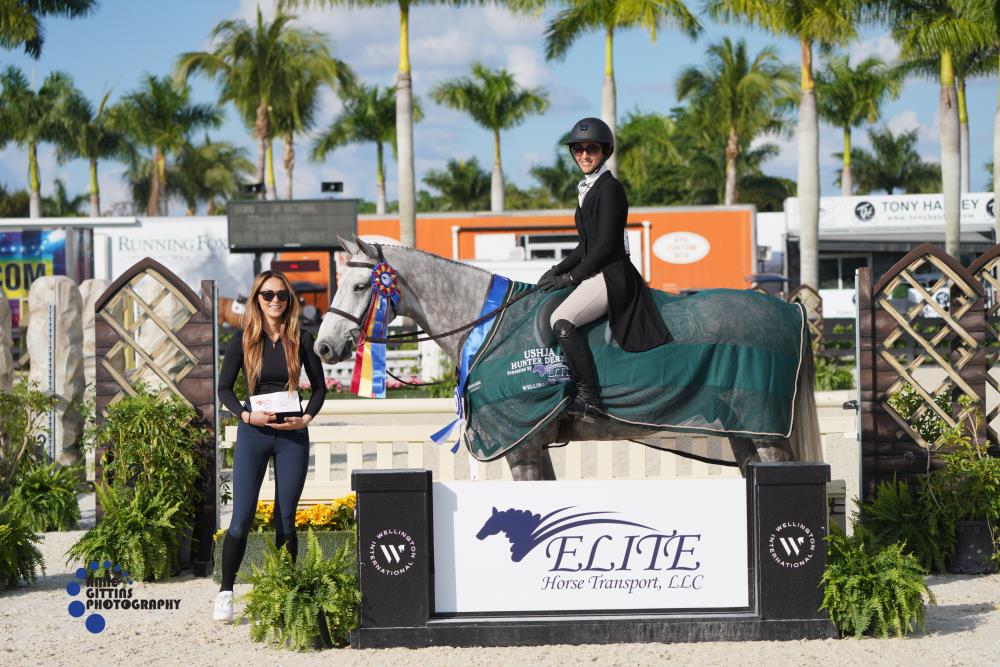 The derby took place in the "Hunt and Go" format, meaning that the riders competed in a single round. The first part of the round was scored as the traditional Classic round, while the second part of the course was scored as the Handy round. The two scores were combined to produce an overall score for each horse-and-rider combination. 
Makloghi shared that this was the first Hunt and Go derby she had competed in, "I've actually never done a hunt and go before, but it was a really nice course. It allowed for a lot of options, and it flowed nicely between the two phases." It was also the first derby for her mount, Quebec VD Withoeve., "He's a six-year-old warmblood gelding that just came to us to sell this fall. I've only shown him one time before and I thought it would be fun to enter him in a hunter derby because he seems game, and he really was. He was fantastic!"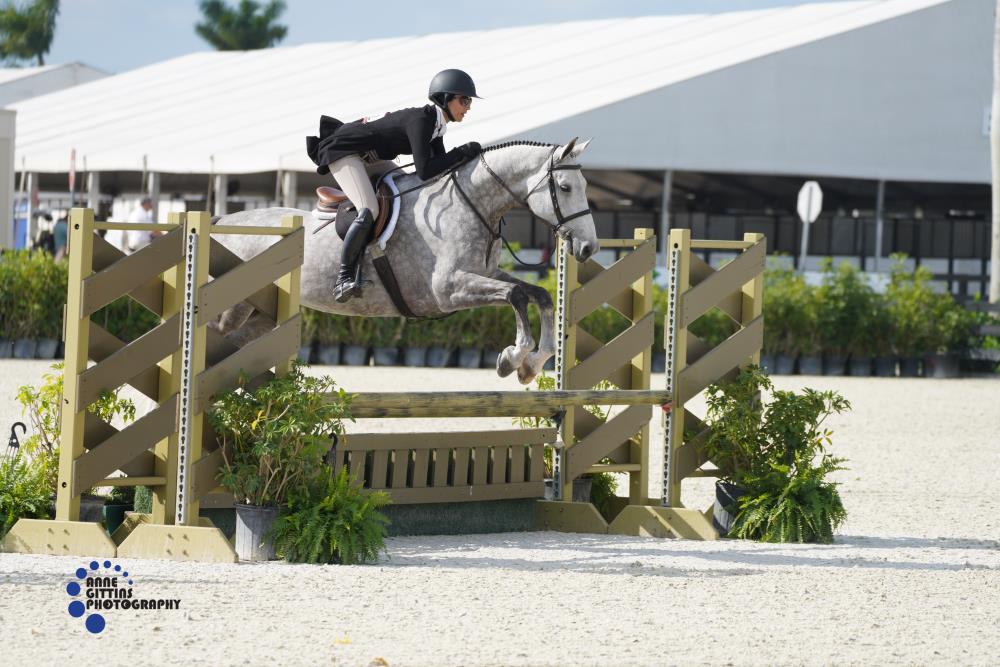 Makloughi topped the podium with a classic phase score of 79 and a handy phase score of 84, which combined for a grand total of 163. Taking the second spot was Christian Coyle of Wellington, Floriday, and Let it Be, owned by Chelsea Dwinell, with a combined score of 160. The duo received a 78 in the classic phase and an 82 in the handy. Completing the podium with a classic score of an 80 and a handy score of a 76 was Marcus Cmola Au of Boca Raton, FL, and Chitty Chitty Bang Bang, owned by Shea Fennelly, with an overall score of 156.  
"The hunter derbies here are really fun and I think it's cool that they exist at all levels. We have kids at the barn doing the 2'6" derbies, which I think really helps get them out of their comfort zone," said Makloughi.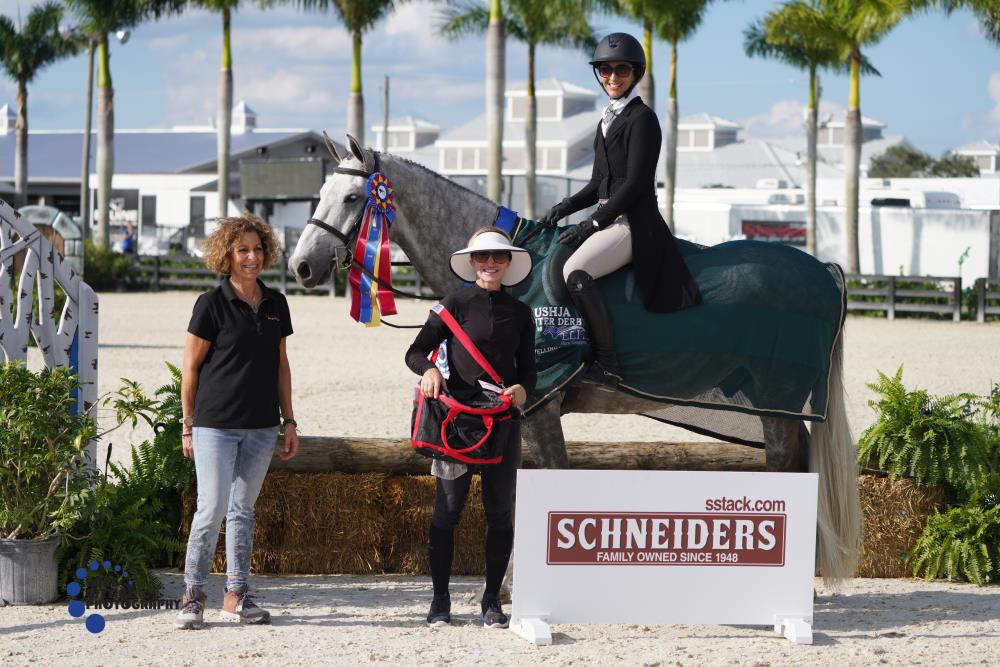 Following the derby, the Schneider's Groom Award, presented by Schneider's representative Dana Brown, was awarded to Jessica Johnson as the groom of the winning derby horse. As part of the recognition, Brown presented Johnson with a bag of high-quality grooming supplies courtesy of Schneider's Tack. 
For the full results of the $1,500 USHJA National Hunter Derby presented by Elite Horse Transport, please click HERE.  
On Saturday, seven horse-and-rider pairs competed for the lion's share of the prize money in the $1,000 2'6"/2'9" Hunter Derby presented by Score At The Top. The hunter derby class was also held in the "Hunt and Go" format. Second to go in the class, Andrew Barone took an early lead with Double Take, owned by Rebecca Renier, after earning an 83 in both the classic and handy round. Barone of Wellington, FL, would ultimately top the class with a cumulative score of 166 by a margin of nearly 20 points. Reserve honors were awarded to Adelle Alletto of Miami Beach, FL, and First Blue LLC's Central Park West with a total score of 149. Katya Abuhoff of Montclair, NJ, and her Bartello claimed third place with a combined score of 147.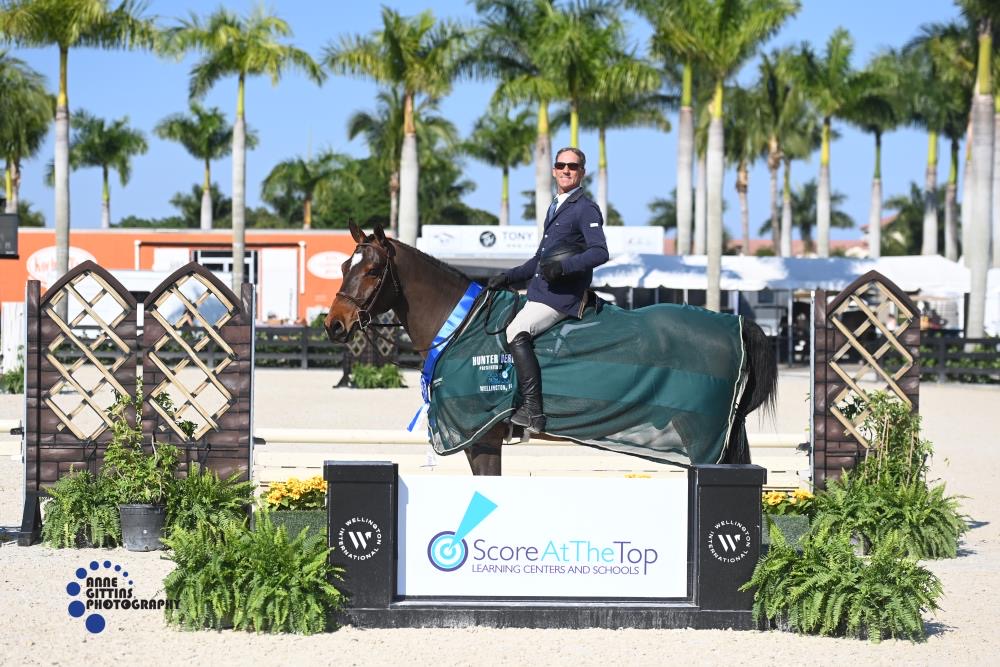 The ESP Year End Awards show will continue with competition through Sunday, culminating with the $25,000 #1 Education Place Grand Prix as the highlight event of the week.
To view the prize list for the 2022 ESP Holiday Series presented by Arthramid®Vet, please click HERE.
This press release content is published by ©Equestrian Sport Productions. This press release may only be repurposed by media outlets if appropriate credit is given in writing to the original publisher.
Photo credit ©Anne Gittins Photography. These photos may only be used once in relation to this press release with proper credit.