For Immediate Release
Wellington, FL – April 14, 2022 – Some of the best hunters on the showgrounds were highlighted in the International Arena on Thursday of ESP Spring II. Forty horse-and-rider pairs competed in the $10,000 USHJA National Hunter Derby, presented by Perfect Products, over the tracks designed by Danny Moore, and the standings were finalized with only fractions of points separating the top contenders. Jumping to a two-round score of 189.50, Kate Ellis' Valhalla, ridden by Kristy Herrera of Wellington, FL, claimed the victory to lead the lap of honor ahead of a field of high-scoring finishers.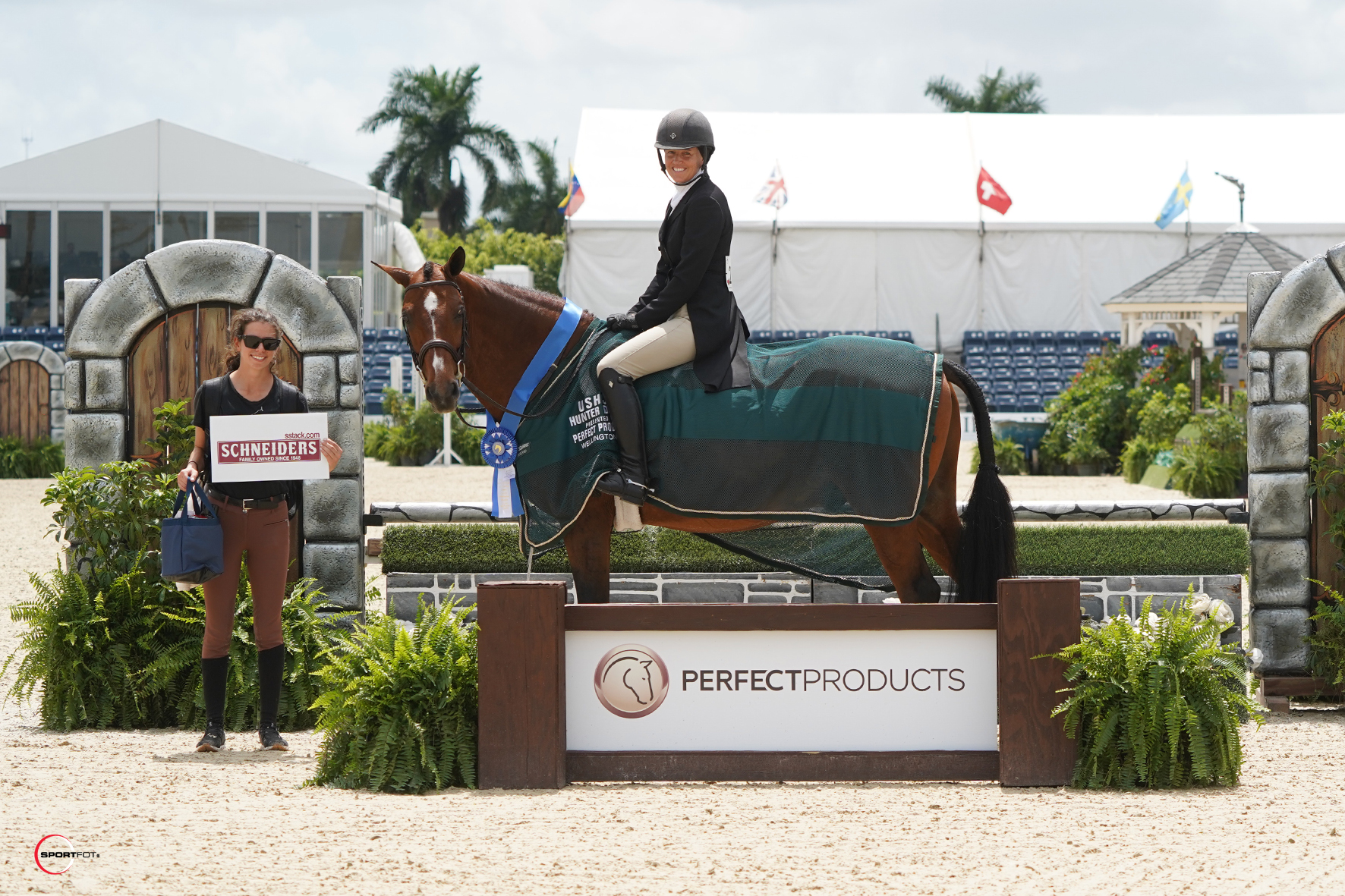 "Valhalla has been in our barn for about four years now. His owner, Kate Ellis, has had him for longer than that, maybe six or seven years. He is a winner all-around," commented Herrera of her winning mount. "His last derby he did was with me in the beginning of the [Winter Equestrian Festival] circuit, which we won. We like to pull him out for some of the special classes. He is a beautiful jumper, mover, and as brave as they come, so I know I can always trust him. Thank you to Kate, Valhalla's owner, who unfortunately couldn't be here this week, for always trusting me with the ride on him. He is such a fun and special horse." 
Following the first phase of the class, the cut-off score for the top 12 was a lofty 86.50 points, which speaks to the quality of the performances seen during the classic round. Headed into the handy round, Jennifer Bliss of Loxahatchee, FL, and Harris Hill Farm LLC's Poker Face sat on top with a score of 94, but their lead was narrow with five more duos boasting scores of 90 or higher to keep the rankings very close. Herrera and Valhalla were in fifth position thanks to a score of 91.5.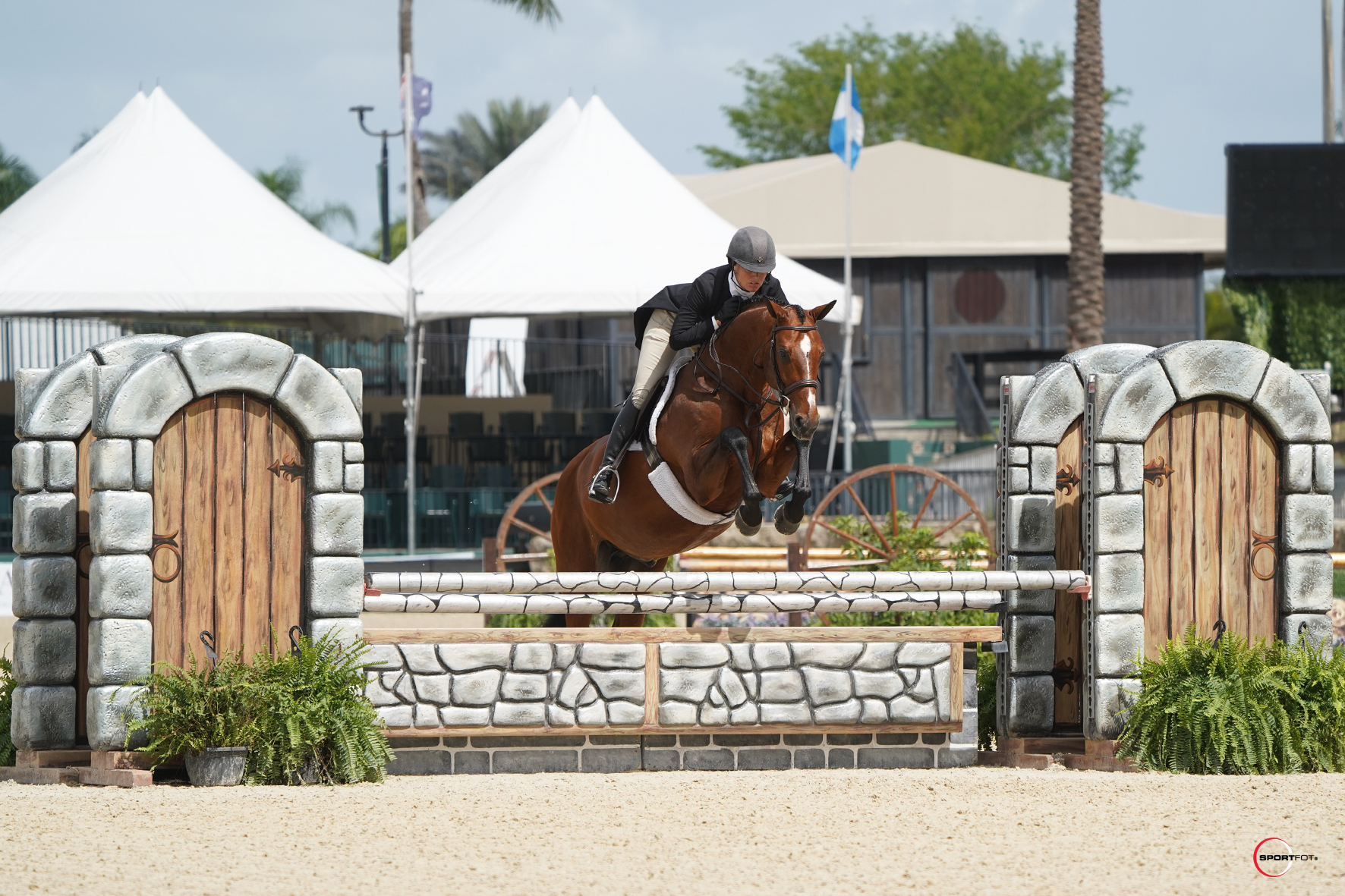 Back for the handy course, Herrera and Valhalla placed a standout round that earned the partnership a base score of 94 from the judges, plus four bonus points for taking the high options to earn a total of 98 points for their second ride. Combined with their earlier score, the combination jumped to the top of the leaderboard with a total of 189.5 points. The remaining four challengers all aimed to eclipse the frontrunners, with three duos managing to earn scores higher than 90, but none could overthrow the leading pair, solidifying Herrera and Valhalla as the victors.
"I think the course was great. It gave you a lot of options as to how much room you can take. Normally my horse's handiness comes out great when we are on a gallop. Turning is a little bit of our harder ride, so I just tried to take my time in the first round and make him straight everywhere. Then, in the second round, with some of those open lines, I was able to really open up and gallop. That's where he really shone," reflected Herrera. "​​We try to take advantage of the Spring shows when they put these classes in a ring like this. It is so nice to have the space to show the hunters off and really gallop. I really appreciate that the show put it in the International Arena."
Click above to watch the Derby Winning Ride Replay, presented by Freejump!
As the groom of the winning derby horse, Kate Hubbard was the recipient of the Schneiders Groom Award following the $10,000 USHJA National Hunter Derby, presented by Perfect Products. As part of the recognition, Hubbard was presented with a bag of high-quality grooming supplies courtesy of Schneiders Tack.
Riding Tracy Freels' Clem Brecourt, Hannah Isop of Pawling, NY, captured the runner-up spot with a total of 189 points, just half of a point off the lead, in the $10,000 USHJA National Hunter Derby, presented by Perfect Products. The final podium placing was awarded to Bliss and Poker Face with total marks of 188.
For the full results of the $10,000 USHJA National Hunter Derby, presented by Perfect Products, please click here.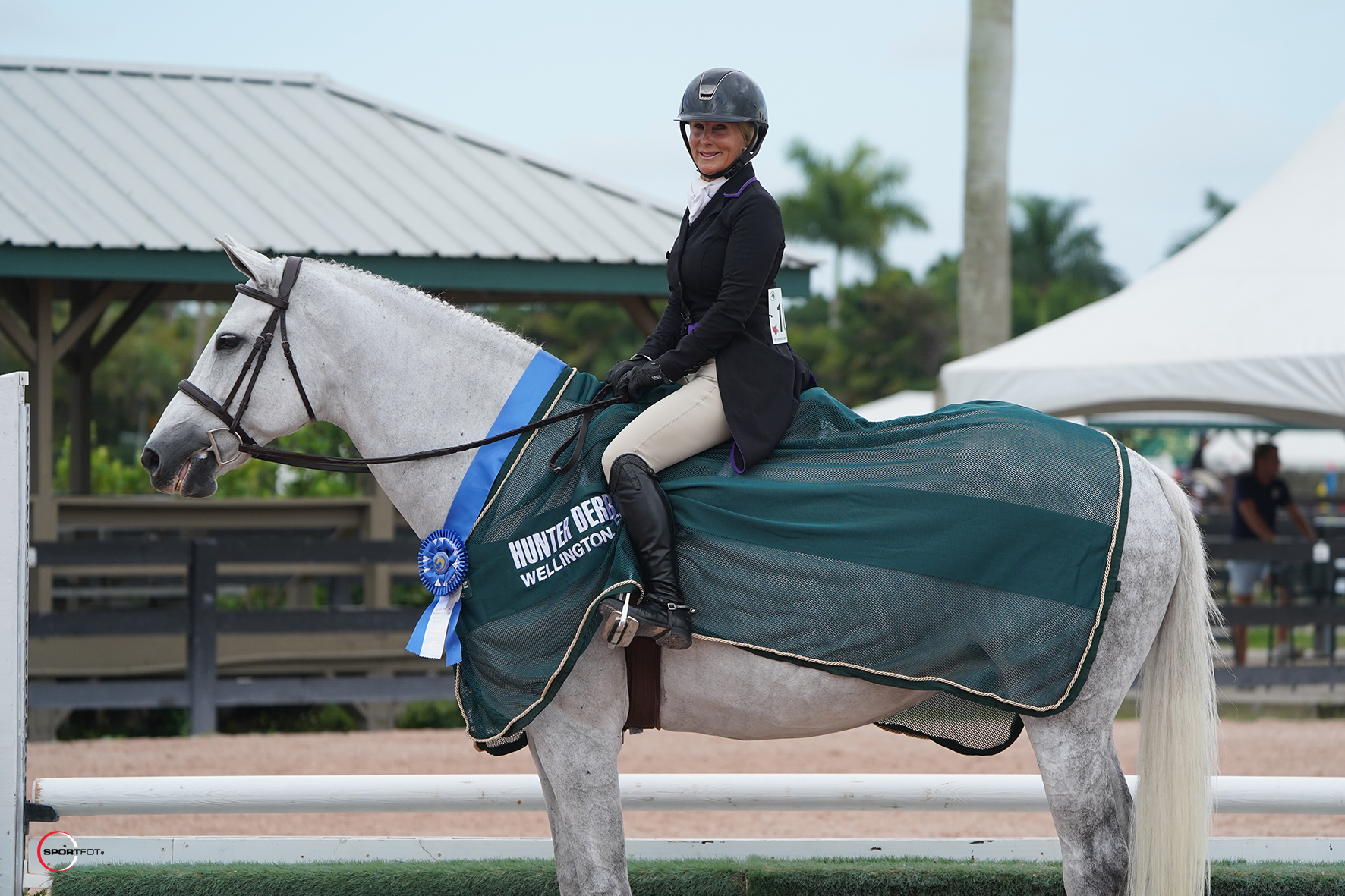 Later in the day, the $1,000 2'6″-2'9″ Hunter Derby brought an opportunity for greener horses or riders to gain experience in the two-round format and practice their derby skills. With an overall score of 175.50, BJ Ehrhardt of Goshen, NY, and Leigh Creamer's Crystaal achieved first prize in the class. The pair was awarded 88 points in the classic round and a subsequent 87.50 points in the handy phase to top the competition with two consistent scores. Audrey Robison of Oriskany Falls, NY, and Amy Smith's Berlini finished in second position with 172 points, followed by Meredith Galagher of Haines City, FL, on Carriage Hill Farms' Remember with a total score of 169.
Week Two of the ESP Spring Series will continue through Saturday, April 16, culminating with the $140,000 Bainbridge Companies Grand Prix CSI3*. Week Three will run from Wednesday, April 21 to Sunday, April 25, and will once again feature CSI3* classes. There will be a brief break before Weeks Four and Five of the circuit run from May 5 to May 15, 2022.
To view the prize list for the 2022 ESP Spring Series, please click HERE.
Photo credit ©Sportfot. These photos may only be used once in relation to this press release with proper credit.