For Immediate Release
Kate Pettersen and Sabrina Brashares for Jennifer Wood Media, Inc.
January 29, 2021 – Wellington, FL – Kent Farrington (USA) and Austria 2, owned by Take The High Road, LLC, set the tone as the first pair to return for the jump-off and could not be caught, making light work of the shortened track to take home top honors in the $37,000 Adequan® WEF Challenge Cup Round 3 CSI3* on Friday, January 29, at the Palm Beach International Equestrian Center (PBIEC) during the 2021 Winter Equestrian Festival (WEF).
There's plenty of competition still to come in the International Arena this week at WEF, with the CaptiveOne Advisors 1.50m Classic to highlight Saturday's schedule and Sunday afternoon's $137,000 NetJets Grand Prix CSI3*. Don't miss a minute of the action with all feature classes available for free on the livestream. Competition continues through April 4th as part of the winter circuit in Wellington, Florida.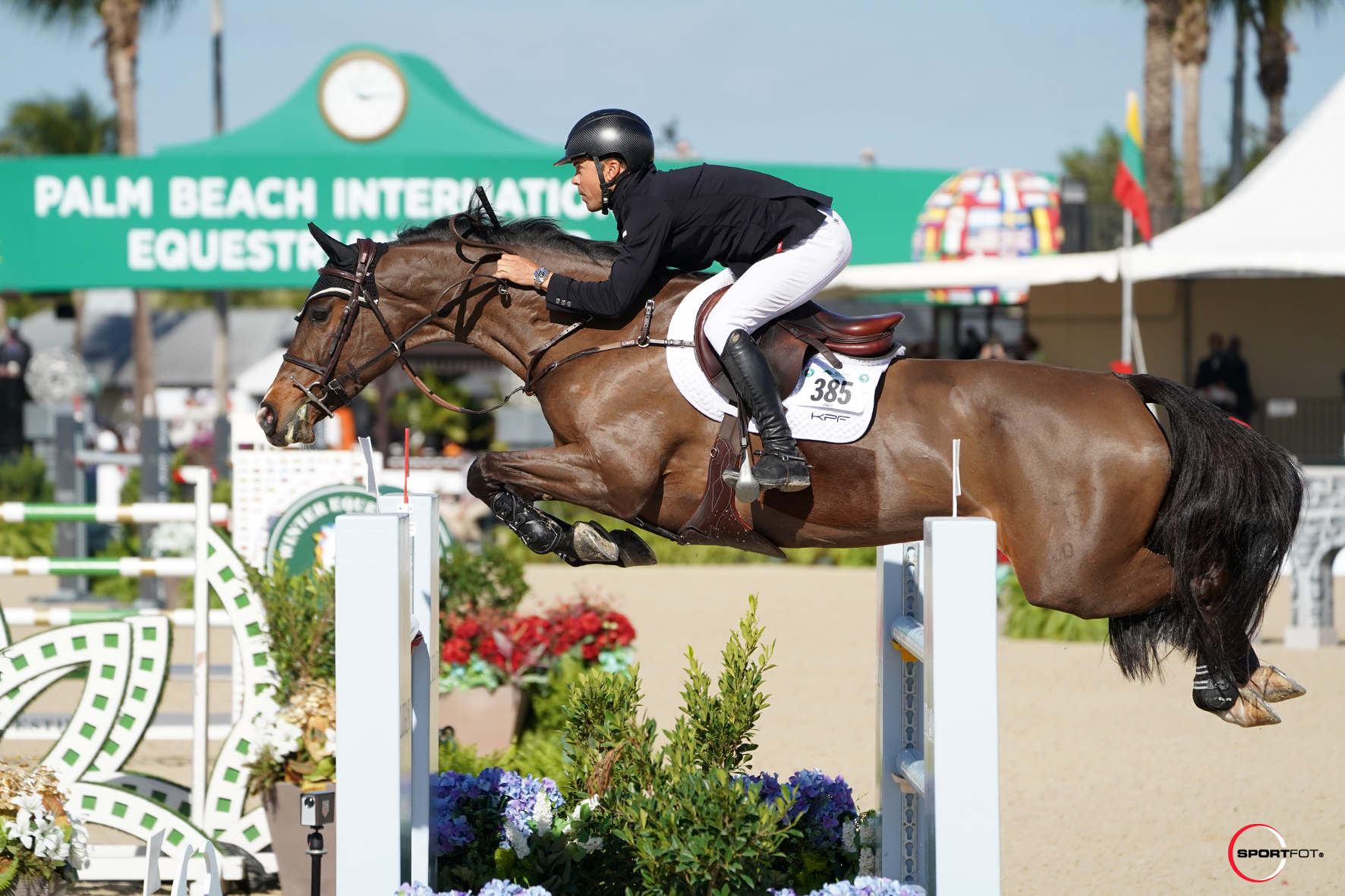 A total of 84 combinations contested the opening round of the class, looking to punch their ticket into Sunday's $137,000 NetJets Grand Prix CSI3*. With 15 qualifying and nine pairs electing to return for the jump-off round, the rider currently ranked seventh in the world displayed flawless execution as he and Austria 2 stopped the timers in a blistering 38.29 seconds.
"I ride some very fast horses and Austria is one of the fastest, so if you're going to go with her in the jump-off, she really only has one speed," said Farrington of the talented 13-year-old Holsteiner mare by Casall x Corrado I. "I thought she was great today, and she looks ready to go for the season, so it was a great way for her to start."
Watch Kent Farrington and Austria 2's speedy jump-off round!
The shortened track of eight obstacles set by Peter Grant (CAN) and Joey Rycroft (CAN), challenged riders with a combination of places to open up their stride and gallop along with opportunities to shave valuable time off the clock through efficient turns, ultimately leading to some incredibly quick efforts.
"Those smaller horses, they gain confidence from working out of speed, especially when the jumps get bigger and wide," he said. "They have to be comfortable jumping off a big gallop so it's a good way to start her. There are tough competitors here as always and it's never easy to win, so I'm happy to get the win today."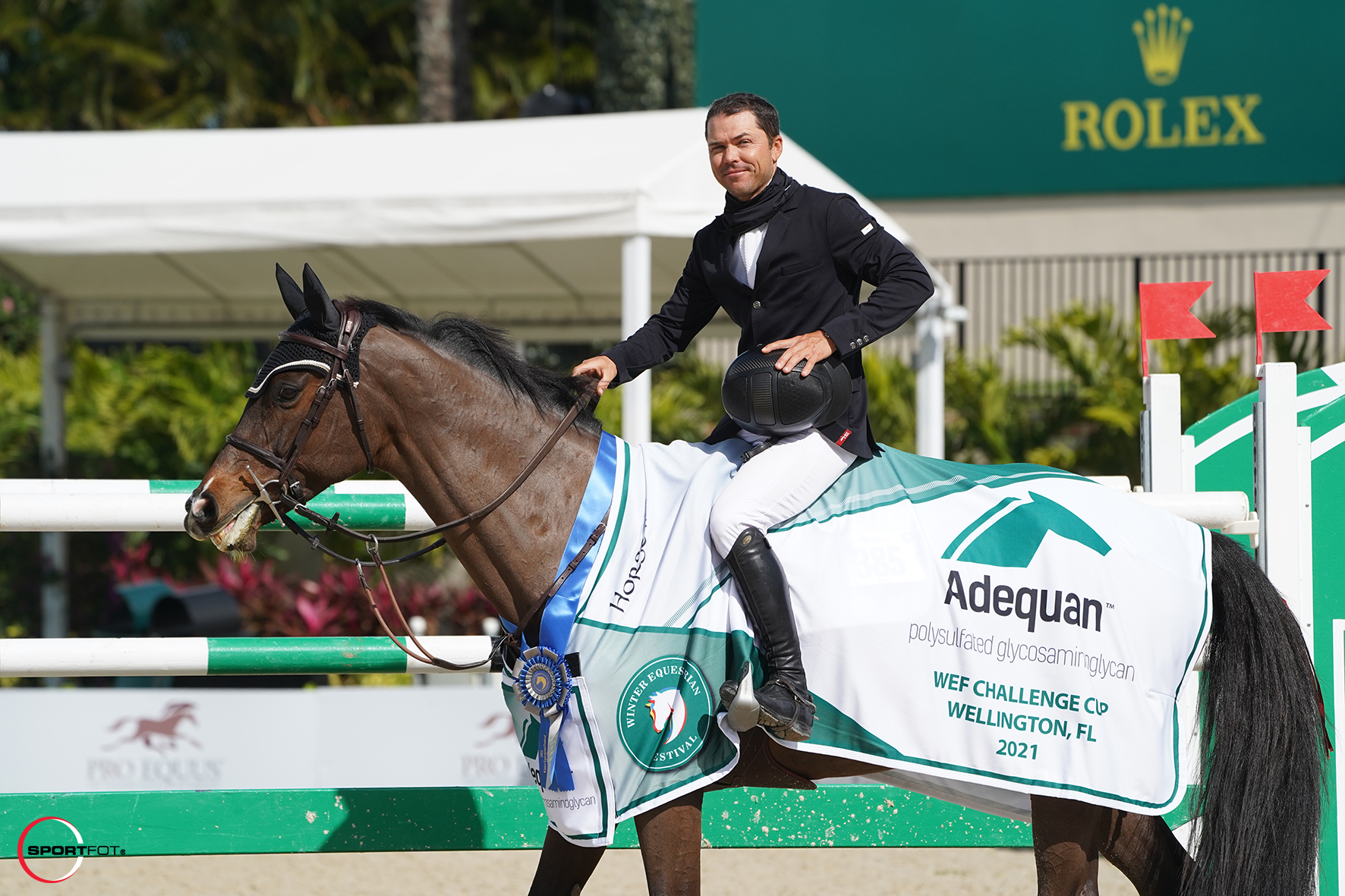 Laura Kraut (USA) finished just off the mark with her veteran partner Confu, a 14-year-old Holsteiner owned by St. Bride's Farm, finishing less than a second and a half off the winning time in 39.79 seconds.
Also putting forth a double clear effort was U.S. rider Adrienne Sternlicht aboard Bennys Legacy, a 13-year-old Oldenburg gelding owned by Starlight Farms, LLC, crossing the finish line in 41.04 seconds.
While it's still early in the season, Farrington has confidence he's set up nicely for the duration of WEF, with a variety of horses to choose from as he continues to look for top results in the feature classes.
"I have a mixed group here at WEF," he said. "I have some older, very experienced horses that I'm going to work in and out of the season trying to keep them going but not overuse them here, just like I normally do. I also have some younger ones, and I'll move them up and down depending on what they're ready for"
Earlier in the day, Laura Chapot (USA) and Calafornia won the $6,000 Bainbridge Companies 1.40m Jumpers. Finishing off the Friday afternoon schedule with a victory, it was Vanessa Hood (USA) and Lou Lou Vls taking home the blue ribbon in the $2,500 Lugano Diamonds High Amateur-Owner 1.40m Jumpers.
Final Results: $37,000 Adequan® WEF Challenge Cup Round 3
1. AUSTRIA 2: 2008 Holsteiner mare by Casall x Corrado I
KENT FARRINGTON (USA), Take The High Road, LLC: 0/0/38.29
2. CONFU: 2007 Holsteiner gelding by Contact Me x Cambridge
LAURA KRAUT (USA), St. Bride's Farm: 0/0/39.79
3. BENNYS LEGACY: 2008 Oldenburg gelding by Lupicor x Acordia
ADRIENNE STERNLICHT (USA), Starlight Farms, LLC: 0/0/41.04
4. KASPER VAN HET HELLEHOF: 2010 BWP stallion by Emerald Van't Ruytershof x Nabab de Reve
MCLAIN WARD (USA), Poden Farms:0/0/41.80
5. CARLITO'S WAY 6: 2010 Holsteiner gelding by Casall x Lordanos
RODRIGO PESSOA (BRA), Artemis Equestrian Farm, LLC: 0/0/41.95
6. DEZ OOKTOFF: 2008 Dutch Warmblood stallion by Colandro x Fabiola
ROBERTO TERAN TAFUR (COL), Roberto Teran Tafur: 0/0/46.80
7. SOUPER SHUTTLE: 2011 Hanoverian mare by Stakkato x Luise Marie
CHLOE REID (USA), Live Oak Plantation, LLC: 0/4/42.57
8. VOLNAY DU BOISDEVILLE: 2009 Selle Français stallion by Winningmood x Copacabana II
TEDDY VLOCK (ISR), Vlock Show Stables, LLC: 0/8/42.22
9. MTM VIVRE LE REVE: 2009 Westphalian gelding by Ustinov x Chello II
BRIAN MOGGRE (USA), Major Wager, LLC: 0/9/56.33
10. KATANGA V/H DINGESHOF: 2012 BWP mare by Cardento 933 x Tabelle DIngeshof Z
NICOLA PHILIPPAERTS (BEL), Nicola Philippaerts: 0/73.44
11. KARLIN VAN'T VENNEHOF: 2010 BWP mare by Fantomas De Muze X Quasimodo Vd Molendreef
SHANE SWEETNAM (IRL), Seabrook, LLC and Shane Sweetnam: 0/74.50
12. JEFF TEN HALVEN: 2009 BWP gelding by Toulon x Cassis Z
MICHAEL DUFFY (IRL), HMF Equestrian: 0/76.71

Taylor Landstrom and Francesca Guidi Top the EMO Insurance USHJA 3'3" Jumping Seat Medal
Friday morning began with 55 equitation riders competing for the blue ribbon in the EMO Insurance USHJA 3'3" Jumping Seat Medal at Ring 6. The class was held in a California split format with Taylor Landstrom riding Inferno to the Section A first place ribbon and Francesca Guidi piloting Come Monday to the Section B win.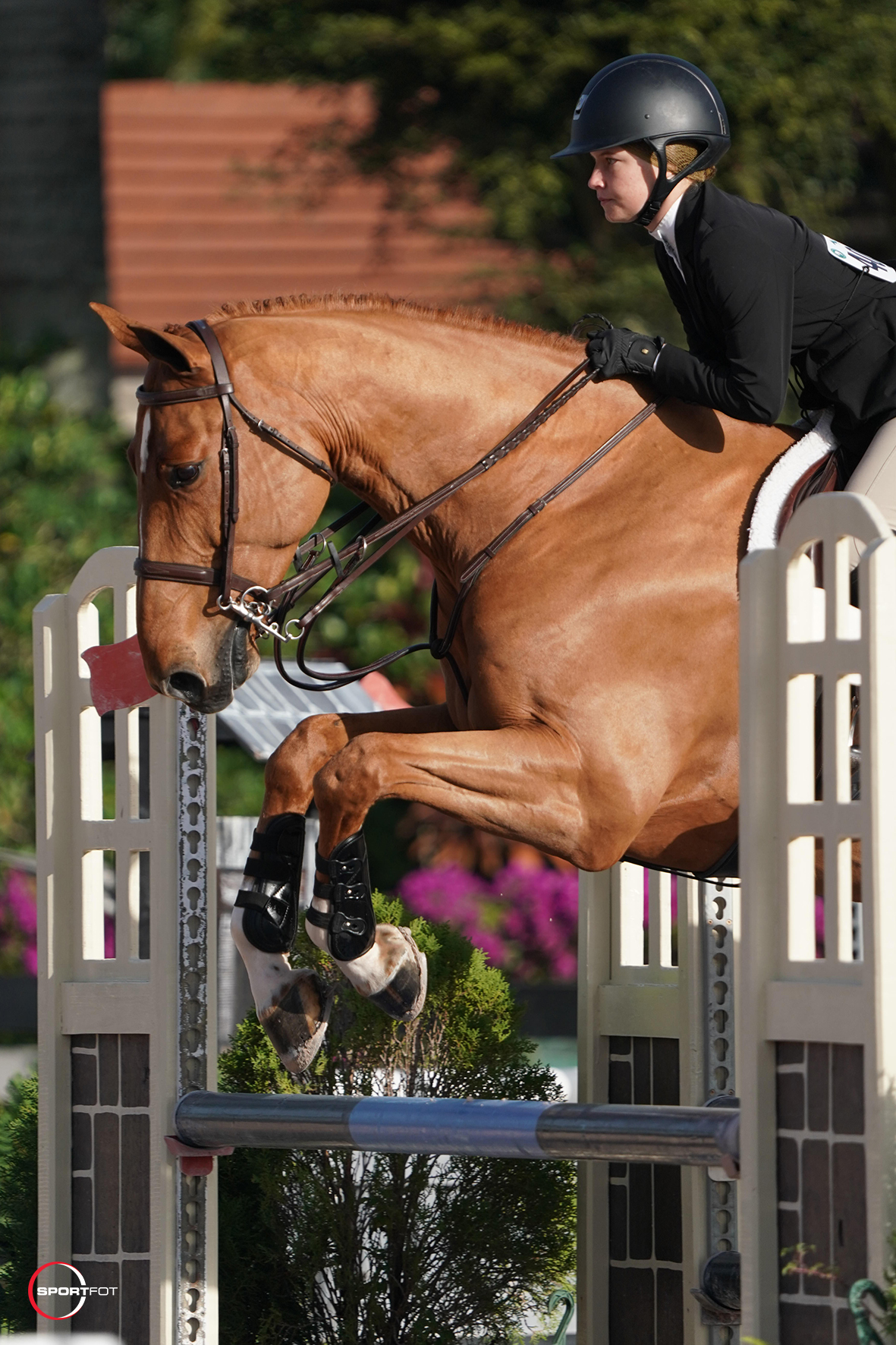 The equitation medal consisted of two rounds, an over-fences phase and a flat test, for the top 10 riders of both Section A and Section B. Landstrom, of Excelsior, MN, and her own Inferno tackled the over-fences phase with ease and earned a score of 87 to put them at the top of the class.
"I picked up my canter and once we found the first jump, the rest of the course fell into place," described Landstrom. "He knew what his job was, and I did my job, so I couldn't have been happier."
Landstrom and the eight-year-old Warmblood gelding by Etoulon VDL train with Three Ships LLC and this is their first year showing in the big equitation classes. The pair aims to qualify for the equitation finals this fall and hopefully ribbon in them as well.
"I got him last year at the end of circuit," explained Landstrom. "He is my first equitation horse, and we have been growing together throughout the year. He is so special."
Second place in Section A went to Rylynn Conway, of Fair Haven, NJ, and her own Crossbow. The duo earned a first round score of 80.
The Section B winner of the medal was Francesca Guidi, of Hingham, MA, and Michael Fletcher's Come Monday. Guidi has had the ride on the nine-year-old Rheinlander gelding by Icarus since the summer, and the pair successfully conquered the 3'3" equitation finals together last year.
"I'm very familiar with him, and I'm so thankful that I can continue to ride him this season," commented Guidi. "My goals with him this circuit are to get more consistent in the big equitation, since this will be my first year showing in that."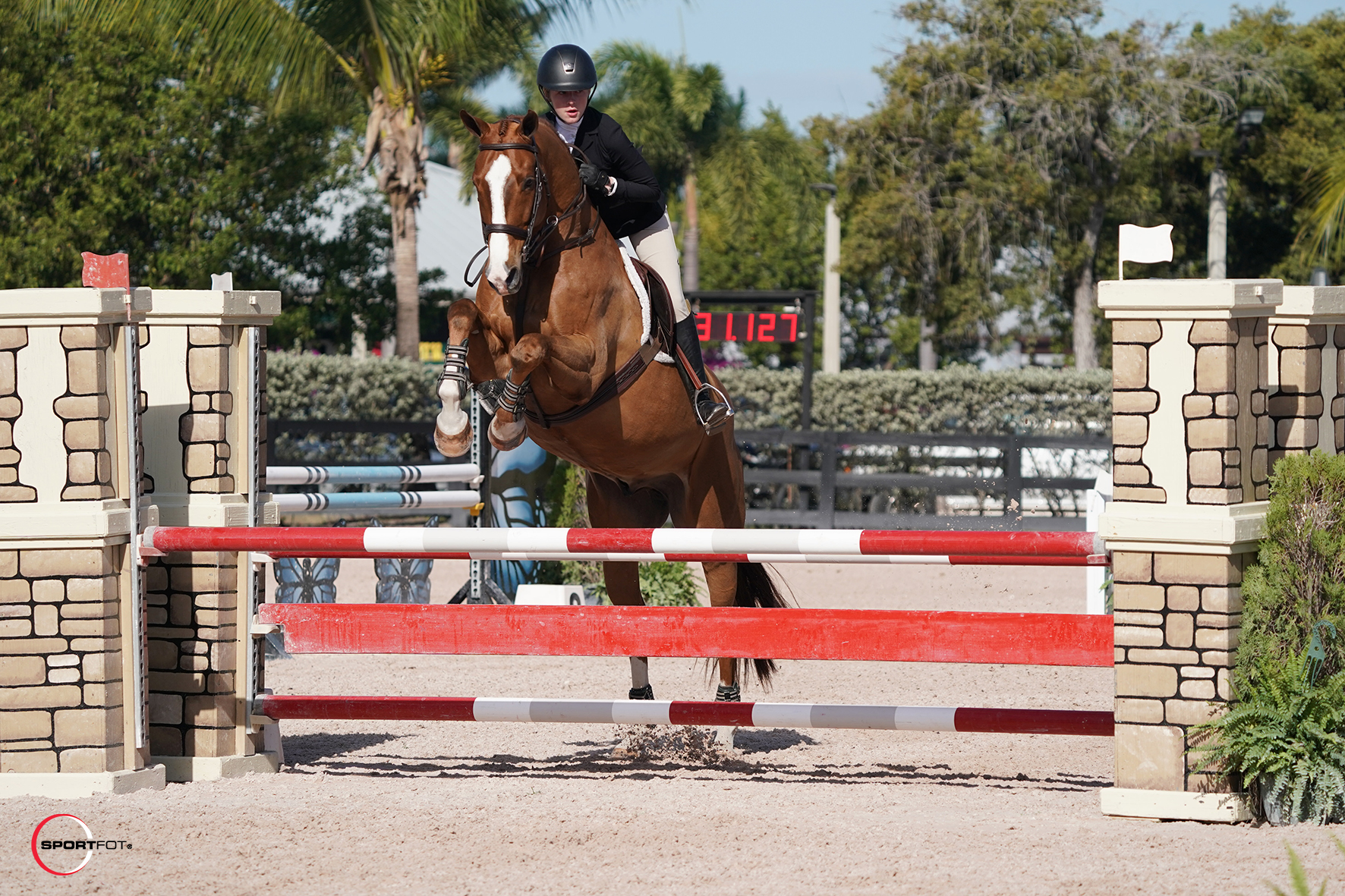 Guidi and Come Monday train with Grazing Fields Farm and scored a 79.5 in the first round. The pair impressed the judges in the flat portion of the class to move up and take home the blue ribbon.
"It was a pretty technical course with a lot of bending lines and thankfully things that I've actually been working on at home," said Guidi. "I had a really solid plan with my trainer about exact numbers and where I wanted to be, and I'm pretty proud because we executed our plan very well."
Elianna Kirson and Sietske Z earned the red ribbon in Section B of the USHJA Jumping Seat Medal. Kirson, of Barrington Hills, IL, and Lyda Denney's Sietske Z received a first round score of 83.
Competition on Saturday will feature the $37,000 CaptiveOne 1.50m Classic taking place in the International Arena and the THIS Children's Medal 14 and Under in Ring 6.