For Immediate Release
Wellington, FL – May 14, 2022 – Jennifer Bliss and Flight captured their second consecutive win in the $2,500 USHJA National Hunter Derby, presented by Equiline, after jumping to a two-round score of 179. The fifth and final week of the ESP Spring Series held its featured class for hunter competitors on the grass Derby Annex at Equestrian Village on Friday.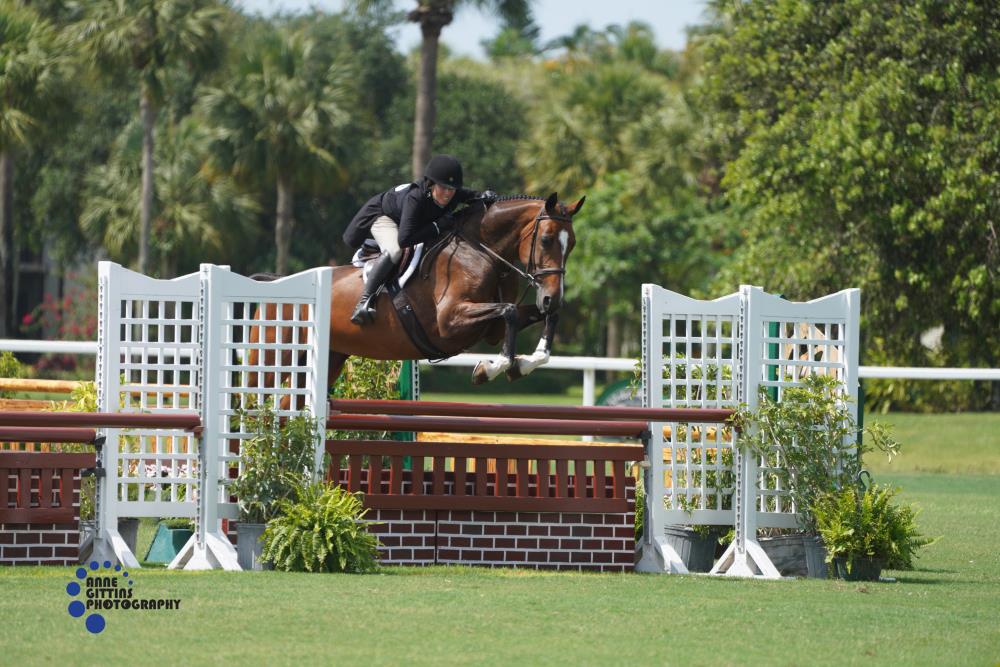 "This is very exciting! She won both classes in the 3'3 Greens this morning, so she was champion in that division again," Bliss commented. "It's only our fourth show with her, and she has such little ring mileage, but she's so brave to the jumps. She's so capable, scopey, and has a great stride, and we're just trying to give her a great experience and more show mileage, while stepping it up a bit each week," Bliss shared of her mount, who goes by Juliette at home. "She will have the next two weeks off to have some time to relax at home, and then we'll do one more show here during the first week of June, and then after that, we start traveling a bit."
Twelve entries tested the two courses, designed by Andy Christiansen. "The first course was quite long, but it's always such a treat to be able to use the field, I really love it. For Juliette, it's great because she gets to work on her fitness and her focus when doing those longer rounds like the classic round. I think she'll become great at handy rounds, it's all-new for her which is why these classes are so helpful," Bliss of Wellington, FL, explained.
Click above to watch the winning derby ride!
Following the classic round, Bliss sat in second place with a base score of 84, plus four additional high-option points. In the lead by just one point was Molly Sewell of Wellington, FL, and Heather Smith's Konig Der Loewen with a classic-round score of 89. In the handy round, Bliss and Flight, owned by Dandelion Farm LLC, improved to a base score of 87, plus four high-option points, to put them at a total score of 179, which would ultimately prove to be the highest score of the class. Sewell and Konig Der Loewen finished in second with a combined score of 178, while Elise Stephens of Whitefish Bay, WI, collected the yellow rosette with Rendezvous Farm's Cholita thanks to a total score of 175.
"I definitely tried to be a bit "handier" this week," Bliss said. "I played around with some tighter turns, and I took a tighter turn today after the trot jump. I'm really just trying to step it up week by week to see what she can do, and she's definitely rising to the occasion. At home and in the schooling ring, she's a bit sassy and playful, so it has taken a minute for us to get to know each other, and I feel like now we have a nice level of respect and trust that makes being in the ring fun and is allowing me to try more with her now."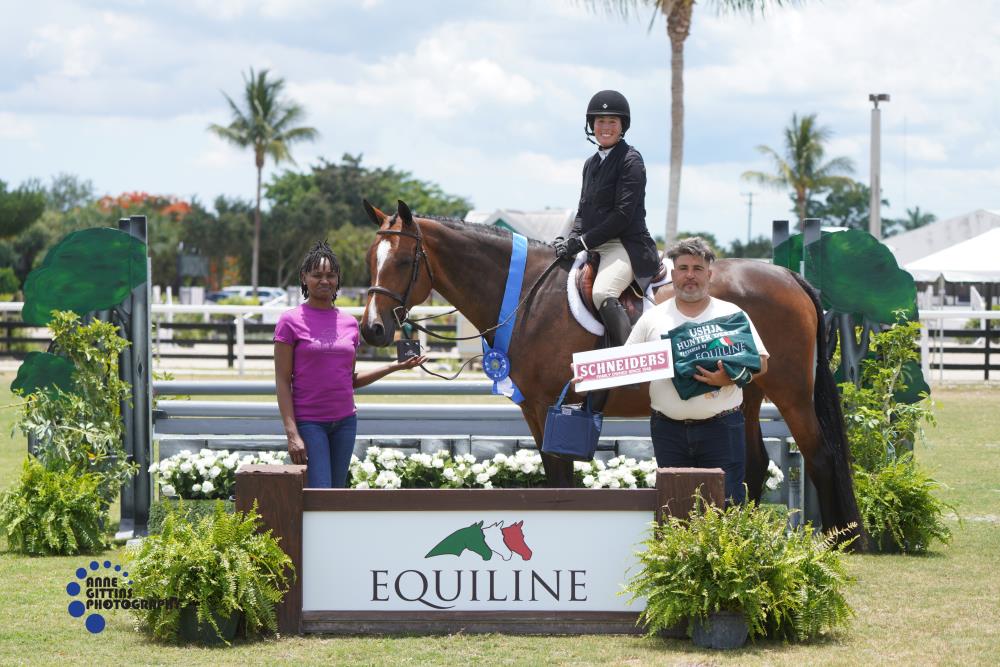 Deywi Rodriguez was the recipient of the Schneiders Groom Award following the $2,500 USHJA National Hunter Derby, presented by Equiline, as the groom of the winning derby horse. As part of the recognition, Rodriguez was presented with a bag of high-quality grooming supplies courtesy of Schneiders Tack.
For the full results of the $2,500 National Hunter Derby presented by Equiline, please click HERE.
Derby action continued on Saturday with the $1,000 2'6"- 2'9" Hunter Derby presented by Score At The Top, which offered less-experienced horses a chance to test derby-styled courses. Topping a field of 12 competitors, Katie Giddings of Boca Raton, FL, and Chitty Chitty Bang Bang, owned by Shea Fennelly, captured the win after posting scores of 78 and 77 for a combined two-round score of 155. Just one point behind the leading pair, Jennifer Prior of Wellington, FL, secured reserve honors with her own Having Said That. Rounding out the podium with a combined score of 148 was Juana Sapetnitzky of Key Biscayne, FL, riding Avery Eichel's Rondo.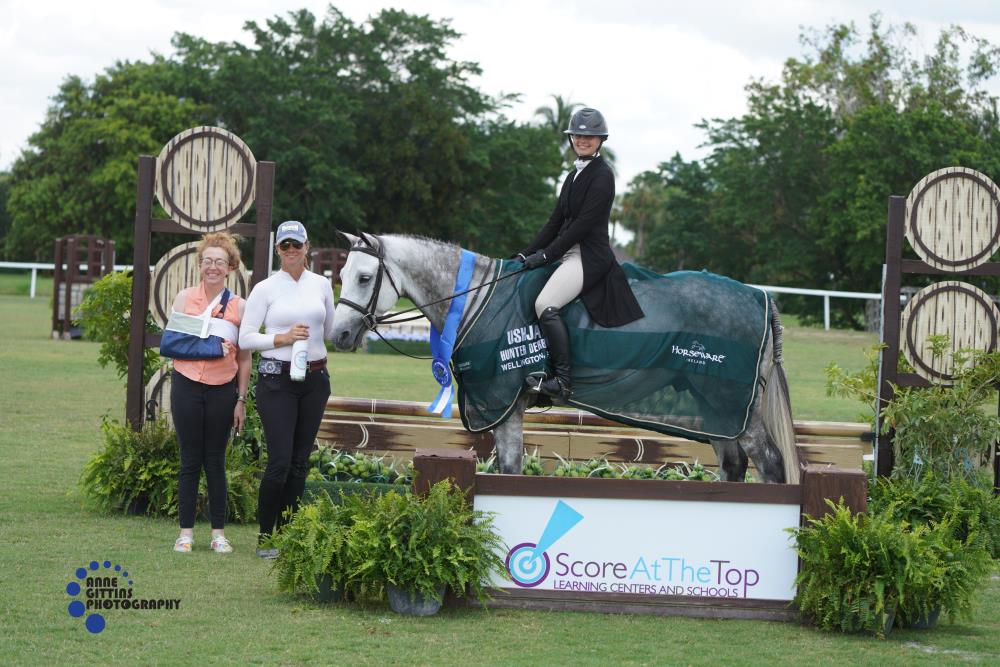 In the USHJA Hunter 2'/2'6″ division, presented by 100X Equine, Ki-Juan Minors of Wellington, FL, received top honors with Wiser Now, owned by Laura Ojemann. The pair championed the division after placing consistent performances in all five of the division's classes, earning a first and a second-place ribbon, two third-place ribbons, and a fourth-place ribbon. Kristen Collins of Wellington, FL, and Scorez, owned by Pinecone Farm, LLC, only competed in four of the division's classes but still collected reserve honors thanks to winning two of the division's classes.
Keri Kampsen captured the tricolor ribbon in the 3' Green Hunter division with Randee Cherner's Eliot Du Banney. The partnership was awarded three first-place ribbons which included two over-fences classes and the under saddle, to accrue the most points towards the overall championship honors. Franki, ridden by Jennifer Bliss of Wellington, FL, and owned by Lexi Ferder Stables, captured the reserve championship thanks to consistent performances which earned two first-place results and two second-place results.
Week Five of the ESP Spring Series will continue through Sunday, May 15, culminating with the $25,000 IDA Development Spring V Grand Prix. There will be a brief competition break before the ESP Summer Series begins with the ESP June Equitation Day #1 on June 2, 2022.
To view the prize list for the 2022 ESP Summer Series, please click HERE.
Photo credit ©Anne Gittins Photography. These photos may only be used once in relation to this press release with proper credit.