Wellington, FL – December 18, 2022 – Grand Prix riders had their final opportunity to compete under the lights of the International Arena ahead of the 2023 Winter Equestrian Festival on Saturday, December 17. The $50,000 Zen Elite Grand Prix saw 34 horse-and-rider combinations vie for the lion's share of the prize money, but it was ultimately Lebanon's Jad Dana and After Eight, owned by Springhill Farm 1850, LLC, who edged out the competition and galloped away with the victory.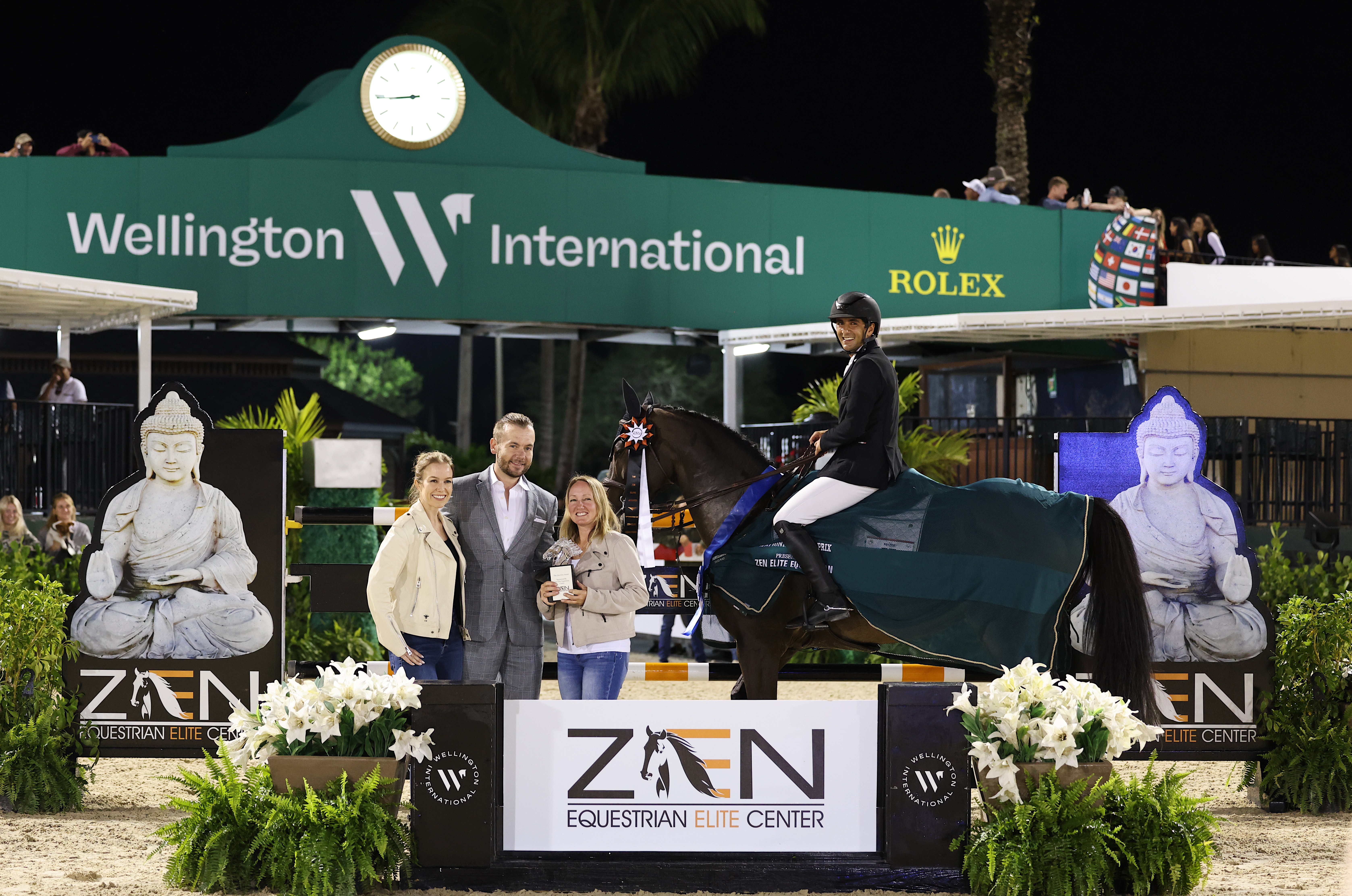 "I've been riding this mare for a little over a year and a half. She's very special and very sensitive. The owners bought the mare and secured the ride for me, so I'm extremely grateful to them," commented Dana. "She [After Eight] is very feisty and hot, but she knows when it's her time to shine. She's an experienced horse that knows her job." 
In the first round, riders set out over a track that featured 16 efforts designed by Mauricio Garcia Ballesteros (PUR). The field was narrowed down to five pairs as qualifiers for the jump-off over a shortened course. Caroline Mawhinney (USA) and Bacara D'Archonfosse were the trailblazers, setting the pace in a clear 42.473 seconds. However, their time in the lead was short as the next entry moved up to the top of the leaderboard. Kayla Savard (USA) and Bogota Nantuel shaved just over a second off their time, taking the lead with three pairs left to test the track. Dana and After Eight were the final pair in the ring. Up against Savard's leading time, the pair put in a daring effort and cleared the course in 38.749 seconds, taking the lead by nearly three seconds.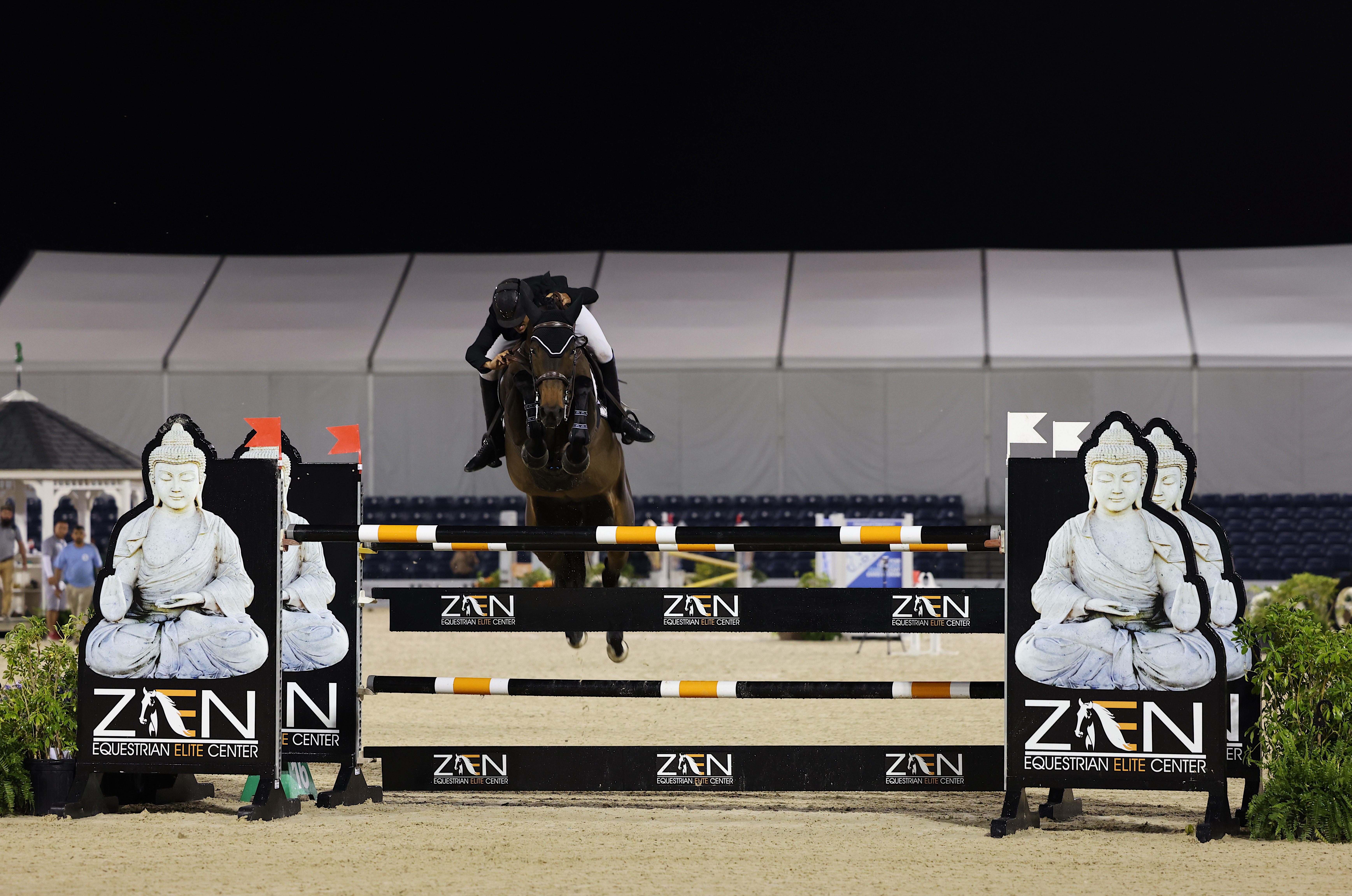 Dana shared that from the start, his plan was to win the class, saying,"My plan was to win, which we always plan for. Tonight, it went my way!" He continued, "I thought the course walked nicely. There were a few options here and there, but I know my mare pretty well now, and I know what strides to pick and what distances to take to bring the best jump out of her." 
With a double-clear time of 41.116 seconds, Savard and her own Bogota Nantuel secured the runner-up honors. Caroline Mawhinney (USA) claimed the final spot on the podium with Poden Farms' Bacara D'Archonfosse with their clear jump-off time of 42.473 seconds.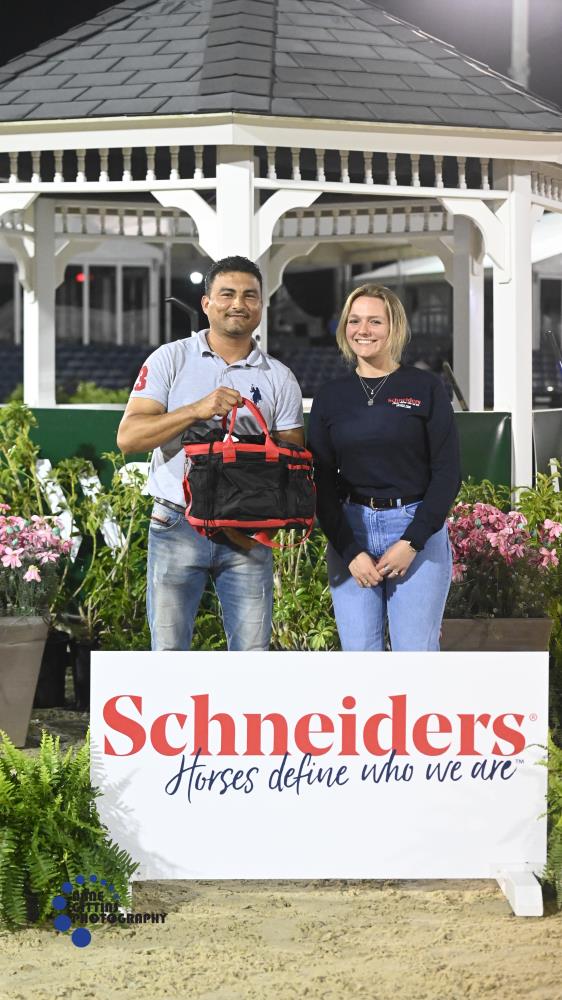 As the groom of the winning horse, Victor Peralta was the recipient of the Schneiders Groom Award for the $50,000 Zen Elite Grand Prix. As part of the recognition, Peralta was presented with a bag of high-quality grooming supplies courtesy of Schneiders Tack. 
To view the full results of the $50,000 Zen Elite Grand Prix, please click here.  
The second half of the Holiday Festival week kicked off on Thursday morning with the $5,000 Palm Beach Equine Clinic Grand Prix Qualifier, qualifying riders for Saturday night's $50,000 Zen Elite Grand Prix. Forty-six riders rode the course, with eighteen making it clear into the immediate jump-off format. Course designer, Mauricio Garcia Ballesteros (PUR), constructed a first-round  course consisting of twelve obstacles, followed by a seven-obstacle jump-off. Completing both rounds fault-free and with the fastest jump-off time of 40.769 seconds, Sarah Scheiring (USA) and Margret De Mariposa, owned by Bellwyn Farm LLC, took the top call. Following in second place was Michael Hughes (USA) and Trixie Z, owned by Stephex Stables, with a clear jump-off time of 41.748 seconds. Completing the podium was David O'Brien (IRL) and El Balou Old, owned by Chansonette Farm LLC, placing a double-clear round in 45.745 seconds.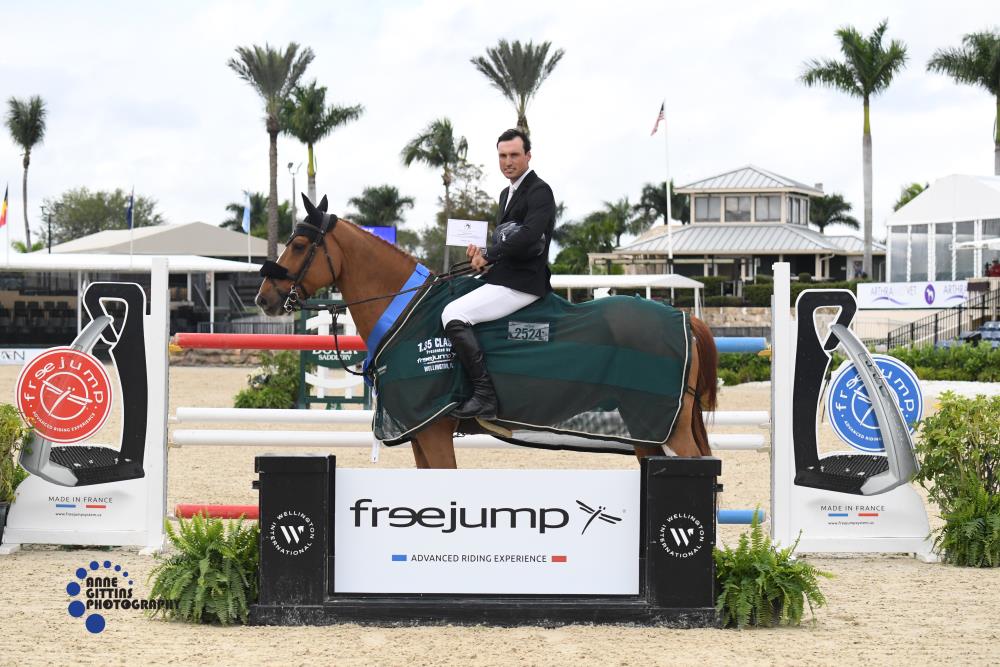 The $5,000 Freejump 1.35m Open Stake welcomed 29 combinations to the International Arena on Saturday, ahead of the $50,000 Zen Elite Grand Prix. Just seven riders were able to navigate the opening track without accruing any faults to advance to the jump-off. Securing the top spot with a double-clear time of 39.854 seconds was Michael Murphy (USA) aboard Comedie De Talma, owned by Esperanza Imports, LLC. Blythe Karolyi (USA) collected second-place honors with Olivia Venezio's Theo Duc T&L Z in a double-clear time of 41.078 seconds, while Lola Head (USA) and her own Adelita stopped the clock in a clear 43.402 seconds to nab third place.  
On Sunday, competition kicked off with the $10,000 Bainbridge Companies 1.40m Open Stake. Designed by Ballesteros, the course consisted of twelve obstacles followed by a six-obstacle jump-off. Thirty-one competitors entered the class, with thirteen pairs making it to the jump-off. Coming out on top was Alex Granato (USA) and King Van Het Keizershof, owned by Kisma Equestrian, LLC, with a double-clear performance and jump-off time of 37.621 seconds. Taking the red ribbon was Daniel Bluman (ISR) and Corbie V.V.Z ET, owned by Over the Top Stables LLC, with a clear jump-off time of 37.840 seconds. Following into third was Harry Allen (IRL) and Over Lux, owned by Ballywalter Stables, going double-clear with a jump-off time of 38.697 seconds.  
Competition in the International Arena wrapped up on Sunday as 37 riders competed for the top prize in the $2,500 NAL Medium Junior/Amateur Jumper Stake presented by Palm Beach Equine Clinic. Eleven pairs advanced to the shortened jump-off track, which consisted of eight fences. Taking top honors was William Martin (CAN) and his Alegria Z in 31.94 seconds. Just off the pace, Micaela Batto (USA) and her own entry, Alounda De Freedeville Z, cleared the short course in 32.554 seconds to secure second place. Tessa P. Brown (USA) claimed third with Mystique VH Kijkvrerdriet, owned by Equipearl, LLC, with a double-clear time of 34.622 seconds. 
The ESP Holiday Series presented by Arthramid®Vet will continue with the New Year's show from Tuesday, December 20, through Friday, December 23. 
To view the prize list for the 2022 ESP Holiday Series presented by Arthramid®Vet, please click HERE.  
This press release content is published by ©Equestrian Sport Productions. This press release may only be repurposed by media outlets if appropriate credit is given in writing to the original publisher.  
Photo credit ©Carly Nasznic Photography and ©Anne Gittins Photography. These photos may only be used once in relation to this press release with proper credit.