For Immediate Release
Jennifer Wood Media, Inc.
Wellington, FL – January 22, 2022 – While the international competition during this week of the 2022 Winter Equestrian Festival (WEF) has been held at Equestrian Village, all eyes were on the International Arena tonight at the Palm Beach International Equestrian Center in Wellington, FL, for the $50,000 Marshall & Sterling/Great American Insurance Group National Grand Prix, part of the exciting "Saturday Night Lights" series. Laura Chapot (USA) delivered a thrilling performance as she and Chandon Blue raced through the timers for the win. WEF 2, sponsored by Hygain Feeds, concludes on Sunday, January 23, and the circuit continues through April 3.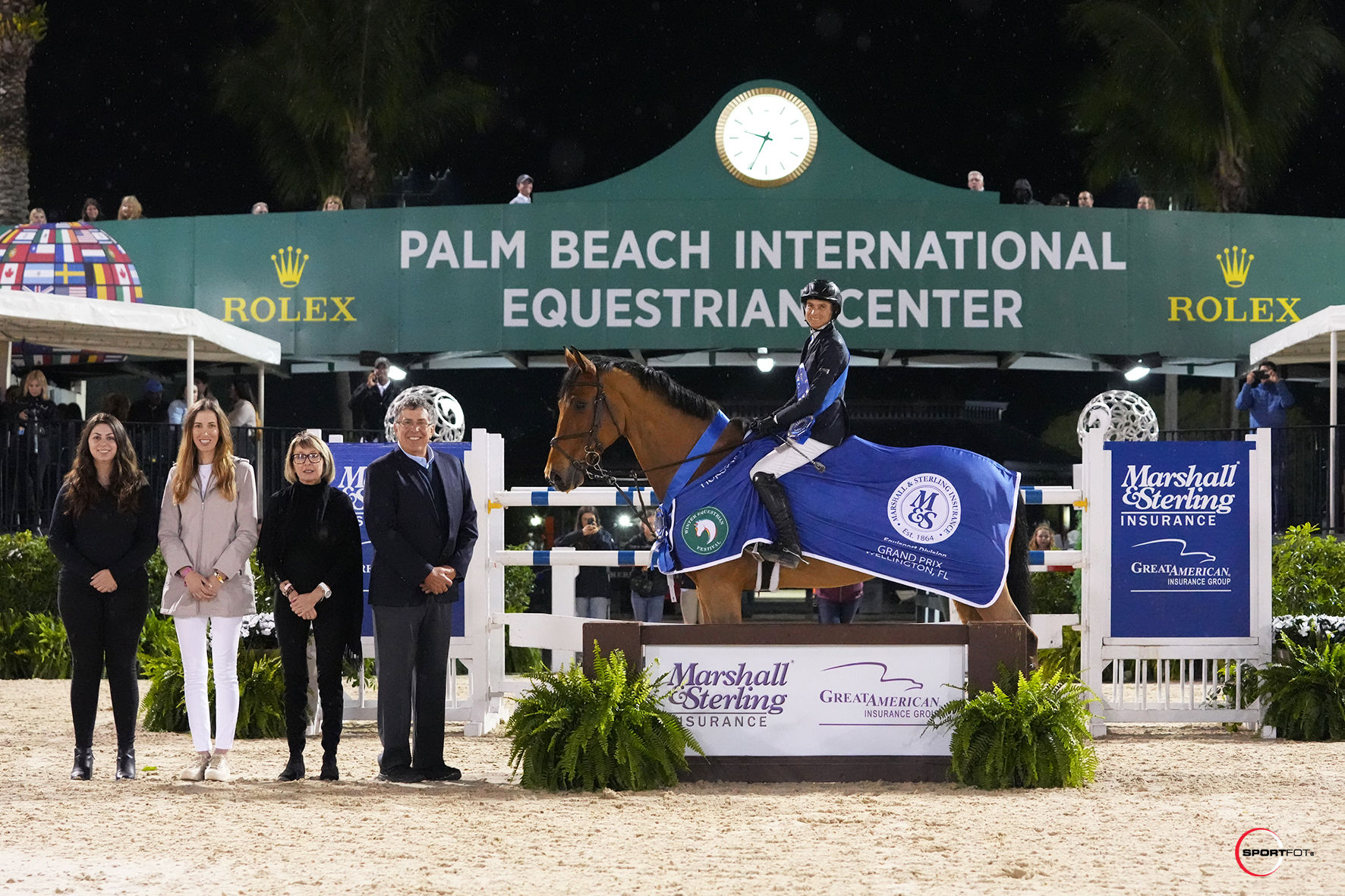 Forty-five entries contested the grand prix track set by Nick Granat (USA) with 11 combinations jumping clear and were through to the jump-off.
First in the ring for the jump-off was Grand Prix Qualifier winner, Cathleen Driscoll (USA) aboard her winning mount Flotylla, owned by Don Stewart. Driscoll duplicated her first-round clear performance, laying down a quick, clean effort in 37.07 seconds over the shortened course, which would hold up for fourth place.
A couple horses later, it was Nick Dello Joio (USA) and The Berry Group's Cornet's Cambridge that set the new time to beat at 36.33 seconds. That would ultimately be good enough for a third-place finish.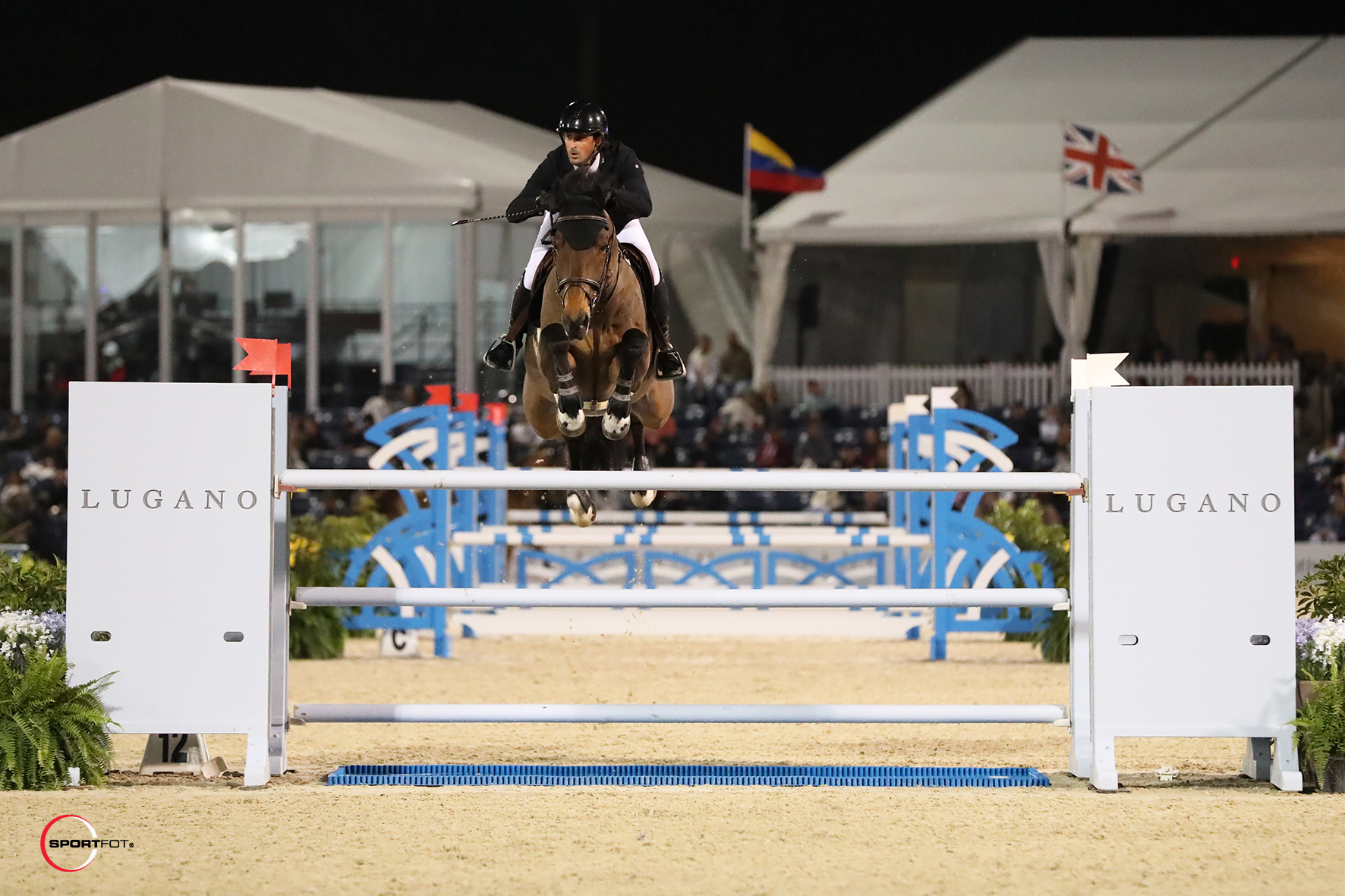 Dello Joio's time was quickly slashed as next in was Irish Olympian Shane Sweetnam who finished the short course in 35.728 seconds with James Kann Cruz, owned by Gizmo Partners LLC. However, Sweetnam would have to settle for second place.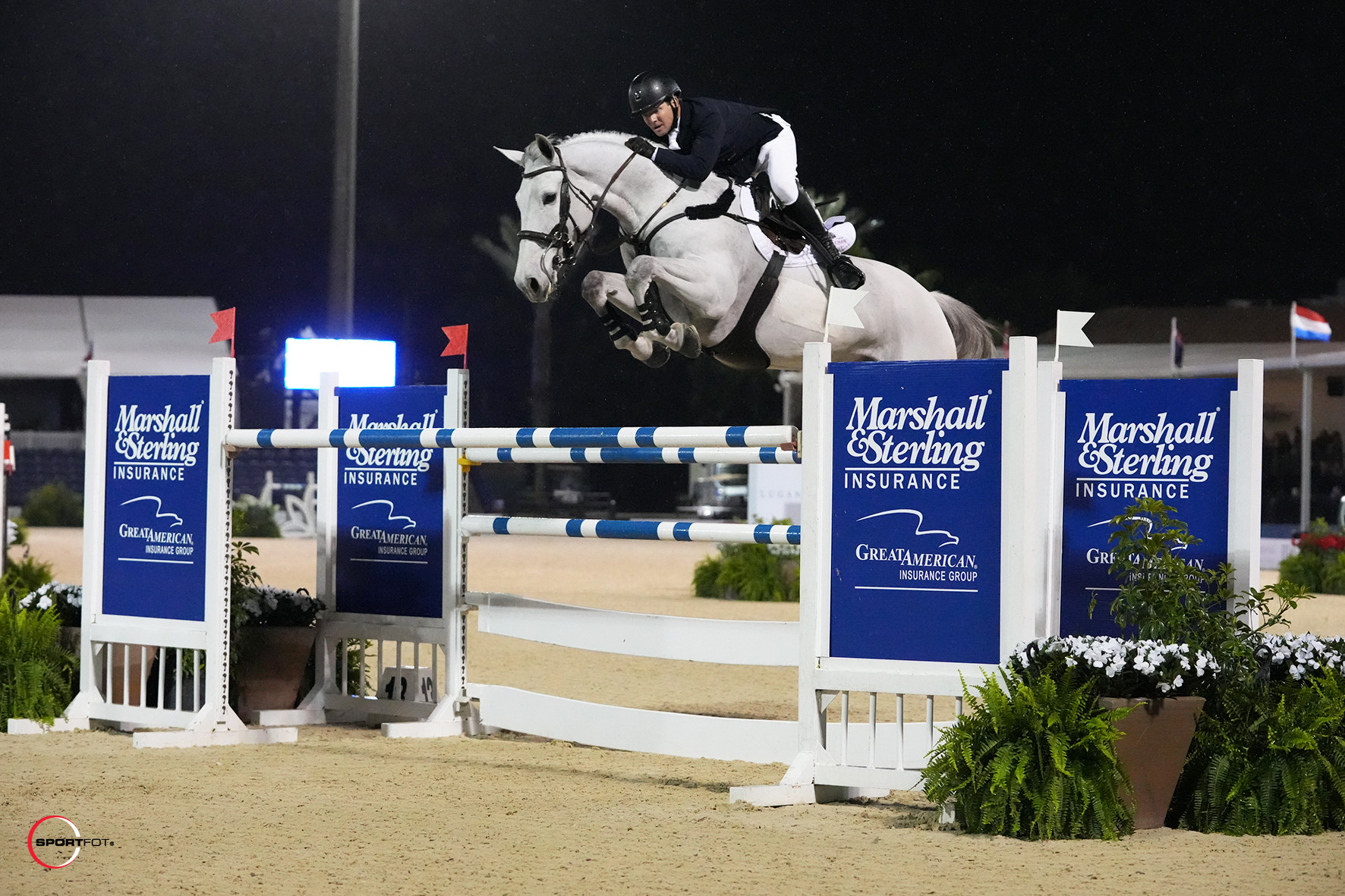 After watching their new target in Sweetnam and James Kann Cruz, Chapot and Chandon Blue went pedal to the metal, finishing in 34.485 seconds for the win.
Click to watch the winning jump-off!
It had been raining off and on all day and started up again when the jump-off got underway.
"I was really happy that it wasn't pouring rain when I went in, because usually if it's going to rain, it's going to rain on me! So, I was fine with the lightness," joked Chapot.
Chandon Blue, a 17-year-old Oldenburg gelding by Chacco Blue x Landcapitol, came to Chapot from Cian O'Connor who has helped Chapot along the way with him. He had an extended break this past year when Chapot fractured her arm, necessitating surgery and the insertion of a metal plate.
"He's a little bit overexuberant right now. He's so glad to be back in action," Chapot said of her mount. "He's always been a real trier, and he's got a huge, huge heart. I think that always helps keep the horses' interest and keep them going strong."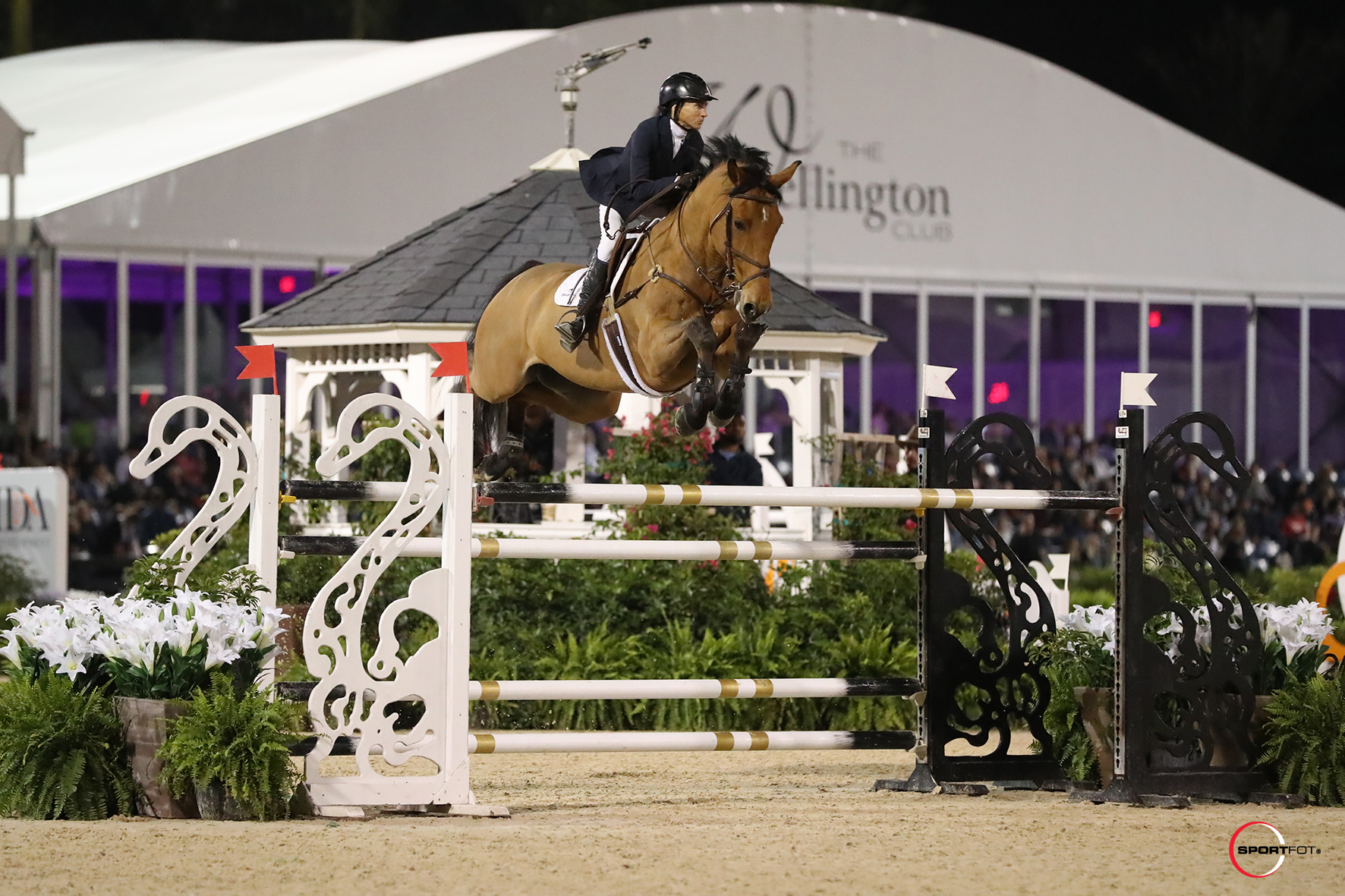 Chapot is thoughtful in her approach in order to maintain her horse's longevity and successful career.
"We don't work him too hard, but at the same time he enjoys it down here in Florida, so I'd like to give him the opportunity to get him in some of the nice classes for him," she said.
This is the only national grand prix during the circuit to be held under the lights, and Chapot jumped at the chance to compete in that environment.
"I thought it would be a good opportunity for him, because I know he's been under the lights before, and he loves the excitement and the crowds," noted Chapot. "He was so focused tonight. I was pleased because he was probably as rideable as he's been the whole time he's been down here."
Chandon Blue, a horse Chapot owns with her mother, Mary Chapot, likes the love and attention not just from the crowds, but back in the barn as well. His sweet and kind personality make him a stand-out.
"He has a great personality. There are a few horses that really have strong personalities, and that's what I tend to gravitate towards," described Chapot. "Those are the horses that I like the most. It means a lot for me to have him win this class because he really deserves it, and he does feel like he really senses that he's done well."
It was a meaningful win tonight for Chapot who, since her injury, has been working with Wendy Coren, DC and David Lundquist, DC for rehabilitation. Her sponsors and customers have rallied around her, so she was thrilled to punctuate her return with a grand prix victory.
Chapot reflected, "I feel like this is just a nice way to be like 'I'm back.' Tonight, [Chandon Blue] was really on a mission. It all came together, which is a great feeling when it all just happens like that."
Final Results: $50,000 Marshall & Sterling/Great American Insurance Group National Grand Prix
1 CHANDON BLUE: 2005 Oldenburg gelding by Chacco Blue x Landcapitol
LAURA CHAPOT (USA), Laura and Mary Chapot: 0/0/34.48
2 JAMES KANN CRUZ: 2013 ISH gelding by CSF Telly Cruz x unknown
SHANE SWEETNAM (IRL), Gizmo Partners LLC: 0/0/35.72
3 CORNET'S CAMBRIDGE: 2012 WB gelding by Balou Du Reventon x Chantal
NICHOLAS DELLO JOIO (USA), The Berry Group: 0/0/36.33
4 FLOTYLLA: 2011 PZHK mare by Alvaro 121 x Bajou Du Rouet
CATHLEEN DRISCOLL (USA), Donald Stewart: 0/0/37.07
5 CASCALRETTO: 2012 Holsteiner gelding by Casall x Calando I
VANESSA HOOD (USA), Take Two LLC: 0/0/37.91
6 AFTER EIGHT: 2010 SWB mare by Diarado x Cardento
JAD DANA (LBN), Springhill Farm 1850, LLC: 0/4/35.23
7 VERY CHIC DU TILLARD: 2009 Selle Francais gelding by Diamant De Semilly x Quidam De Revel
GAVIN HARLEY (IRL), E2 Show Jumpers: 0/4/37.46
8 PEWIT DEZOITO: 2013 AES gelding by A Pikachu De Muze x Werther
ADRIENNE STERNLICHT (USA), Starlight Farms LLC: 0/4/37.72
9 LORD LUCIO: 2011 Holsteiner stallion by Legolas x Cero
RODRIGO PESSOA (BRA), Artemis Equestrian LLC: 0/4/38.66
10 ERLE: 2012 Holsteiner mare by unknown x unknown
GIGI MOYNIHAN (USA), Rever Sport Horses LLC: 0/4/39.85
11 FONZIE D'HERLAIMONT: 2011 BWP gelding by Thunder Van De Zuuthoeve x Venus D'Herlaimont
ANTONIO MARTINEZ, JR (VEN), Emilio Mantero: 0/4/40.88
12 LADY LOUISE JMEN: 2010 mare by unknown x unknown
LUCIANA LOSSIO (BRA), Luciana Lossio: 4/66.76

Adrienne Sternlicht Leaves It All On the Field for 1.50m Victory

The $37,000 CaptiveOne Advisors 1.50m Championship Jumper Classic started an action-packed day of competition on the Derby Field at Equestrian Village with 50 horse-and-rider combinations contesting Oscar Soberon's (USA) educated first track. More than 13 nations were represented in the class and seven of those countries were represented in the returning jump-off field which consisted of 18 fault-free competitors.
Ireland's Shane Sweetnam held the leading time for a majority of the shortened track until FEI World Equestrian Games Tryon 2018 U.S. team gold medalist Adrienne Sternlicht found an even faster pace. The young professional proved ready for an impressive season as she captured the first win of the day aboard Lafayette Van Overis.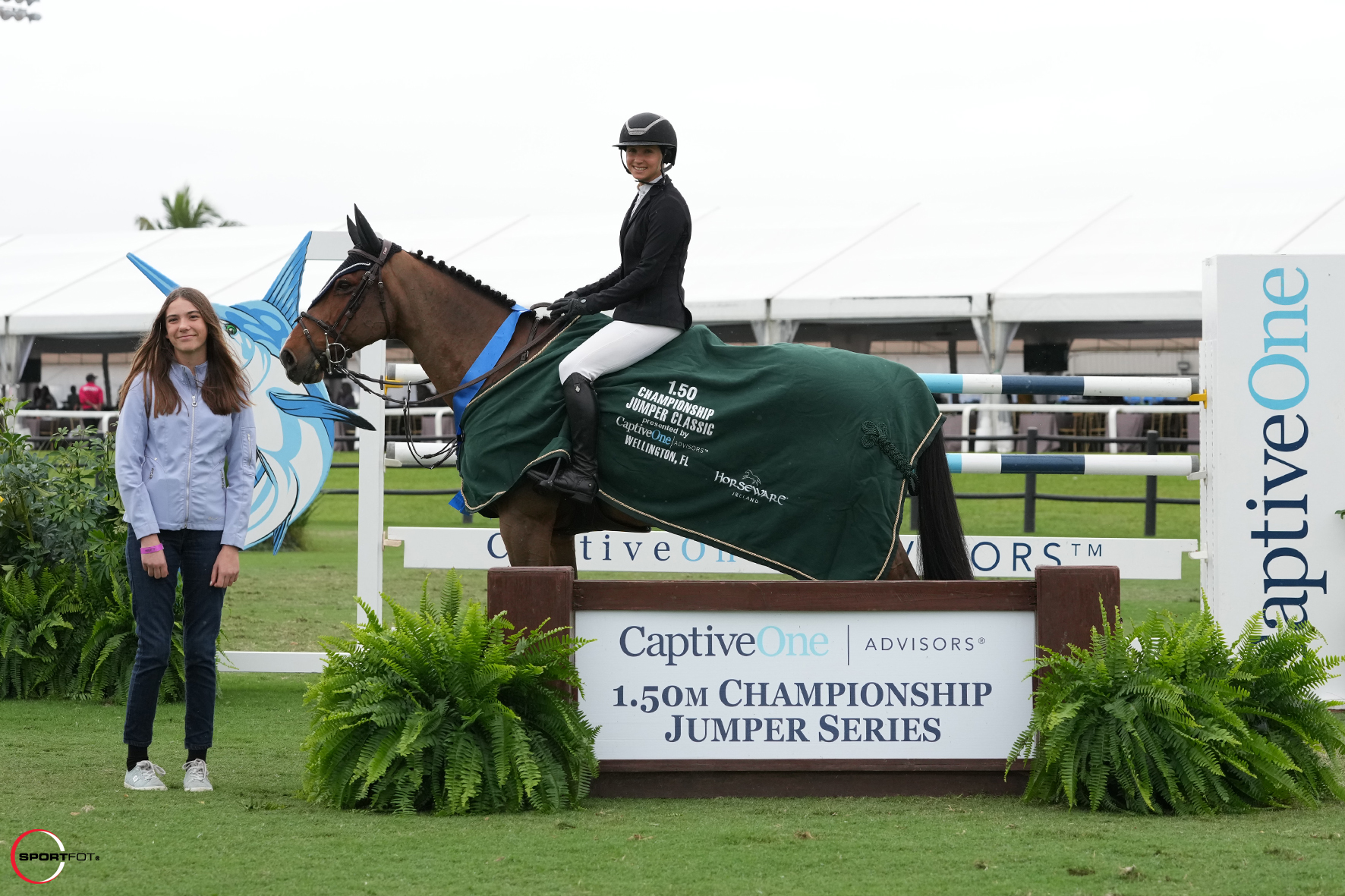 Sternlicht laid it all on the line with the 11-year-old BWP gelding (Kashmir Van Schuttershof x Houdini Van Overis) with a variety of long gallops and tight turns to shave an entire three seconds off of Sweetnam's time and blaze through the timers in 42.51 seconds.
Click to watch the winning ride!
"My plan was to have another good class as my horse went really nicely in Thursday's ranking class," Sternlicht explained. "I felt really confident out there, and he absolutely loves the field. He is quite quick across the ground so I just figured we might as well go for it."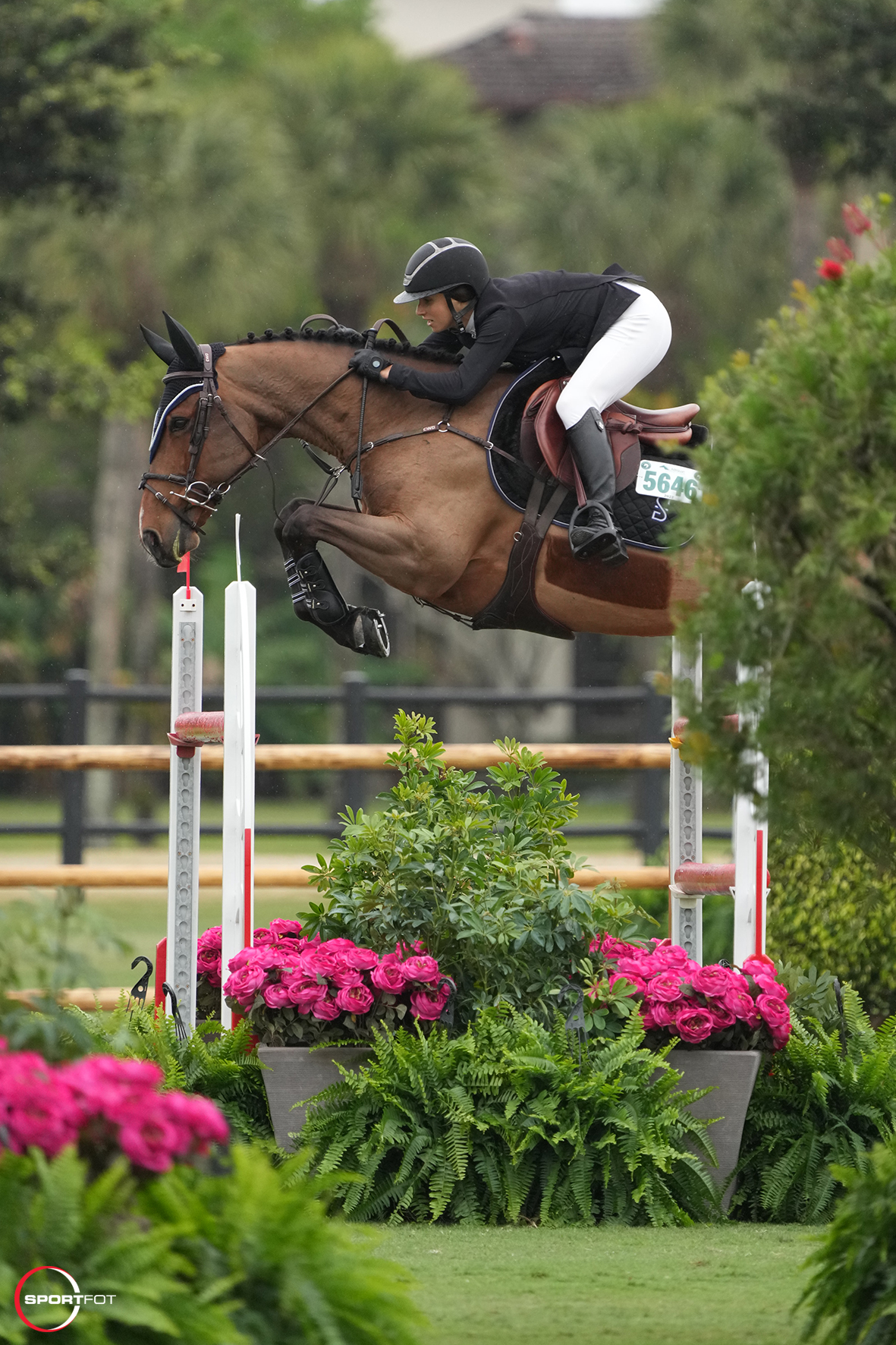 Sternlicht has been partnered with the Starlight Farms 1 LLC's gelding for roughly a year and a half and has taken her time to develop a strong partnership with the sometimes-quirky mount.
"We have gotten to the point where he really trusts me, and he knows I will always give him the best ride possible," she detailed. "He thrives off a confident ride and has a lot of blood, so the key is to find a happy medium while allowing him to do things a bit his own way because he is so competitive. This is my first year on my own and so, for me, this time is about developing myself as a professional and establishing my way."
Sweetnam and the Triple S Group's 10-year-old KWPN mare (Nabab De Reve x Diva) Holliewood maintained their runner-up position with the final time of 45.40 seconds. Great Britain's young rider Grace Debney slid into third late in the order with Temple Equestrian LLC's 11-year-old Spanish Sport Horse mare Zarina De Vidau (Diamant De Semilly x Carina XXXVII CH) a little less than a second behind Sweetnam on 46.17 seconds.
Young riders taking part in the Hermès Under 25 series had plenty of opportunity to familiarize themselves with the turf on Saturday. Out of the original 67-horse starting field, Irishman Tom Wachman topped the field in the $10,000 FEI Hermès Under 25 Welcome Stake. Wachman put in an efficient and fault-free 66.38 seconds with Coolmore Show Jumping's 12-year-old Selle Francais gelding HH Fireball by Number One D'Iso x Toulouse Une Prince. Laurel Walker (USA) closed out the full day by producing the win with her own 16-year-old Oldenburg gelding Gatsby (Chacco Blue x Clayton) in the $1,000 FEI Hermes Under 25 1.40m Classic.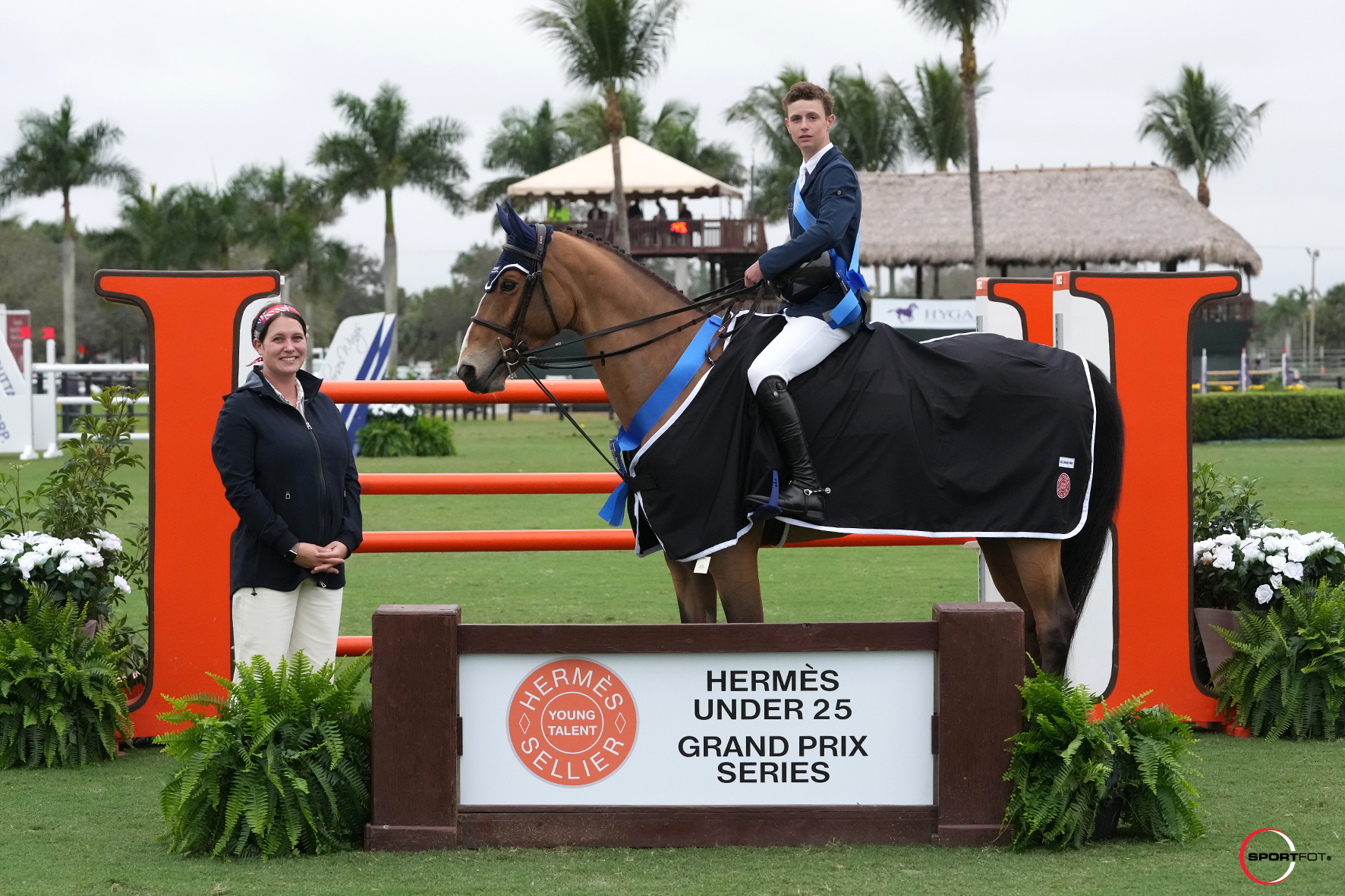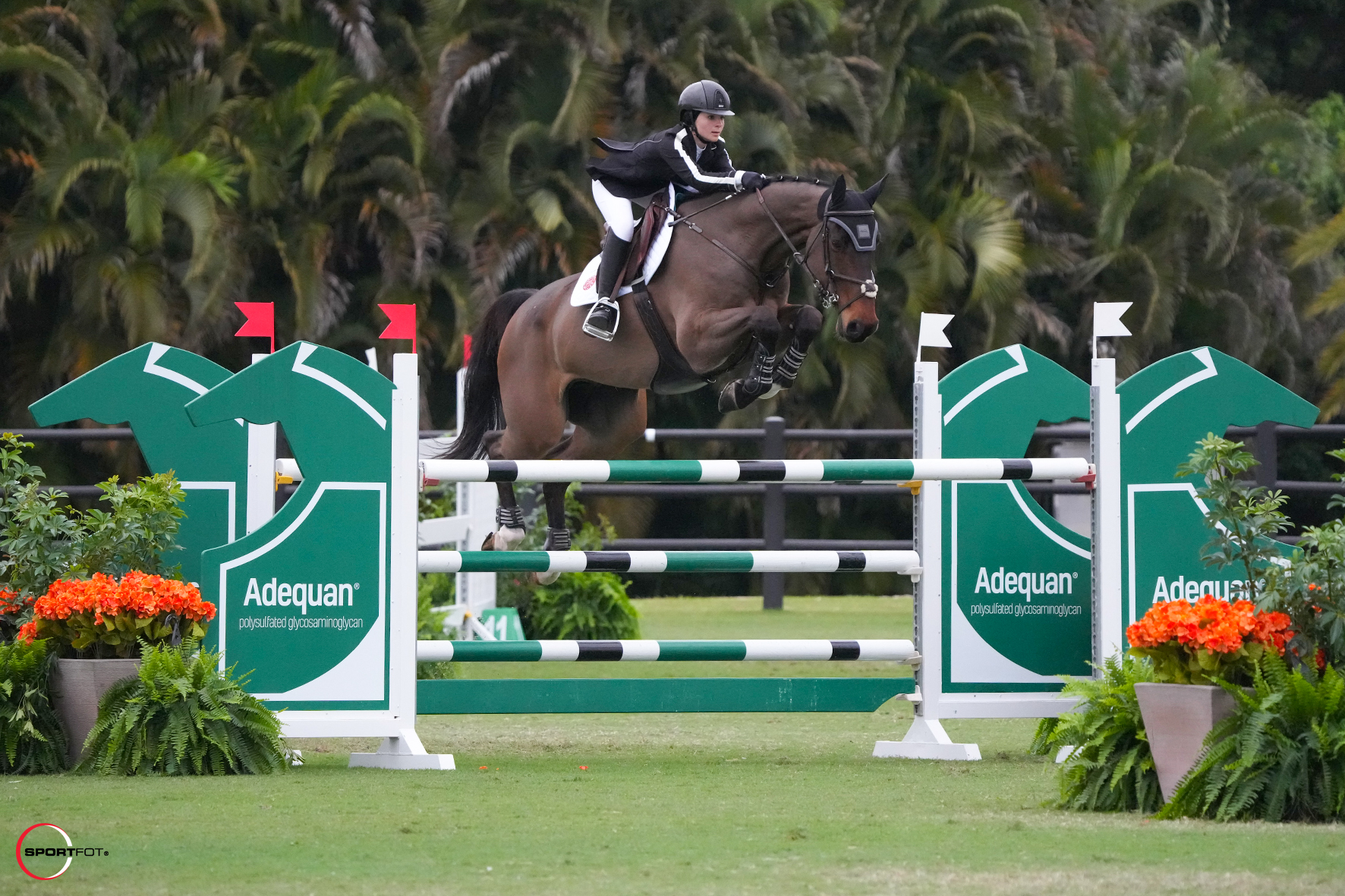 Final Results: $37,000 CaptiveOne Advisors 1.50m Championship Jumper Classic
1 LAFAYETTE VAN OVERIS: 2011 BWP gelding by Kashmir van Schuttershof x Tauber van het Kapelhof
ADRIENNE STERNLICHT (USA), Starlight Farms 1 LLC: 0/0/42.51
2 HOLLIEWOOD: 2012 KWPN mare by Nabab De Reve x Diva
SHANE SWEETNAM (IRL), Triple S Group: 0/0/45.40
3 ZARINA DE VIDAU: 2011 CDE mare by Diamant de Semilly x Carina XXXVii Ch
GRACE DEBNEY (GBR), Temple Equestrian, LLC: 0/0/46.17
4 BALOTELLI 5: 2010 Hanoverian gelding by Balou du Rouet x Contendro I
MATTHEW BODDY (GBR), Purple Road, LLC: 0/0/46.56
5 QUEEN: 2009 KWPN gelding by Warrant x Somara
ROBERTO TERAN TAFUR (COL), Rocking Basilisk Farm, LLC: 0/0/47.20
6 QUIRIE 2: 2007 Bayerischer stallion by Quadrigus M x Quidam's Rubin
ALI WOLFF (USA), Ali & John Wolff: 0/0/47.36
7 FRASIER: 2010 KWPN gelding by Carambole x Bloem
SAMANTHA SCHAEFER (USA), Bonne Vie LLC: 0/4/45.51
8 VALENTINO V Z: 2009 Zangersheide stallion by Verdi x Converter
MARIA COSTA (USA), Ravello Farms, LLC: 0/4/45.69
9 VDL IMAR: 2013 KWPN gelding by Carrera VDL x Dumara
DANIEL COYLE (IRL), Ariel Grange: 0/4/46.43
10 LIGHT BLUE 3: 2012 Oldenburg gelding by Light On x Cayenne
EMILY MOFFIT (GBR), Poden Farms: 0/4/46.91
11 MENKO VD WELLINGTON: 2012 BWP stallion by Echo Van T Spieveld x Exclusief Van D'Abdijhoeve
ANDREW BOURNS (IRL), Andrew Bourns Sport Horses Inc.: 0/4/47.99
12 JIMINY CRICKET: 2011 WB gelding by Chacco Blue x Lee-Lou
NAYEL NASSAR (EGY), Evergate Stables, LLC: 0/4/48.49

Caristo Claims Another Top Title with John Ingram in AO Hunters 3'6" 36+
Out of a competitive field of 16 entries, John Ingram rode Caristo, a nine-year-old Holsteiner gelding by Casall, to victory in the Amateur-Owner Hunters 3'6" 36+ sponsored by Hunt Ltd.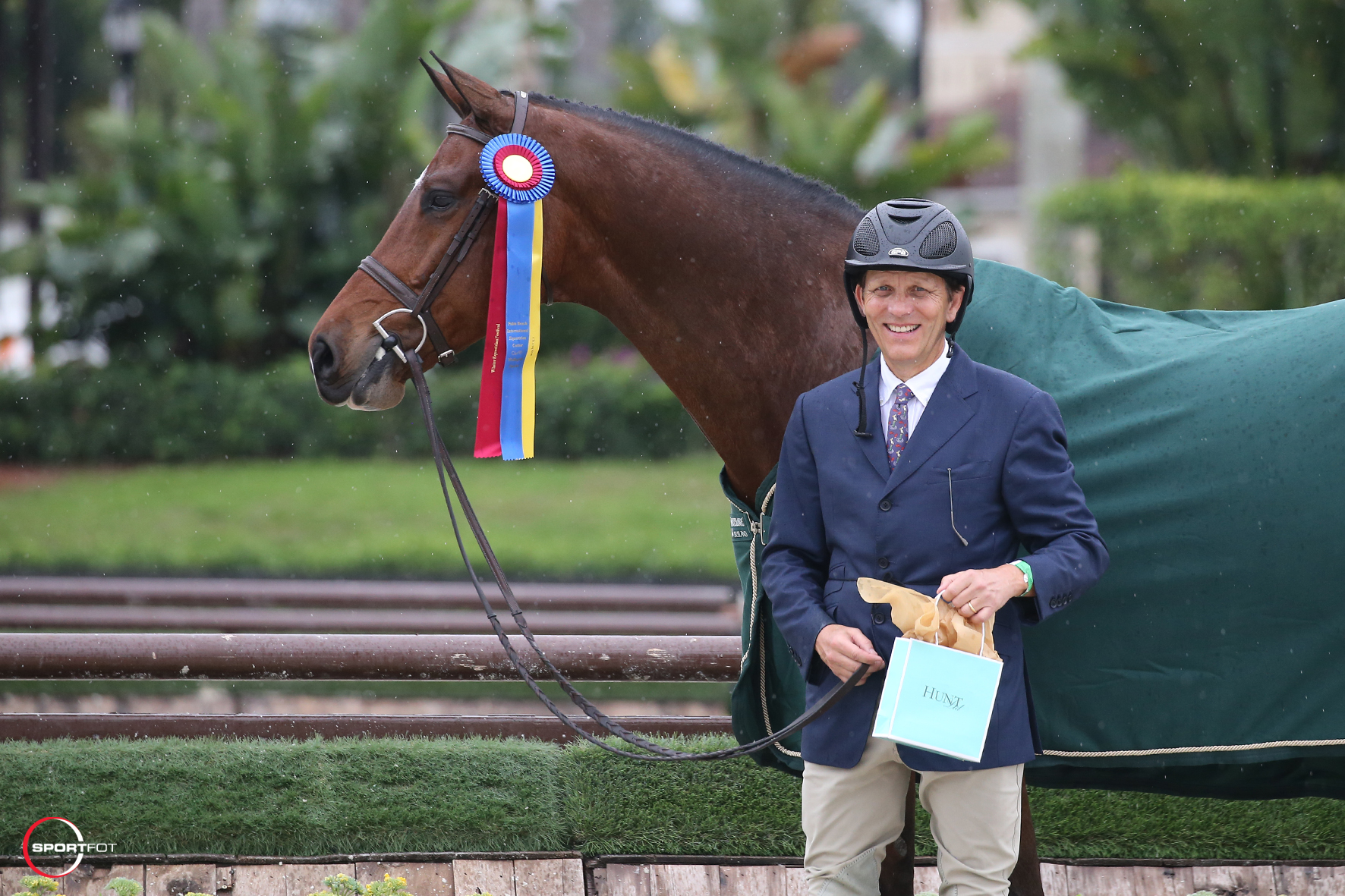 After a tough first day, Ingram, of Nashville, TN, made a slight change for day two.
"Today was much better than yesterday," said Ingram. "I was just not quite on it yesterday and today I actually used just a bit more spur and it made all the difference. He was right where I like to ride him today; he was magnificent."
The pair ended with a clean sweep of the day, winning both over fences classes after posting a pair of 91s (the division high score) as well as pinning first in the under saddle.
Caristo and Ingram have now earned a tricolor in the division each time out. The two earned the champion title during Premiere Week, the reserve champion title during WEF 1, and were champion again this week (WEF 2) despite only being together for a short time.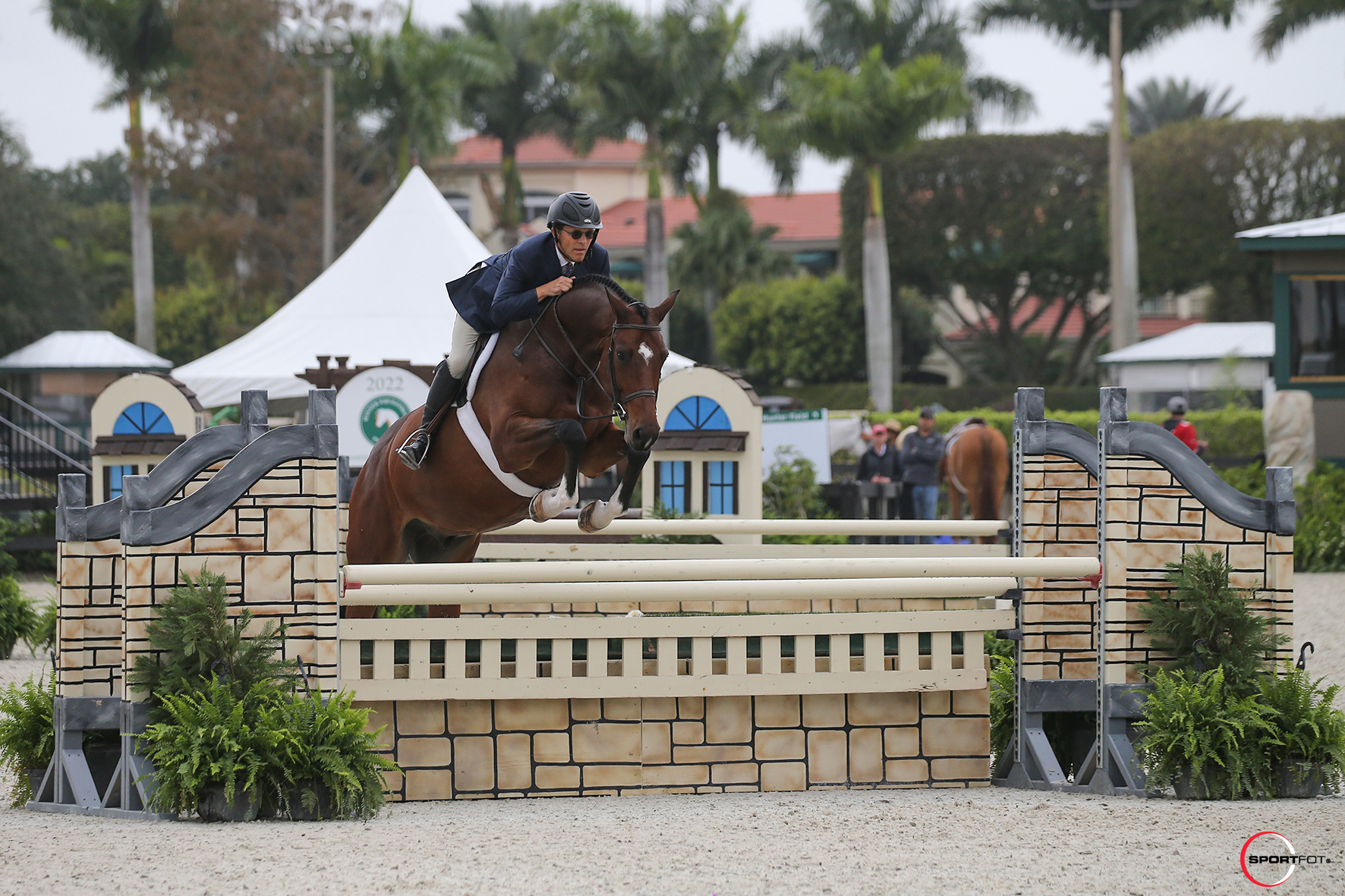 "This was only our third show," said Ingram. "We just got him after Capital Challenge, but I broke my hand, so this is literally only the third weekend we've shown him. He's such quality and a true show horse. When he gets to the ring, he knows his job and is willing to do it really beautifully."
With a string of successes behind them, Ingram noted that the importance of each win wasn't lost on him.
"It's a very difficult, competitive division. There are so many good horses and so many good riders. To be champion of this division for any of us, it really says we're doing something right," he said.