For Immediate Release
Wellington, FL – December 23, 2019 – With 350 applications received for the chance to participate in the 11th Annual Great Charity Challenge presented by Fidelity Investments® (GCC), the drawing process brought hope, excitement and entertainment for those who followed the GCC lottery drum's "travels" between Tuesday, December 10 and Monday, December 16, 2019. At stake? A share of the $1+ million prize that will be distributed on Saturday, February 1, 2020, at the Palm Beach International Equestrian Center (PBIEC) in Wellington, FL.
Founded in 2010 by Mark and Paige Bellissimo, the event has distributed $13.5 million to over 240 Palm Beach County charities to date. Blending philanthropy and equestrian sport, the GCC is an exciting show jumping event that unites the community every year.
Mark Bellissimo, CEO of Equestrian Sport Productions, LLC, and co-founder of the Great Charity Challenge, commented, "We look forward to kick starting this new decade of the GCC, along with the start of our 12-week season in the company of such outstanding and diverse organizations. This year's applicant list is a true reflection of the amazing work they do to make Palm Beach County a better place. We are very grateful for them and for the continued support of the event sponsors! We hope that the GCC will become the legacy of our partnership and this facility."
A total of 21 charities were randomly drawn throughout last week's festivities, in addition to the Wellington Public Schools PTA/PTO/PTSA (the only automatic entry included every year).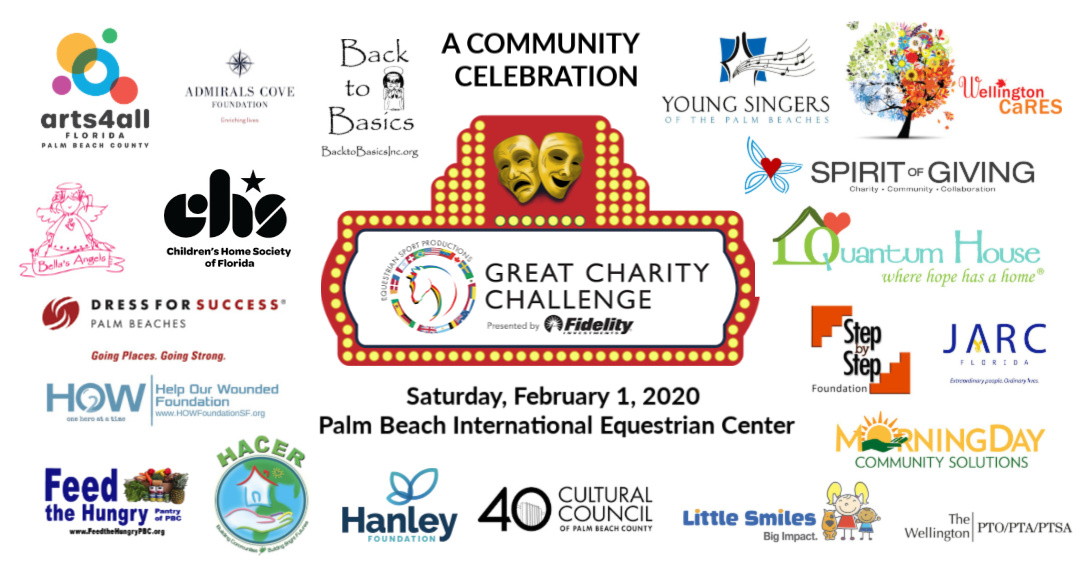 The "traveling" selection format enables the GCC to highlight some of the individuals who make the event a reality, as well as those who support it in the community. Several team and corporate sponsors of the event assisted in the drawing process; these included the Postage Stamp Farm Foundation, Equine Tack and Nutritionals, Silver Oak Stable, Pine Hollow Farm, Carriage Hill Farm, Louisburg Farm, Wight Show Stables and the Schaufeld Family Foundation. Joining Paige Bellissimo, co-founder of the GCC, were local community supporters including Wellington Mayor Anne Gerwig, Vice Mayor Michael Napoleone, as well as Village Council members, Tanya Syskind, Michael Drahos and John McGovern; Palm Beach County Vice Mayor Robert Weinroth, County Commissioners Hal Valeche, Greg Weiss and Melissa McKinlay, and long-time advocate and local news anchor, Roxanne Stein. To guarantee full transparency in the selection process, all drawings were posted via Facebook Live. All drawing videos can be viewed via the event's Facebook page
here
as well as Instagram
here
.
Paige Bellissimo, commented, "As part of our strategy for 2020-2030, we want to further encourage and strengthen invaluable partnerships. The encouragements and true camaraderie witnessed on social media between non-profits during the selection process, was heartwarming and inspiring. We look forward to working with many of the organizations in the months to come in an effort to amplify the event's impact. Our objective is to not only give them a financial 'leg up,' but also increase their visibility and provide the opportunity to connect with each other to better serve the community."
Jeff DeMario, CEO of Vita Nova, Inc., commented, "This is so fantastic, we can scream. In fact, we did! Thank you for this opportunity. It is because of people and teams like those from the Great Charity Challenge that gives us hope that there are still people who believe in helping others and joining causes like ours. Thank you for that. We thank you from each and every homeless and older foster youth we serve."
Future charity drawings will be held at random during the first weeks of the 2020 Winter Equestrian Festival and the final two wild card teams will be drawn the night of the GCC.
For a full list of charities drawn to date (listed alphabetically), please
click here
.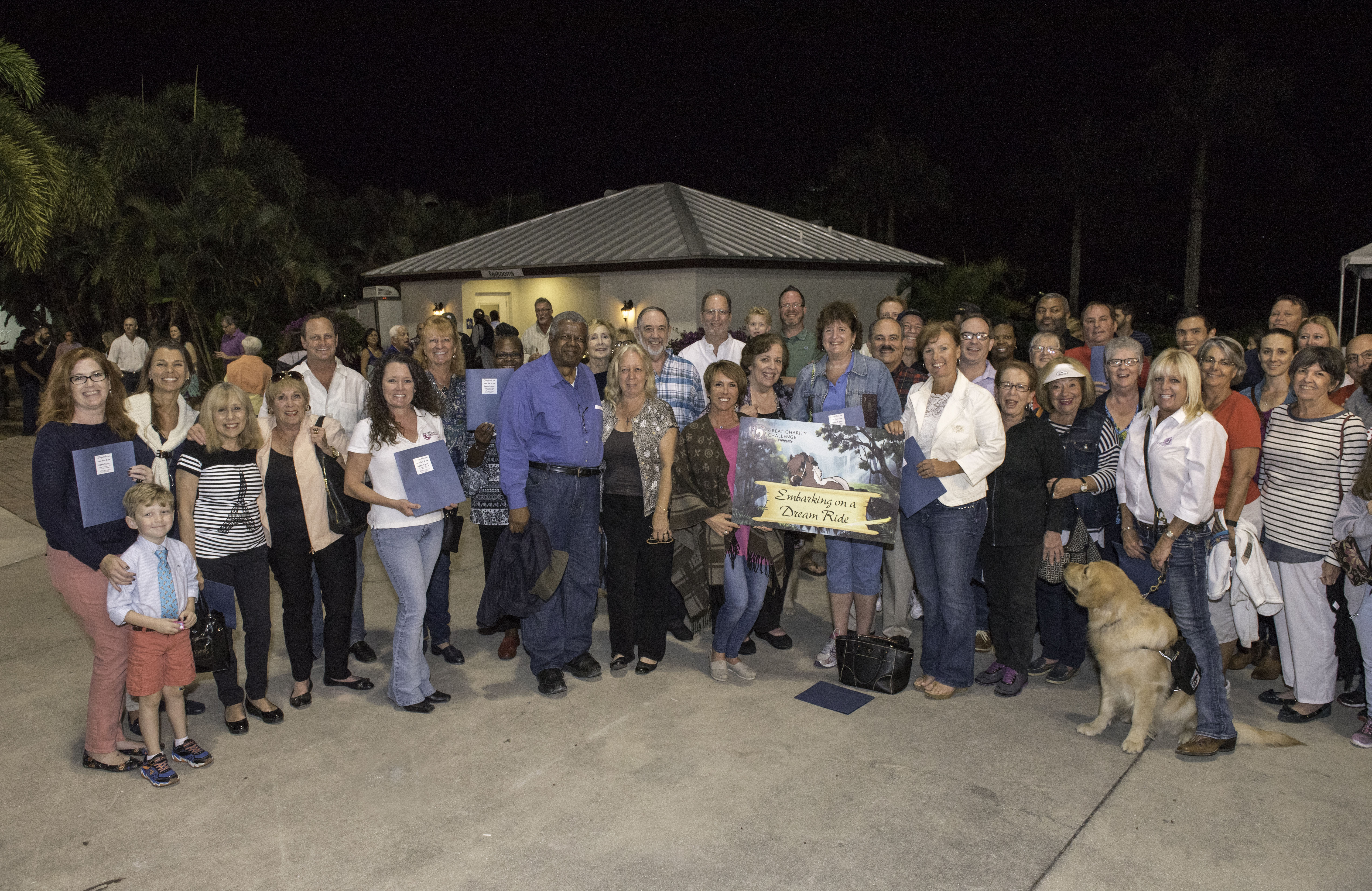 Equestrian Sport Productions (ESP), the PBIEC operating organization that oversees equestrian events at the venue throughout the year, donates the facility, staff and infrastructure to ensure the success of the charitable event and guarantees that 100% of the funds raised are redistributed in the community.
The GCC competition will offer free general admission and will be held Saturday evening, February 1, 2020, at 6:00 PM at the PBIEC, during WEF's "Saturday Night Lights." Free parking will be located at 13500 South Shore Blvd., Wellington, FL 33414, home to the Adequan® Global Dressage Festival show grounds.
With riders dressed up in costumes and horses adorned to match them, this year's theme of "Broadway Musicals" will pay recognition to the wisdom commonly found in these plays. From "You can change the world if you change your mind" (Kinky Boots), "Even the darkest night will end and the sun will rise!" (Les Misérables) and "If you stand for nothing Burr, what will you fall for?" (Hamilton), all who attend the event will leave inspired to foster the change they wish to see in their own backyards.
An art contest and gallery involving all 12 Wellington public schools will highlight #NationalFreedomDay using recyclable materials. Displayed in the Wellington Gallery (Wellington Club or The Gallery?) at PBIEC, the event will be open to the public free of charge.
Spectators will enjoy free general admission and parking, while supporting their favorite charity as riders compete for their nonprofit's share of the $1+ million dollar purse.
Interested in joining the event? Donations and sponsorships from local families, foundations, businesses, vendors, exhibitors and spectators, ranging from $50 to $50,000, are what make the event reach its fundraising goal of over $1 million every year. Customized sponsorship opportunities start at $500, while donations of all levels are welcomed. Please visit 
www.greatcharitychallenge.com
for additional information on how to become part of this movement and community effort.
About Fidelity Investments®
Fidelity's mission is to inspire better futures and deliver better outcomes for the customers and businesses we serve. With assets under administration of $8.2 trillion, including discretionary assets of $3.1 trillion as of November 30, 2019, we focus on meeting the unique needs of a diverse set of customers: helping more than 30 million people invest their own life savings, 22,000 businesses manage employee benefit programs, as well as providing more than 13,500 financial advisory firms with investment and technology solutions to invest their own clients' money. Privately held for more than 70 years, Fidelity employs more than 40,000 associates who are focused on the long-term success of our customers. For more information about Fidelity Investments, visit 
https://www.fidelity.com/about
.
Fidelity Brokerage Services LLC, Member NYSE, SIPC 900 Salem Street, Smithfield, RI 02917
Fidelity Investments Institutional Services Company, Inc., 500 Salem Street, Smithfield, RI 02917
National Financial Services LLC, Member NYSE, SIPC, 200 Seaport Boulevard, Boston, MA 02110
908536.2.0 © 2019 FMR LLC. All rights reserved.
About the Winter Equestrian Festival
The Winter Equestrian Festival (WEF), known as the "Winter Equestrian Capital of the World," is the world's largest and longest running equestrian festival in the world, located in Wellington, Florida. The equestrian industry adds more than $100 million to Palm Beach County's economy each year and provides more 900 jobs for the area. WEF is the proving ground for the Olympic Equestrian sports of show jumping and dressage. WEF is run by Equestrian Sport Productions, that also operates the International Polo Club. For more information on WEF, please visit 
pbiec.com.