For Immediate Release
Jennifer Wood and Sabrina Schmidt for Jennifer Wood Media, Inc.
Wellington, FL – January 6, 2022 – The series of Adequan® WEF Challenge Cup classes began on Thursday, January 6, 2022, at the 2022 Winter Equestrian Festival (WEF), at the Palm Beach International Equestrian Center in Wellington, FL. Olympian Hector Florentino (DOM) took the win in the $35,000 Adequan® WEF Challenge Cup Premiere Round with ABC Quantum Cruise, owned by Wyndmont. WEF, which features top jumper, hunter, and equitation competition for 13 weeks, continues through April 3.
The opening Premiere week features nationally-rated competition through Sunday, January 9, with the feature classes including the $75,000 Battle of the Sexes, presented by Wellington Regional Medical Center on Saturday, January 8, at 7 p.m. as the opening event of the "Saturday Night Lights" series. The $75,000 Rosenbaum PLLC Grand Prix is on Sunday, January 9, at 2 p.m. Live streaming is available HERE.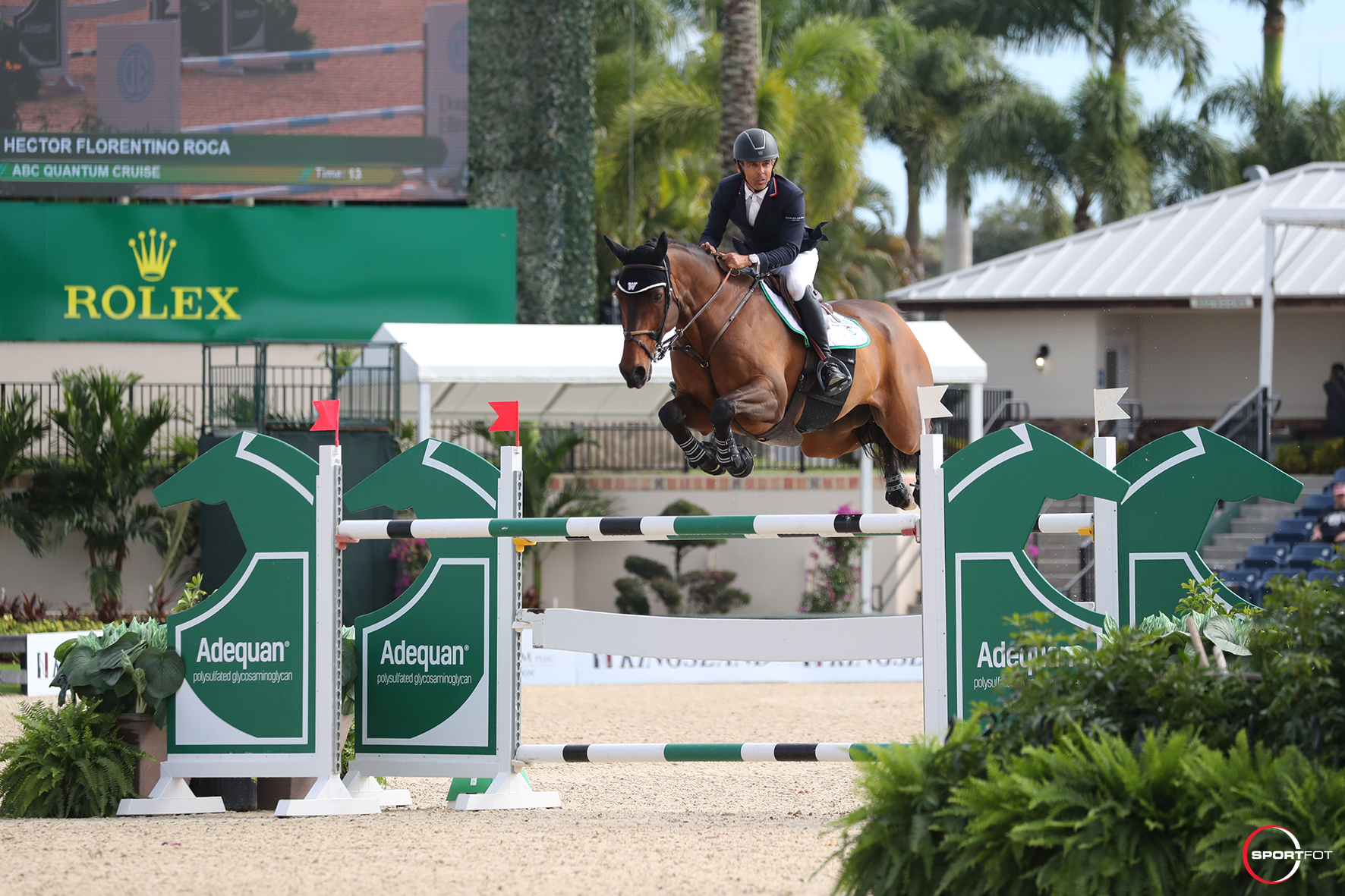 In a 35-horse field, Florentino and ABC Quantum Cruise were one of five that advanced to the jump-off over a course designed by Eric Hasbrouck (USA). First into the jump-off were Jordan Coyle (IRL) and Centriko Volo, owned by Celtic Park LLC, who had a rail for four faults in 38.289 seconds for third place. The only other double clear round for second place came from Nicholas Dello Joio (USA) and Cornet's Cambridge, owned by The Berry Group LLC. They finished the jump-off in 41.001 seconds. In the final spot in the jump-off, Florentino and ABC Quantum Cruise brought the winning time down to 40.495 seconds with a clear round.
It was a wonderful start to the circuit for Florentino, who has only ridden ABC Quantum Cruise for two months. The pair competed in November and December 2021 in Wellington after owners Ronnie Beard and Michael Dorman asked him to ride the horse – which previously competed with Harry Charles of Great Britain – as well as their second horse, Meadow Vale Cruise.
"I had another horse that belongs to Spruce Meadows, and my deal with them was up through the summer, going to Tokyo," said Florentino. "God answered my prayers, and Ronnie called. I'm very happy to be back showing at WEF and to have these competitive horses."
Florentino describes the 13-year-old Irish Sport Horse gelding (Obos Quality x Cruising) as "very brave, careful, and fast." He added, "I don't have to ask him to be fast; I actually have to ask him not to go so fast. This is our second jump-off together, and it felt very good. I take advantage because he has a favorite side. He likes to go left a little bit, so whenever there is a left turn, he can do that really fast, like to the last jump. Also, from [jumps] one to two, he got there really quick. He just covers the ground really quick. To the combination, I wanted to slow down because turning right to it was going to be harder. Even slowing down there, he was able to be quicker because he's fast across the ground."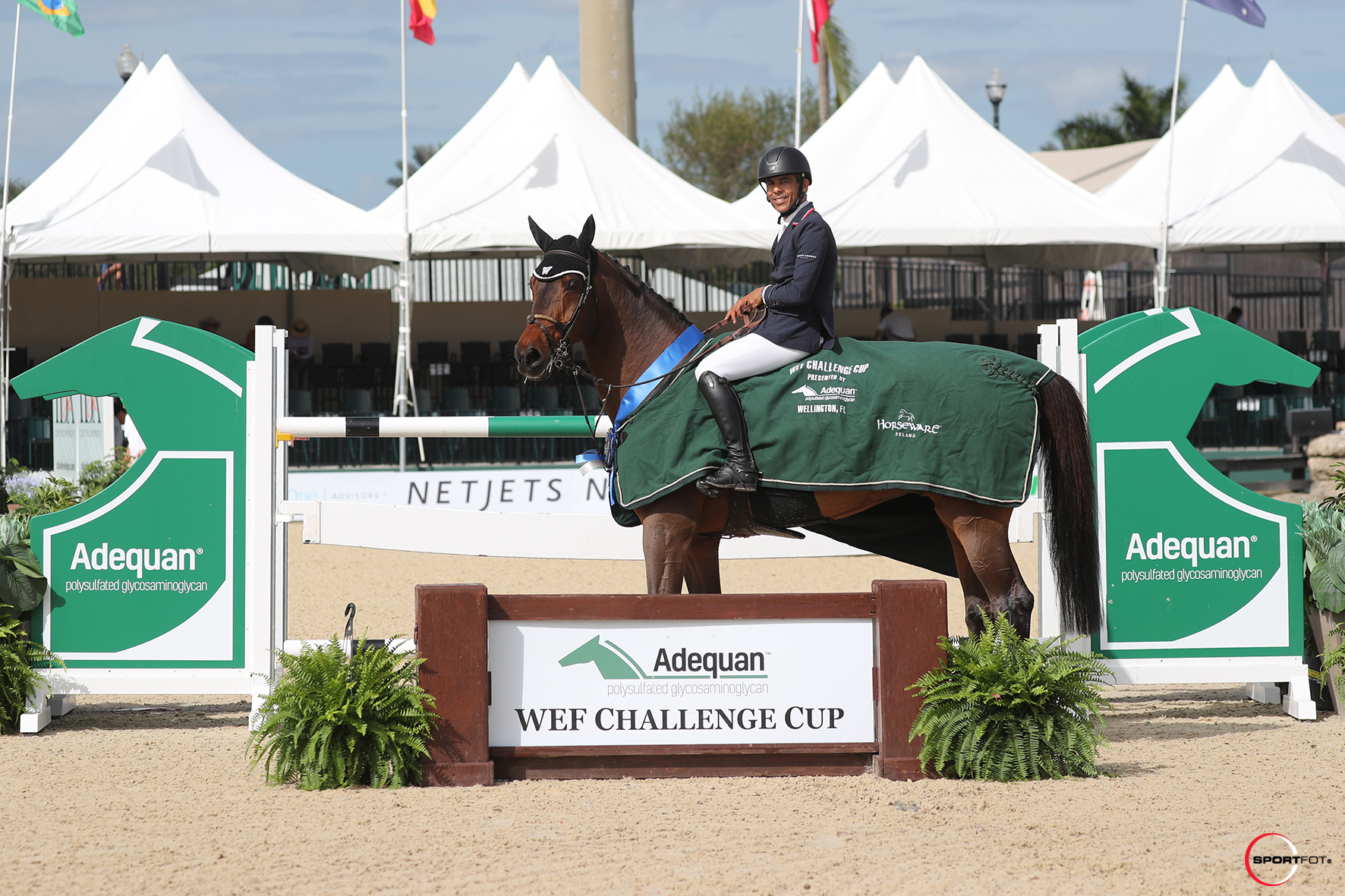 Working also out of his own Florentino Show Jumping based in Wellington, Florentino achieved his "lifetime goal" of competing at the 2020 Tokyo Olympic Games. "Like any athlete in any sport, you want to go to the Olympics," he remarked. "It's the maximum event. It was a good experience and was a goal that I checked. Now the next one is to go and be competitive. I think it helps for my business too, that I have that on my resume. I like it when they say 'Olympic veteran' when I go to the ring! It sounds good."
Later in the day, Roberto Teran (COL) rode his own Gabrovo to victory in the $8,000 Douglas Elliman Real Estate 1.45m Jumpers ahead of Wilhelm Genn (GER) on Bugatti and Nicole Walker (CAN) riding Atout des Trambles. In the $6,000 Bainbridge Companies 1.40m Jumpers, Alberto Michan (ISR) rode Firewall, owned by Eduardo Leon, to victory.
Final Results: $35,000 Adequan WEF Challenge Cup Premiere Round
1. ABC QUANTUM CRUISE: 2009 Irish Sport Horse gelding by Obos Quality x Cruising
HECTOR FLORENTINO ROCA (DOM), Wyndmont: 0/0/40.495
2. CORNET'S CAMBRIDGE: 2012 Oldenburg gelding by Balou Du Reventon x Cambridge 8
NICHOLAS DELLO JOIO (USA), The Berry Group LLC: 0/0/41.001
3. CENTRIKO VOLO: 2012 Oldenburg gelding by Centadel x Chacco-Blue
JORDAN COYLE (IRL), Celtic Park LLC: 0/4/38.289
4. CACTUS DE COSNIERE: 2012 Selle Français gelding by Padock Du Plessis*HN x Flipper D'Elle*HN*
ERIC KRAWITT (CAN), Eric Krawitt: 0/4/40.843
5. FANTAST VAN HET VINCKENHOF: 2010 KWPN gelding by Cicero Z Van Paemel x Gelha's VDL Emilion
KRISTEN BERIAN (USA), Coral C Stables LLC: 0/8/40.862
6. BONZA: 2013 Belgian Warmblood gelding by Del Piero P&B x Landetto
GABRIEL DE MATOS MACHADO (BRA), Carben Farms LLC: 1/74.905
7. ALPHA ACTIVITY: 2009 Warmblood gelding by Animate x Aggasi
THOMAS MCDERMOTT (AUS), Thomas McDermott: 3/76.776
8. AFTER EIGHT: 2010 Swedish Warmblood mare by Diarado
JAD DANA (LBN), Springhill Farm 1850 LLC: 4/68.729
9. LOCATO VAN HET KAPELHOF: 2011 Belgian Warmblood gelding by Darco x Pinkus
CHRISTIAN COYLE (IRL), Horatio Street Ventures LLC: 4/71.708
10. CATOKI'S SON Z: 2009 Zangersheide gelding by Catoki x Aldo Du Reverdy
MICHAEL MURPHY (USA), Esperanza Imports LLC: 4/72.237
11. MARCIANO MVF: 2011 Zangersheide gelding by Stakkato x Leberoi H
HEATHER CARISTO WILLIAMS (USA), Stephanie Bulger LLC: 4/72.859
12. BOSTON ASK: 2008 Hanoverian gelding by Berlin x Quidam de Revel
JORDAN COYLE (IRL), Elan Farm: 4/73.182
For Always and Scott Stewart Rise to the Top in Green Hunter 3'9"
The Equine Tack & Nutritionals Green Hunter 3'9" division came to a stylish finish Thursday in the E.R. Mische Grand Hunter Ring.
With an almost perfect clean sweep, Scott Stewart of Wellington, FL, rode Betsee Parker's For Always to the championship title with four firsts (including a division high score of 92) and one second place ribbon.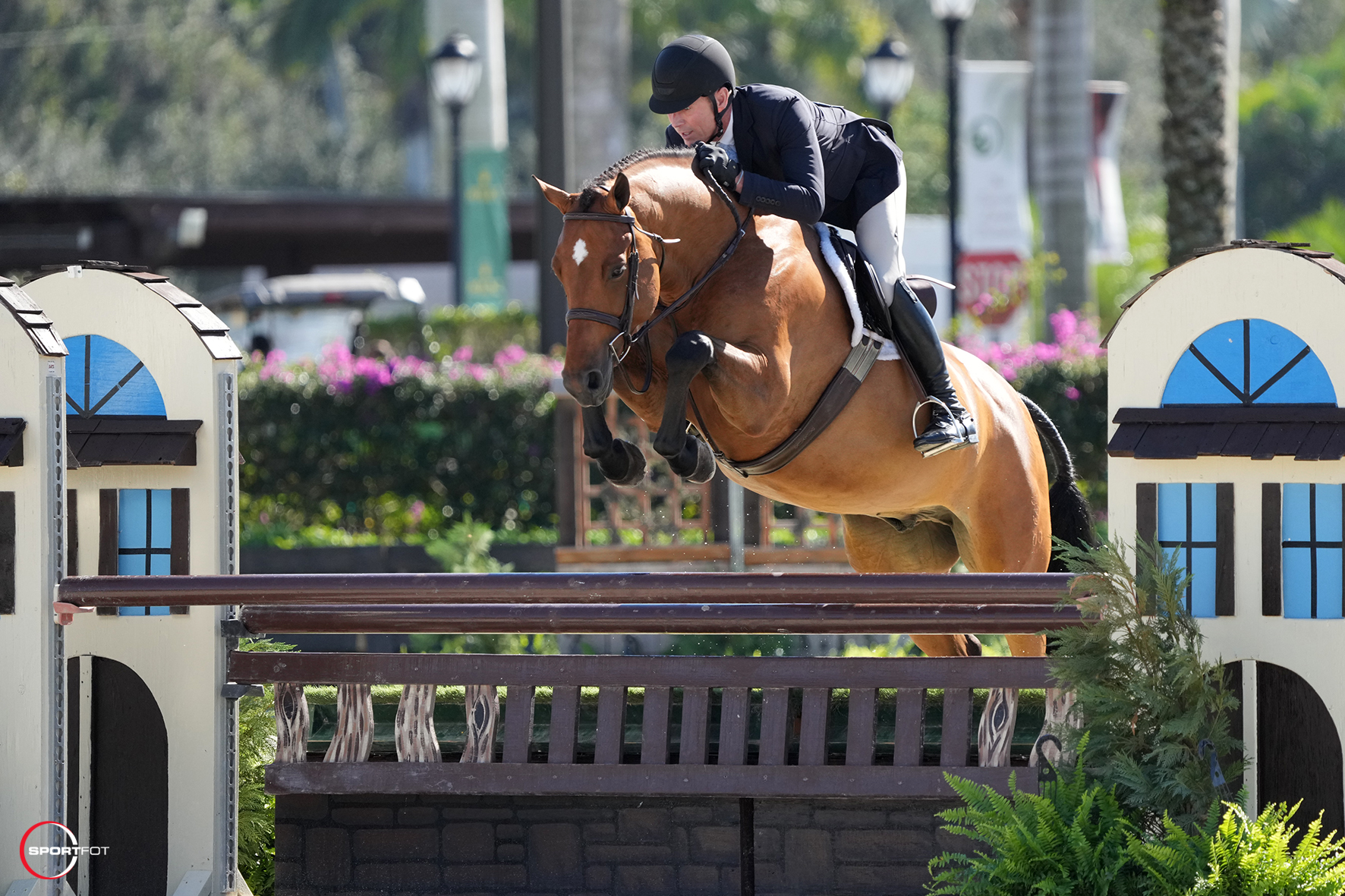 Stewart was quite pleased with the eight-year-old Oldenburg gelding by Nick Skelton's famous Olympic show jumper Arko, noting, "He felt great, jumped great, the courses rode nice, and he felt fresh again."
Stewart continued, "He was a first year horse last year, but we did the high performance too. He was champion at Capital Challenge, Harrisburg, Washington International, and the National Horse Show. This is his first time back [since November]."
Stewart has cultivated a relationship with For Always, a horse he has had in his barn for four years. "He's very sweet," he said. "He can be nervous to ride; you can't be rough with him at all. You have to be very gentle with him. He's a little fragile that way, but once he trusts you, he's one-hundred percent."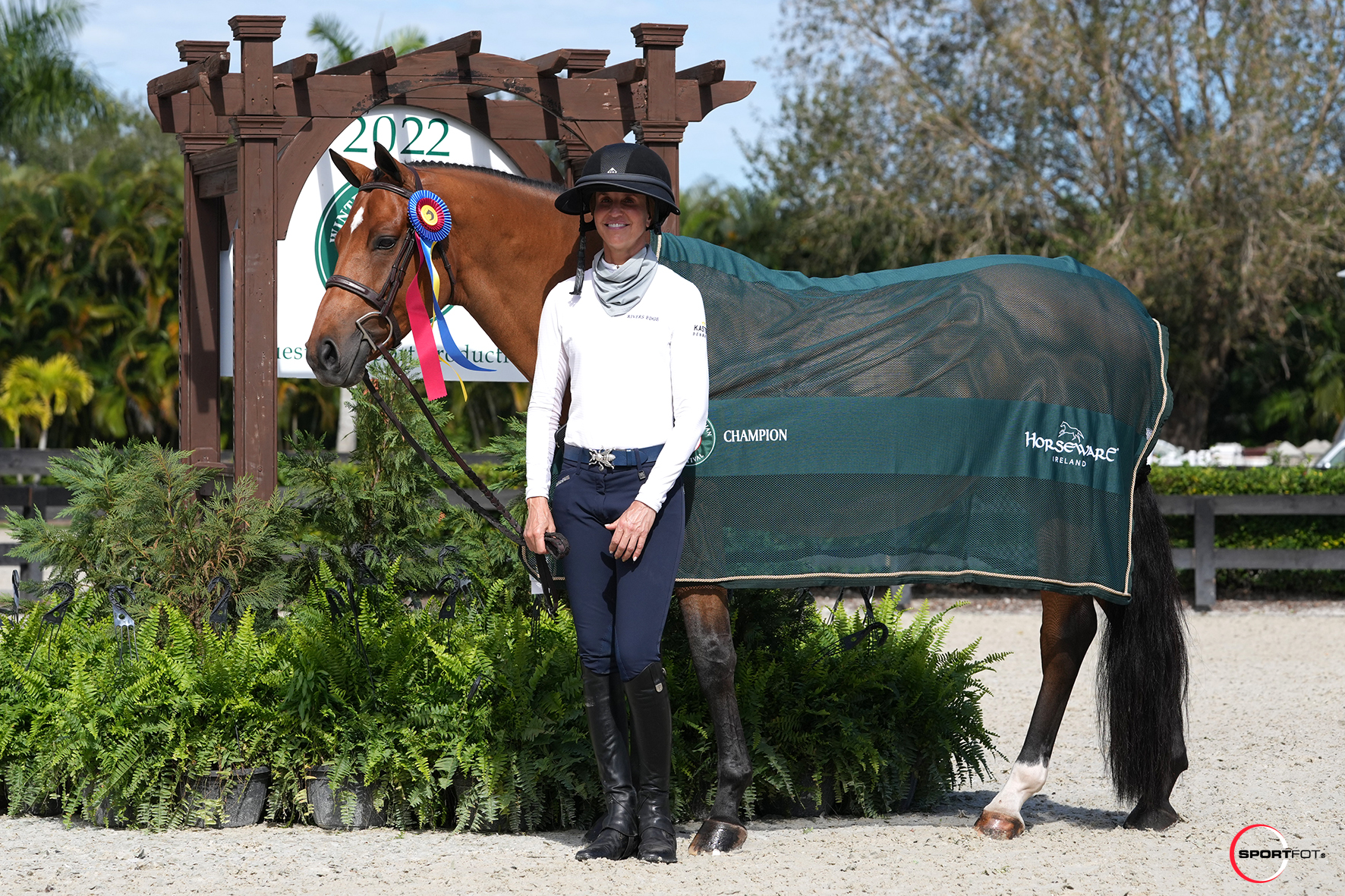 When asked about being back at WEF, Stewart said with a smile, "It's awesome; you can't beat it. We love being here."
Stewart also topped several other divisions this week, claiming the champion ribbon in the Hygain Feeds Conformation Hunters, Equine Tack & Nutritionals Green Hunter 3'6", and Antares Sellier France High Performance Hunters with Ackergill Castle, Ever After, and Love Note respectively. Ackergill Castle was also the recipient of the Champion Equine Insurance Hunter Style Award for Premiere week.
The reserve champion ribbon in the Green Hunter 3'9" went to Laskano, ridden and trained by Jimmy Torano and owned by Isalou, Inc. They received four second places and a third place in the division.
WEF continues on Friday, January 7, with more jumper action in the International Arena and the $25,000 USHJA International Hunter Derby. For full results, visit www.PBIEC.com.