Wellington, FL, – October 28, 2022 – Hunter competitors shined in Friday's $10,000 USHJA National Hunter Derby presented by Meadowview, Inc., during the 2022 72nd Annual South Florida Hunter Jumper Association (SFHJA) Charity Horse Show. Twenty-six competitors showcased their talents over the opening round of the week's biggest hunter class. Course designer Andy Christiansen crafted two winding tracks for the occasion, which were mastered by Geoffrey Hesslink riding Chivalry, owned by Little Brook LLC, who secured the victory by half a point.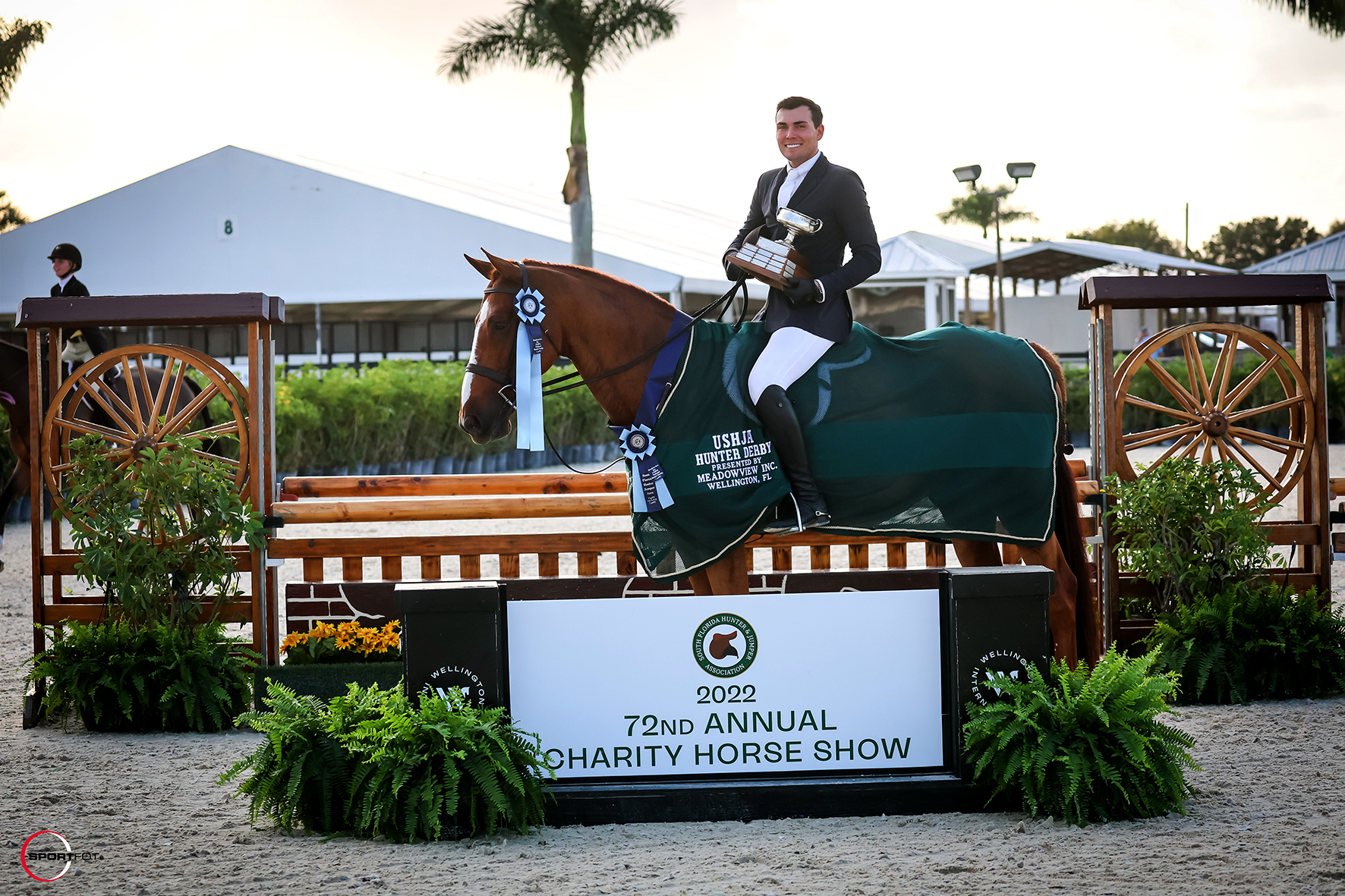 "I know this horse [Chivalry] really well. He's owned by Little Brooke LLC and Lauren Little and I'm so grateful to be able to ride him," shared Hesslink. "I think handy classes are one of his specialties, so I did an inside turn to the last jump that I didn't see many other people try. He has won numerous derbies and performance classes throughout the year, and it's always a blast to show him." 
Following the classic round, the competitive class invited the top twelve pairs back to test the handy round with the cut-off score of 86. Heading into the handy round, John French and Paradigm led the pack after receiving a first-round score of 95, while Hesslink and Chivalry followed two points behind. French also held the third position with his other mount, Wyatt.  
Hesslink of Wellington, FL, and Chivalry returned second-to-last to go and improved to a score of 94, earning them a grand total of 187 points, putting the pair at the top of the scorecard. Initial leaders, French of San Juan Bautista, CA, and Paradigm, owned by Meredith Lipke, finished in second place after receiving a handy score of 91.5 for a cumulative score of 186.5. Tiffany Morrissey of Wellington, FL, rounded out the podium with Kathryn Withers' Copernicus K with a total score of 182. 
Hesslink continued to share his plans for the upcoming Winter Equestrian Festival (WEF). "WEF always has a lot of special classes, and Hunter Week is always a big focus of ours. Although Chivalry is for sale, I would love to keep him in the barn just to continue to see him succeed in the hunters and derbies this year and maybe aim for a night class later on," he concluded.  
For the full results of the $10,000 USHJA National Hunter Derby, sponsored by Meadowview Inc, please click HERE. 
On Saturday, 11 pairs entered the ring to compete for top honors in the SFHJA Adult Hunter Seat Medal Final presented by Spectrum Show Stables. Riding to the top of the competitive leaderboard, Amber Broder of Wellington, FL, and Tip Jar, owned by Polo Jump LLC, were awarded top honors thanks to a superb performance. Olivia Parr of Marshall, TX, piloted Pinecone Farm, LLC's Beckham to a runner-up finish, followed by Grace Lyons of Waxhaw, NC, and Camillo, owned by Emma Post, in third.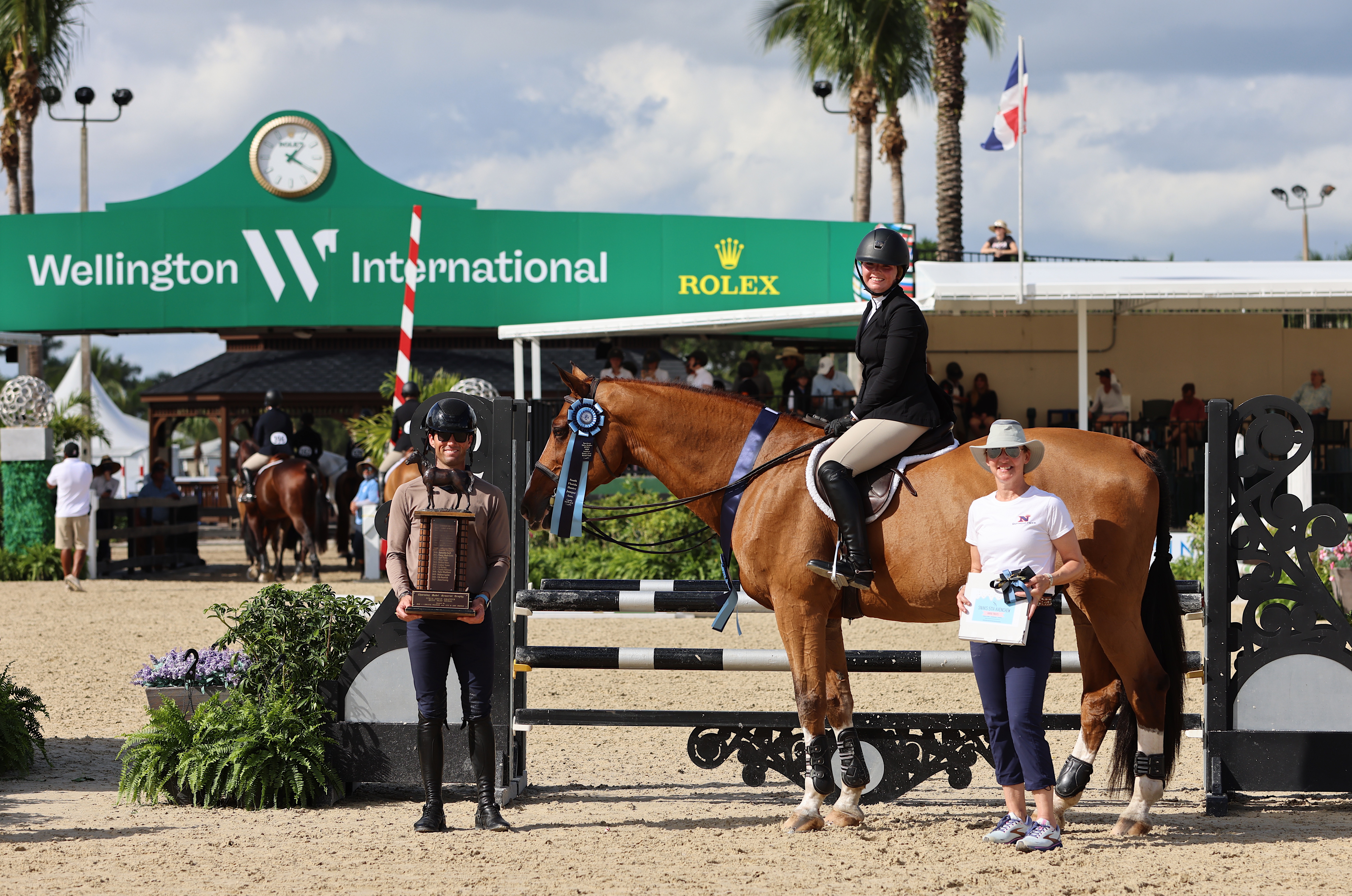 An opening field of 21 riders put ford their best efforts in an attempt to capture the blue ribbon in the SFHJA Junior Hunter Seat Medal Final, presented by Ashland Farms. Ultimately, victory went to Lily Epstein of Coral Gables, FL, and her own Kings Gambit. Second place was awarded to Natalie Groulx of Bloomfield Hill, MI, and Lambada, owned by Kate Abajian, while Ansley Wright of Manalapan, FL, and her Clint secured a third-place finish.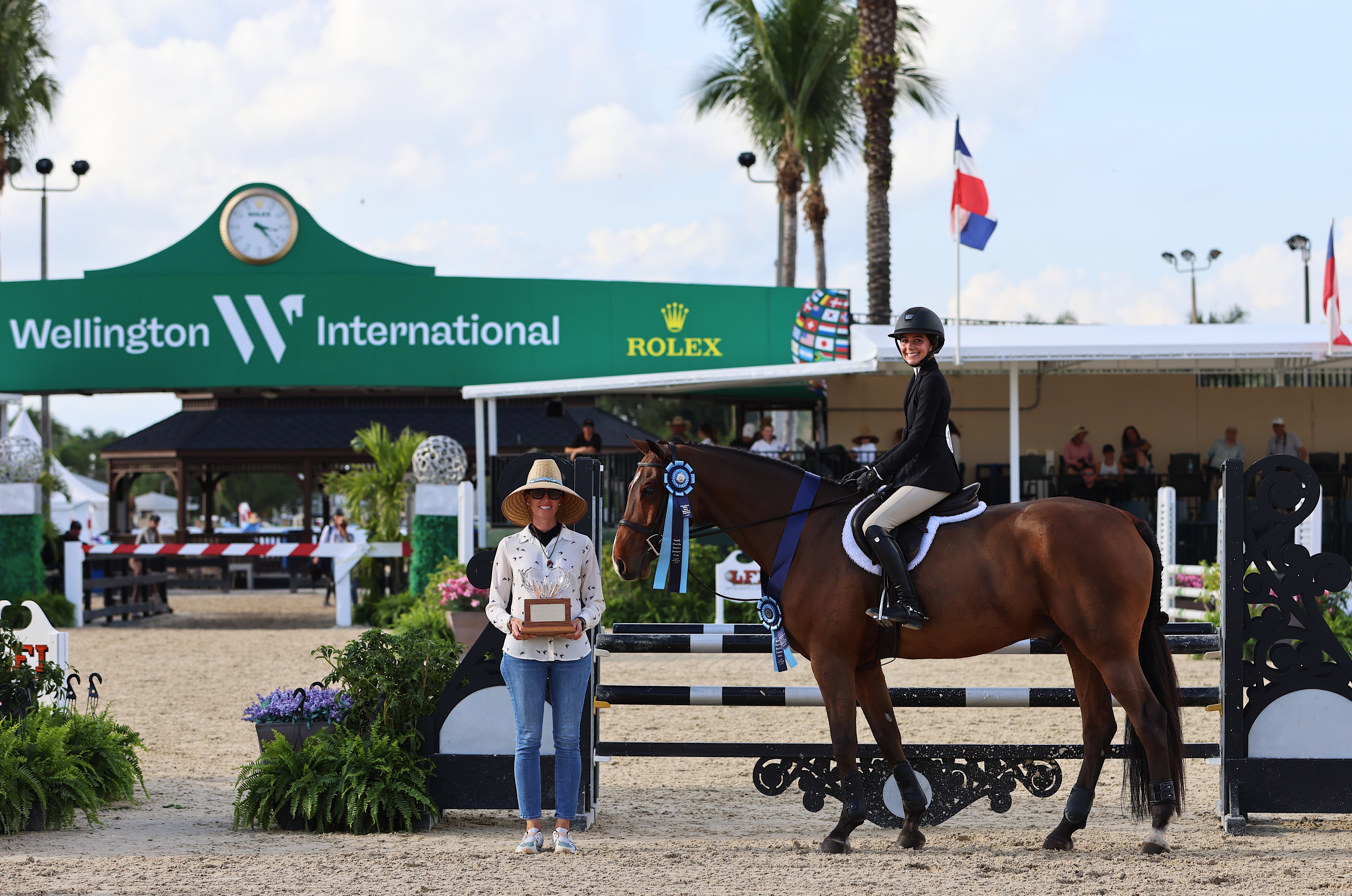 The SFHJA Children's Pony Hunter Seat Medal Final, presented by The Arnhols Family awarded Elle Hays of Loxahatchee, FL, top honors riding Shenandoah Jasmine, owned by Molly McLaughlin. Magnolia Kaminski of Wellington, FL, secured second-place honors with Denise Antoniadis' Mr Hollywood, while Zoey Burton of Loxahatchee, FL, claimed third place with her own entry, Prom Queen.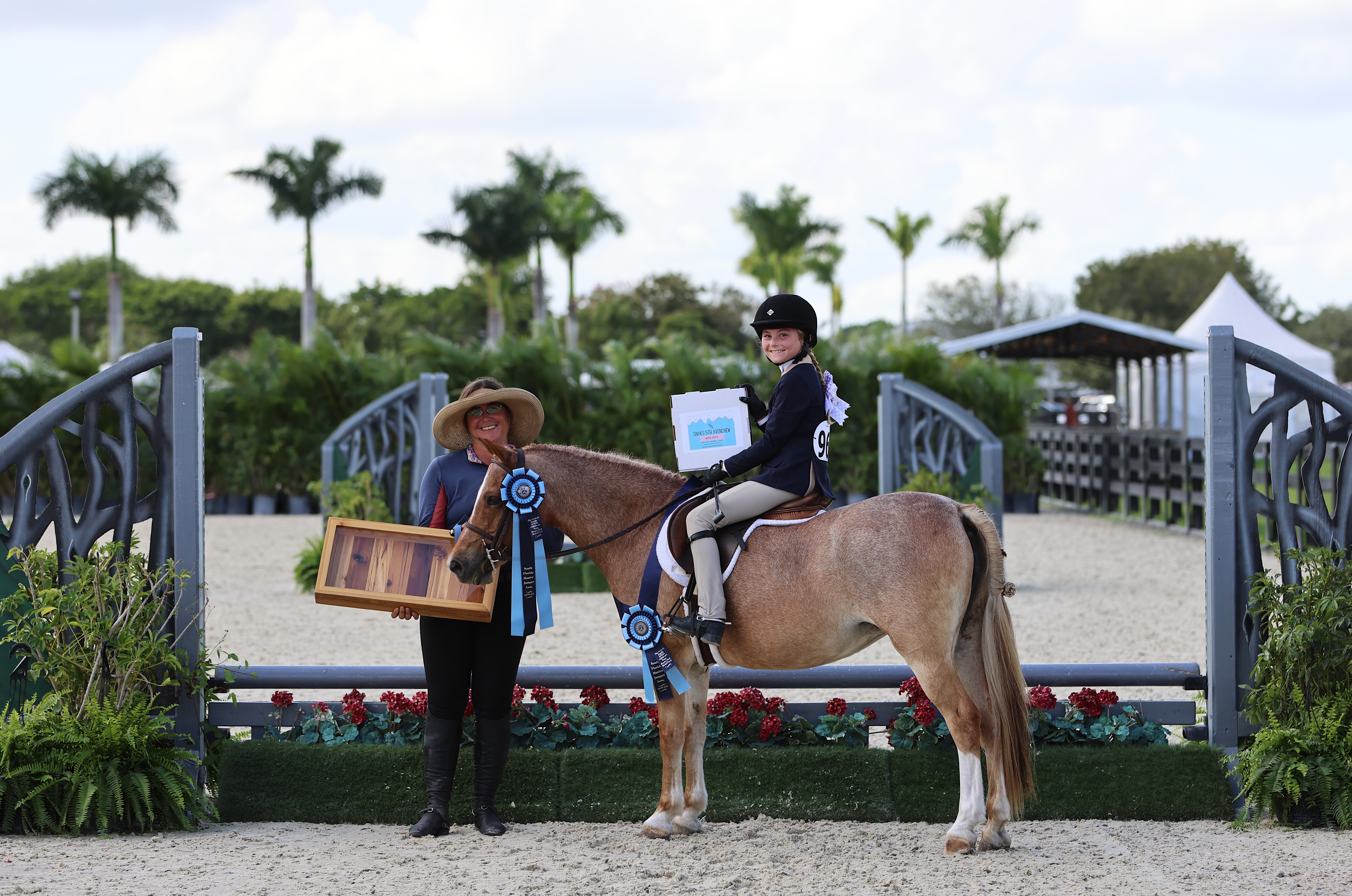 The ESP Holiday Series presented by Arthramid®Vet will kick off later this week with the Holiday & Horses CSI4* show on Thursday, December 1. The competition will also feature the first Saturday Night Lights class of the winter season, the $216,000 Holiday & Horses Grand Prix CSI4* presented by Arthramid®Vet on Saturday, December 3. Gates will open at 6 p.m. that evening, and there will be face painting for kids, and the carousel will also be open. The show is a USEF 2022 calendar event, offering a great opportunity to get started on 2022 points. The ESP Holiday Series will continue for five subsequent events, culminating with the ESP Holiday Finale from December 28–31, 2022. The Holiday Festival II show will offer Grand Prix riders a final chance to compete under the lights ahead of the 2023 Winter Equestrian Festival with the $50,000 Zen Elite Grand Prix. 
To view the prize list for the 2022 ESP Holiday Series presented by Arthramid®Vet, please click HERE. 
This press release content is published by ©Equestrian Sport Productions. This press release may only be repurposed by media outlets if appropriate credit is given in writing to the original publisher. 
Photo credit ©Sportfot and ©Carly Nasznic Photography. These photos may only be used once in relation to this press release with proper credit.