For Immediate Release
Wellington, FL – April 22, 2022 – The hunters once again had the chance to shine in Wellington International's International Arena during the third week of the ESP Spring Series. The week's feature class for hunter competitors took place on Friday, as 29 horse-and-rider duos vied for the lion's share of the prize money in the $10,000 USHJA National Hunter Derby, presented by Bainbridge Companies. Ultimately, the tricolor ribbon was awarded to Victoria Colvin of Loxahatchee, FL, and J T Farm's Gabriel thanks to two high-scoring rounds.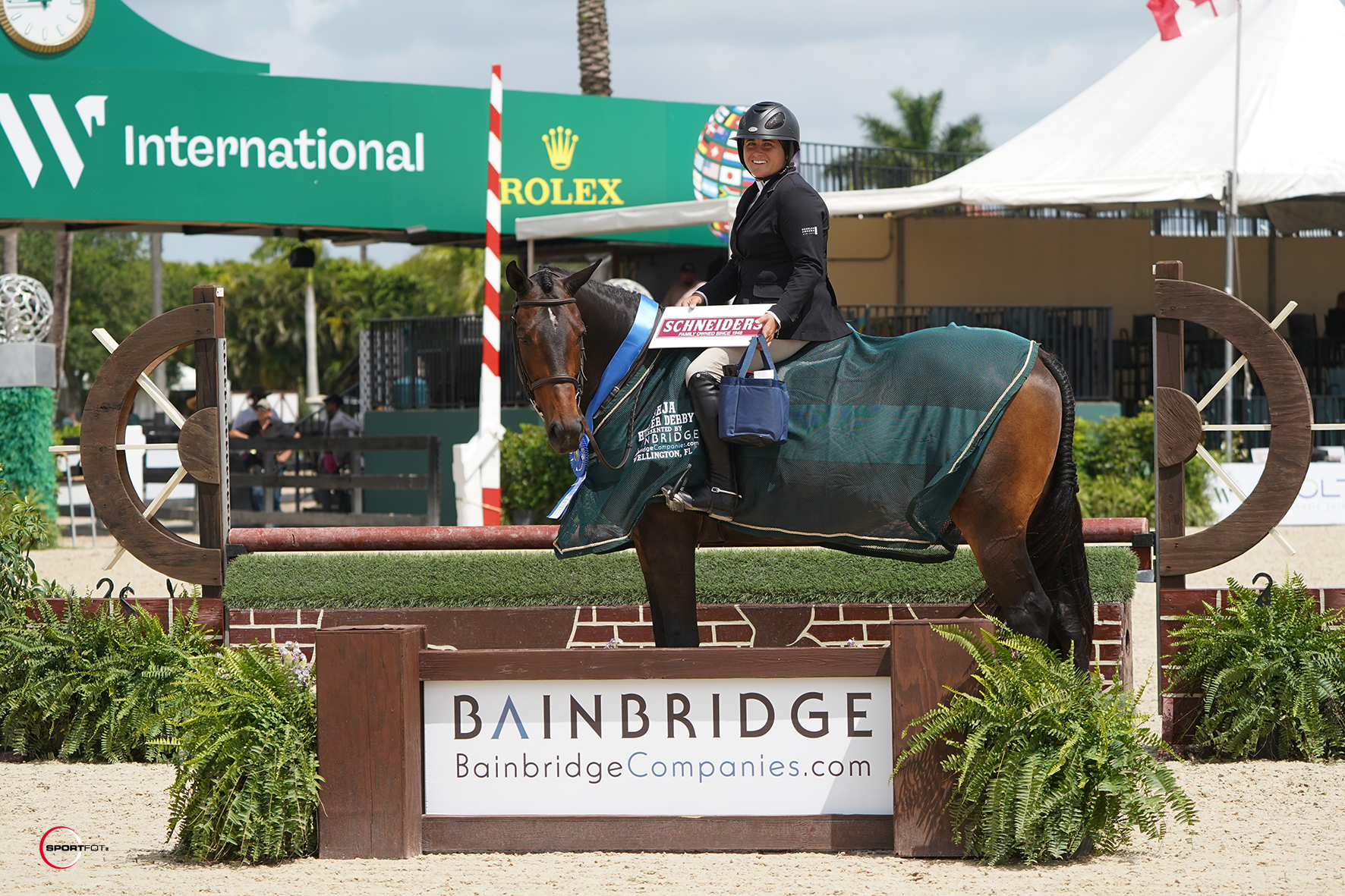 The two courses, designed by Robert McGregor, tested combinations' abilities to navigate in-and-outs, bending lines, lines with unrelated distances, and fences with long approaches. Following the classic round, the field was narrowed down to the top 12 with a cut-off score of 83 for the handy round. Jennifer Bliss and Poker Face sat on top going into the handy with a score of 94, but their lead was narrow as the top four pairings all held a score of 90 or better. Colvin and Gabriel sat in fourth place with a score of 86, plus four additional high-option points for a total of 90.
"Gabriel is a very fun horse, and he does a little bit of everything," Colvin shared. "I have competed with him in some International Derbies, and he also shows with his owner, Ellen Toon, in the Amateur Hunters." She continued, saying, "We competed in the National Derby last week, and this week's course was really fun and a little more direct. Going into the handy round I was sitting in fourth, so I was trying to be as handy as I could be because I knew Jennifer Bliss and a few other ones would be very handy."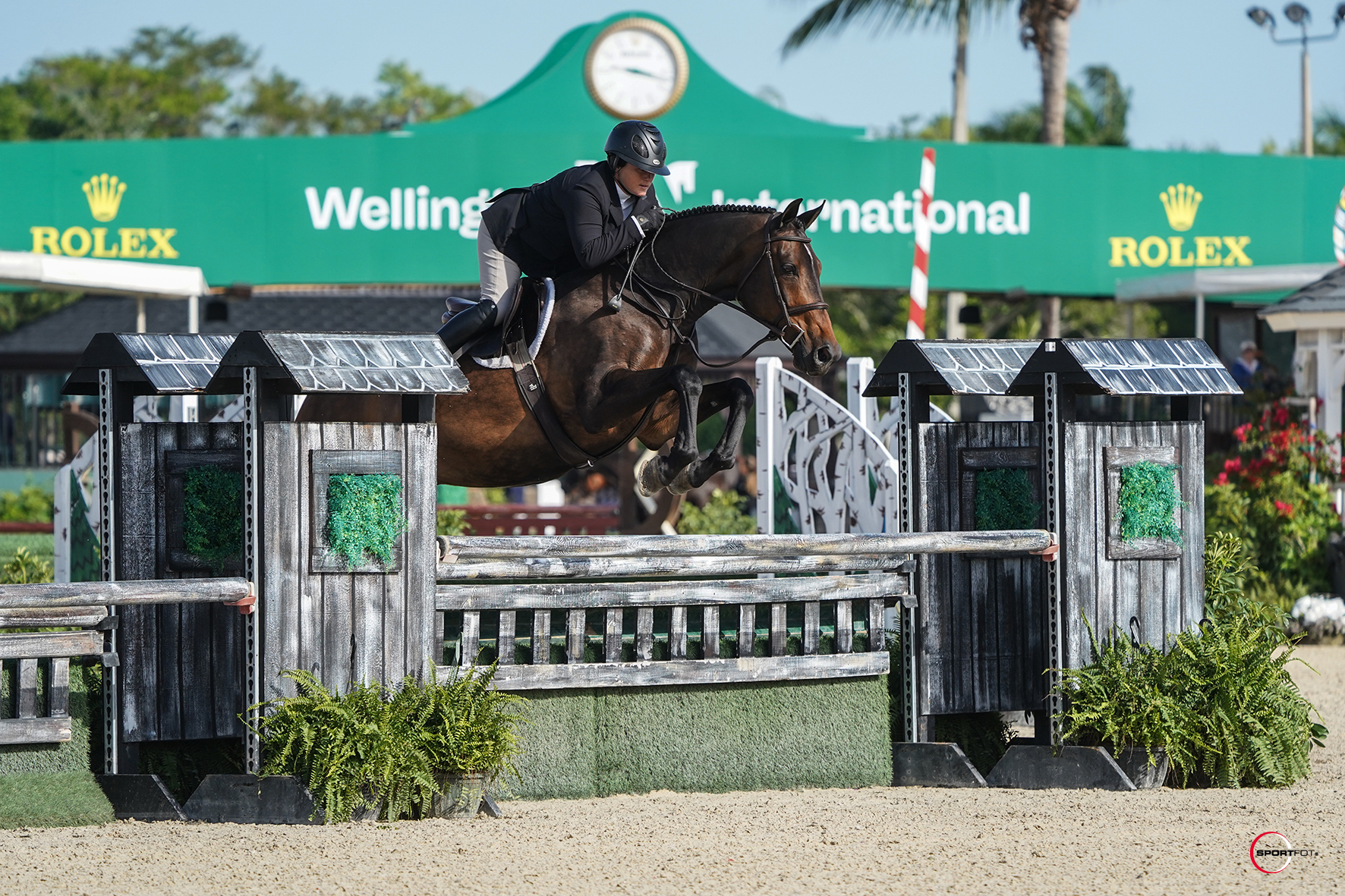 Thanks to a stellar performance in the handy round, Colvin and Gabriel improved to a score of 94, earning them a grand total of 184, which put the pair at the top of the leaderboard. Chrystal Knight of Wellington, FL, and Point of View, owned by Rendezvous Farm, finished in second thanks to a total score of 181. The initial leaders, Bliss of Loxahatchee, FL, and Harris Hill Farm LLC's Poker Face, finished in third after receiving a handy score of 84 for a combined score of 178.
Although many riders will begin making the move north for the summer, Colvin will continue to be based out of her farm outside Wellington. "We will start to travel in the beginning of May, but we will be based here in Florida. I really like the shows here after WEF [Winter Equestrian Festival] because it is not as busy, but there are still enough people to keep the classes competitive. There's also more of a relaxed atmosphere, so it's easier for the greener horses. It's also fun to compete with the jumpers on the field and the hunters in the International Arena," she concluded.
Click above to watch the winning ride!
On behalf of Gabriel's owner, Ellen Toon, Colvin also accepted the Schneiders Groom Award and was presented with a bag of valuable grooming supplies thanks to Schneiders Tack.
For the full results of the $10,000 USHJA National Hunter Derby, presented by Bainbridge Companies, please click HERE.
Derby action continued on Friday with the $1,000 2'6"- 2'9" Hunter Derby, presented by Score At The Top. The class offered greener horses the chance to compete in derby-styled courses, designed by Semantha Burger. Against a field of 17 competitors, Bonnie McCabe of Glastonbury, CT, and her own Levi captured the win after posting scores of 82 and 88 for a combined two-round score of 178. Christina Plichta of Wellington, FL, was just a point behind the leading pair with her Dayton to finish in second place, while Kimberly Narlinger of Laguna Beach, CA, rounded out the podium aboard her own entry, Rendez-vous, with a total score of 176.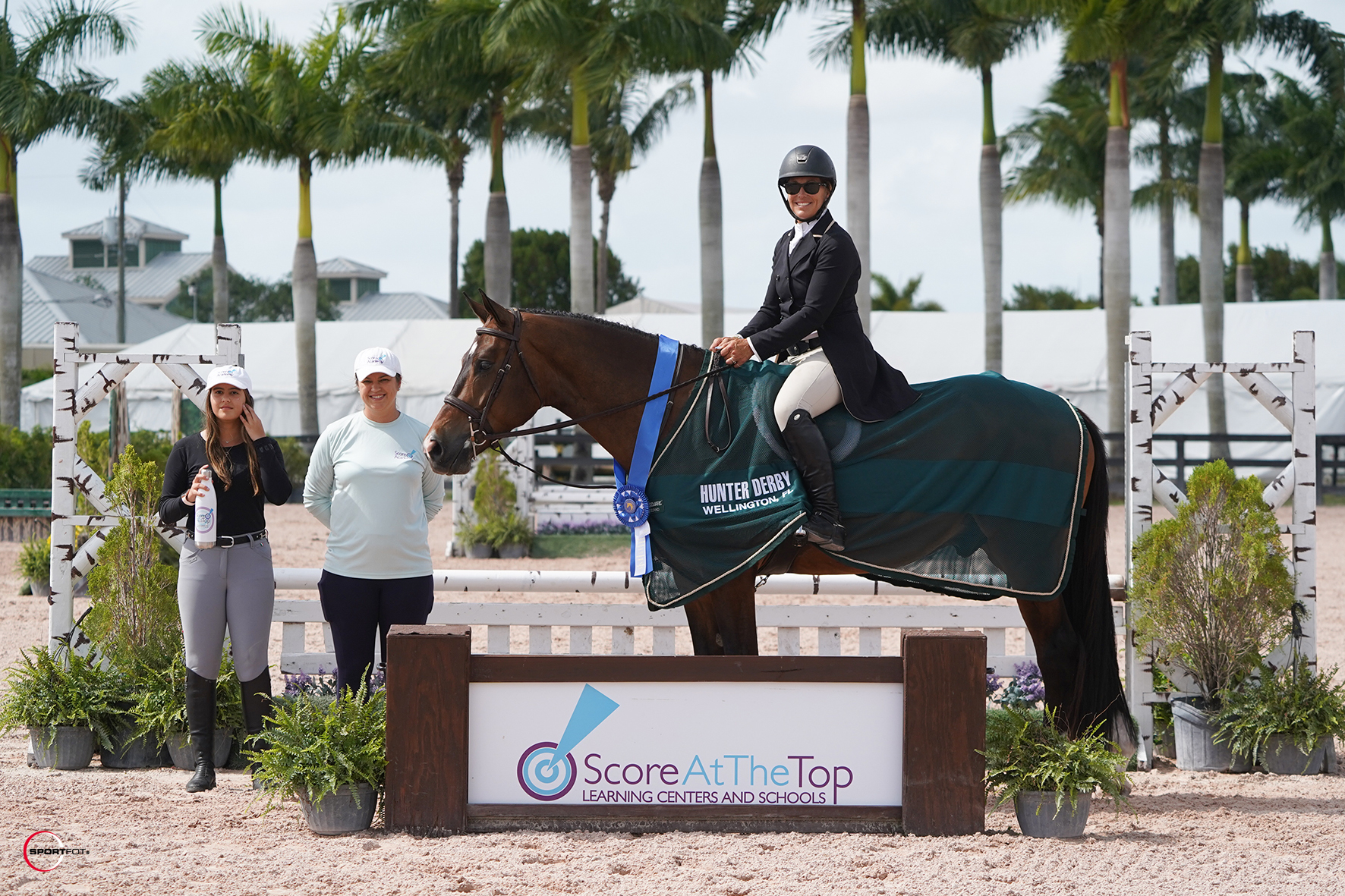 Week Three of the ESP Spring Series will continue through Sunday, April 24, culminating with the $140,000 Palm Beach County Sports Commission Grand Prix CSI3*. There will be a week-long break before Weeks Four and Five, which will both feature National "A" and Jumper 4* competition. Weeks Four and Five will run from May 5 to May 15, 2022.
To view the prize list for the 2022 ESP Spring Series, please click HERE.
Photo credit ©Sportfot. These photos may only be used once in relation to this press release with proper credit.