For Immediate Release
Summer Grace and Amanda Picciotto Feitosa Jennifer Wood Media, Inc.
Wellington, FL – March 10, 2022 – The $75,000 Adequan® WEF Challenge Cup Round IX CSI5* was the main event in the International Arena on Thursday, March 10, at the Winter Equestrian Festival (WEF). Week 9 of the 13-week series is presented by Douglas Elliman Real Estate and is the third of four weeks to host international competition at the five-star level. WEF 9 also offers two-star level international classes, sponsored by Corro and a variety of nationally-rated hunter, jumper, and equitation events. U.S. Olympic team silver medalist Kent Farrington put forth the winning jump-off round on Orafina.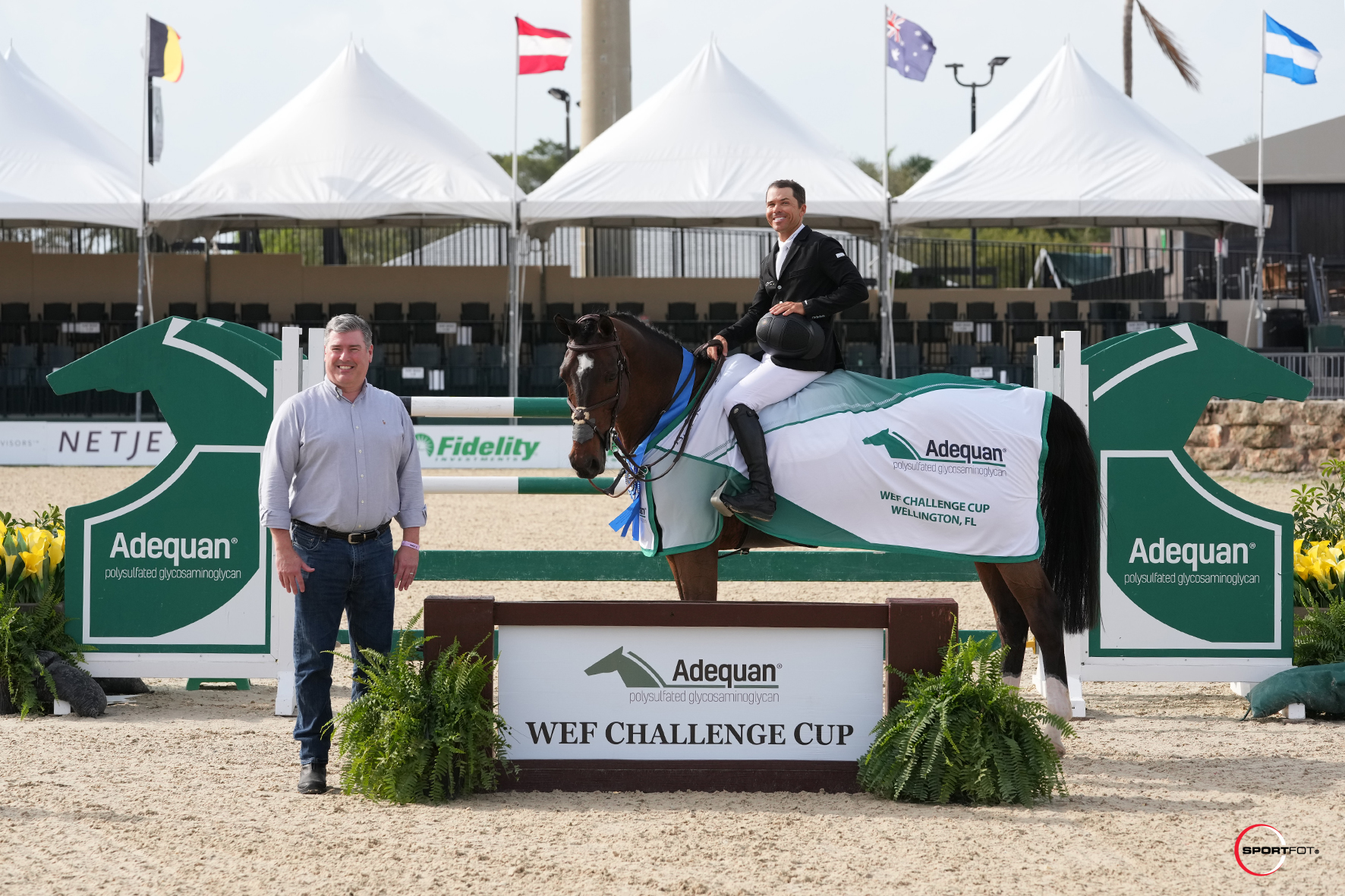 A total of 52 elite international competitors representing 16 nations contested Alan Wade's (IRL) first round. Wade designed a difficult track and by the class's halfway mark only five entries were set to return for the jump-off. The course, which included both a double and a triple combination, kept 15 riders from jump-off contention with the fault of a single fence but also tripped up an additional five competitors with the tight time allotted of 73 seconds.
As the final fences were set for the shortened course, 10 combinations had qualified to return but only nine found their way back to the arena as Shane Sweetnam (IRL) and James Kann Cruz elected to save their jumps. Always one to watch out for in a jump-off class, Farrington was the first to qualify for the class and therefore the first to return with Kent Farrington LLC's 10-year-old KWPN mare (For Fashion x Canturo). As he has done many times before, Farrington made it look easy as the pair cleared the final timers fault-free with a fast time of 33.41 seconds.
Click to watch Kent Farrington's winning jump-off!
"I'm really proud of this horse," noted Farrington. "She is one that I have been bringing along for the past two seasons. I really like to utilize the Florida circuit as a training grounds for my younger horses, and she has truly stepped up this season."
Evidence of Orafina's growth includes second place in the $140,000 Southern Arches Grand Prix CSI3* during WEF 1 and jumping in her first five-star grand prix during Week 5's $406,000 Fidelity Investments® Grand Prix CSI5*.
"I thought she was great in her first grand prix of this level, and she came back out today at the five-star level and performed better than I expected," added Farrington. "It is a long season so I try to build her up so she gets used to the environment of being under the lights and jumping at the highest level, and then I drop her back down and do some smaller classes to work on her rideability and control. I think moving up and down between the levels is the best way to produce an upcoming horse here."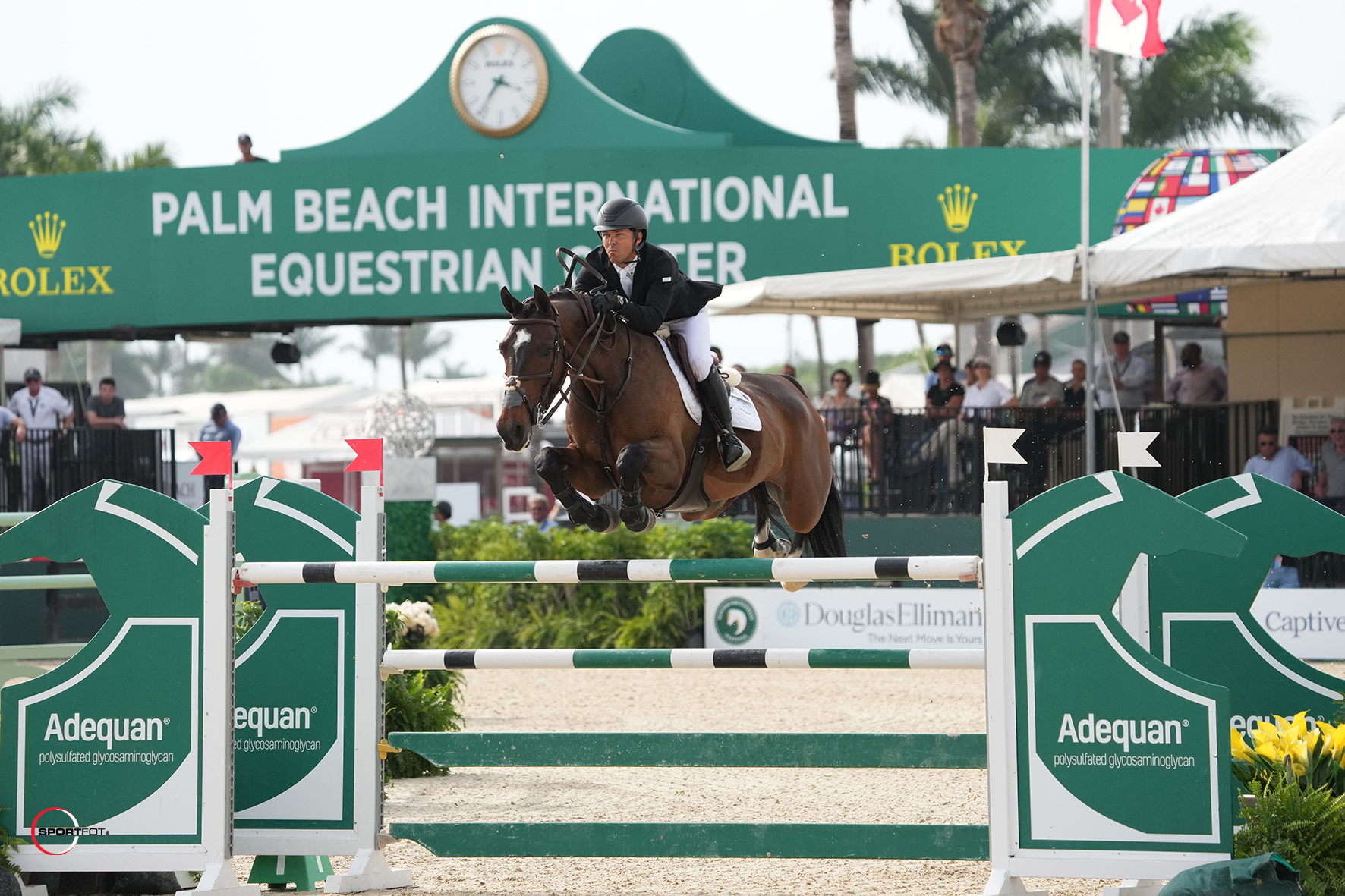 Sergio Alvarez Moya (ESP) produced the second clear of the course aboard his own 10-year-old BWP gelding Malibu De Muze (Nabab De Reve x Tornedo FCS). Landing just a fraction slower than Farrington with a time of 33.68 seconds, Moya settled for second-place honors.
Belgium's Jos Verlooy and EuroHorse BVBA's Luciano Van Het Geinsteinde once again pinned in the top three for the class as they rounded out the victory gallop with a final time of 34.28 seconds. Verlooy and the 11-year-old BWP gelding (Quinn Van De Heffinck x Air Jordan) have been in top form and were the winning combination in this class during WEF 8.
Final Results: $75,000 Adequan ® WEF Challenge Cup Round IX CSI5* 
1. ORAFINA: 2012 KWPN mare by For Fashion x Canturo
KENT FARRINGTON (USA), Kent Farrington LLC: 0/0/33.41
2. MALIBU DE MUZE: 2012 BWP gelding by Nabab De Reve x Tornedo FCS
SERGIO ALVAREZ MOYA (ESP), Sergio Alvarez Moya: 0/0/33.68
3. LUCIANO VAN HET GEINSTEINDE: 2011 BWP gelding by Quinn Van De Heffinck x Air Jordan
JOS VERLOOY (BEL), Eurhorse BVBA: 0/0/34.28
4. BENNYS LEGACY: 2008 Oldenburg gelding by Lupicor x Voltaire ADRIENNE STERNLICHT (USA), Starlight Farms 1 LLC: 0/0/34.79
5. HESTER: 2005 BWP gelding by Wandor Van De Mispelaere x Palestro VD Begijnakker
LUCY DESLAURIERS (USA), Lisa Deslauriers: 0/0/35.13
6. DON JUAN VAN DE DONKHOEVE: 2009 SBS stallion by Bamako De Muze x Heartbreaker
JESSICA SPRINGSTEEN (USA), Stone Hill Farm: 0/0/41.87
7. THEODORE MANCIAIS: 2007 Selle Francais gelding Kashmir Van Schuttershof x Power Light
SPENCER SMITH (USA), Ashland Farms: 0/4/36.99
8. ARGAN DE BELIARD: 2010 Selle Francais gelding by Mylord Carthago*hn x Ahorn
LILLIE KEENAN (USA), Equivarandas: 0/4/41.06
9. JAMES KANN CRUZ: 2013 Irish Sport Horse gelding by Kannan
SHANE SWEETNAM (IRL), Gizmo Partners, LLC: 0/69.46
10. BARDOLINA 2: 2009 Holsteiner mare by Clarimo x Landos MARIO DESLAURIERS (CAN), Wishing Well Farm LLC: 0/EL/
11. JASCO VD BISSCHOP: 2009 BWP gelding by Dulf Van De Bisschop x Krunch De Breve
MARK MCAULEY (IRL), SNC Mcauley Equestrian: 1/73.10
12. ROYCE: 2004 OS stallion by Cafe Au Lait x Grandilot
MARGIE GOLDSTEIN-ENGLE (USA), Gladewinds Partners, LLC: 1/73.48

Carly Anthony and Jet Blue Fly To Win $37,000 Corro 1.45m Grand Prix Qualifier CSI2*
The International Arena was buzzing this morning with 73 entries for the $37,000 Corro 1.45m Grand Prix Qualifier CSI2*. Carly Anthony (USA) and Jet Blue led the way from start to finish to don the winning blue ribbon sash.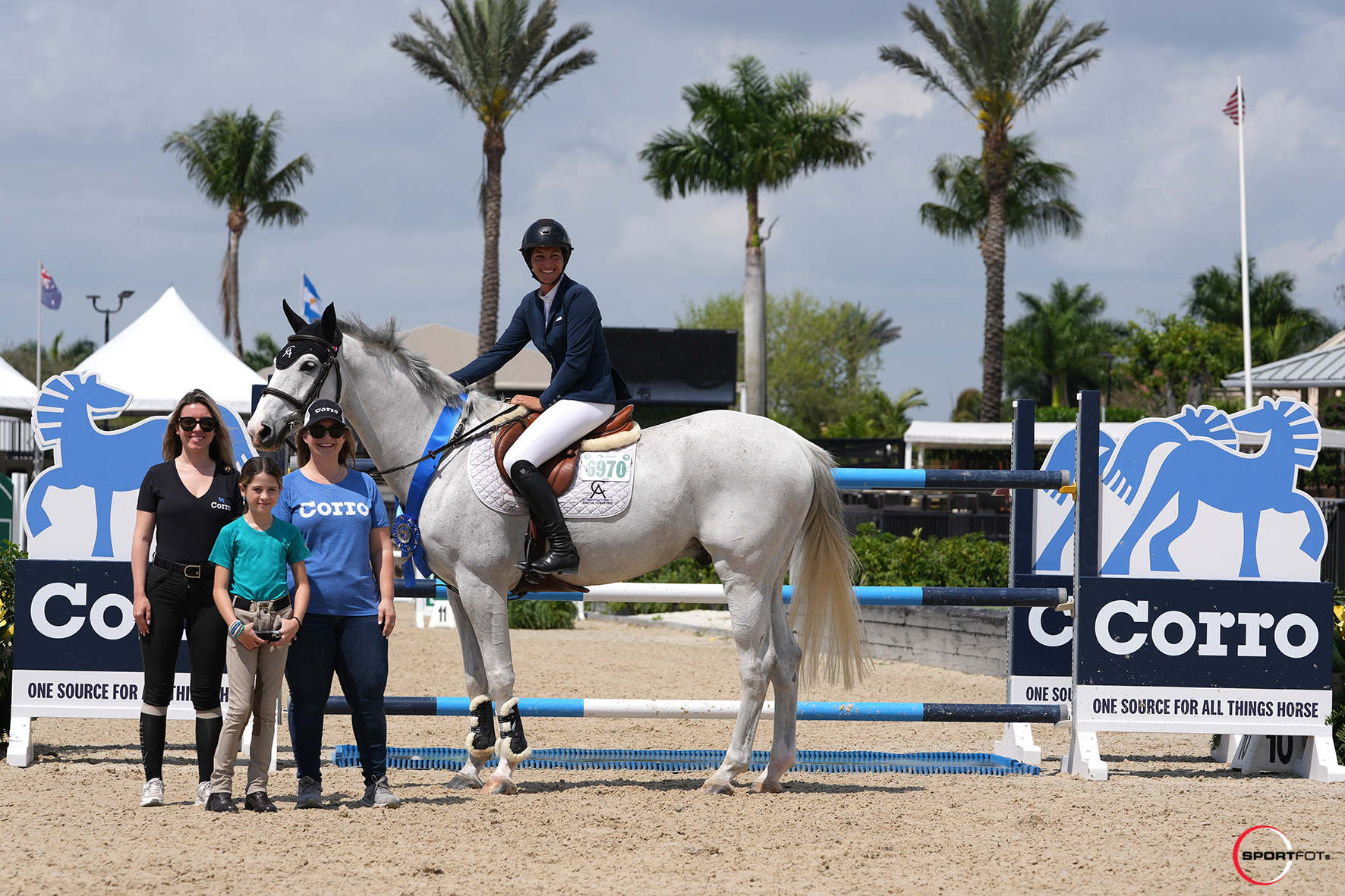 Anthony was the pathfinder with Jet Blue and was first to produce a clear effort across the track set by Alan Wade (IRL). Competitors were ready for the challenge today with 21 pairs advancing to the jump-off. Three riders withdrew, leaving 18 to tackle the short course. Anthony and Jet Blue continued to set the standard, crossing the timers in 34.17 seconds.
"First is always a fun predicament to be in, but I've been first with him a few times before in some grands prix, and it's actually worked out well, so I wasn't too worried about it today," said Anthony.
She continued, "Since I went first it was really hard to say exactly how the course would ride. I thought the first half of the course had a lot of rollbacks and short turns, so it didn't really naturally get you off on a good rhythm. I really focused on starting off with a good pace and to get going, because once that happens the rest usually takes care of itself."
Jet Blue is owned by Robin Parsky's Portfolio Horses LLC and was previously ridden by McLain Ward (USA). Anthony took over the ride on the 11-year-old KWPN gelding by VDL Zirocco Blue about two years ago. Since then, the two have built up a strong partnership, including Anthony's first nations cup appearance in the CSIO3* Nations Cup at the Vejer de la Frontera show in Vilamoura, Spain.
"We've done a lot of awesome things together. He's been a lot of firsts for me, and we have a great relationship. I love him with all of my heart," Anthony expressed.
During WEF 7, Anthony and Jet Blue posted a clear first round in the $37,000 Palm Beach Equine Clinic 1.45m Grand Prix Qualifier, but they suffered rails down in the jump-off. This class was a different story.
"[Week 7], we were trying to go fast in the jump off and had a bit of homework to do," explained Anthony. "We went home and practiced, and today the goal was to come out and show what we've been working on. He exceeded all expectations today. He was phenomenal."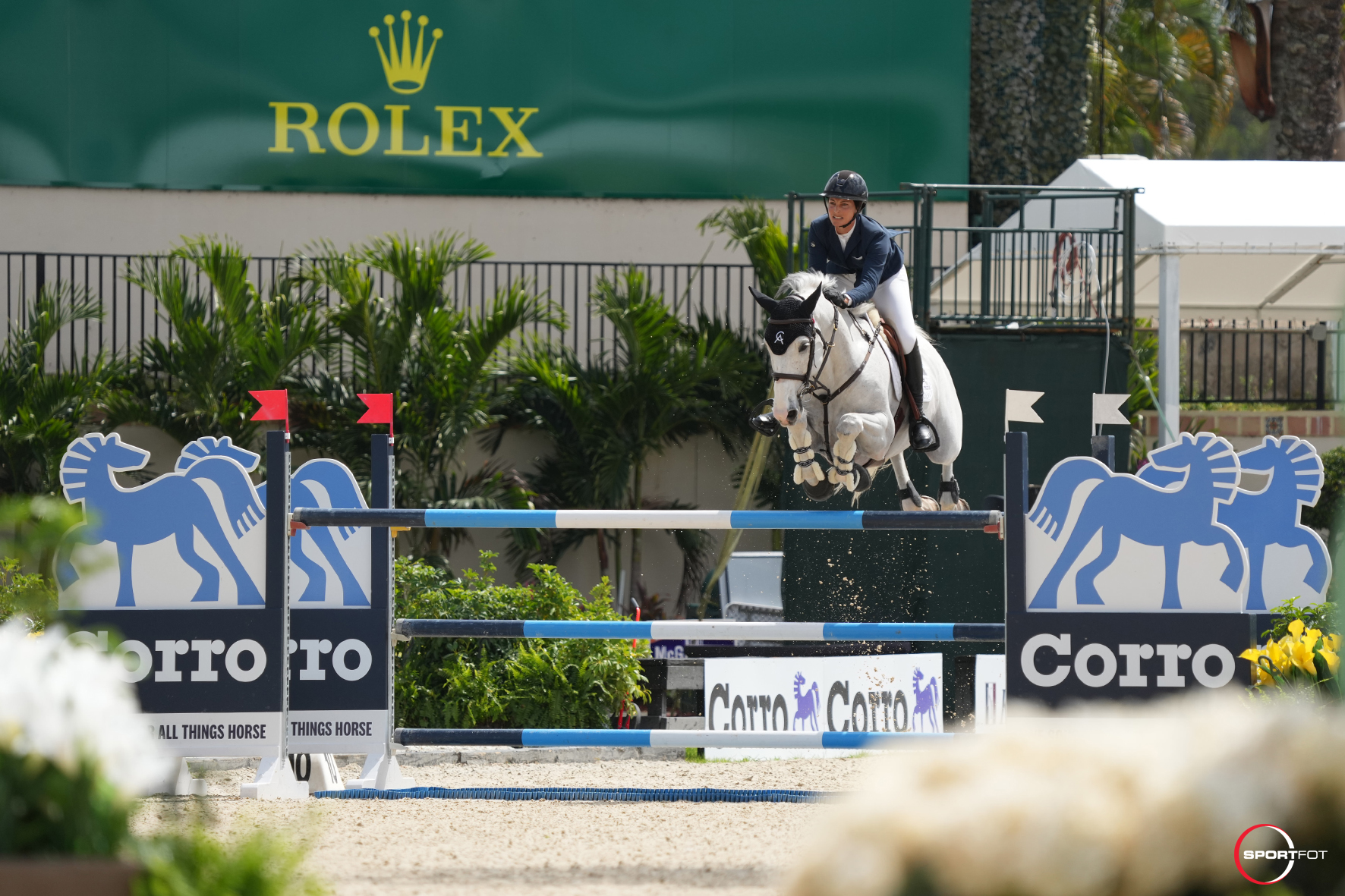 When asked what the upcoming plan was, Anthony was straight to the point.
"To keep winning!" she laughed. "We will aim for the four-star week 11, and then we'll see where the summer takes us. I'm just trying for consistent clear rounds, and quick, consistent results. It's not every day you get to go in and win. It's a lot of ups and downs, and the process is the most rewarding part of it. When it pays off with a day like today, it makes it even more exciting and more enjoyable."
Zayna Rizvi (USA) aboard Peacock Ridge's Excellent was the only rider in the jump-off to catch Anthony's time, but a rail had them finish in ninth place. Amanda Derbyshire (GBR) finished in second place in 34.56 seconds with Wonder If, owned by Gochman Ventures LLC. Tom Wachman (IRL) and Coolmore Show Jumping's Urvoso Du Roch completed the awards presentation after their jump-off time of 35.81 seconds slotted them into third place.
Final Results: $37,000 Corro 1.45m Grand Prix Qualifier CSI2*
1. JET BLUE: 2011 KWPN gelding by VDL Zirocco Blue
CARLY ANTHONY (USA), Portfolio Horses LLC: 0/0/34.17
2. WONDER IF: 2012 Anglo European mare by Cevin Z x Bolivar
AMANDA DERBYSHIRE (GBR), Gochman Ventures LLC: 0/0/34.56
3. URVOSO DU ROCH: 2008 Selle Français gelding by Nervoso x Grand D'Escla
TOM WACHMAN (IRL), Coolmore Show Jumping: 0/0/35.81
4. CHAPKA DE MOYON: 2012 Selle Français mare by Panama Tame x Le Tot de Semilly
GRACE DEBNEY (GBR), Grace Debney & McLain Ward: 0/0/36.35
5. CHANDON BLUE: 2005 Oldenburg gelding by Chacco-Blue x Landcapitol
LAURA CHAPOT (USA), Laura & Mary Chapot: 0/0/36.78
6. HOLLYWOOD DE RASE Z: 2012 Zangersheide gelding by Hoegie Van't Bergske x Triomphe De Muze
ANGELA COVERT (CAN), Angela Covert: 0/0/38.88
7. POINT BREAK: 2012 Swedish Warmblood gelding by Action-Breaker x Balou du Rouet
BEN MAHER (GBR), Pamela Wright, Charlotte Rossetter, & Ben Maher: 0/0/39.06
8. GOLDEN BOY: 2011 KWPN gelding by Cardento 933 x Lux Z
LAUREN HAYES (CAN), VDL Stud: 0/0/39.58
9. EXCELLENT: 2009 KWPN gelding by Cicero Z van Paemel x Ahorn
ZAYNA RIZVI (USA), Peacock Ridge LLC: 0/4/33.82
10. CASTLEFIELD DREAM: 2011 Holsteiner gelding by Clinton x Cero
JULIAN COURNANE (IRL), Captain Brian Cournane & Glenbeigh Farm LLC: 0/4/36.13
11. HARLEY D: 2012 KWPN gelding by Spartacus x Grandilot
VASCO FLORES (PUR), Hillside Farm LLC: 0/4/37.06
12. BENEFICIAL: 2012 mare by Banderas
ALICIA GADBAN-LEWIS (CAN), Alicia Gadban-Lewis: 0/4/37.60

Financier is Golden with Victoria Colvin in Johnson Horse Transportation Performance Hunter 3'6" Division
Performance Hunters featured in the Equine Tack & Nutritionals Ring 6, where the championship results were determined in the Johnson Horse Transportation-sponsored 3'6" division. Victoria Colvin and Financier scored a win over fences with a 90, and then sealed the deal for the overall title when they floated to the top of the leaderboard in the under saddle class.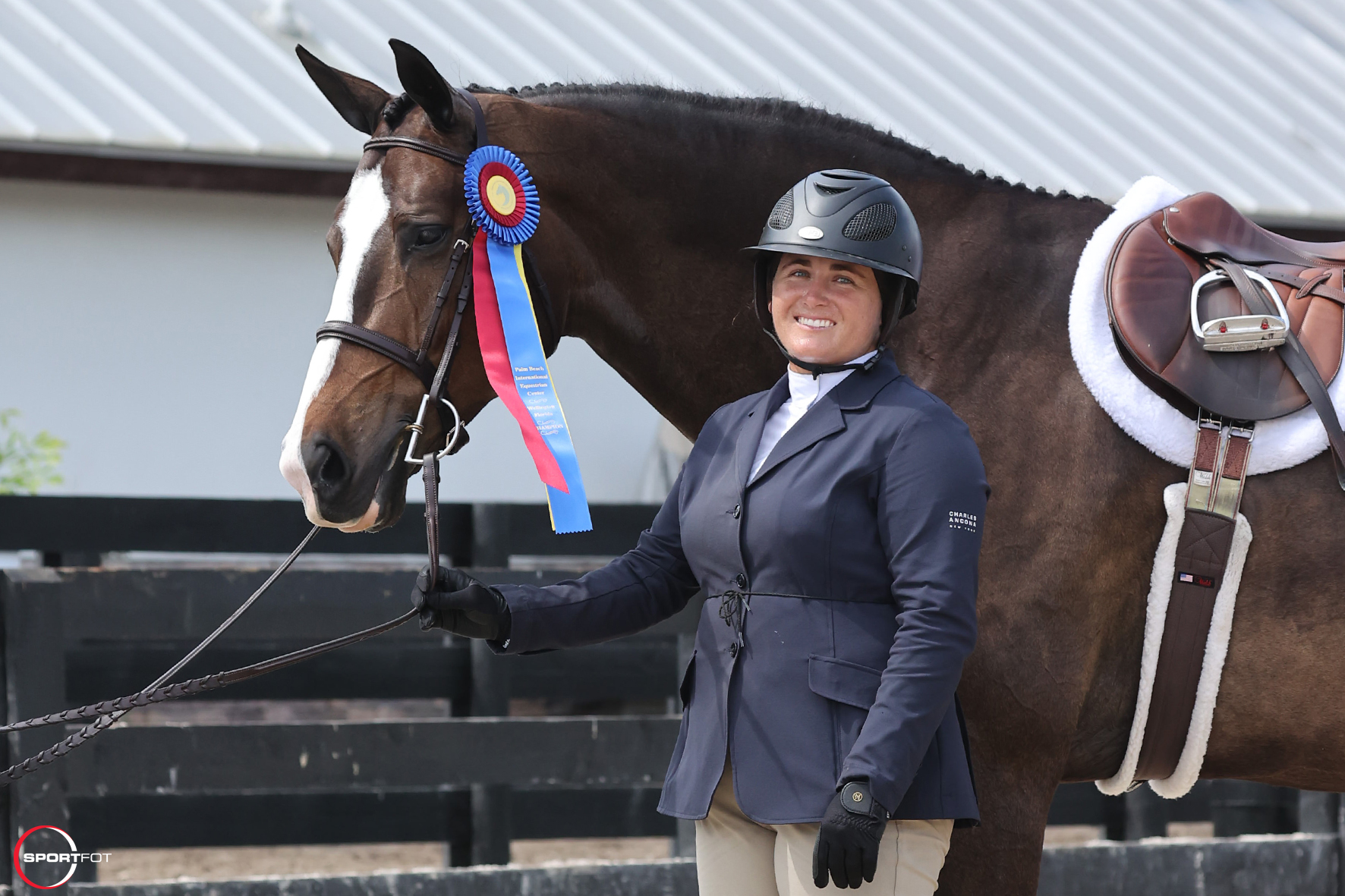 Financier's owner Valerie Kalderon normally competes the 11-year-old Irish Sport Horse gelding by Raddin in the adult amateur hunter classes, but while she's spending time in Ocala, she wanted Financier to compete at WEF. Colvin has taken up the reins in the Performance division and Ella McHardy, who represents Canada, has been showing him in the Junior Hunter 3'3" 16-17 division.
It's Financier's character that has all the ingredients to make him a top hunter able to seamlessly wear several hats.
"[Financier's] very pretty, sweet, and kind. He doesn't have anything too difficult with him. He just does what he's asked for, and he does it well," said Colvin.
In a very competitive field, Financier lived up to his reputation and earned scores of 92.5 and 88.5 to add second- and fourth-place finishes, respectively, to his two blue ribbons.
"Both days he felt really good, and he actually jumped quite well. He really gave great efforts," reflected Colvin.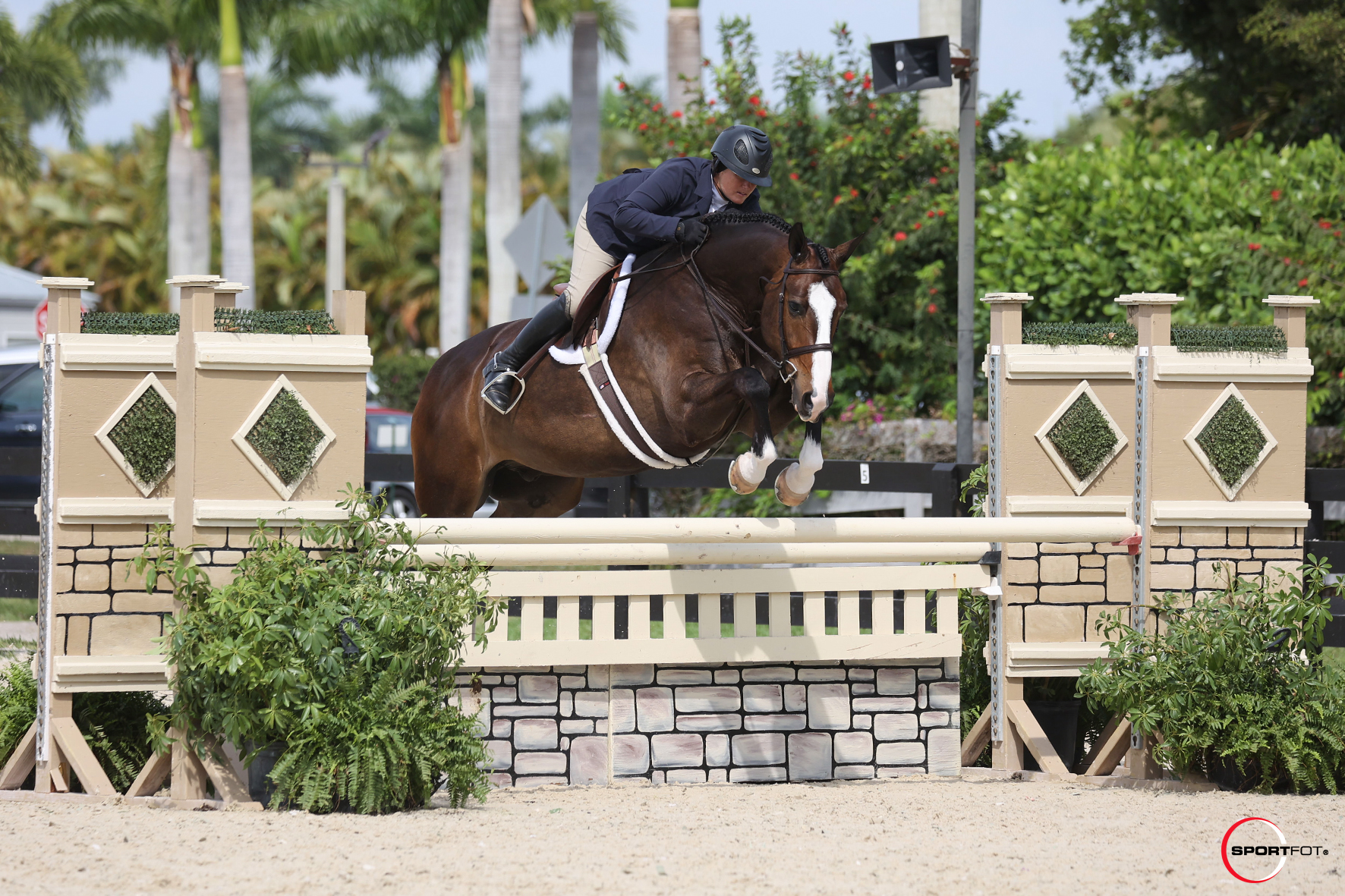 Sara Taylor and Sarah Blum's Mysterious Ways earned an 89 in the stake class for a victory on their way to the reserve championship honors.
Tomorrow's competition features ponies on the Derby Field at Equestrian Village for the $5,000 USHJA Pony Derby. International jumper competition continues in the International Arena with the $37,000 Bainbridge 1.45m CSI5* speed class followed by the $6,000 Corro 1.45m CSI2* speed class.