Meet our next Face of Wellington, Lindsay Strafuss! An avid equestrian and successful realtor, Lindsay started riding when she was seven years old, competing in the hunter and equitation divisions as a junior. The Tennessee native has called Wellington home since graduating from Southern Methodist University (SMU) in 2015. A familiar face in the jumper ring, Lindsay regularly competes in the Amateur Jumper divisions, all while balancing a busy work schedule as a realtor for Illustrated Properties and volunteering at her favorite charities. Keep reading to learn more about her background, her horses and upcoming goals with them, and more!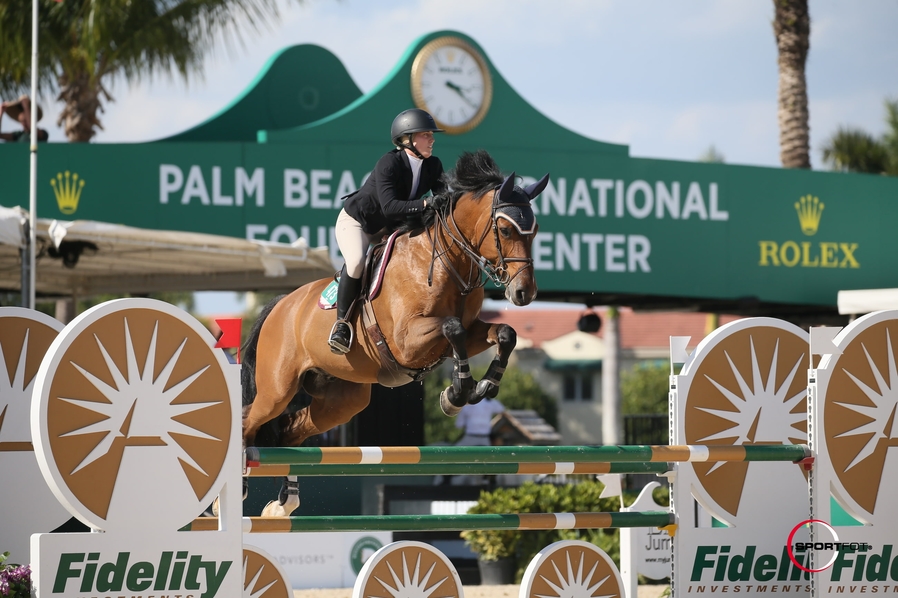 How did you get involved with horses?
When I was seven, one of my friends invited me to a riding day camp for a week, where I was able to spend everyday at the barn riding and around the horses. I immediately got hooked, and from there I started taking lessons regularly. When I was ten, my parents got me my first pony named Triscuit. He would buck me off all the time, but he taught me so much about working hard and sticking with things even when it's difficult. We grew so much together, and eventually found success in the show ring.
I joined SMU's riding team so that I could continue riding in college but during my junior year I had a really bad riding accident and took a three-year break. When I decided I was ready to get back into the sport, a university friend of mine invited me to New York during the summer to meet her riding coach and that's when I first started riding jumpers. Now I ride with Alejandro and Blythe Karolyi.
How many years have you been competing at WEF and when did you make Wellington your home? 
I started competing at WEF in high school and then after college, I bought my home here in Wellington. Initially, I would go to New York or Kentucky during the summer but when the COVID Pandemic happened in 2020, I decided to stay here after season and have stayed here year-round ever since. I really love being based out of here throughout the year and just traveling to shows when I need to. Because Karolyi Showjumping is based out of Wellington, we do a lot of the annual shows here, and I really enjoy being able to compete on the grass field, and the horses seem to enjoy it as well.
Since moving here, I've been building clients and now I'm seeing more clientele from all over the world coming to Wellington since the new owners bought the showgrounds. I think people are looking forward to what's to come here in Wellington over the next couple of years and that's really exciting.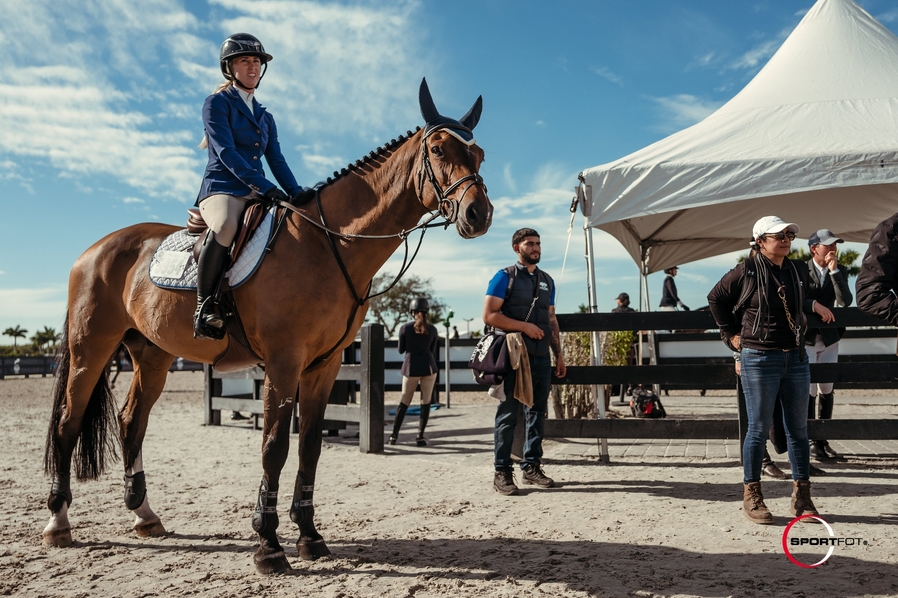 How do you juggle your career as a realtor and a busy show schedule? 
I definitely have to be really good at time management, and I have to work a lot of my open houses around the show schedule – but I make it work!
I'm a big believer in time blocking and sticking to a routine. I like to wake up early, go to the gym, and then write out everything I'm doing that day, so that's my morning routine. Sometimes your schedule changes, and you have no control over it, but I try to stick to my routine as much as possible.
What are your goals for this upcoming WEF season? 
Right now I have two horses, Calmaro and Black Flyer. I've had Calmaro for five years and I just purchased Black Flyer. I'm still coming back from an ankle injury, but I would like to be competing in the Highs with both of them this upcoming winter season.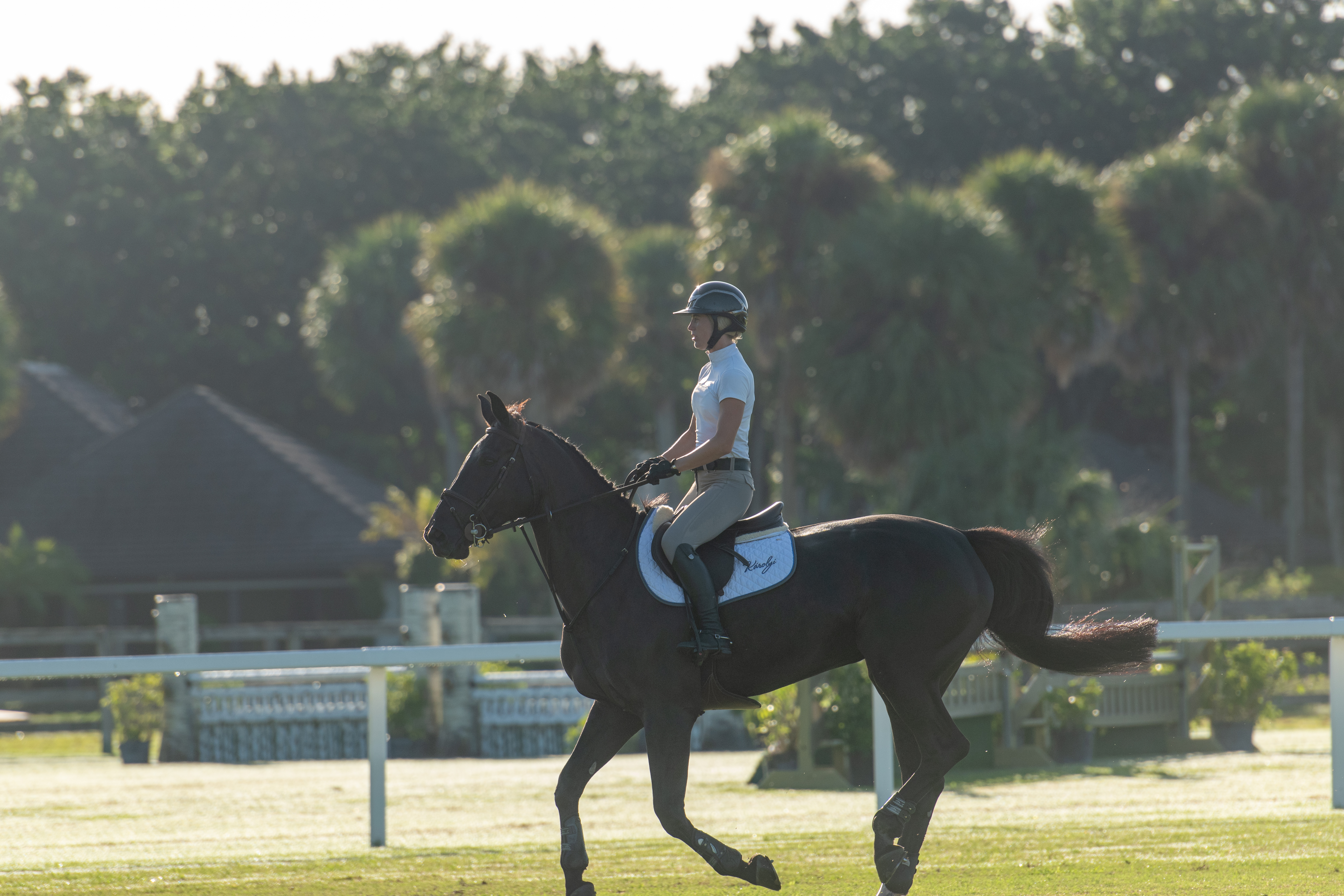 When you're not riding, what are your favorite things to do in the area? 
I'm a big foodie, so I love going to Buccan in Palm Beach. Their Sweet Corn Agnolotti is my favorite! During the season, I like going to Saturday Night Lights. I have a table in the International Club, and I will invite friends and clients to watch the class with me there. Even if my friends or clients aren't familiar with the equestrian sport, it's still really fun for them and is a great way to introduce them to the horse world.
I'm also involved with a few charities here. I'm on the Boys and Girls Club of Wellington, so we do a lot of fundraising for the children, and I enjoy going to the Big Dog Ranch events because I love animals and their events are always so much fun and for a great cause.
 Thanks for catching up with us, Lindsay! We can't wait to see you back in the show ring at our next show.