Say hello to October's Face of Wellington, Alannah Wagstaff! Originally from Rhode Island, "Ali" had a very successful junior riding career in the pony hunter and equitation divisions, as well as many top placings in the hunter and jumper divisions. After graduating from college with a Clinical Psychology degree, she decided to use what she learned in school to pursue a career with the animals she loved in equestrian sport. After turning pro in 2012, Ali worked for many top professionals before starting her own business, Mill Pond Farm, in the spring of 2020. This summer, the talented equestrian has dominated the show ring with her new horse, Great Thing, and has also introduced many of her students to the competition ring at the ESP Annual Shows. Keep reading to learn more about Ali!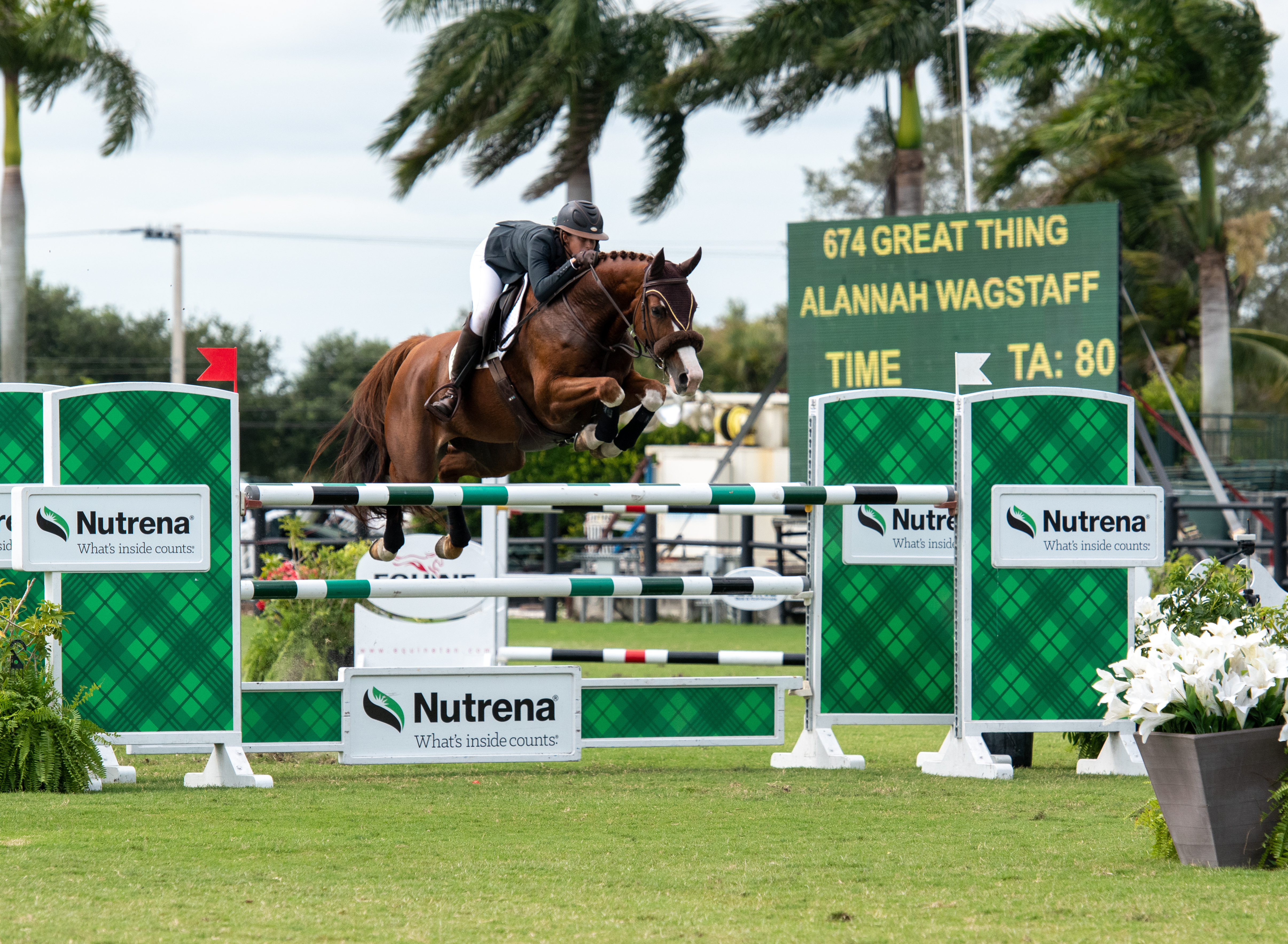 Can you tell us a little bit about your background in the sport and when you decided that you wanted to pursue riding professionally?
I started riding when I was two, and I came up through the ranks; I did pony hunters, some equitation, and then I transitioned to jumpers. I attended undergrad and graduate school for psychology and have a degree in Clinical Psychology. After I graduated, I found that I enjoyed working with horses more, but I use quite a bit of what I learned in school and apply it to working with all the different people and their personalities in the sport. When I first became a professional in 2012, I was mostly riding for other people, until I opened my own business in 2020 – right during COVID! Now, I do a little bit of riding lessons, some professional showing, and I have some sale horses.  
Cool! And, as a young professional, what made you choose Wellington as your home base?
The weather! I came from Massachusetts, but I'm from Rhode Island originally. I moved down to Florida in 2009 to be able to continue riding while I was in school in Boca Raton. And I do not do well when the temperature is below 75 degrees.  
So, how have you and your students enjoyed competing at the Annual Shows here in Wellington?
I love that there are horse shows here year-round! I know a lot of people think of just WEF when they think of Wellington, but I think I have counted that there are horse shows here every week of the year except for eight weeks in the summer. So, there are plenty of opportunities to compete and the horse shows during the offseason are appropriate for beginner riders to get their feet wet. And, of course, I love that everyone comes to town for us to show off our stuff during the season!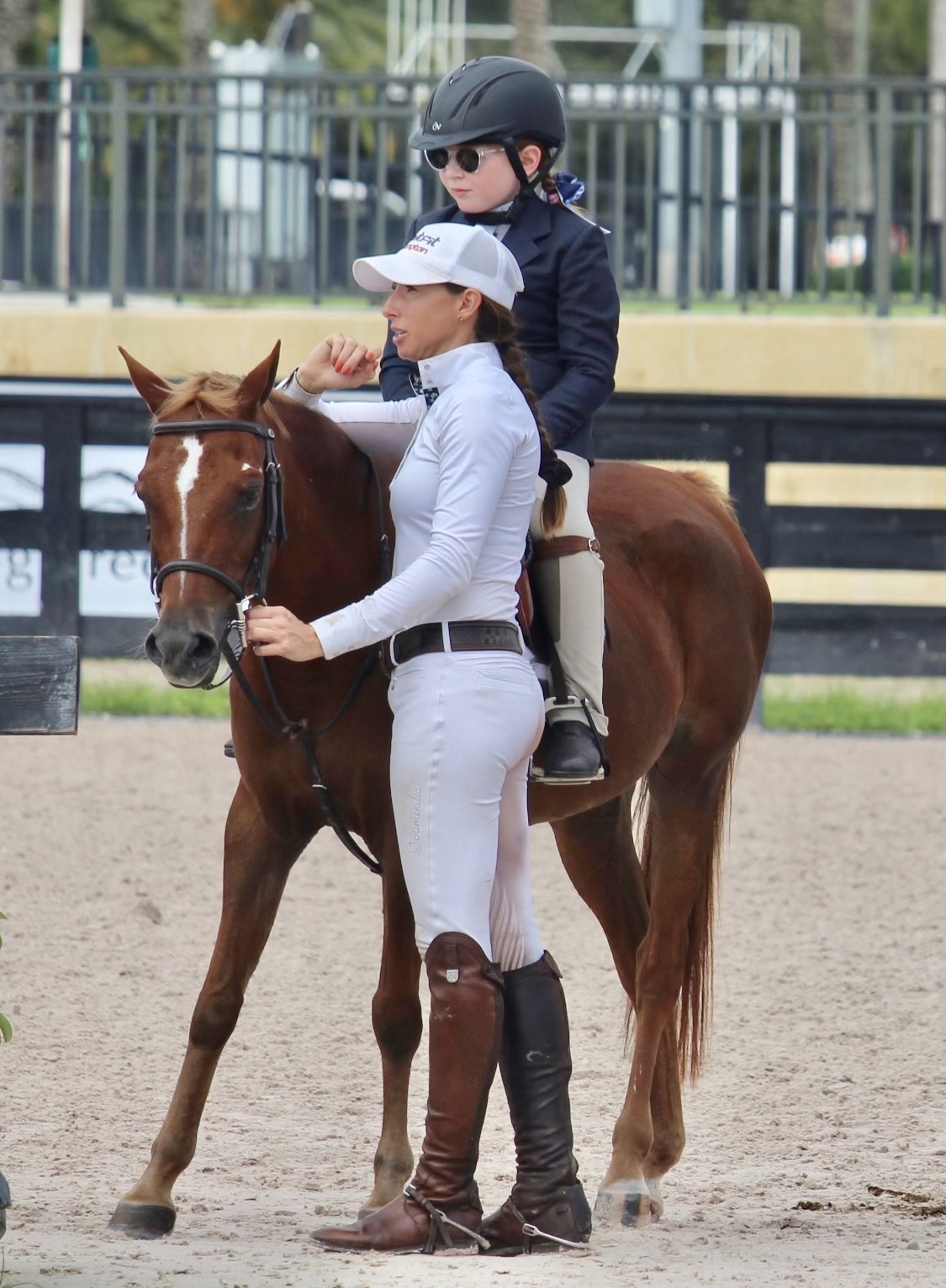 Nice! You are the owner and the head instructor at Mill Pond Farm. What has the experience been like for you operating a full-service barn as a young professional? Any highlights or challenges you have faced?
 Absolutely! A little bit of both. I started my business during Covid, so that was certainly a challenge. I really love the freedom of being able to organize my business the way I like and having the ability to create my own program and individualize things for my riders and horses. I have experience from working with some of the top professionals in our sport, and I like being able to draw the positive things from those people and avoiding the things that I have learned maybe don't work so well. I would say that the challenge is being year-round here, especially in the summer. It quiets down quite a bit and I'm always working on getting annual clients. I love having the freedom to design my own program as well as having the freedom to do things just for me, outside of riding. So, I try not to be married just to the barn and have other hobbies and activities that I enjoy outside of work.  
Can you tell us a little bit of your mantra "Learn to Love the Ride" and why you think it is important?
Yeah! So, I do this because I love horses. I know I sound like a little pony kid, but I truly do. I love the horses first and foremost. I know a lot of people in this sport can be very goal-oriented and tough on their students and their horses, but I really want people to enjoy this. For me, it's my business, but for most of my customers it's their hobby. Obviously, I want my clients to learn and be successful, but I ultimately want them to love the ride. My mantra sort of combines both of my loves – teaching and horses. My other favorite one is: "Every step taken on a horse, is a step in the right direction." 
It clearly sounds like you have a lot on your plate! What does your average day look like?
Well, I am not only the head trainer, but I also keep my hands in the day-to-day barn activities. I'm usually at the barn between 7:30 to 8:00 in the morning. I also help my staff and split the work of taking care of the horses, doing stalls, and feeding in the morning. In the morning, I teach from 9 a.m. until 11 a.m. and then I have a lunch break before my after-school kids show up. In the afternoons, I usually am there starting at 2 p.m. until it gets dark. Show days are dawn till dusk for sure.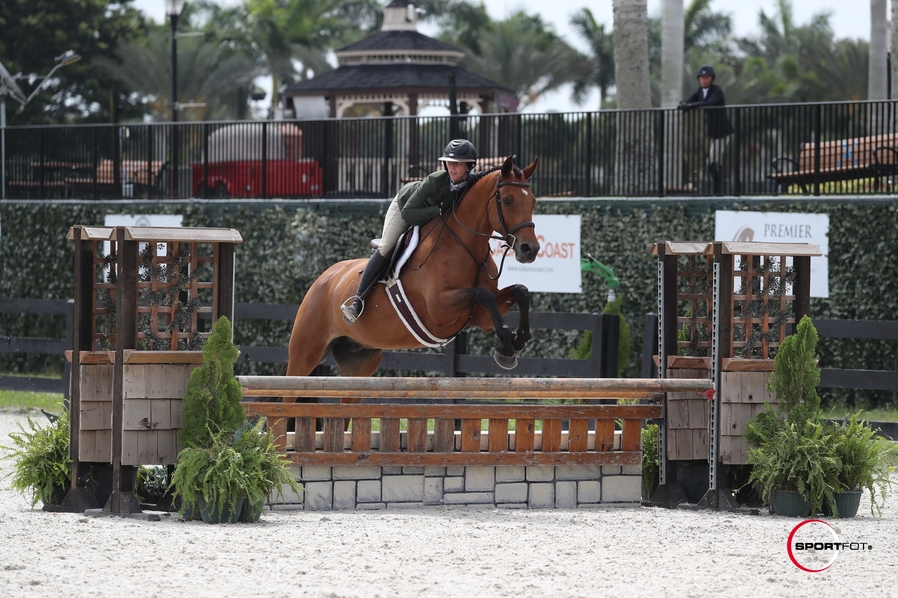 You recently imported your Grand Prix horse, Great Thing. Can you tell us a bit about her?
Great Thing is a ten-year-old chestnut mare and we call her "Ginny" at the barn. I imported her from Belgium this year at the end of March. A really good friend of mine recommended her to me. I was looking for something very specific and I kind of held out buying a horse until the exact right match came along. My original plan was to find a horse that I could get into the 1.40m classes and the small Grand Prix classes. I thought I was getting a trier that could successfully do those classes, but I had no idea that with a little bit of time and training I would have a winner! I have had way more success and clear rounds with this horse than I ever could have dreamed of. She is amazing! 
Have you set any goals for her or for your students for the rest of the year?
For Ginny, my goal is to continue competing at the 1.40m level and get some experience in the bigger International Ring over at the main grounds this winter. I'm also excited to do her at the "Turf Tour" as well and get more experience on the grass. Eventually, I'm hoping she'll develop into a great Grand Prix and 1.40m stakes horse, and then time will tell if I end up pushing her any bigger than that. 
As far as my students go, I have everything from young pony kids all the way up to older adults. I like for all my students to make goals that are reasonable, and for some that's just competing at their first horse show. This past summer, I had five students who got to sign up for their USEF membership and compete for the first time. Introducing new riders into the sport is my favorite thing.  
Thank you, Ali, and good luck in your future shows!