For Immediate Release
Kate Pettersen for Equestrian Sport Productions
Wellington, FL – April 25, 2021 – On the final day of Spring III on the grass Derby Field at Equestrian Village, Santiago Lambre (MEX) flew to a first-place finish aboard Mario Onate's Easy Girl in the $137,000 Palm Beach County Sports Commission Grand Prix CSI3*.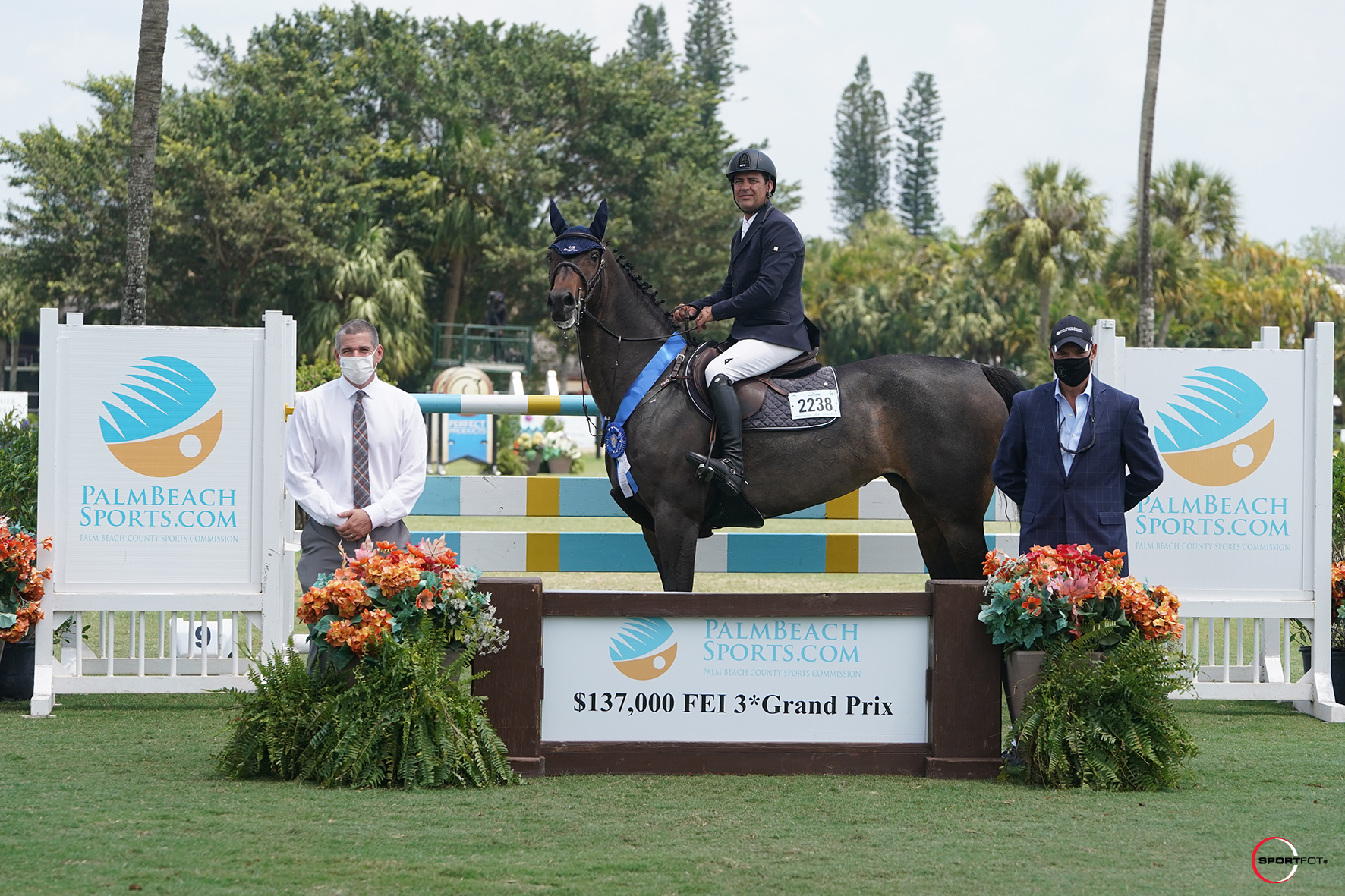 A total of five weeks of competition as part of the ESP Spring Series will continue until Sunday, May 16, with hunter and jumper competition running at Equestrian Village for Spring IV and Spring V. The fourth week will be highlighted by the $25,000 Palm Beach Equine Clinic Grand Prix on the stunning grass Derby Field. The full prize list for the 2021 ESP Spring Series can be found online by clicking here.
Olympic course designer Guilherme Jorge (BRA) set the track for the feature class as 42 horse-and-rider combinations entered the opening round. That number was narrowed down to just 13 that qualified to return to jump over a shortened course.
In the subsequent round, Colombia's Roberto Teran Tafur was the first to put forth a clear effort as he guided his own Dez Ooktoff, a 13-year-old Dutch Warmblood stallion by Colandro x Lys Rouge, across the track swiftly to take over the lead in 42.69 seconds. The first to catch him was Ireland's Paul O'Shea aboard Squirt Gun, owned by Eye Candy Jumpers, shaving nearly four seconds off the leading time. He and the 10-year-old Oldenburg gelding by Diarado x Quick Star stopped the clock in a clear time of 38.70 seconds.
Returning eleventh in the order, Margie Engle (USA) and Dicas, owned by Storm Ridge Capital, LLC, Show Horses, and Garber and Gladewinds Partners, LLC, came close to the top with a clear effort of their own. The Olympic veteran guided the 12-year-old Rheinlander gelding by Diarado x Cassini I, across the track in 39.31 seconds. Last to go, Lambre and the 10-year-old Oldenburg mare by Conthargos x Nintender did it best, stopping the clock fault-free in 38.02 seconds to claim the victory.
"When I saw that I was last on the order of go, I was happy because that meant I was able to be last in the jump-off," said Lambre. "After watching the first few go, I changed my plan because in the end, with one jump down and a fast time, we would still be in the top five. There was no point of going slow and clear. I tried to be as quick as I could, and it worked."
Watch their winning jump-off round here!
O'Shea and Squirt Gun ended the day with a second-place finish as they continued their success together on the grass Derby Field. The turf track marked the place they picked up a win in their first grand prix class together last spring while also notching a victory in a national grand prix class during the 2021 Winter Equestrian Festival (WEF).
"My plan was to go as fast as I could smoothly," O'Shea said. "The numbers that I wanted came up and I probably could've been quicker back to the double, so maybe I lost it there, but he jumped great. Squirt Gun has no weaknesses, really. It feels as though it doesn't matter what type of track is built, he's able to jump it. He's a very special horse."
With their double-clear effort, Engle and Dicas rounded out the podium in third place.
"Dicas has been so consistent this season," said Engle. "A lot of people had rails down so first and foremost, I wanted to finish clean. He's a big horse and I don't know that I'm going to be faster than those smaller, really quick horses. He tried hard everywhere he was, and I tried to go fast where I thought I could. I'm just thrilled because he's been so consistent. He's been a real steady Eddie for me and he's not flashy, but he does what he needs to do and he's just a good guy. He's like a big lap dog, I just love him!"
"It's great jumping out on the grass," she continued. "The horses love the field, and it seems to be holding up well. They're doing a fantastic job keeping it in great shape. Guilherme [Jorge] built a great course for a good group of horses; it was tough enough without scaring anybody, so it's been wonderful getting to go out here [on the grass Derby Field]."
For Lambre, his long-term plan has come together nicely as jumping the three-star grand prix during Spring III has been a goal he's been working towards with Easy Girl. The pair has been working together for a year now and the partnership continues to blossom.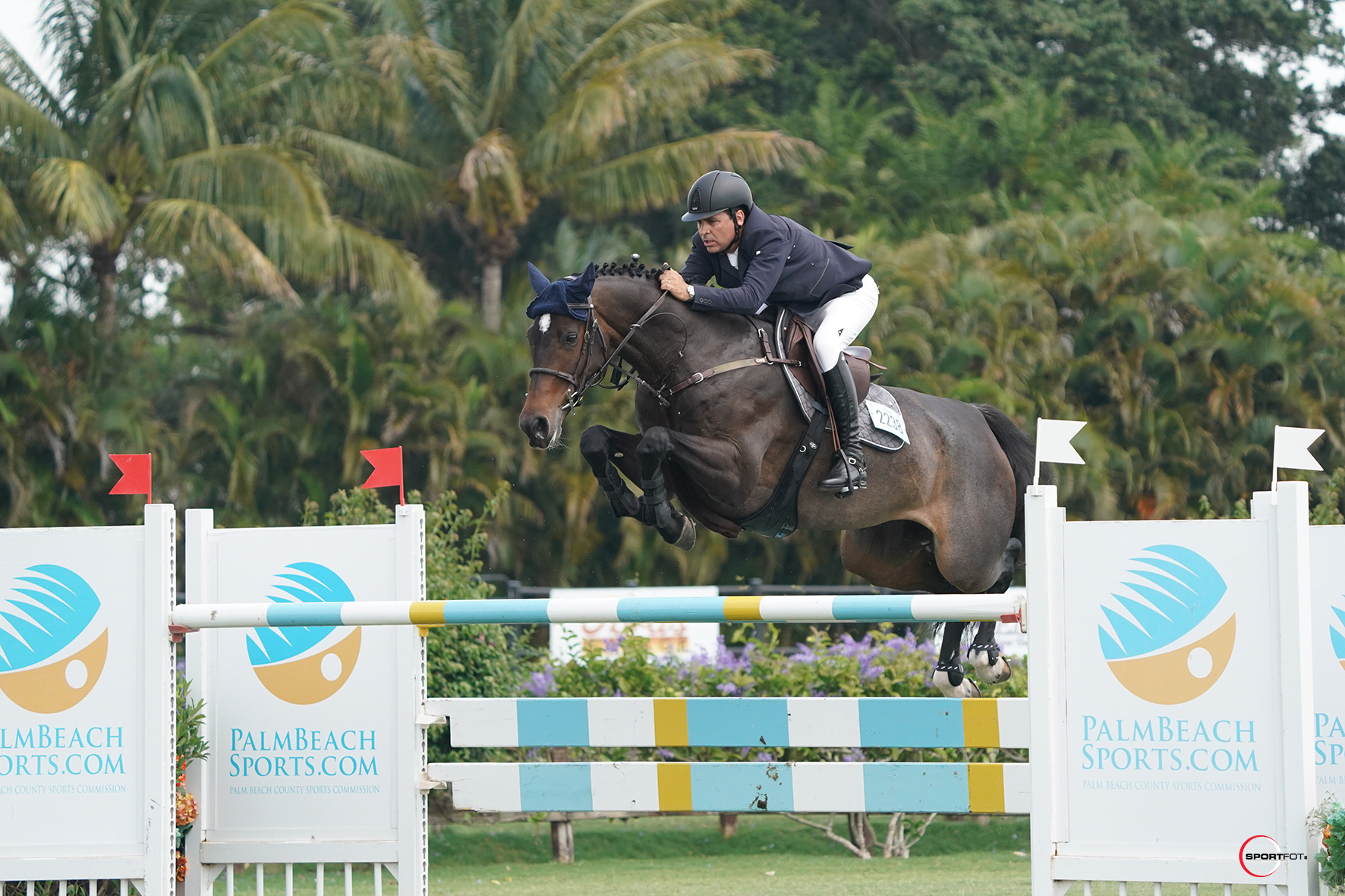 "We jumped smaller classes during the last three weeks of WEF," he said. "She got some great experience this winter. I did a lot of national shows and she improved every week. We also got a chance to jump on the grass Derby Field before WEF in November and December and jumped very well, so I felt confident coming into the three-star."
Final Results: $137,000 Palm Beach County Sports Commission Grand Prix CSI3*
1. EASY GIRL: 2011 Oldenburg mare by Conthargos x Nintender
SANTIAGO LAMBRE (MEX), Mario Onate: 0/0/38.02
2. SQUIRT GUN: 2011 Oldenburg gelding by Diarado x Quick Star
PAUL O'SHEA (IRL), Eye Candy Jumpers: 0/0/38.70
3. DICAS: 2009 Rheinlander gelding by Diarado x Cassini I
MARGIE ENGLE (USA), Storm Ridge Capital LLC, Show Horses, Garber and Gladewinds Partners LLC: 0/0/39.31
4. DEZ OOKTOFF: 2008 KWPN stallion by Colandro x Lys Rouge
ROBERTO TERAN TAFUR (COL), Roberto Teran Tafur: 0/0/42.69
5. VINCI DE BEAUFOUR: 2009 Selle Français gelding by Diamant de Semilly x Heartbreaker
DARRAGH KENNY (IRL), Devon MacNeil: 0/4/37.52
6. AGANA VAN HET GERENDAL Z: 2011 Zangersheide stallion by Aganix Du Seigneur x Naminka
LILLIE KEENAN (USA), Chansonette Farm, LLC: 0/4/38.11
7. AMEX Z: 2009 Zangersheide Mare by Andiamo Z x Landaris
TODD MINIKUS (USA), Bit By Bit Group: 0/4/38.97
8. GAMBLE: 2011 KWPN gelding by Vingino x Indoctro
CONOR SWAIL (IRL), Asta Torokvei: 0/4/39.72
9. VERY CHIC DU TILLARD: 2009 Selle Français gelding by Diamant de Semilly x Quidam de Revel
GAVIN HARLEY (IRL), E2 Showjumpers: 0/4/40.27
10. INDUS VAN HET KEYSEREYCK: 2008 Gelding
CAMILO RUEDA GIRALDO (COL), Camilo Rueda Giraldo: 0/4/41.44
11. KATANGA VAN HET DINGESHOF: 2010 BWP mare by Cardento 933 x Tabelle DIngeshod Z
NICOLA PHILIPPAERTS (BEL), Nicola Philippaerts: 0/8/40.36
12. UNCLE BLUE: 2008 Swedish Warmblood gelding by Chacco Blue x Robin Z
SPENCER BRITTAN (USA), Spencer Brittan: 0/8/41.35
For full results from $137,000 Palm Beach County Sports Commission Grand Prix CSI3*, please click HERE.
Knowledge is Key as Kenny Picks up First and Third in $35,000 Wellington Agricultural Services Spring III Grand Prix
To wrap up an exciting day of competition, 39 horse-and-rider combinations jumped the $35,000 Wellington Agricultural Services Spring III Grand Prix. A total of 13 pairs qualified to return for the jump-off, including Ireland's Darragh Kenny, who rode all four of his entries to clear efforts in the opening round.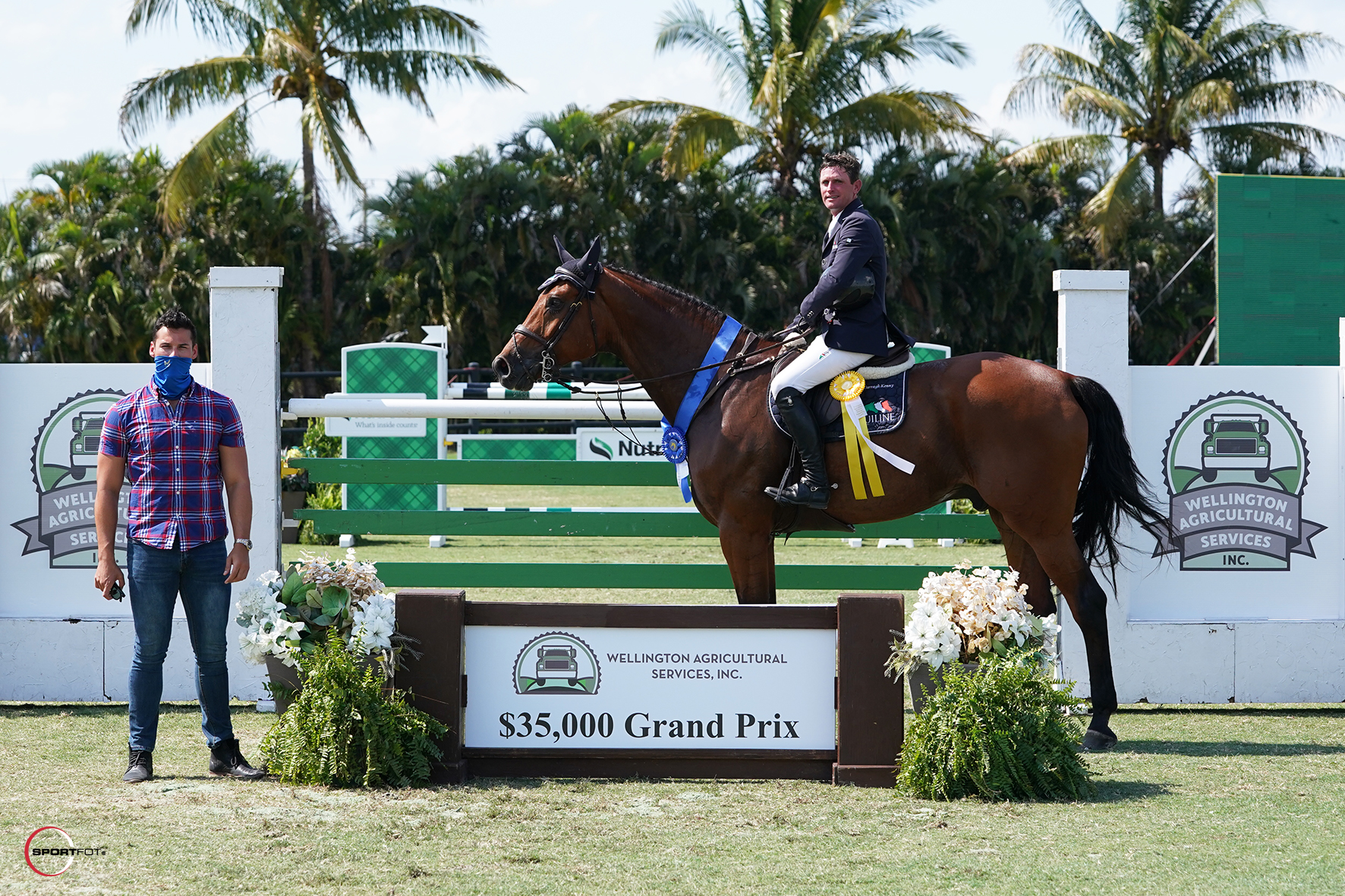 Kenny capitalized on the opportunity of riding the track multiple times, landing on the podium with two of his rides. It was with his final entry, Sangris Boy, owned by Heathman Farm, LLC, that the ninth-ranked rider in the world picked up the victory. Kenny and the 11-year-old British Sport Horse gelding by Sandro Boy x Gorona flew to a double-clear finish, stopping the clock in an impressive 35.73 seconds.
"I tried to jump clear," he said with a laugh. "I knew Michael [Murphy] was very fast and I'm just getting to know all my horses so I just went as fast as I could and hoped the jumps stayed up. Luckily, they did. They're all very good horses. They're all new, this is my first week showing all four of them, but they're all very talented. They're all different types with different jumps, but all careful, scopey, and really easy to ride."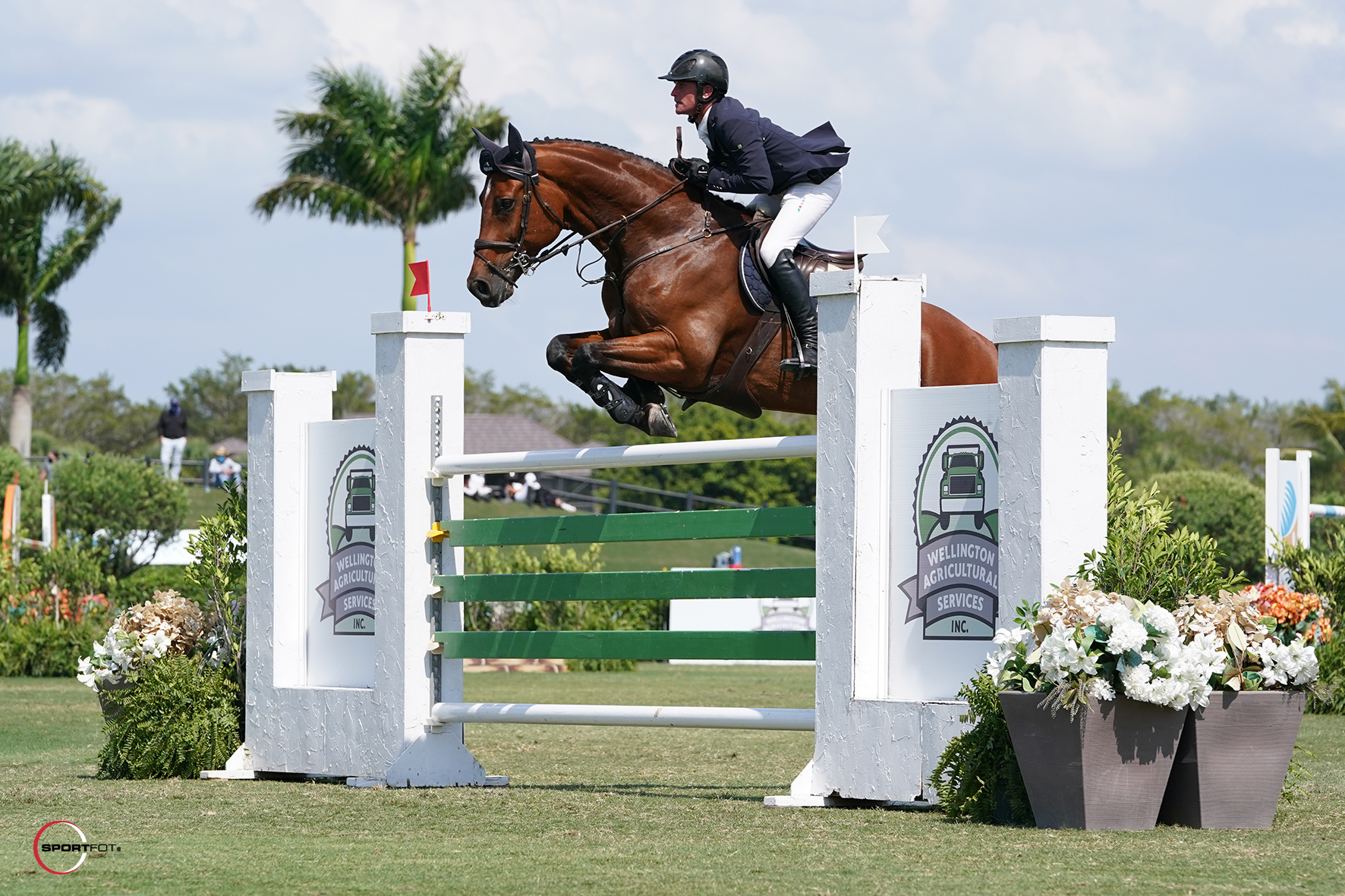 "I think Guilherme [Jorge] does a great job," Kenny continued. "He's always done a great job. The three-star was a super class today with a great jump-off and this was a very exciting jump-off, as well. I think he's one of the best course designers and he did a great job all week."
Michael Murphy (USA) put forth an impressive double-clear effort of his own aboard the Ilan Ferder-owned entry, Catoki's Son Z. Murphy and the 12-year-old Zangersheide gelding by Catoki x Aldo du Reverdy posted a time of 36.21 seconds to finish in second place.
Kenny continued his successful day with a third-place finish aboard Crispo R, owned by Kerry McCahill. He and the eight-year-old Holsteiner gelding by Casall x San Patrignano Corrado crossed the finish line in 37.59 seconds.
For Kenny, the victory comes at the end of a lengthy and very successful campaign during the winter season in Wellington, FL. He picked up numerous wins throughout the 2021 WEF and was crowned overall champion of CaptiveOne Advisors 1.50m Classic Series during WEF 12.
Following Sunday's class, Kenny was also named the overall winner of the Omega Alpha 1.35m Series. For his success, he was given a $500 bonus and a $500 Omega Alpha Products gift certificate, after capturing the title through consistent results during the first three weeks of the 2021 ESP Spring Series.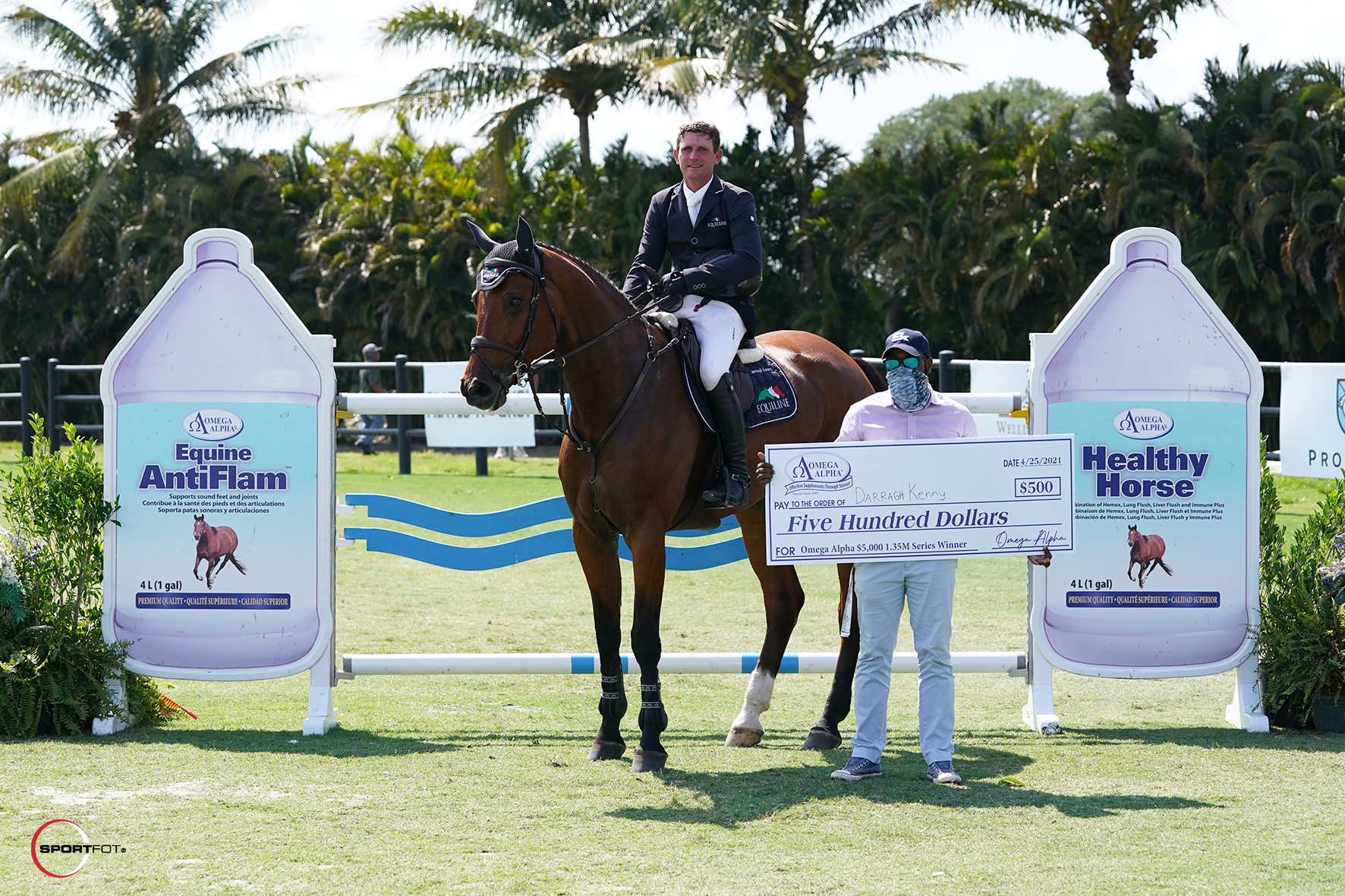 "I'm tired, that's for sure," he said after his 15th straight week of competition. "I've been really lucky; we've had a great circuit and all the horses have been brilliant. We have a fantastic group of staff that work so hard to try and make all of this happen. I'm really happy."
Hunter Highlights
Over at the Palm Beach International Equestrian Center (PBIEC), hunters were showcased throughout the week. On Sunday, J.J. Torano of Wellington, FL, guided H.G. Mud Puddles, owned by JET Show Stable, to the championship honors in the Dover Saddlery Small Pony Hunter division. The dynamic duo won the under saddle and also picked up a first, two thirds, and a sixth-place ribbon over fences.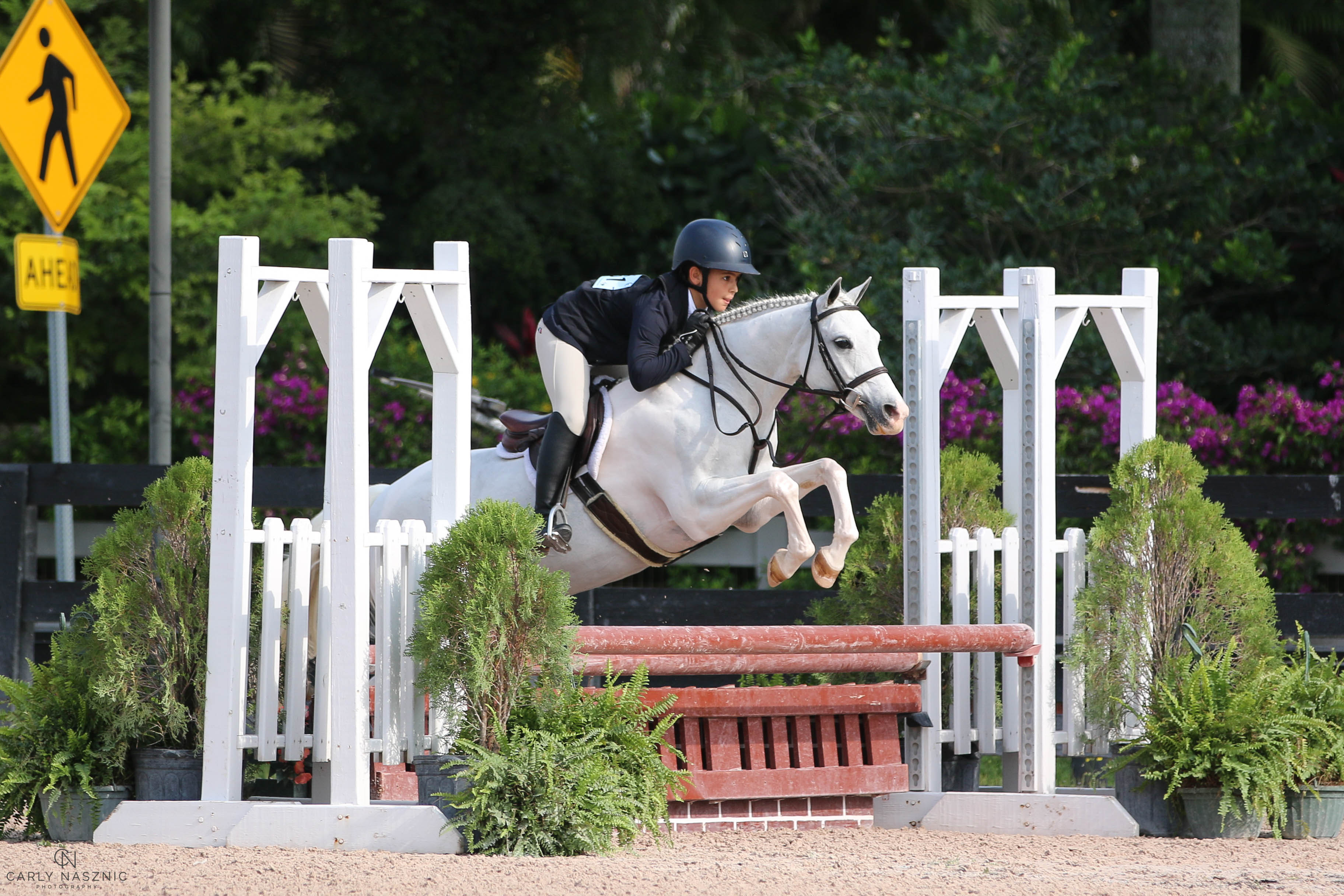 Olivia Sweetnam of Wellington, FL, piloted Secret Crush, owned by Jill Shulman, to the reserve championship ribbon, highlighted by a victory in the handy. The pair were also the winners of the $500 Small Pony Hunter Classic, sponsored by Dover Saddlery.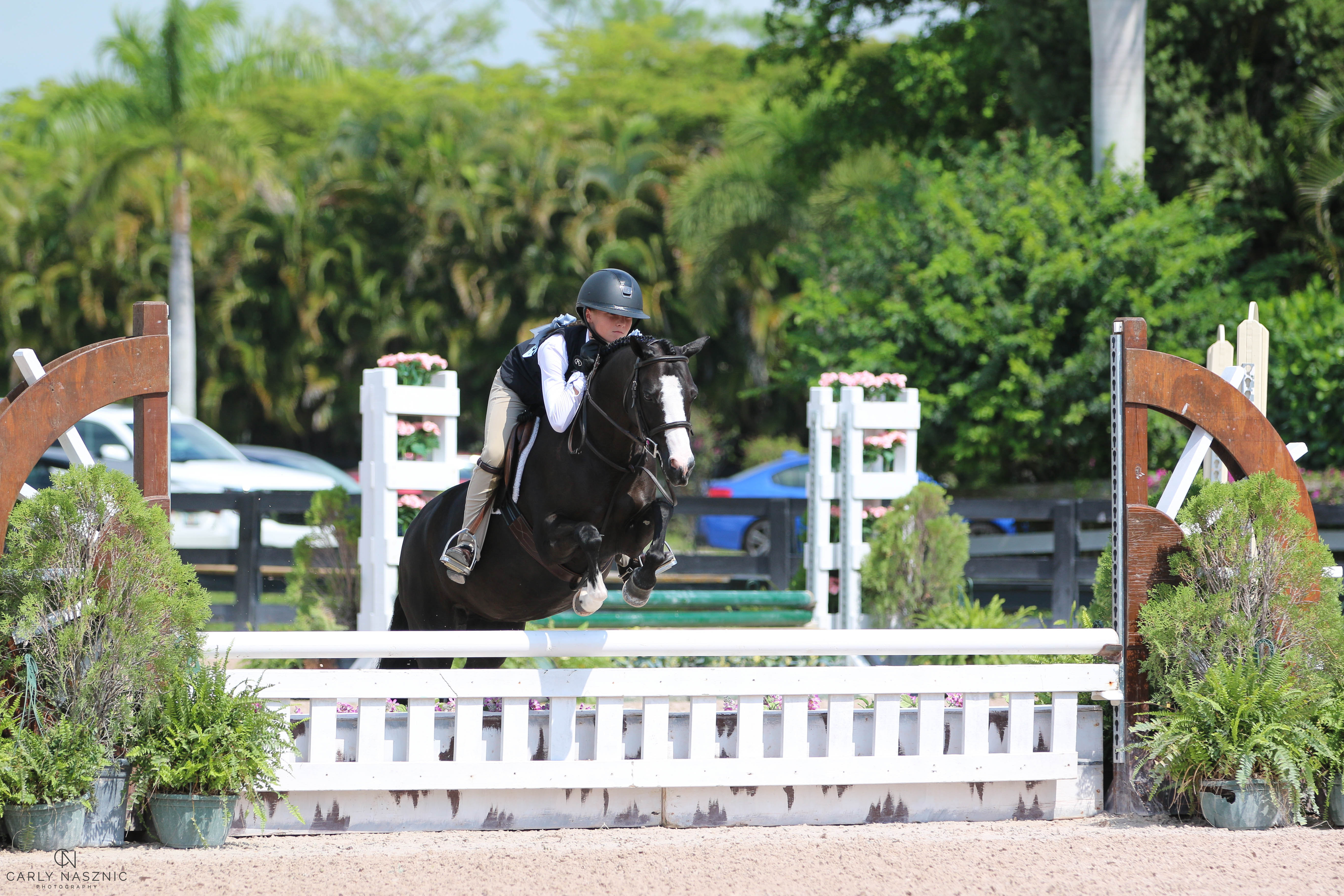 After finishing fourth in Friday's $10,000 USHJA National Hunter Derby, presented by Palm Beach Equine Clinic, Ellen Toon of South Salem, NY, rode Gabriel, owned by J T Farm, to the tricolor in the Amateur-Owner Hunter 3'6" division sponsored by Vita Flex. The pair earned a first, second, and two thirds over fences while also placing sixth in the under saddle. Callie Seaman of Greenwich, CT, and her own Prolific earned reserve championship honors in the division with a pair of wins, a fourth, and a seventh.
Raina Swani of Ponte Verda Beach, FL, and Small Occasion, owned by Shadowfax Equestrian, LLC, took home the overall title in the Large Junior Hunter 3'6″ 15 & Under division sponsored by #1 Education Place. The pair captured the championship with two firsts, a second and fifth over fences, along with a win in the under saddle. Small Occasion also captured Friday's $10,000 USHJA National Hunter Derby, presented by Palm Beach Equine Clinic, with Geoffrey Hesslink in the irons.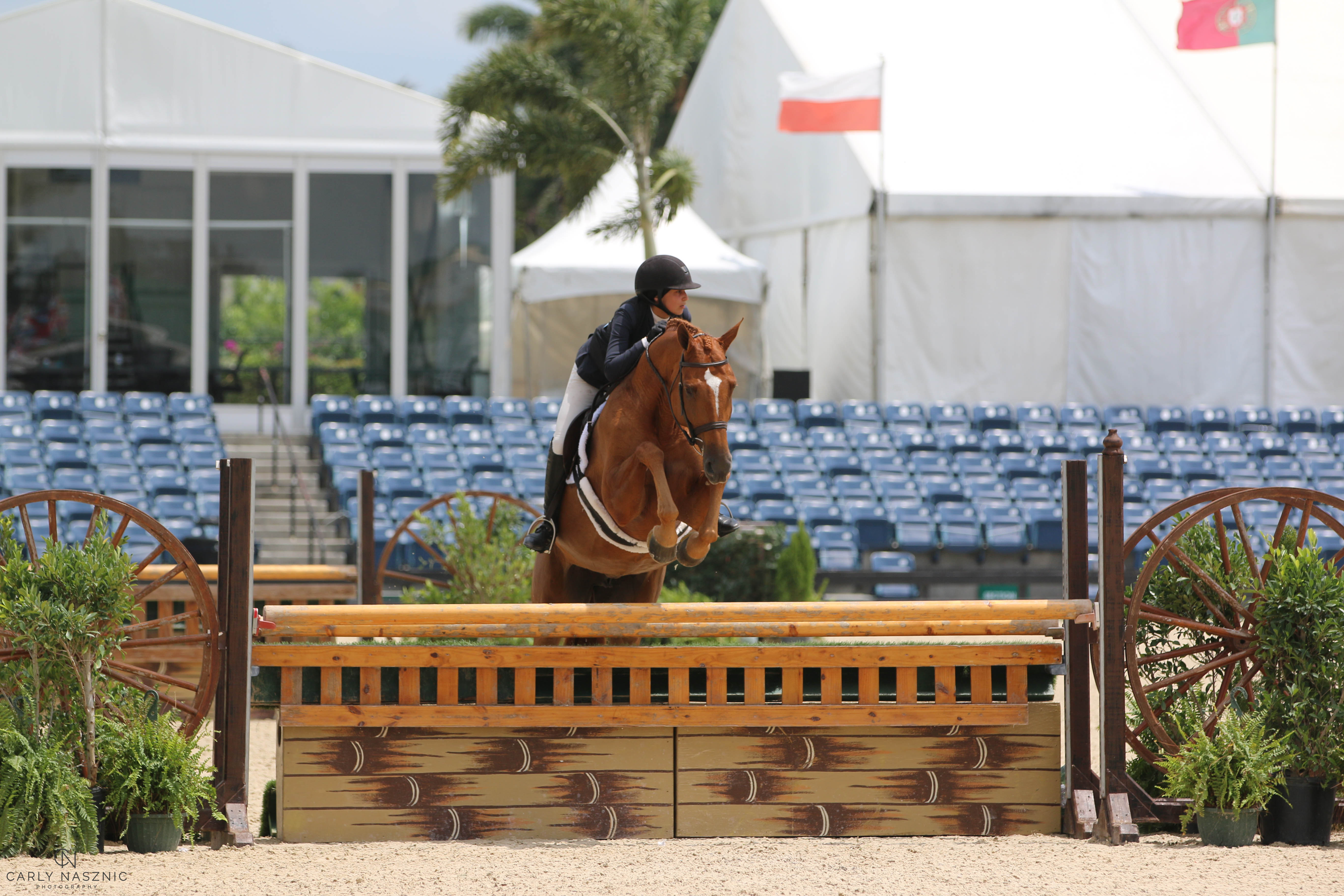 Savonna Adell of Palm Beach, FL, and Rockaway were reserve champions in the division after winning an over fences class, jumping to three second-place finishes and a fifth-place finish in the under saddle. Adell and Rockaway also wrapped up a stellar weekend with a win in the $1,000 Junior Hunter 3'3"/3'6" Classic sponsored by #1 Education Place.
To view the prize list for the 2021 ESP Spring Series, please click HERE.
To learn more about the safety protocols and procedures at the horse show, please click HERE.
Photo credit © Sportfot and © Carly Nasznic Photography. These photos may only be used once in relation to this press release with proper credit.