For Immediate Release
Jennifer Wood and Sabrina Brashares for Jennifer Wood Media, Inc.
Wellington, FL – February 26, 2021 – Daniel Deusser (GER) delivered his second five-star win in two days on Friday, February 26, in the $37,000 Bainbridge Companies 1.45m Classic CSI5* with Kiana van het Herdershof, owned by Stephex Stables, at the 2021 Winter Equestrian Festival (WEF).
Week 7 of WEF runs from February 24-28 and features exciting CSI5* competition sponsored by Lugano Diamonds, along with a concurrent CSI2*. On Saturday night all eyes will be on the $401,000 Lugano Diamonds Grand Prix CSI5* as part of "Saturday Night Lights," followed by the $73,000 CaptiveOne Advisors 1.50m Classic CSI5* and $50,000 Griffis Residential Grand Prix CSI2* taking place on Sunday. Spectators can watch feature classes live and on demand for free using the livestream.
There were 56 entries in the 1.45m speed class, jumping over a course designed by Anthony D'Ambrosio (USA) and Andy Christiansen (ECU). There were 21 clear rounds. Starting out the class as the first to go was McLain Ward (USA) on Catoki, a 12-year-old Holsteiner gelding by Catoki x Cartello B owned by Ward, Marilla van Beuren, and Bob Russell. They sped around clear in 59.44 seconds, which would hold up for second place.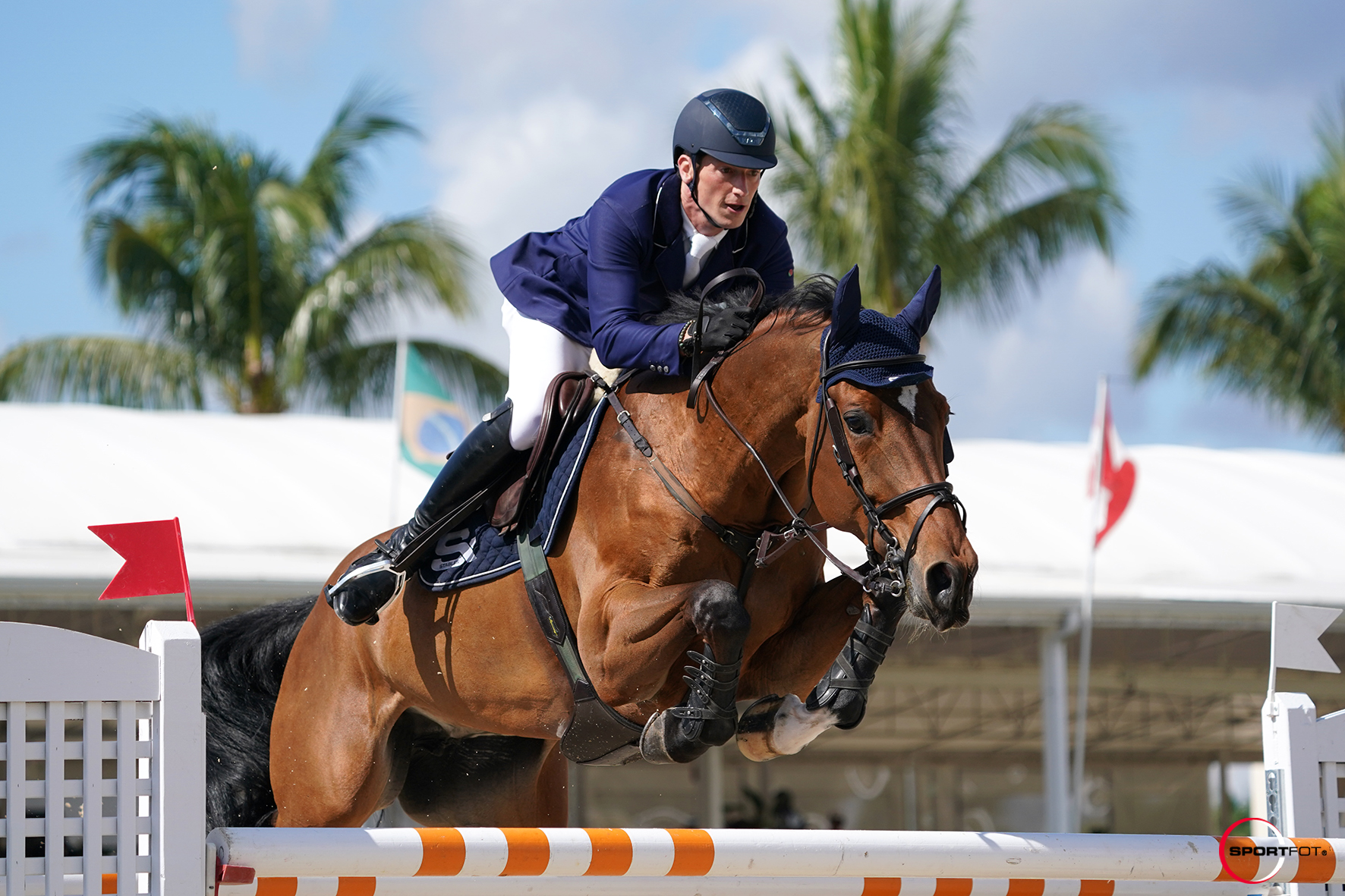 Deusser and Kiana van het Herdershof went just two trips later, putting in a blazing fast time of 59.12 seconds that would hold up through the entire class for victory.
"I watched McLain a little bit and knew he had a very fast horse as well, so I tried to do the turns a little bit tighter and it worked out," admitted Deusser. "If you wanted to win today you really had to try.
Third place went to Kristen VanderVeen (USA) and Bull Run's Faustino de Tili. Vanderveen and the 16-year-old Belgian Warmblood stallion by Berlin x Darco owned by Bull Run Jumpers Five LLC were clear in 59.64 seconds.
Deusser and Kiana van het Herdershof have already won two 1.50m classes at WEF this year.
"She is naturally a very fast horse," he said of the 11-year-old BWP mare by Toulon x Starlight VD Hemelseschoot. "She is one that wins and that I use more for speed classes, and I have to say she was pretty consistent here. It's not easy on a horse if you ask too many times to go fast because sometimes they know a little bit already which direction you have to go, and faults can happen that way. But already two weeks ago she did a fantastic job here and then again today; it's quite unbelievable."
Deusser termed Kiana as a "very nervous horse," which helps with more speed in the ring, but that she does tend to be quieter at home.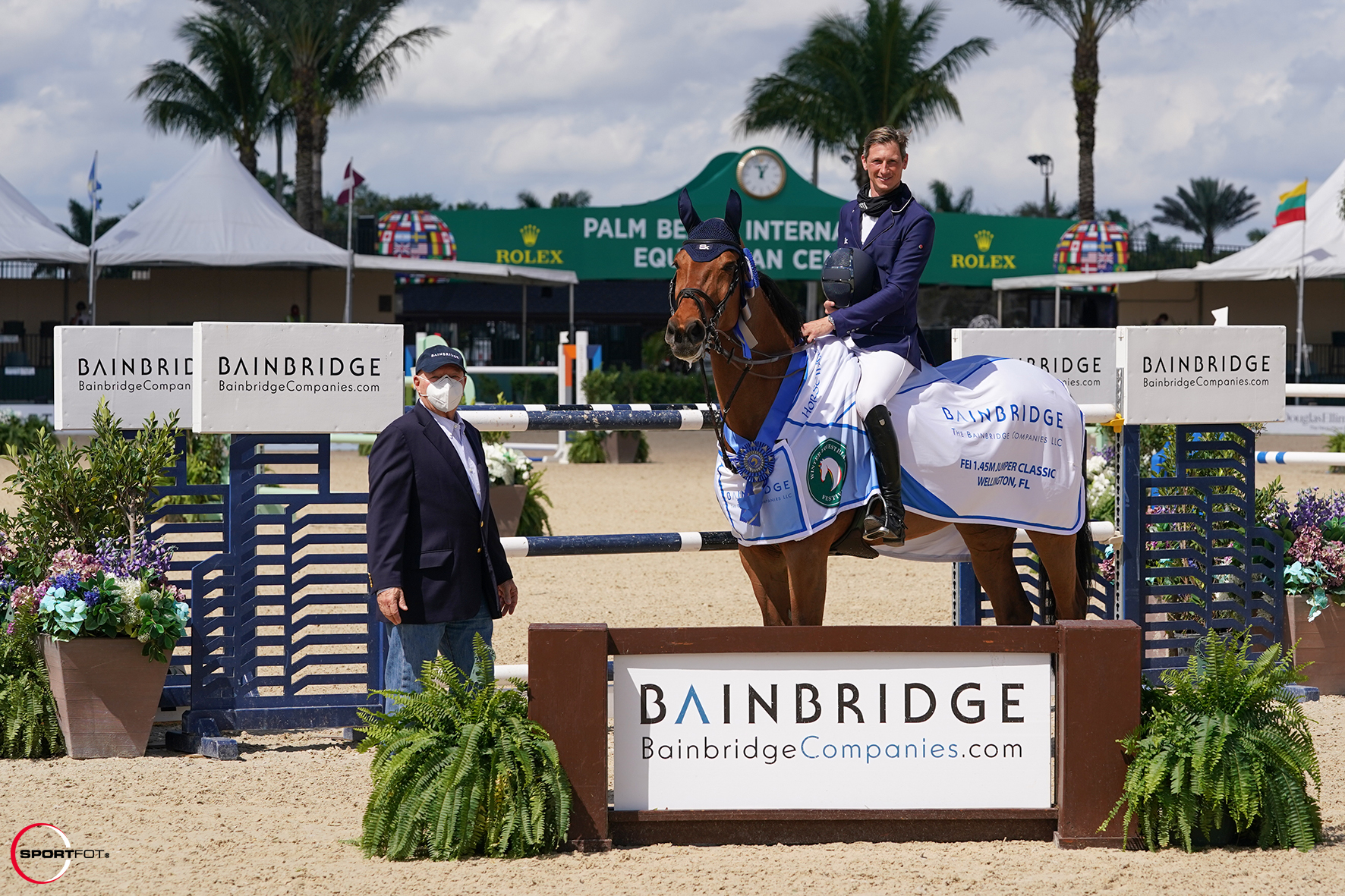 "She knows what is the show and what is home, but the excitement at the show is also her strength," he said. "In the end that's why she wants to fight in the ring. She wants to be careful in the ring, and that's why she's also fast. In that class even if you have a fast horse and you want to win, as a rider it's not enough to just want to win. You need to have a competitive, fast horse, otherwise you can't win a class like that."
Final Results: $37,000 Bainbridge Companies 1.45m Classic CSI5*
1. KIANA VAN HET HERDERSHOF: 2010 BWP mare by Toulon x Starlight VD Hemelseschoot
DANIEL DEUSSER (GER), Stephex Stables: 0/59.12
2. CATOKI: 2009 Holsteiner gelding by Catoki x Cartello B
MCLAIN WARD (USA), Marilla van Beuren, Bob Russell & McLain Ward: 0/59.44
3. BULL RUN'S FAUSTINO DE TILI: 2005 Belgian Warmblood stallion by Berlin x Darco
KRISTEN VANDERVEEN (USA), Bull Run Jumpers Five LLC: 0/59.64
4. UNE DE L'OTHAIN: 2008 Selle Français by Conterno Grande x Cento
HARRIE SMOLDERS (NED), Evergate Stables LLC: 0/60.33
5. OAKS REDWOOD: 2005 Warmblood gelding by ASB Conquistador x Verdi
NAYEL NASSAR (EGY), Evergate Stable LLC: 0/61.68
6. RMF CHACCO TOP: 2009 Hanoverian stallion by Chacco Blue x Graf Top
MICHAEL DUFFY (IRL), Rushy Marsh Farm LLC: 0/62.56
7. ADELITA: 2011 SSW mare by Candillo 3 x Acord II
LILLIE KEENAN (USA), Helen Signe Ostby:0/63.05
8. BALOUTINUE: 2010 Hanoverian gelding by Balou du Rouet x 8 Landor S
ADAM PRUDENT (USA), Plain Bay Farm: 0/63.88
9. GERDINIEKE: 2011 KWPN mare by Bacardi VDL x Cornieke
JOHN PEREZ (COL), Daniel Rihan Salum: 0/65.47
10. UNIVERS DU VINNEBUS: 2008 Selle Français stallion by Luccianno x Grenat de Graz
ZOE CONTER (BEL), Stephex Stables: 0/66.32
11. H5 SUNSHINE: 2006 Belgian Warmblood gelding by Diamant de Semilly x Hardi
CARLOS HANK GUERREIRO (MEX), H5 Sport Horses, LLC: 0/66.73
12. BALLYHEERIN BAY STAR: 2011 Irish Sport Horse gelding by Fanad West Air Jordan C x Drossan
DANIEL COYLE (IRL), Ariel Grange: 0/68.04
Speedy Finish for Charlie Jayne and Amice Z in $37,000 Griffis Residential 1.45m Qualifier CSI2*
Ten clear rounds went for speed out of the original 73 entries in the $37,000 Griffis Residential 1.45m Qualifier CSI2* in the International Arena. As each horse went in the ring, the leading time kept dropping, but it was Charlie Jayne (USA) and his own Amice Z who recorded the fastest clear round in the jump-off in 35.55 seconds.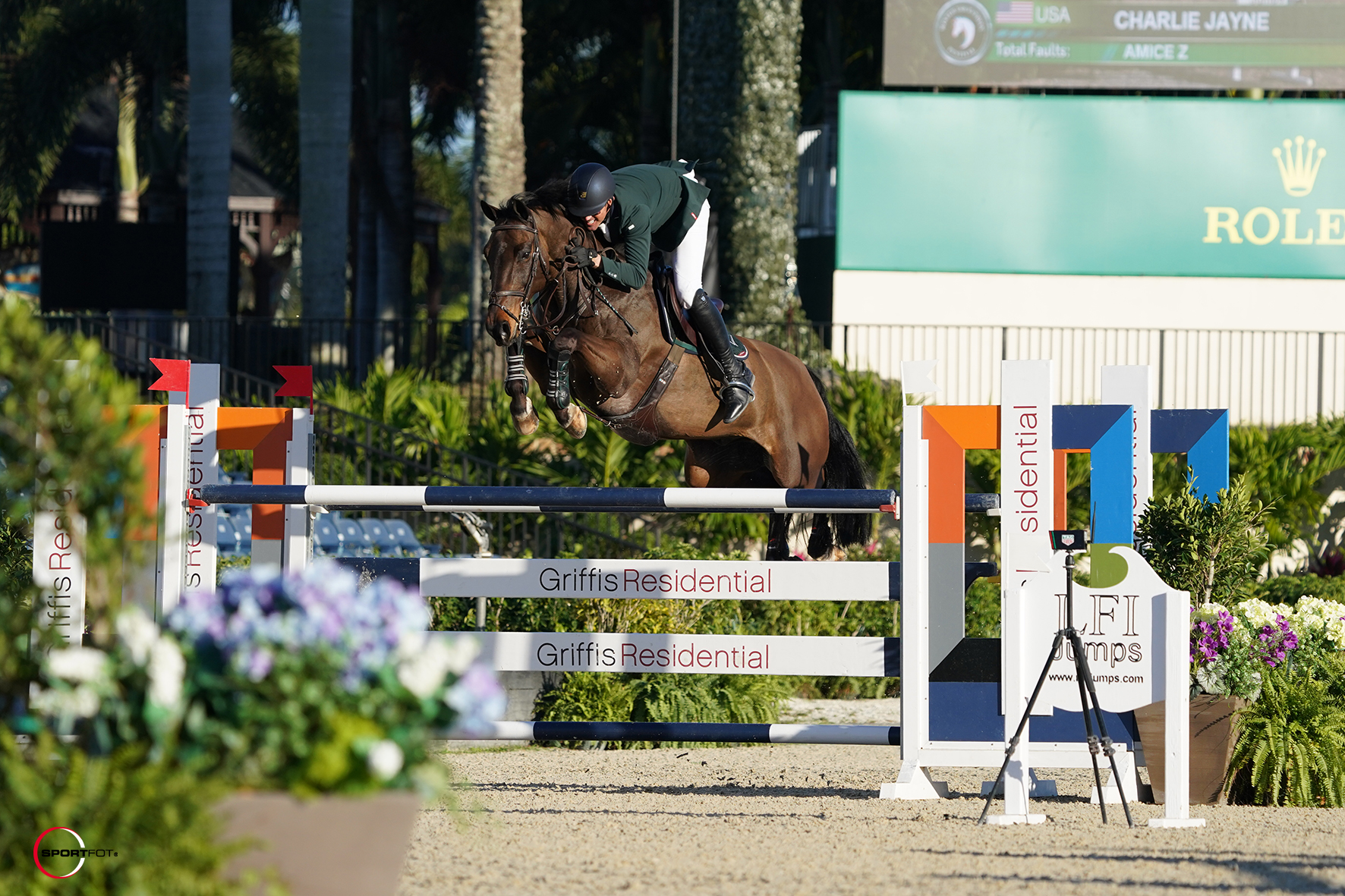 "That was probably, I'm going to have to say, the fastest jump-off I've ever done with him," revealed Jayne. "This being the two-star level and him doing bigger stuff lately, I felt confident that I could test it out today. I did the leave out one to two. The winner did eight [strides] on the rollback, and I challenged him there. I thought the one place I could do [faster] is if I could gallop over to the double [combination], and he came up waiting and tried his butt off for me there. After he tried so hard there, I did eight where some people did seven and hoped for a better rollback, and it worked out. I said, 'Let's do this' to the last [jump], and he answered the call beautifully. He was right there for me."
Second place went to Lacey Gilbertson (USA) and Viti de Longa, owned by Seahorse LLC. Gilbertson and the 12-year-old Selle Français mare by Contendro I x Galoubet A were close behind in 36.37 seconds.
Just one more tenth of a second slower and slotting into third place were Olivia Chowdry (USA) and Atlas Equine Holding LLC's Chuck Berry 8. The 14-year-old Hanoverian gelding by Chacco Blue x Watzmann finished in 36.46 seconds.
This is Jayne's fourth season with "Mouse," a horse that he has ridden to top finishes in FEI competition such as the American Gold Cup and the President's Cup Grand Prix at Washington International Horse Show in 2020.
The talented mount can transition from two-star up to five-star competition easily, and it turns out that after a few years as a hunter, he has the scope for a top FEI horse.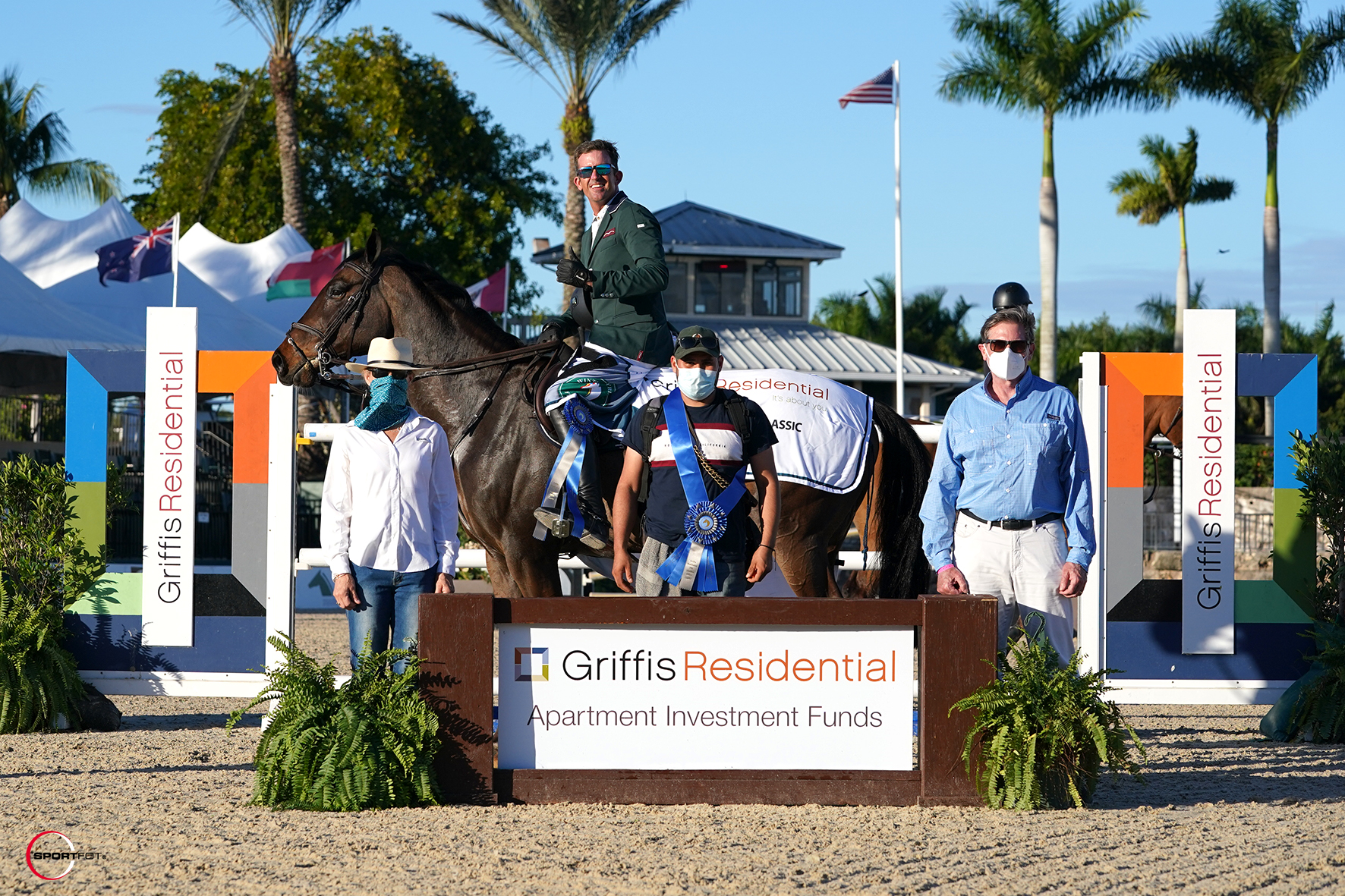 "When I purchased him, he was just stepping up into two-star FEI classes with Andrew Welles," said Jayne of the 14-year-old Zangersheide gelding by Air Jordan Z x Odermus R. "Compared to a lot of other grand prix horses, he likes to carry his head way lower, like a hunter. He actually did the three-foot hunters in Virginia for three years, from when he was seven up until the beginning of his 10-year-old year. Then he went over to the jumper ring.
"His strong suit is that he's extremely careful," he continued. "He's been a great horse for me to try and pick and choose two-star up into the five-star level classes and count that if I ride him correctly, we are going to be clear or only have one down. At home, he loves going on trails and he's a happy camper."
Since Amice Z is "better the more he shows," and this is only his second week competing this year, Jayne plans to compete him in Sunday's $50,000 Griffis Residential Grand Prix CSI2*, and since he is qualified for next week's CSIO as an individual, he will ride Amice Z and Claire du Lune, his nine-year-old mare that won the $6,000 Griffis Residential 1.40m Jumpers on Wednesday.
Final Results: $37,000 Griffis Residential 1.45m Qualifier CSI2*
1. AMICE Z: 2007 Zangersheide gelding by Air Jordan Z x Odermus R
CHARLIE JAYNE (USA), Charlie Jayne: 0/0/35.55
2. VITI DE LONGA: 2009 Selle Français mare by Contendro I x Galoubet A
LACEY GILBERTSON (USA), Seabrook LLC: 0/0/36.37
3. CHUCK BERRY 8: 2007 Hanoverian gelding by Chacco Blue x Watzmann
OLIVIA CHOWDRY (USA), Atlas Equine Holdings LLC: 0/0/36.46
4. CAT NINJA: 2008 KWPN mare by VDL Zirocco Blue x Corland
JACQUELINE STEFFENS (CAN), Eye Candy Jumpers: 0/0/36.70
5. BILLY DORITO: 2010 Anglo European Studbook gelding by Billy Mexico x Vechta
STEPHEN MOORE (IRL), Vlock Show Stables LLC: 0/0/36.83
6. TIPSY DU TERRAL: 2007 Selle Français mare by Toulon x Quat'Sous
EMILY MOFFITT (GBR), Poden Farms: 0/0/37.28
7. MALLE BABBE VAN'T KIEVELD: 2012 BWP mare by Emerald x Orlando
DAVID ARCAND (CAN), Les Productions Yapasdemots: 0/0/37.86
8. GOTICO DI CA' SAN GIORGIO: 2011 Italian Sport Horse gelding by Diamant de Semilly
MARIA SCHAUB (USA), Evergate Stables LLC: 0/4/37.15
9. J'ADORE VAN HET KLINKHOF: 2009 BWP mare by Thunder vd Zuuthoeve x Alcatraz
RODRIGO LAMBRE (BRA), Rodrigo Lambre: 0/4/38.17
10. AMERICAN: 2010 Italian Sport Horse mare by Baedeker x Locato
LUIS LARRAZABAL (VEN), San Francisco Stables LLC: 0/4/39.06
11. DONJO: 2008 KWPN gelding by Zirocco Blue VDL x Ahorn
HYDE MOFFAT (CAN), Ariel Grange: 1/71.08
12. HILTON VAN DE BREEPOEL: 2007 BWP gelding by Contact van de Heffinck x Opium
BRITTNI RAFLOWITZ (ISR), ESI Showjumpers Inc.: 1/71.13
Kelsey Epperson and Augusta Iwasaki Earn Top Honors in the $10,000 USHJA National Hunter Derby
Hunter riders took over the Derby Field at Equestrian Village on Friday for the $10,000 USHJA National Hunter Derby. The class was split into two sections with 47 riders competing in the professional division, sponsored by Restylane, and 44 riders in the junior/amateur division. Kelsey Epperson piloted Didgereedoo VDL to the blue ribbon in the professional section and Augusta Iwasaki rode Hamilton to a victory in the junior/amateur division.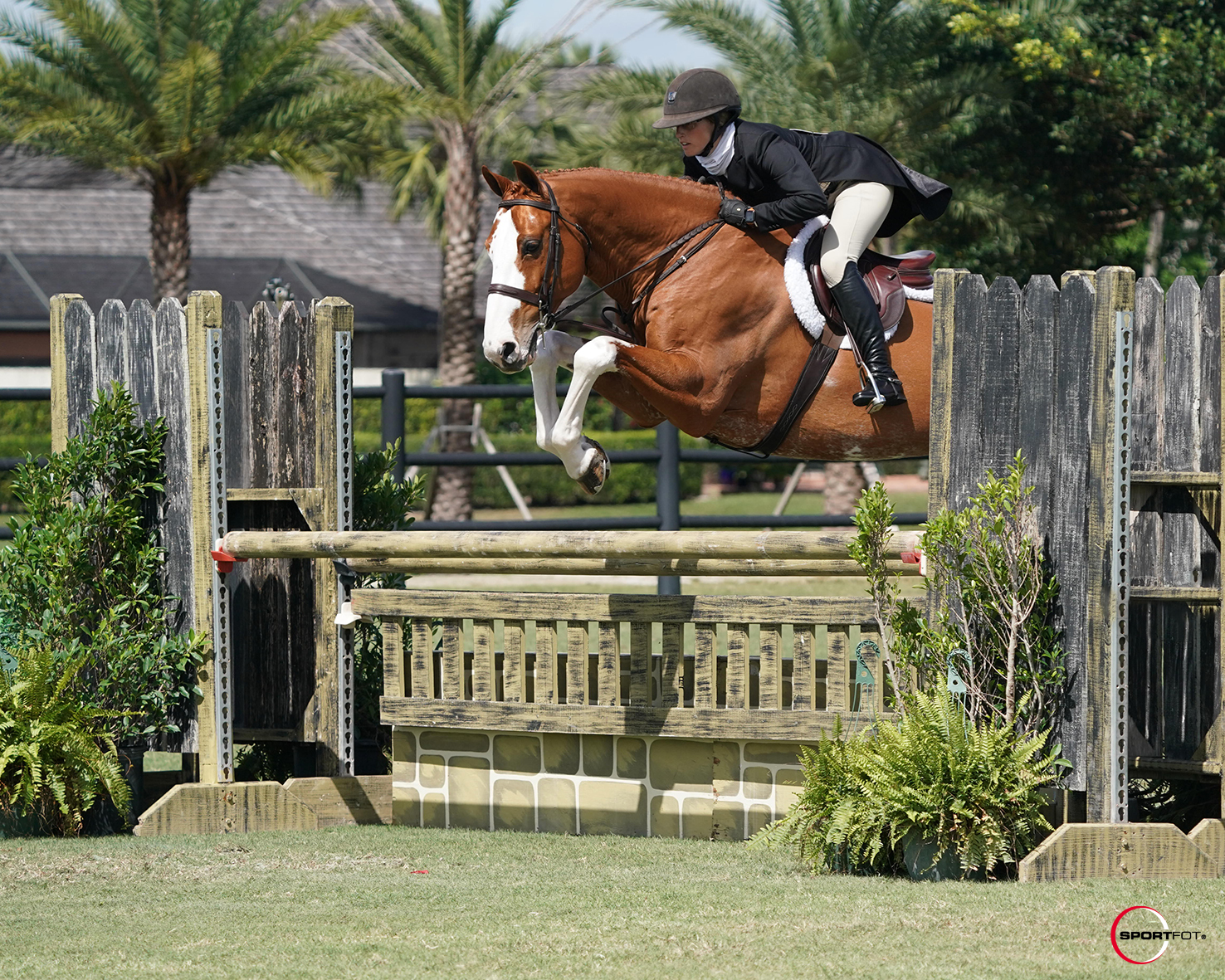 Ninety-one competitors navigated their way around the first round course consisting of 12 fences and offering four high options. The top 12 riders from each section returned for the handy round course, which was trimmed down to 10 fences and included a trot jump.
Epperson, of Novi, MI, has had the ride on Julia Szasz's Didgereedoo VDL for almost two years, and this class marks the duo's first hunter derby win together. The 13-year-old Dutch Warmblood gelding by Zavall VDL was originally purchased from the WEF Sport Horse Auction as a jumper but proved to be a successful hunter.
"His owner shows him in the junior hunters, but she's at home this week so she let me show him in the derby," explained Epperson. "In Traverse City we started to do some of the derbies with him, and we thought it would be fun to go around the field. Although he was bought as a jumper, he is definitely going to stay doing the hunters after today!"
Epperson rode Didgereedoo VDL to a score of 90.5 in the first round with all four high options, which put them in third place. The pair impressed the judges in the handy round to earn a high score of 97 and put them at the top of the class with an overall score of 187.5.
"I love that the first round did not have a lot of related distances so I could just get on a gallop and let him take me around," commented Epperson. "In the handy I was most worried about the bending [line] from [jumps] three to four because he often lands right and I was not sure what I was going to do there, but I just listened to him and he stayed right with me the whole time. He could not have been any better."
Epperson plans to show Didgereedoo VDL in the USHJA International Hunter Derby taking place week nine as well as derbies later in the year.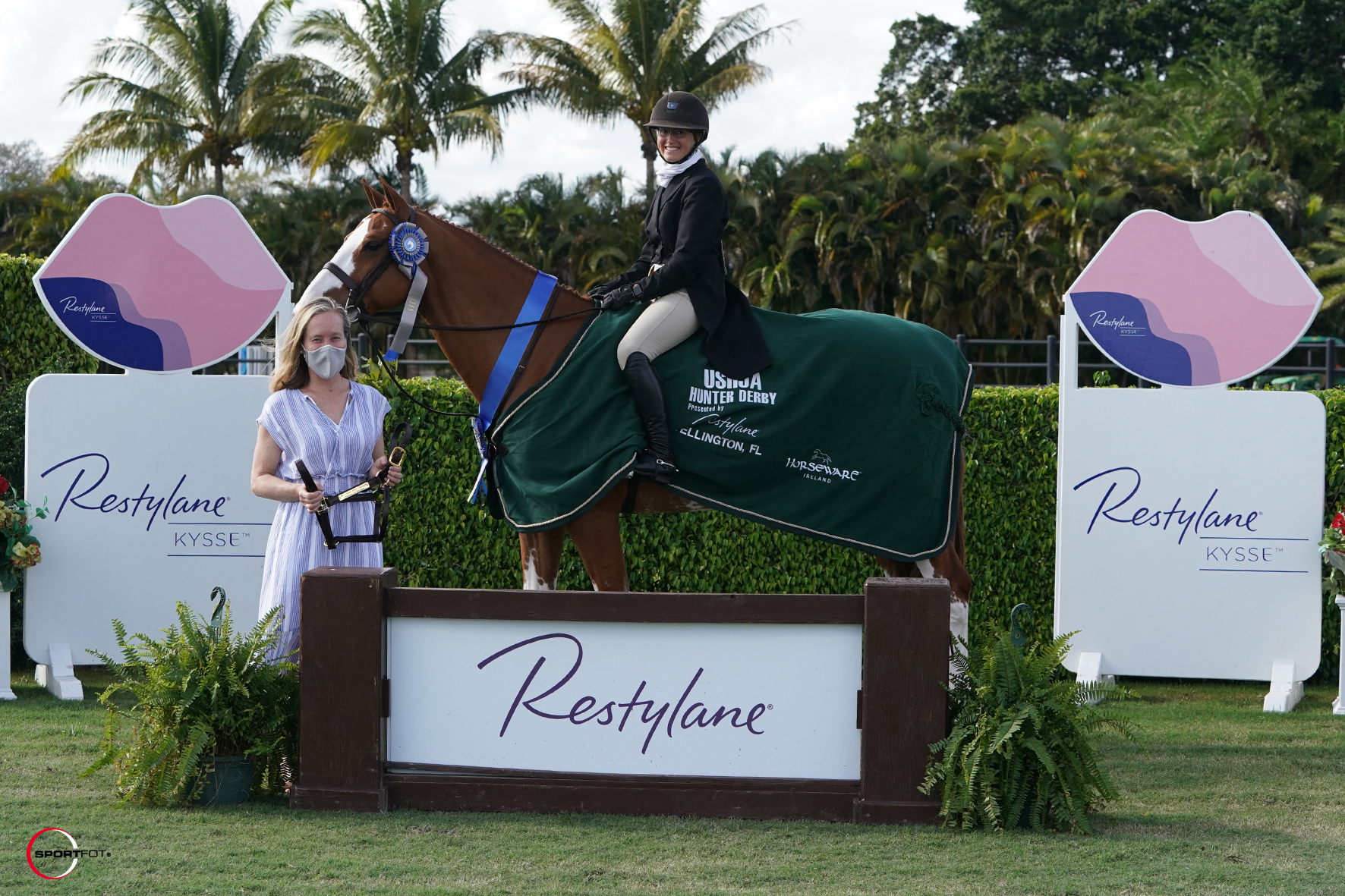 Second place in the professional section, presented by Restylane, went to Laena Romond, of Brookfield, CT, and Rachel Suna Britchkow's Someday. The pair received an overall score of 183. To round out the top three, Greg Crolick, of Clarkston, MI, rode Carole Chase's Chappy to a total score of 181.75.
Iwasaki, of Calabasas, CA, piloted Sara Hogan's Hamilton to win both rounds of the junior/amateur division. The nine-year-old Dutch Warmblood gelding by Apache is a new ride for Iwasaki, and today the pair proved that they are a great match.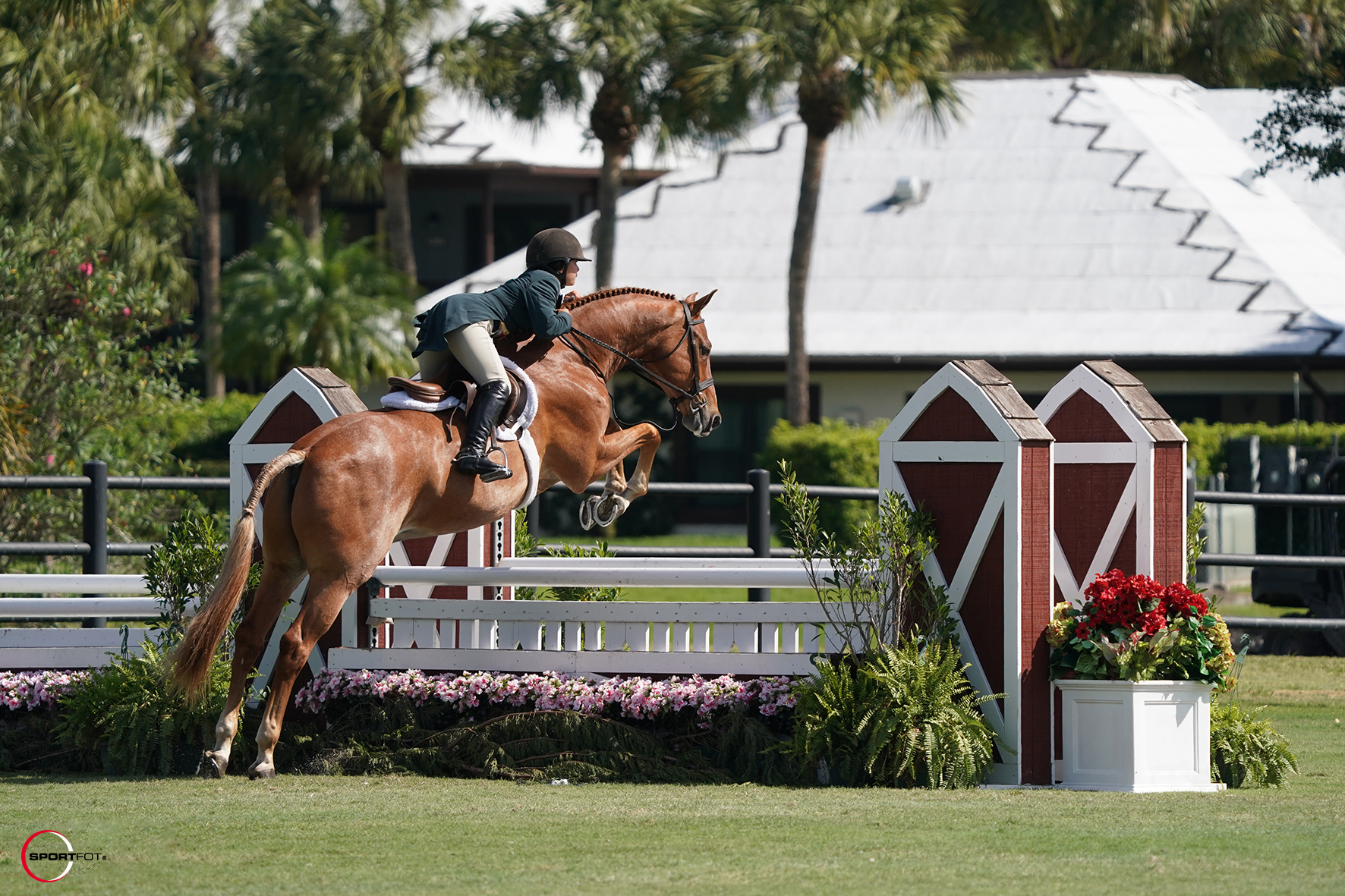 "I started showing him a few weeks ago in the junior hunters, and he is really an awesome and reliable horse," said Iwasaki. "I showed him week six in the International Arena and every ring I've taken him in, he's been so good and a lot of fun."
Iwasaki and Hamilton jumped all four high options to earn a first round score of 96. Last to return for the handy in the junior/amateur division, Iwasaki and her mount produced another high score of 94 hold their lead and take home the blue ribbon.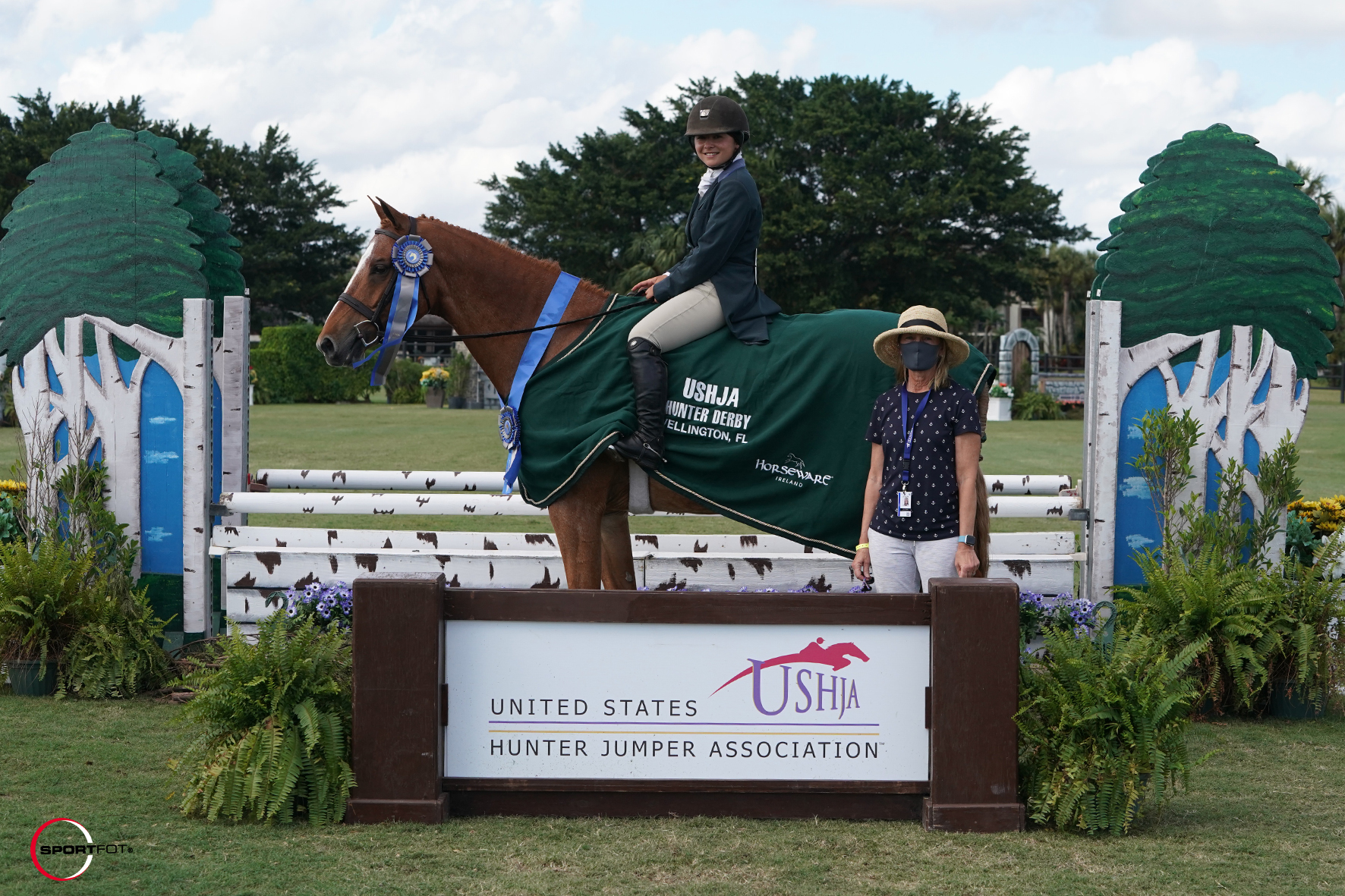 "I loved my first round, and I thought that Hamilton stayed consistent the whole time," commented Iwasaki. "He also jumped some really nice jumps and had a great expression going around the ring. I had already done the handy twice [with other horses], so I planned to do the same track and try to keep it as smooth as possible, while still being efficient."
Iwasaki also rode to a second place finish with Iwasaki & Reilly's Small Kingdom after receiving an overall score of 183.5. Ellen Toon, of South Salem, NY, piloted JT Farm's Gabriel to third place with a total score of 175.
Jumper competition on Saturday will feature the $401,000 Lugano Diamonds Grand Prix CSI5* in the International Arena under the lights. Equitation competition will continue with the Adult Amateur Equitation taking place in FarmVet Ring 7.
Final Results: $10,000 USHJA National Hunter Derby
Horse, Rider, Owner
Round 1 Score, Round 2 Score | Total
Professional Section, presented by Restylane
1 Didgereedoo VDL, Kelsey Epperson, Julia Szasz
90.50, 97.00 | 187.50
2 Someday, Laena Romond, Rachel Suna Britchkow
93.00, 90.00 | 183.00
3 Chappy, Greg Crolick, Carole Chase
89.75, 92.00 | 181.75
4 Cloud 9, Kelly Mullen, Eve Meyer
89.00, 90.00 | 179.00
5 Front Page, Colin Syquia, Cynthia Sulzberger
90.00, 88.00 | 178.00
6 Baron Z, Tiffany Morrissey, Heidi Chase
88.50, 78.00 | 166.50
7 MTM Mini Cooper, Joyce Mersereau, Anne Keesler
88.75, 76.00 | 164.75
8 Zalandra, Hannah Isop, Harry Littler
88.65, 74.00 | 162.65
9 Clem Brecourt, Hannah Isop, Tracy Freels
91.00, 71.00 | 162.00
10 Big Business, Maria Rasmussen, Maya Grove
89.65, 72.00 | 161.65
11 Carousel, Hannah Isop, Lisa Longo
89.50, 68.00 | 157.50
12 Hallmark, Maria Rasmussen, Maya Grove
89.25, 59.00 | 148.25
Junior/Amateur Section
1 Hamilton, Augusta Iwasaki, Sara Hogan/
96.00, 94.00 | 190.00
2 Small Kingdom, Augusta Iwasaki, Iwasaki & Reilly
91.50, 92.00 | 183.50
3 Gabriel, Ellen Toon, JT Farm
91.00, 84.00 | 175.00
4 Mayfair, Stephanie Bulger, Stephanie Bulger
82.75, 81.00 | 163.75
5 Happy Boy, Isa Jensen, Isa Jensen
82.50, 76.00 | 158.50
6 End Game WS, Annie McDonald, Annie McDonald
92.00, 63.00 | 155.00
7 Dodger of the Lowlands, Olivia Sell, Brook Hill Farm, LLC
83.00, 68.00 | 151.00
8 Quixotic, Julie Hogan, Linda Evans & Orion Farm
86.50, 64.00 | 150.50
9 Cheveaux, Georgia Jacobs, Georgia Jacobs
83.50, 63.00 | 146.5
10 Talisman, Augusta Iwasaki, Janet Beyersdorfer
82.00, 49.00 | 131.00
11 Sazerac, Isabel Beltran, IMB of Jupiter LLC
84.00, 39.00 | 123.00
12 Lordanos, Daphne Garrett, Postage Stamp Farm, LLC
86.00, 00.00 | 86.00