For Immediate Release
Jennifer Wood Media, Inc.
Wellington, FL – March 4, 2022 – The highlight class on Friday, March 4, of the 2022 Winter Equestrian Festival (WEF) week 8, sponsored by Premier Equestrian, was the $25,000 Hermès Under 25 Semi-Final Grand Prix. Sixteen-year-old Caroline Mawhinney (USA) triumphed over a field of 66 competitors with her own Stella Levista.
The top young talent in show jumping showed up for the Hermès Under 25 Semi-Final Grand Prix, the third grand prix event of the series, which offers a variety of opportunities for U25 riders to experience grand prix competition against their peers. Nick Granat (USA) and Steve Stephens (USA) set a challenging course that included a triple combination and an open water, over which just nine of the opening field finished clear. 
See Caroline Mawhinney's winning jump-off here!
As the pacesetters in the opening round, 21-year-old Isabella Russekoff (USA) and Balou's Fly High, owned by Suave Pony LLC, were the first to tackle the jump-off course. They set a quick time of 39.85 seconds with a clear round that would hold up for third place.
Russekoff has a long-term partnership with Balou's Fly High; she started riding the 15-year-old Oldenburg stallion by Balou Du Rouet x Grandeur seven years ago.
"He has taken me from the 1.20m to the two-star grand prix level, so we know each other really well," affirmed Russekoff. "When I come in here, I feel really confident that I can go and put in a solid round. I know he will try his hardest, so I just have to try my hardest."
The Hermès Under 25 Grand Prix Series gives young riders the chance to compete on the grass Derby Field, in the Global International Arena in a team environment, and under the lights in the Semi-Final before the top 30 riders qualify for the $50,000 Final Grand Prix during WEF 10.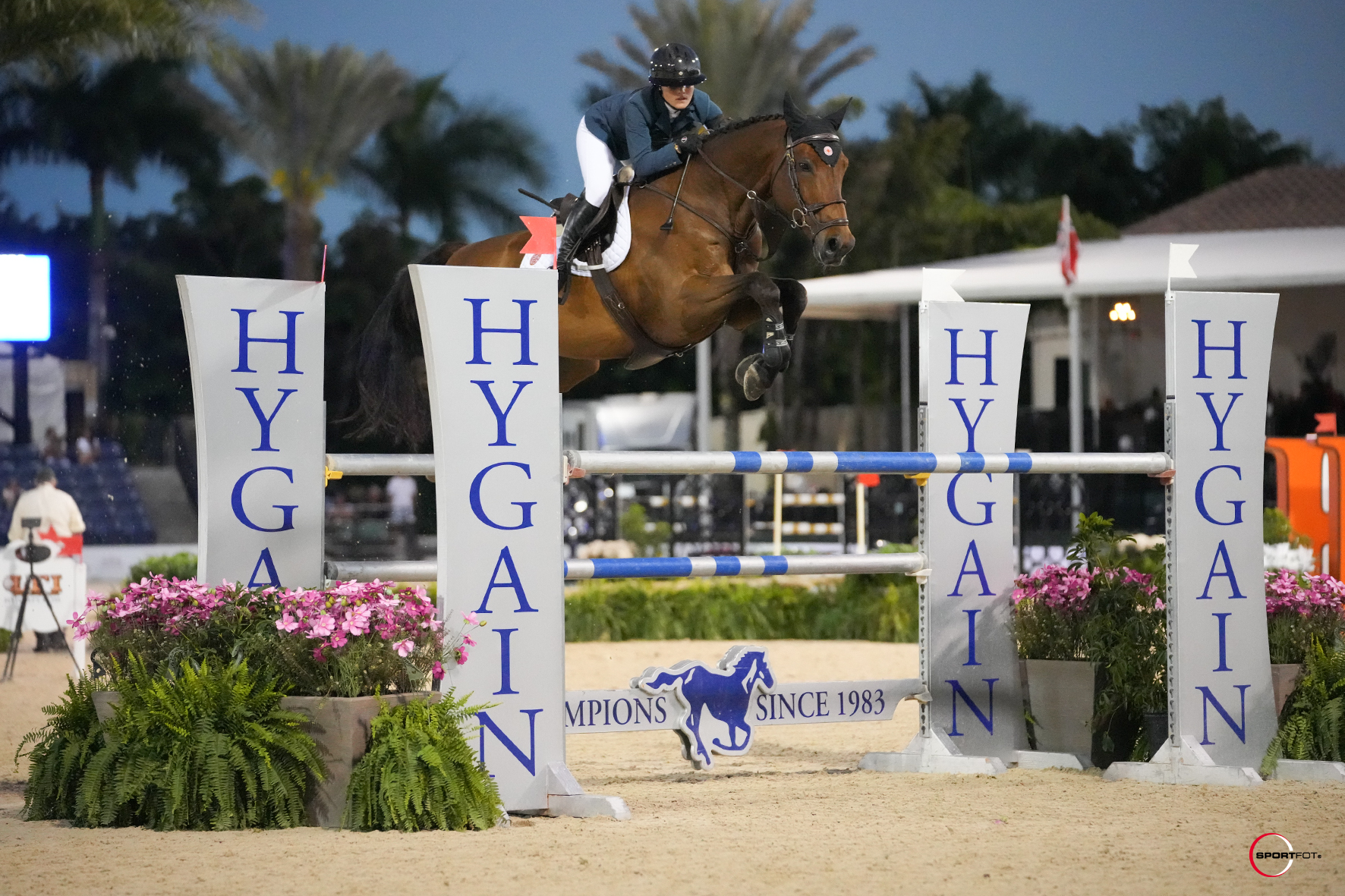 Russekoff noted, "I love jumping under the lights. Actually, two years ago in this same class, he jumped clear as well and that was our last under the lights competition. I think it's really fun and special that the U25 division gives us the opportunity to prepare for the upper levels."
Francis Derwin (IRL) and Scarlett du Sart Z, owned by Vlock Show Stables LLC, were next into the jump-off. They blazed through in 35.87 seconds, but a rail down for four faults left them in fifth place. Summer Hill (USA) riding hers and Andrea Simpson's La Belle SCF also had four faults in 39.37 seconds to place seventh. Hallie Grimes (USA) and Ace, owned by Can We Keep It? LLC, notched five faults in 47.35 seconds to finish eighth. Gigi Moynihan (USA) and Christy Johson's Erle were clear in 40.31 seconds, which netted them fourth place. With four faults in 36.95 seconds, Natalie Dean (USA) and Dotcom d'Authuit, owned by Marigold Sporthorses LLC, would finish in sixth place.
Next in were Mawhinney and Stella Levista. They zoomed through the short course in 35.56 seconds with no faults to go straight to the top of the leaderboard, and with two remaining that were slower or had faults, they held the winning spot.
Caitlyn Connors (USA) and Falcon de Hus, owned by Caitlyn Connors LLC, slid into second place with a speedy clear round in 39.63 seconds. Last in the jump-off was Stella Wasserman (USA) riding her own Iphigeneia de Muze. They had eight faults in 46.77 seconds and finished in ninth place.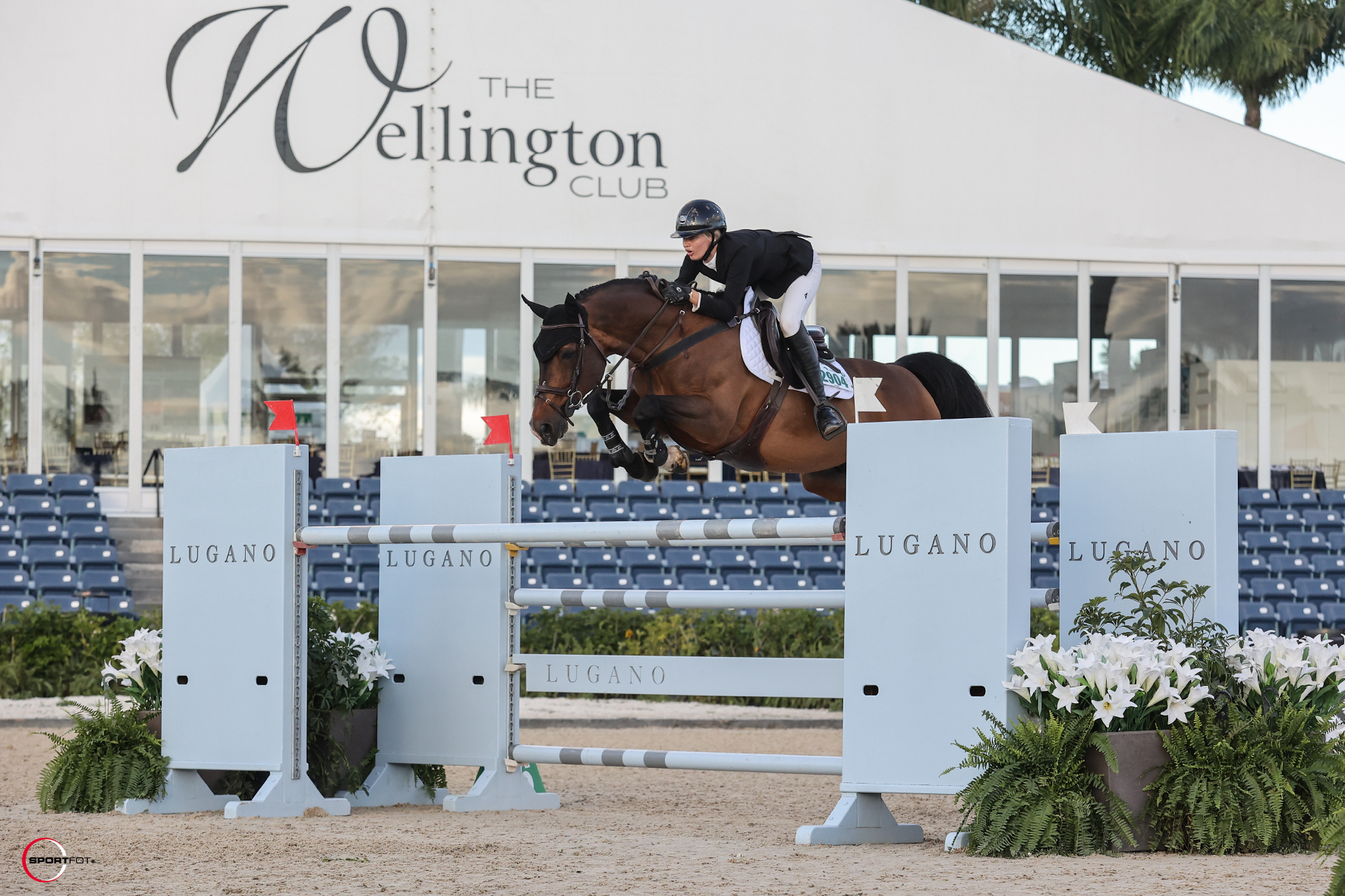 "First I want to thank Scotty Keach for giving me this horse," said Connors of the 13-year-old Zangersheide gelding by Florian De La Vie x Adlantus As FRH. "I actually only got him about a month ago and I haven't been riding him very much, but the partnership has been going super well. I really enjoy riding him and working with Scotty."
Connors, who is 21 years old, has participated in the Under 25 series for six years. She remarked, "It was super exciting tonight to be able to get in there and have a top three placing. It was even more exciting to be able to do that for Scotty who is trusting me with this horse of his; I'm really glad we were able to pull that out from under our belts."
Talking about the course for the class, Connors explained, "The course was no joke tonight, that's for sure. I know that my horse has the scope, so I just needed him to trust me. It's Nations Cup week, so there are a bunch of new jumps that are spooky, and the water jump is there. The triple [combination] was very see through and tall, and a lot of horses struggled with that. I'm so thrilled with the way he was able to handle this course. I had no doubt in him; it was just a matter of if I could hold it together. I'm really happy with how it went."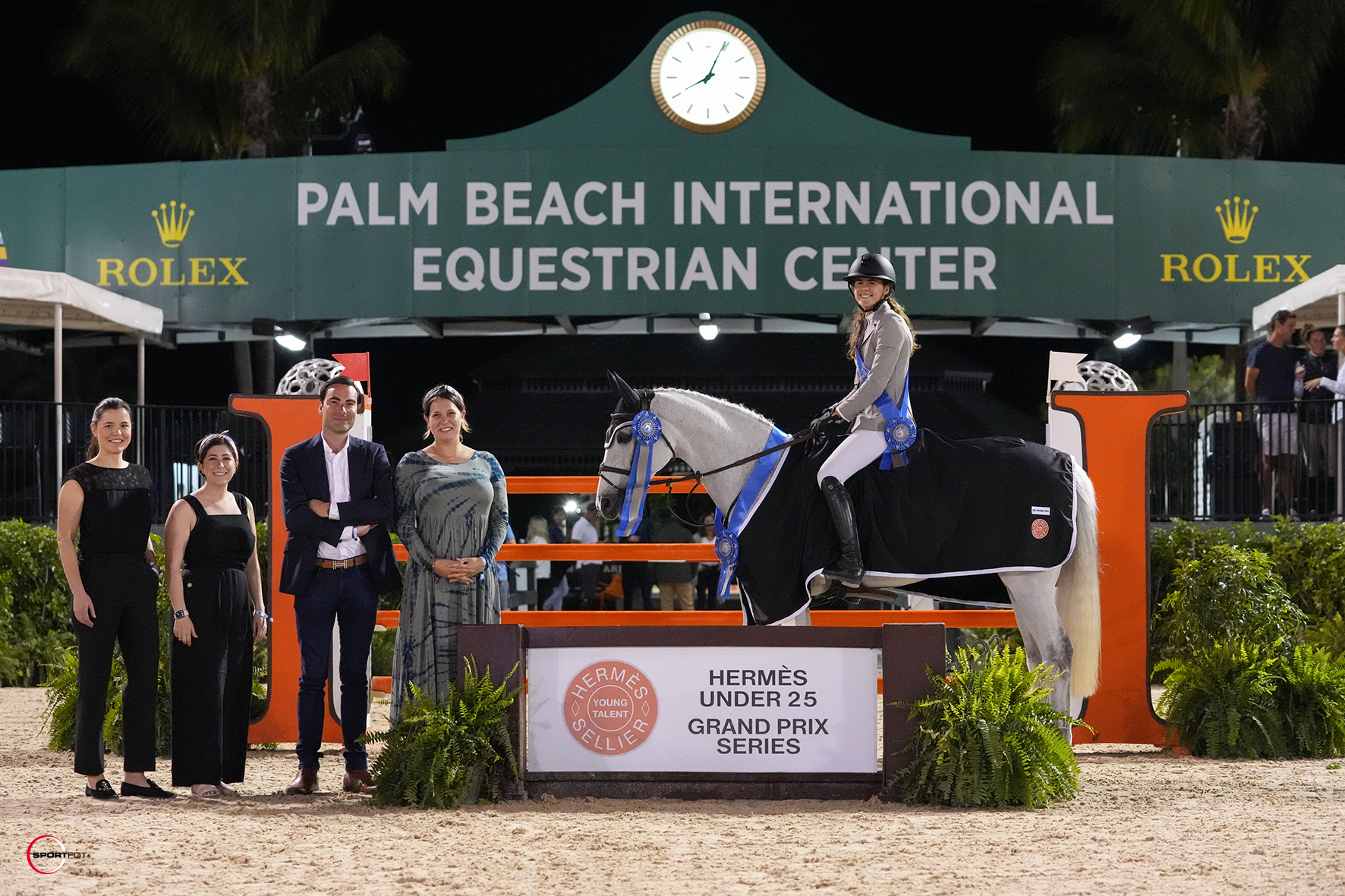 For Mawhinney, the jump-off plan consisted of making the most of the turns and using the footspeed of her "tiny, but mighty" horse.
"My horse is naturally really quick across the ground, which I knew going in," she said of her 14-year-old Hanoverian mare by Satisfaction FRH x Levisto. "We don't have that much stride, so I tried to win on the turns and just get the strides done that I could. For example, from fence two to three a-b, the eight strides was very difficult, but I made sure I got it done so I could be waiting and quick around to the vertical. She's just really fast in general."
Mawhinney and Stella Levista have had major victories in their two-year career together already, including riding for the gold-medal-winning United States team in the 2021 FEI Youth Nations Cup Jumping Final. This win ranked high as well.
"It means a lot to win this grand prix here tonight," she said. "I was definitely a bit nervous going in, but I trusted her. I want to thank my amazing trainer Jessica Mendoza, my groom Elaina, and my amazing family for coming to support me."
Final Results: $25,000 Hermès Under 25 Series Semi-Final 
1. STELLA LEVISTA: 2008 Hanoverian mare by Satisfaction FRH x Levisto
CAROLINE MAWHINNEY (USA), Caroline Mawhinney: 0/0/35.56
2. FALCON DE HUS Z: 2009 Zangersheide gelding by Florian De La Vie x Adlantus As FRH
CAITLYN CONNORS (USA), Caitlyn Connors LLC: 0/0/39.63
3. BALOU'S FLY HIGH: 2007 Oldenburg stallion by Balou Du Rouet x Grandeur
ISABELLA RUSSEKOFF (USA), :0/0/39.85
4. ERLE: 2012 Holsteiner mare by Diarado x Quinar Z
GIGI MOYNIHAN (USA), Christy Johnson: 0/4/40.31
5. SCARLETT DU SART Z: 2010 Zangersheide mare by Stakkato x First Bride
FRANCIS DERWIN (IRL), Vlock Show Stables LLC :0/4/35.87
6. DOTCOM D'AUTHUIT: 2013 Selle Francais mare by Diamant De Semilly x Quidam De Revel
NATALIE DEAN (USA), Marigold Sporthorses LLC: 0/4/36.95
7. LA BELLE SCF: 2011 BWP mare by Diktator Van De Boslandhoeve x Baldini
SUMMER HILL (USA), Summer Hill and Andrea Simpson: 0/4/39.37
8. ACE: 2005 KWPN gelding by Berlin x Irco Polo
HALLIE GRIMES (USA), Can We Keep It LLC: 0/5/47.35
9. IPHIGENEIA DE MUZE: 2008 BWP mare by Erco Van T Roosakker x For Pleasure
STELLA WASSERMAN (USA), Stella Wasserman: 0/8/46.77
10. FABREGAS: 2010 KWPN gelding by Zambesi TN x Achill /Libero H
ALEXANDRA SMITH (USA), Ashland Farms: 2/77.33
11. ENANDA: 2009 KWPN mare by Nabab De Reve x Holland
LUCY DESLAURIERS (USA), Luja LLC:4/69.16
12. SONIC BOOM: 2012 Swedish Warmblood gelding
HAILEY ROYCE (USA), Hailey Royce: 4/69.30
Grace Debney and Zarina De Vidau Zoom to the Top of the $37,000 Douglas Elliman Real Estate 1.45m CSIO4*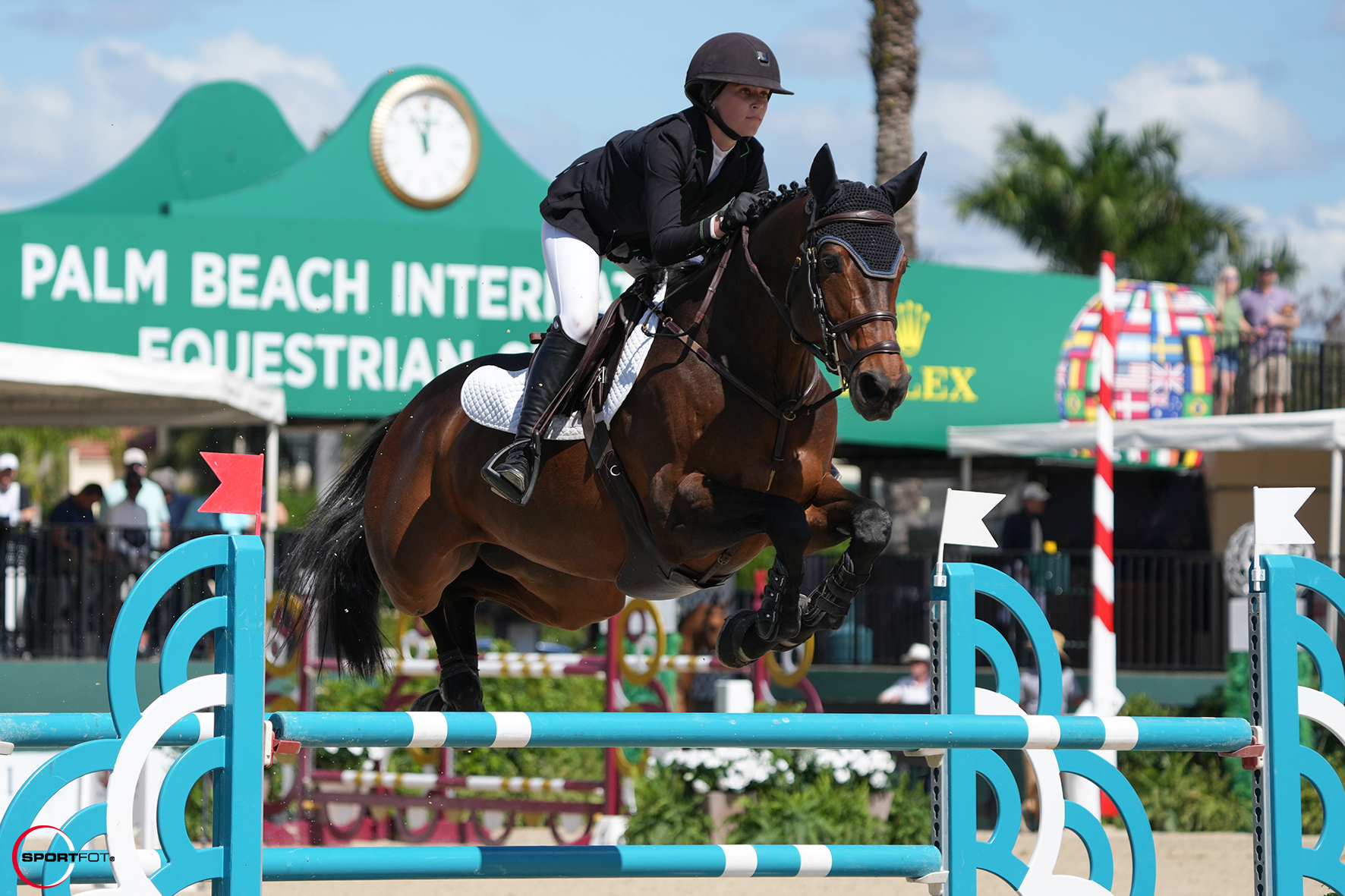 Daytime competition in the International Arena highlighted the $37,000 Douglas Elliman Real Estate 1.45m CSIO4*. Course designers Granat and Stephens set a delicate, single-round track that would see 46 horse-and-rider combinations elect to contest the course. John Perez (COL) and Gigi-Carmen wasted no time kicking the class into gear as the first in the line-up to go and laid down a fast, clean trip from the start. An impressive 22 combinations managed to successfully navigate the test without penalty but 15 would suffer a single dropped obstacle.
Ultimately Perez's efforts left him with eighth place as a class of elite competitors followed and continued to raise the bar. Of the 19 nations represented in the field, it was Great Britain's anthem that was played as young talent Grace Debney (GBR) and her long-time partner Zarina De Vidau rose as the victors of the event. The 18-year-old athlete and Temple Equestrian LLC's 12-year-old CDE mare (Diamant De Semilly) stopped the clock in a blazing 56.10 seconds.
"I definitely wanted to go for it today," affirmed Debney. "I had one rail down in the qualifier yesterday but I had the time, so I was especially hungry for it today. We went a bit early in the class, so I went for the win to the best of my ability because I knew there were still a lot of top riders to follow that were chasing for it."
The pair have already led one victory gallop this season after racing to the lead in the $50,000 Helgstrand Jewellery 1.45m Grand Prix CSI2* during the fourth week of the series.
"She was just supposed to be my step-up horse into the high amateurs, but she has done so much more than we ever thought she would," added Debney. "I think a big part of that has to do with the relationship we have with one another; she has all of the heart and always wants to get the job done for me."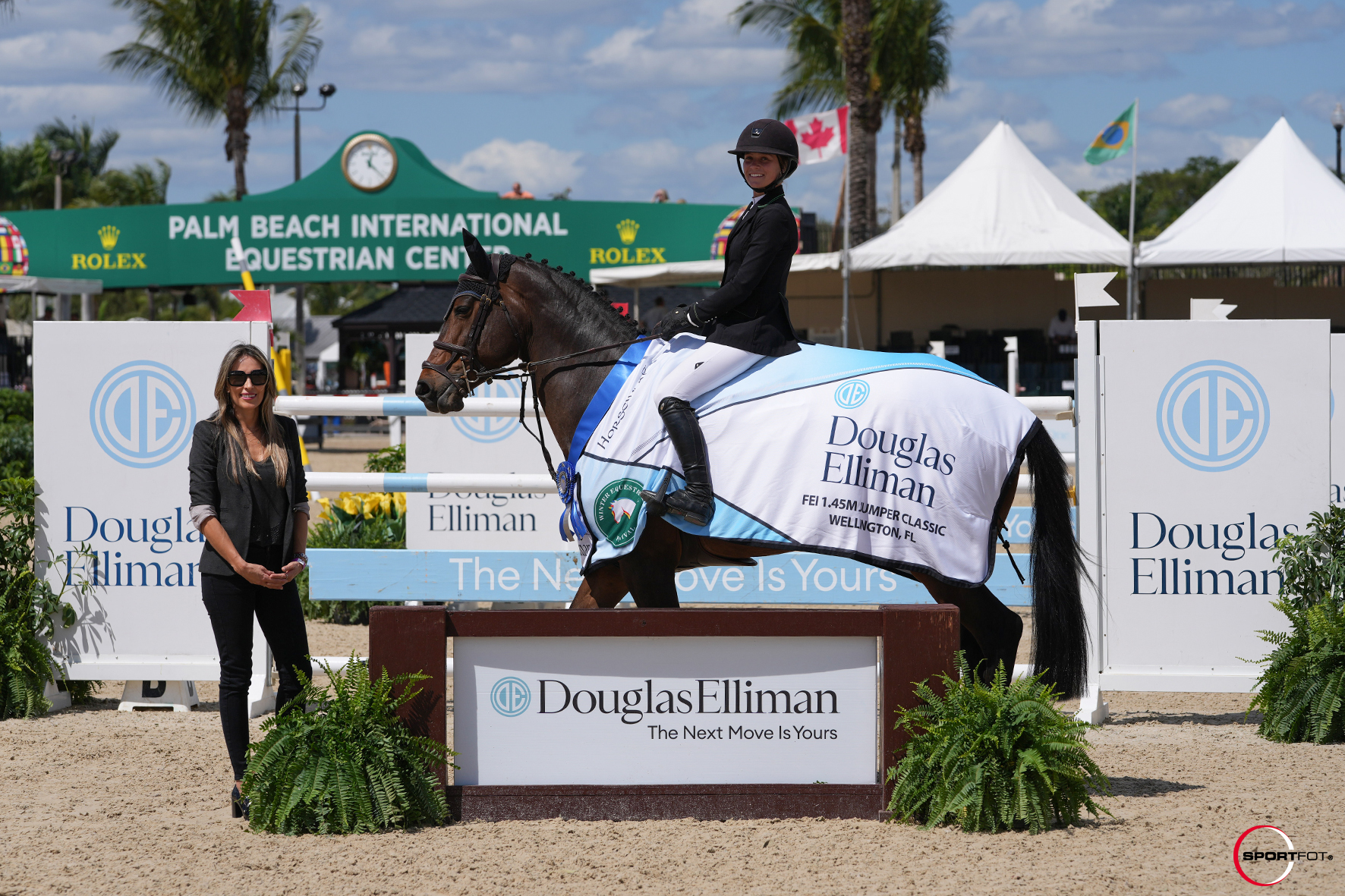 This season of WEF is the first year that Debney has been eligible to compete in upper-level international events, and she is soaking up the experience.
"There is no doubt that it is intimidating to go against the caliber of athletes in these classes," she explained. "Basically everyone in this class was very experienced, so to have a top finish in that crowd feels really amazing."
Nearly catching Debney, Tanimara Maria Macari Carrillo (MEX) cruised to the second-place position aboard her own 10-year-old KWPN mare Feminka (Verdi TN x Numero Uno) with a time of 56.76 seconds. With another good finish, Lebanon's Jad Dana and Springhill Farm 1850, LLC's After Eight came through as the final combination under 57 seconds. Dana and the 12-year-old Swedish Warmblood mare (Diarado x Cardento) rounded out the top three with their time of 56.89 seconds.
Final Results: $37,000 Douglas Elliman Real Estate 1.45m CSIO4*
1. ZARINA DE VIDAU: 2011 CDE mare by Diamant De Semilly
GRACE DEBNEY (GBR), Temple Equestrian LLC: 0/56.10
2. FEMINKA: 2012 KWPN mare by Verdi TN x Numero Uno
TANIMARA MARIA MACARI CARRILLO (MEX), Tanimara Maria Macari Carrillo: 0/56.76
3. AFTER EIGHT: 2010 Swedish Warmblood mare by Diarado x Cardento
JAD DANA (LBN), Springhill Farm 1850, LLC: 0/56.89
4. CALGARY TAME: 2012 Selle Francais stallion by Old Chap Time x Kashmir Van't Schuttershof
LAURA KRAUT (USA), Eugenie Angot: 0/57.86
5. GIJS: 2011 KWPN stallion by Kashmir Van Schuttershof x Numero Uno
NICOLA PHILIPPAERTS (BEL), Nicola Philippaerts: 0/57.93
6. WONDER IF: 2012 mare by Cevin Z x Bolivar
AMANDA DERBYSHIRE (USA), :0/57.97
7. CHRISTIANO: 2010 BRAND gelding by Canoso x Compliment
AMY MILLAR (CAN), Future Adventures: 0/59.02
8. GIGI-CARMEN: 2011 KWPN mare by Bacardi VDL x Oklund
JOHN PEREZ BOHM (COL), John Perez: 0/59.08
9. EGALINI: 2009 AES gelding by Cheers Cassini x Jalisco B
EVAN COLUCCIO (USA), Hampton Green Farms LLC: 0/59.22
10. NALINI VAN HET WILDERHOF: 2013 BWP mare by Ogano Sitte x Nabab De Reve
JONATHAN CORRIGAN (IRL), Twin Oak Ventures LLC and Maarten Huygens: 0/59.29
11. FIREWALL: 2010 KWPN gelding by Lexicon x Padinus
ALBERTO MICHAN (ISR), Eduardo Leon: 0/59.45
12. H5 MESSENTUS PS: 2013 Hanoverian stallion by Messenger x Dobel's Cento
ENRIQUE GONZALEZ (MEX), H5 Sport Horses LLC: 0/61.20
The Future is Bright for Young Hunter (6 and Under) Division Champion Luxor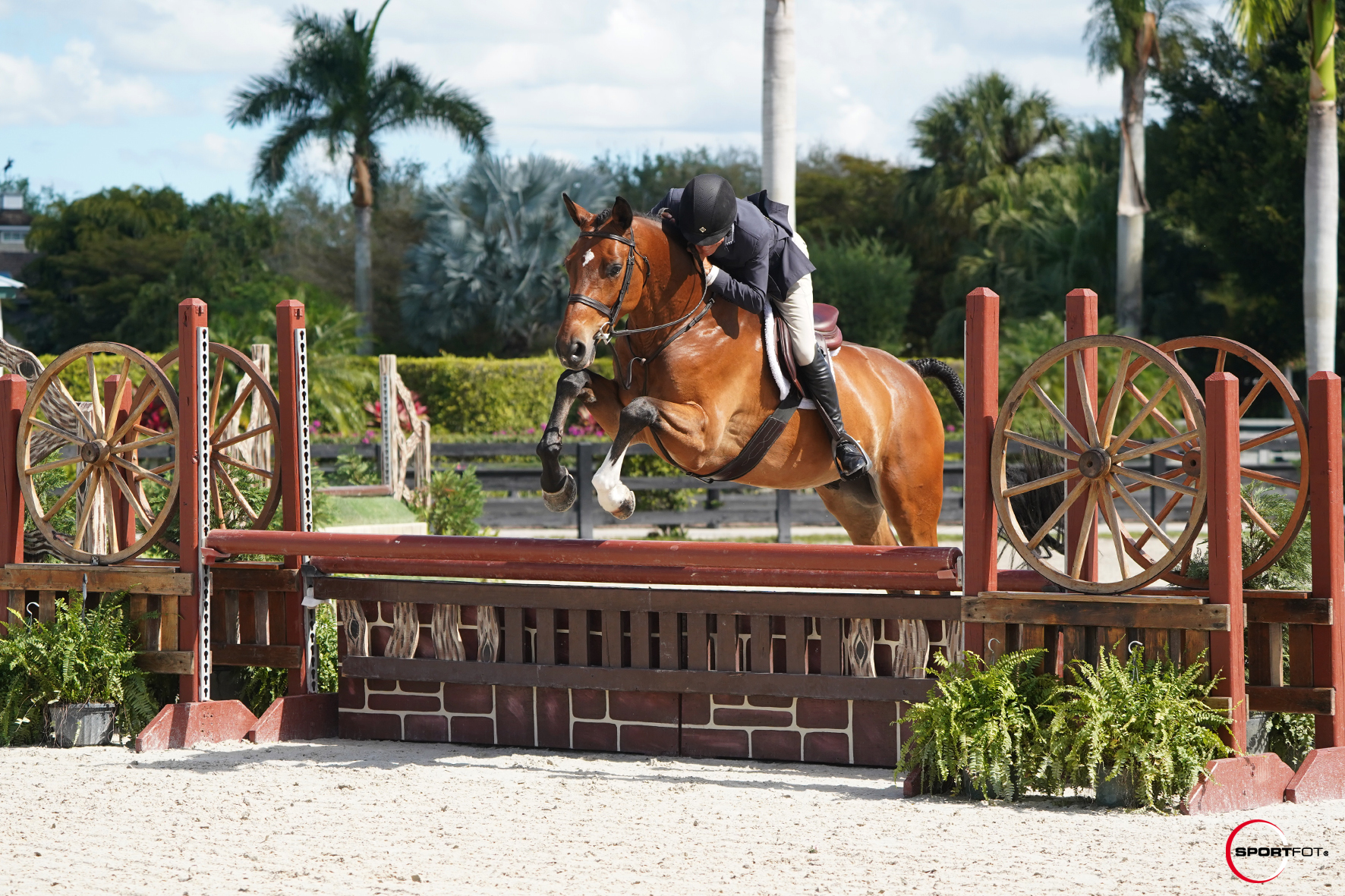 Up-and-coming young hunter horses made their way to the Rost Arena on Friday morning to see who would emerge a champion in the Young Hunter 3"/2'9" (6 and Under) division. Ten pairs came forward for the under saddle and 11 returned for the final two over-fences classes. Veteran hunter professional John French piloted Robinson Ridge LLC's five-year-old warmblood gelding Luxor (Canoso x Cartina) to the prime position of the division.
The pair had some of the best rides of the division with consistent scores in the mid-80s producing two firsts and two seconds.
"What is so nice about Luxor and what I think the judges really like is that this is a young hunter horse but he goes around the ring like a seasoned pro," stated French. "He was incredibly consistent this week. His stride is big so he can slowly make his way around the fences and is just very relaxed overall. He's quite the attractive horse in the ring."
The rising star had his owners convinced from the beginning as the decision was made to bring him over to the U.S. off of a video alone.
"His current owner had just begun riding with me and was looking for a horse for herself to ride," detailed French. "When we saw his video, she said to me, 'Let's go ahead and buy him. He can be your horse to compete this year, and then we can make him up to be my mount.' That was all there was to it."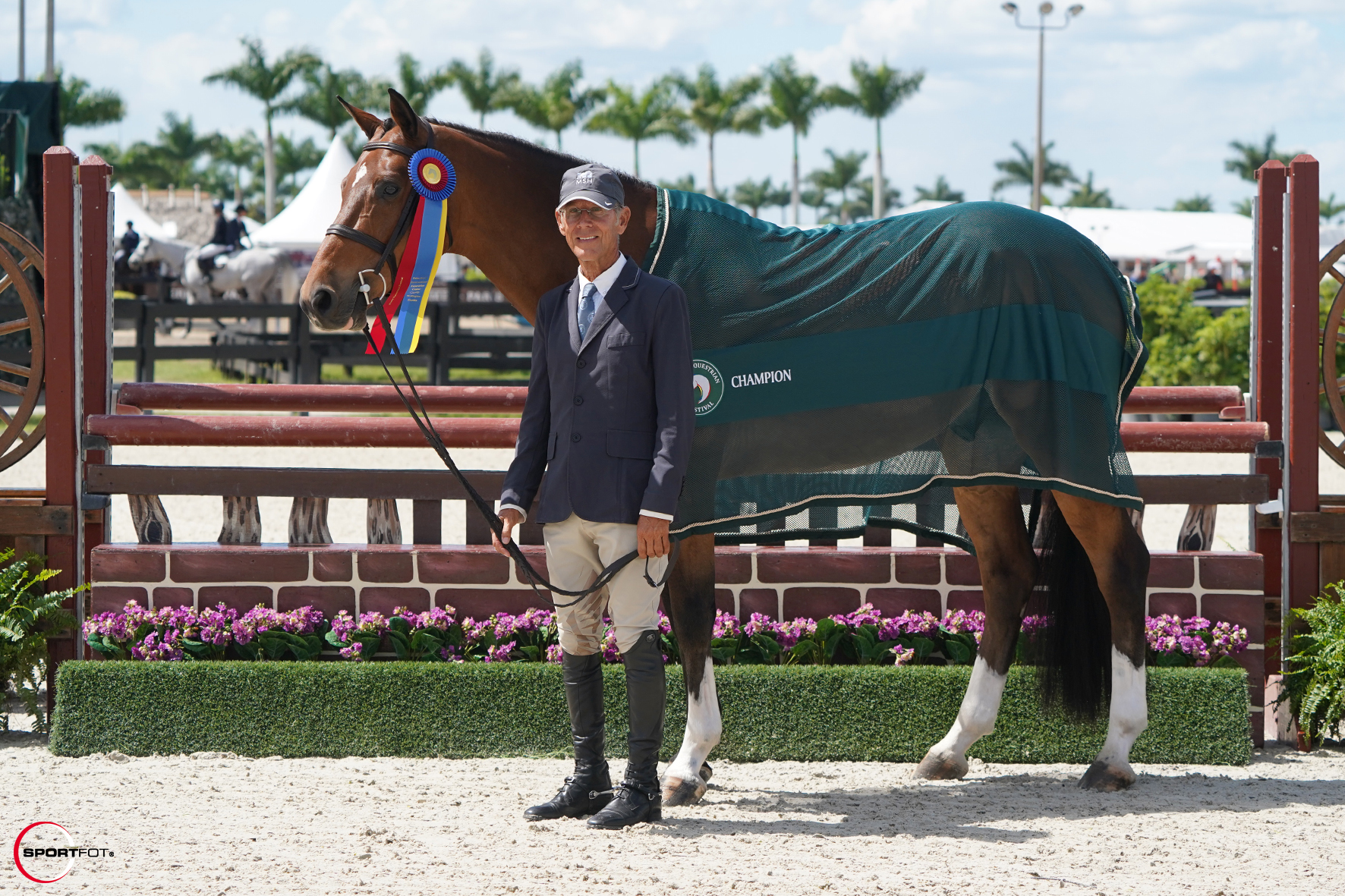 Reserve champion of the division was Stephen DiCarlo with Jenny Sutton's five-year-old Holsteiner gelding Statesman (Casall x Cireu). The duo rode to results of two firsts, a third, and a sixth to take the reserve honors. 
Weekend competition for week 8 will start promptly on Saturday morning. All arenas will be in full swing and featured daytime competition in the International Arena will include the $50,000 CaptiveOne Advisors 1.50m National Grand Prix. The highly-anticipated 'Saturday Night Lights' series will showcase the $150,000 Nations Cup CSIO4*, presented by Premier Equestrian.