For Immediate Release
Jennifer Wood and Sabrina Brashares for Jennifer Wood Media, Inc.
Wellington, FL – February 27, 2021 – The highlight class of the seventh week of the 2021 Winter Equestrian Festival (WEF) was the $401,000 Lugano Diamonds Grand Prix CSI5*, and Bertram Allen (IRL) was brilliant with Pacino Amiro, owned by Aiden McGrory, for victory on Saturday, February 27.
WEF 7 concludes on Sunday, February 28, with the $73,000 CaptiveOne Advisors 1.50m Classic CSI5* and $50,000 Griffis Residential Grand Prix CSI2*. Spectators can watch feature classes live and on demand for free using the livestream.
Riding over a challenging course set by Anthony D'Ambrosio (USA) and Andy Christiansen (ECU) that featured the open water, a triple combination, and two double combinations, five riders found the path to a clear round and advanced to the jump-off out of 40 starting entries.
Click here to watch the winning ride for Bertram Allen and Pacino Amiro!
The first to return for the jump-off were Lorcan Gallagher (IRL) and VDL Cartello, owned by Heathman Farm, LLC. They had one rail down to finish in fifth place in 38.47 seconds.
Immediately following, Allen and Pacino Amiro sped through the course in 35.32 seconds, a time that couldn't be caught by the remaining three competitors.
"There was no real standard set before I went in because Lorcan obviously had a fence down," said Allen, "and there were only three coming after me, but they were obviously three very, very good ones on fast horses. I know my guy is fast, and with only five in it, the worst case I was fifth. I was going to give it a good shot, and thankfully it came off."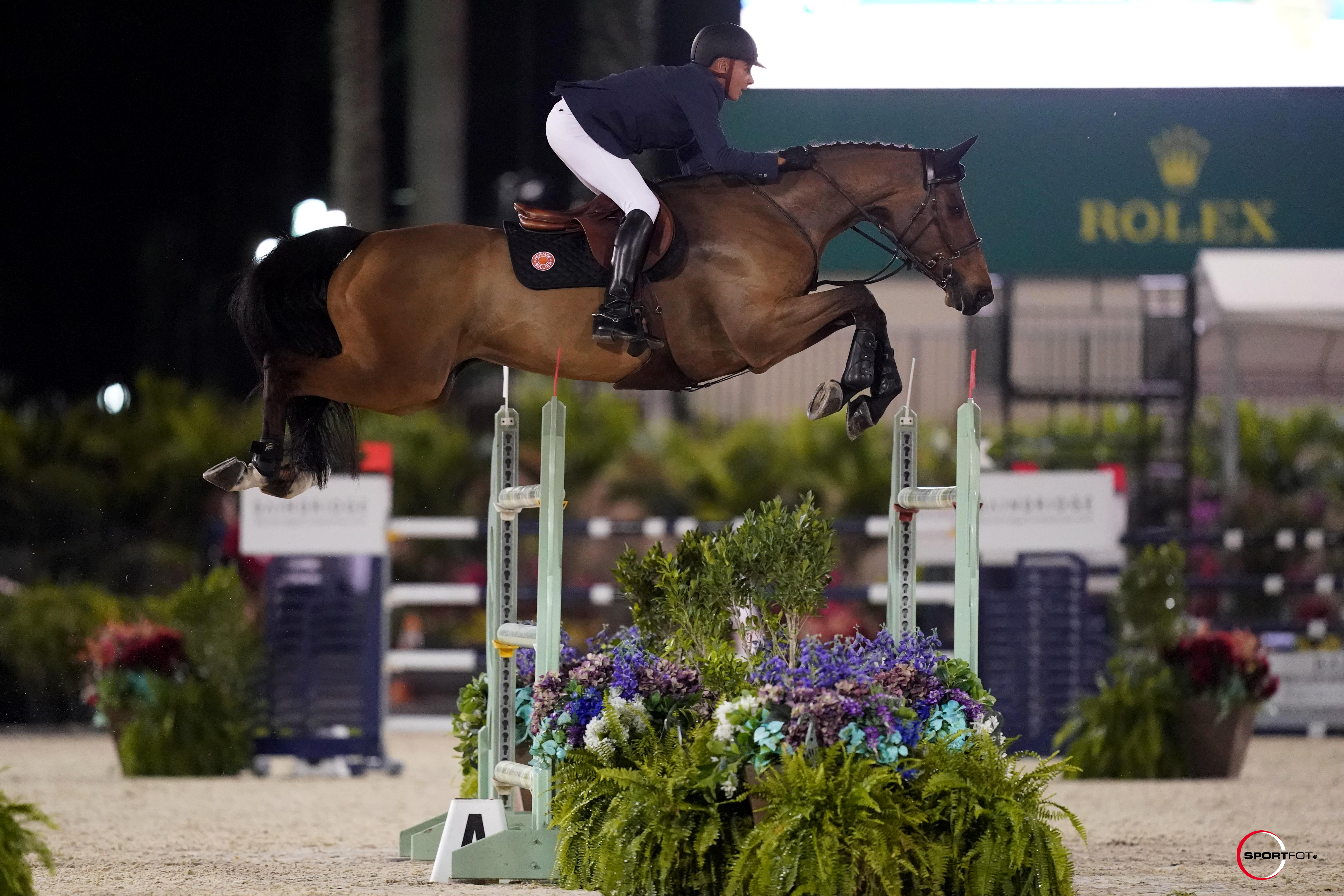 Mario Deslauriers (CAN) and Bardolina 2, a 12-year-old Holsteiner mare by Clarimo x Landos owned by Wishing Well Farm LLC, were clear and off the pace in 37.62 seconds for third place.
"When I saw Bertram go, I was walking next in the ring and I said, 'That's going to be hard to catch for me,'" said Deslauriers. "My horse has a big stride, but she is not the fastest horse, and she can sometimes be a little finicky to ride so I thought I went as fast as I could. I was trying to leave all the jumps up and see where I end up, but I was very pleased. She jumped great tonight."
In a class stacked with Irishmen, it was Daniel Coyle and Ariel Grange's Legacy, an 11-year-old Zangersheide mare by Chippendale Z x Bon Ami, who came closest to Allen's leading time. They were clear in 37.11 seconds to finish in second place.
"Anything Bertram does in the jump-off is usually hard to follow or catch," said Coyle. "I knew before I went in that was going to be a challenge so I just stuck to my own plan and if it was good enough, great, and if not, there will be lots more. It's Legacy's first class under the lights this year, and I always have huge, huge expectations of her."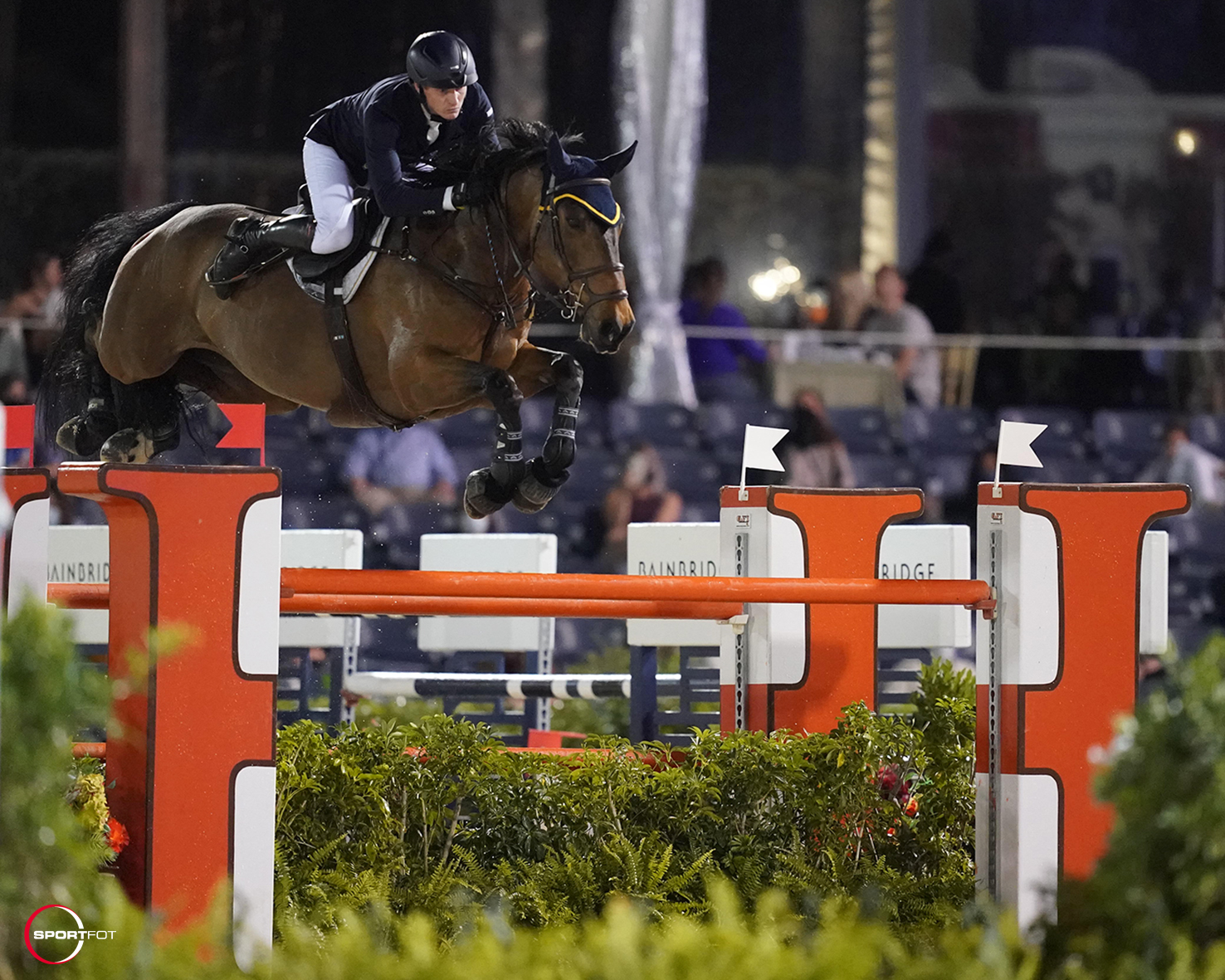 Aiming for his third five-star class win of the week, Daniel Deusser (GER) was the final competitor in the jump-off. Riding Stephex Stables' Killer Queen VDM (who won the four-star grand prix in WEF 4), Deusser made a strong effort, but a downed rail in 35.62 seconds put them just off the podium in fourth place.
Allen and Pacino Amiro, who led the victory gallop during WEF 2 in the Adequan® WEF Challenge Cup, were riding in only their second five-star grand prix under the lights. It was an impressive finish for the nine-year-old Irish Sport Horse gelding by Pacino x NC Amiro, who was also in the jump-off during the WEF 5 five-star grand prix.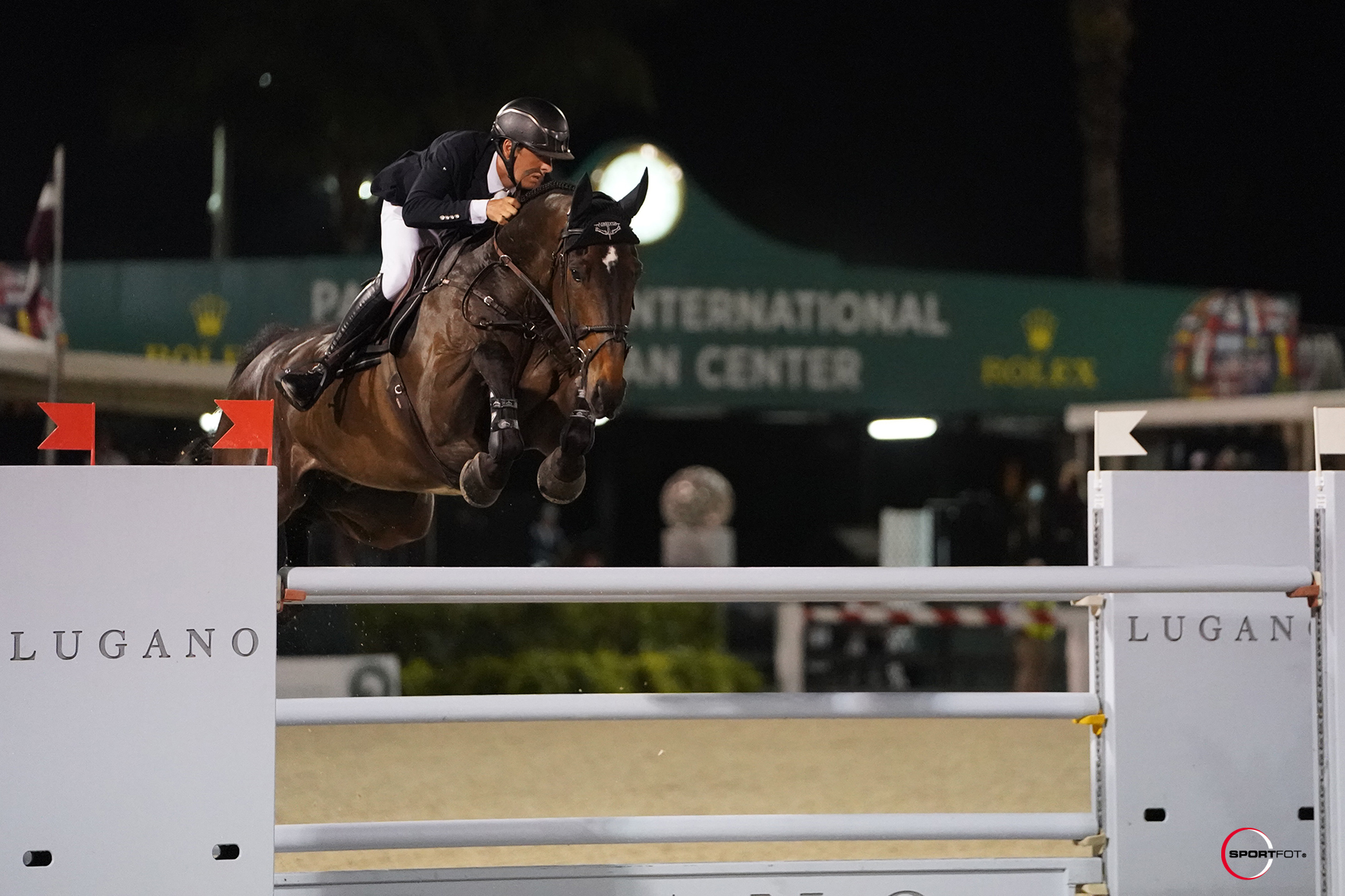 "The last grand prix I suppose I was stepping into the unknown a little bit with him," admitted Allen. "He had never jumped a five star or been under the lights, and he handled it very well. Tonight, I was a bit more confident that I knew that he could do it, so I was just hoping that he was going to be on form. He was even better again tonight."
Allen has been riding Pacino Amiro since he was seven years old and developed him as a young horse. "He's a little bit of a special character, and I know him very, very well," he described. "Since week one he's gotten better and better, and he is a lovely horse who wants to try his best all the time and learn."
Watch the press conference with the top three riders
With many competitions cancelled in Europe this winter, Allen was thankful to be able to compete in Wellington once again.
"It's brilliant," he said. "I was here for a bit of the season [in 2020] and that got cut short, and then it was very start and stop and a lot of the time with no shows. To be here consistently jumping at a very high level, we are all very lucky and make the most of it."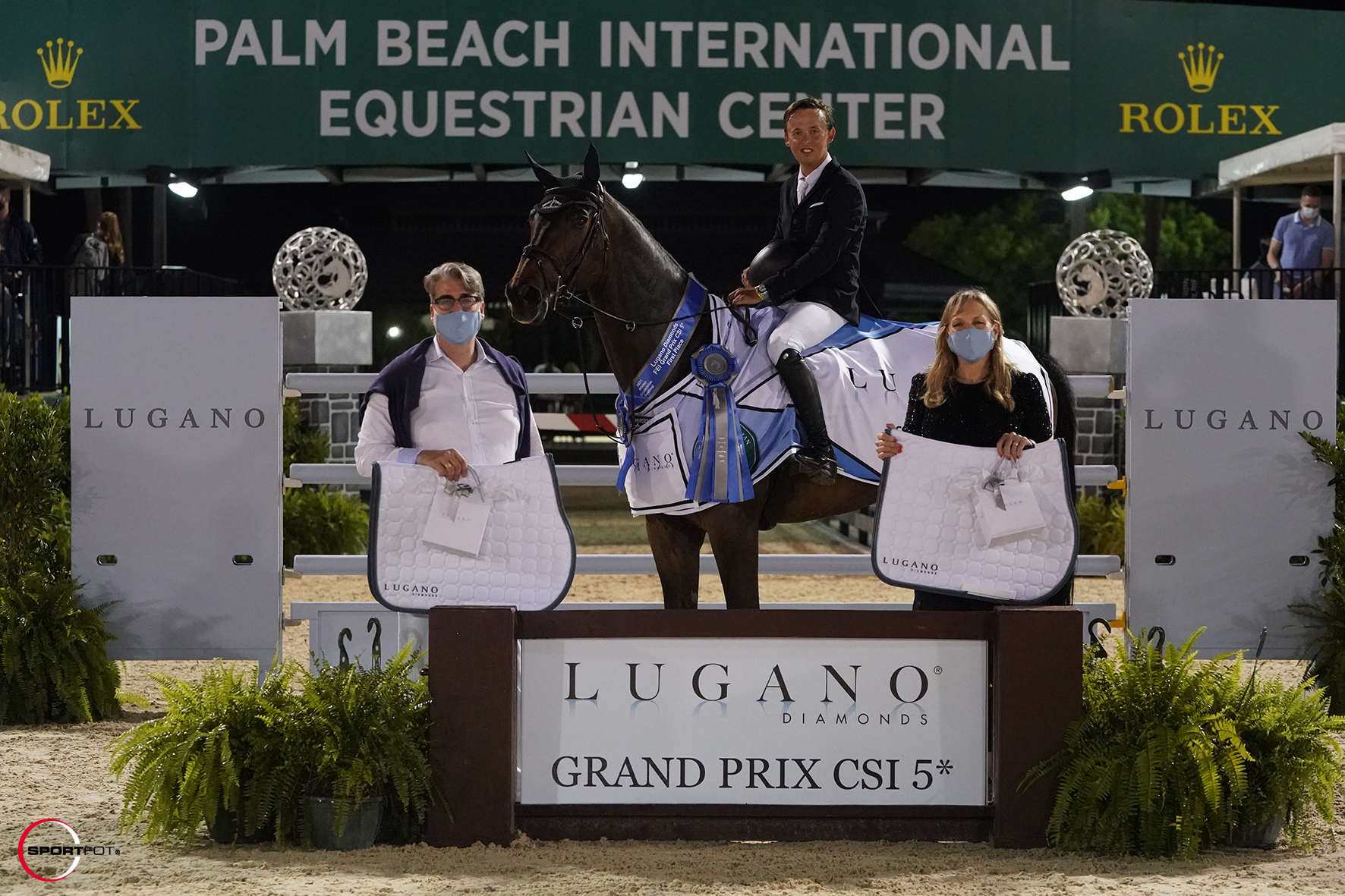 Final Results: $401,000 Lugano Diamonds Grand Prix CSI5*

1. PACINO AMIRO: 2012 Irish Sport Horse gelding by Pacino x NC Amiro
BERTRAM ALLEN (IRL), Aiden McGregory: 0/0/35.32
2. LEGACY: 2010 Zangersheide mare by Chippendale Z x Bon Ami
DANIEL COYLE (IRL), Ariel Grange: 0/0/37.11
3. BARDOLINA 2: 2009 Holsteiner mare by Clarimo x Landos
MARIO DESLAURIERS (CAN), Wishing Well Farm LLC: 0/0/37.62
4. KILLER QUEEN VDM: 2010 BWP mare by Eldorado Vd Zeshoek x Derly Chin De Muze
DANIEL DEUSSER (GER), Stephex Stables: 0/4/35.62
5. VDL CARTELLO: 2007 Holsteiner stallion by Carani x Lord
LORCAN GALLAGHER (IRL), Heathman Farm, LLC: 0/4/38.47
6. EDDIE BLUE: 2009 KWPN gelding by VDL Zirocco Blue x Marlon
DEVIN RYAN (USA), LL Show Jumpers LLC: 1/76.02
7. DONATELLO 141: 2011 Westphalian gelding by Diarado x Lamoureux I
ASHLEE BOND (ISR), Little Valley Farms: 4/70.49
8. KATANGA VAN HET DINGESHOF: 2010 BWP mare by Cardento 933 x Tabelle DIngeshod Z
NICOLA PHILIPPAERTS (BEL), Nicola Philippaerts: 4/71.18
9. CLOONEY 51: 2006 Westphalian gelding by Cornet Obolensky x Ferragamo
MARTIN FUCHS (SUI), Luigi Baleri: 4/71.30
10. BULL RUN'S RISEN: 2006 KWPN gelding by Utopie x Indoctro
KRISTEN VANDERVEEN (USA), Bull Run Jumpers, Inc: 4/72.14
11. BLUEBERRY: 2011 Selle Français mare by Conrad x Café Crea
NICHOLAS DELLO JOIO (USA), The Blueberry Group: 4/72.63
12. CONTAGIOUS: 2009 German Sport Horse gelding by Contagio x For Keeps
MCLAIN WARD (USA), Beechwood Stables LLC: 4/72.71
Lauren Reid and Norway Earn the Championship Ribbon in the Adult Amateur Equitation
Equitation competition wrapped up on Saturday in FarmVet Ring 7 with the completion of the Adult Amateur Equitation division. Twenty-four riders entered the division, and in the end, Lauren Reid and her own Norway earned the tricolor ribbon to finish the day. Reid piloted Norway to two firsts and a second place finish.
Reid, of Kiawah Island, SC, and Norway started the division with a blue ribbon in the flat class and then remained near the top throughout both over fences classes. The duo has a strong partnership, which helped them successfully navigate the technical courses.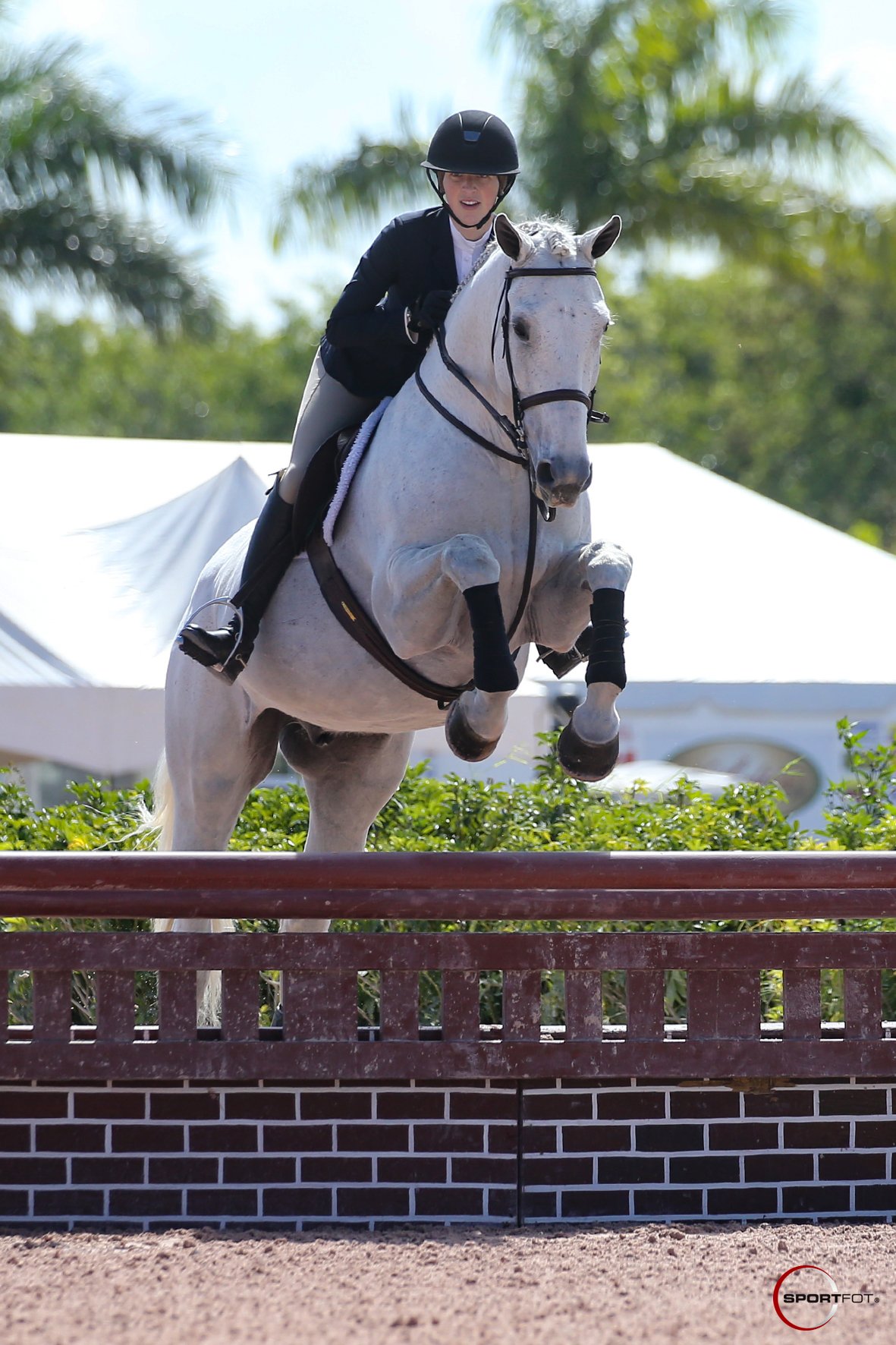 "I've had Norway for around five years," commented Reid. "He was leased for about a year so we recently have come back together and so far we have done super well! He knows when it's game time, and when he walks in the ring he is there to win. You can really tell because his temperament changes when he is at home versus how he is at the horse show. He really always just wants to win."
The pair, trained by Michael Dowling, also finished in second place in the Ariat National Adult Medal out of 27 competitors. After not being able to ride for a couple weeks, Reid and the 15-year-old Warmblood gelding returned to the show ring ready to win.
"He was really awesome today," explained Reid. "I was actually not here for three or four weeks, and I had not ridden at all during that time so it was definitely a little nerve-wracking at first. I was not too sure how he was going to be, but he was great. I thought we did a great job putting everything together in the ring, and it was really nice."
Reid is looking forward to being able to continue showing at WEF for the remainder of the season and staying consistent in the Adult Amateur Equitation.
"I love the atmosphere at WEF," said Reid. "The weather is amazing, and everything always runs so smoothly. The whole experience is great. It's my favorite horse show, and I love being here!"
Amelia Bergeron and her own Halouet earned reserve champion in the division. Bergeron, of Atlanta, GA, and Halouet received first, second, and fourth place ribbons.
Sunday will mark the final day of competition for the seventh week of WEF. The $73,000 CaptiveOne Advisors 1.50m Classic CSI5* and the $50,000 Griffis Residential Grand Prix CSI2* will both take place in the International Arena. For equitation competition, the THIS Children's Medal 15-17 will happen in FarmVet Ring 7.