Wellington, FL – August 20, 2022 – Equestrian Village welcomed competitors back after a two-month hiatus to resume the ESP Summer Series and kick off the ESP Summer II horse show. The Derby Annex saw hunters step onto the field on Friday to compete in the competition's highlight hunter class, the $2,500 USHJA National Hunter Derby presented by Freejump . Ultimately, Ashley Hotz and Baudelaire, a newly-formed partnership, rose to the top of the leaderboard and galloped away with the tricolor ribbon.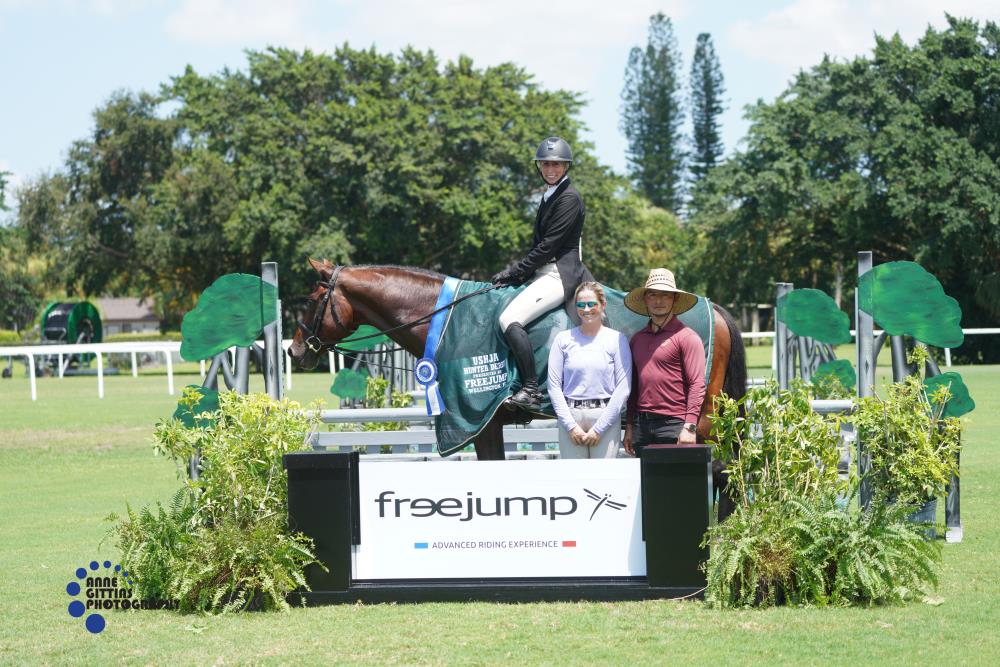 "We just bought him for a customer of ours, Kylie Elias," Hotz shared of her winning mount, who goes by 'Walker' in the barn. "We bought him for Kylie to move up to the 3'3" Junior Hunter division, and our goal is to qualify for Junior Hunter Finals next year. We just took him to Ocala, and he was great there, but we're still getting to know him, and this was his first time showing at this venue." 
After the classic round, Hotz of Wellington, FL, and Elias' Baudelaire held a two-point lead with a score of 88, followed by Angela Calicchio and City Walk, owned by Cali Horse Sales, Inc, with 86 points. Debra Ward and Cinthia Ane-McGreevy's Tavish would return in the third position after earning a first-round score of 70.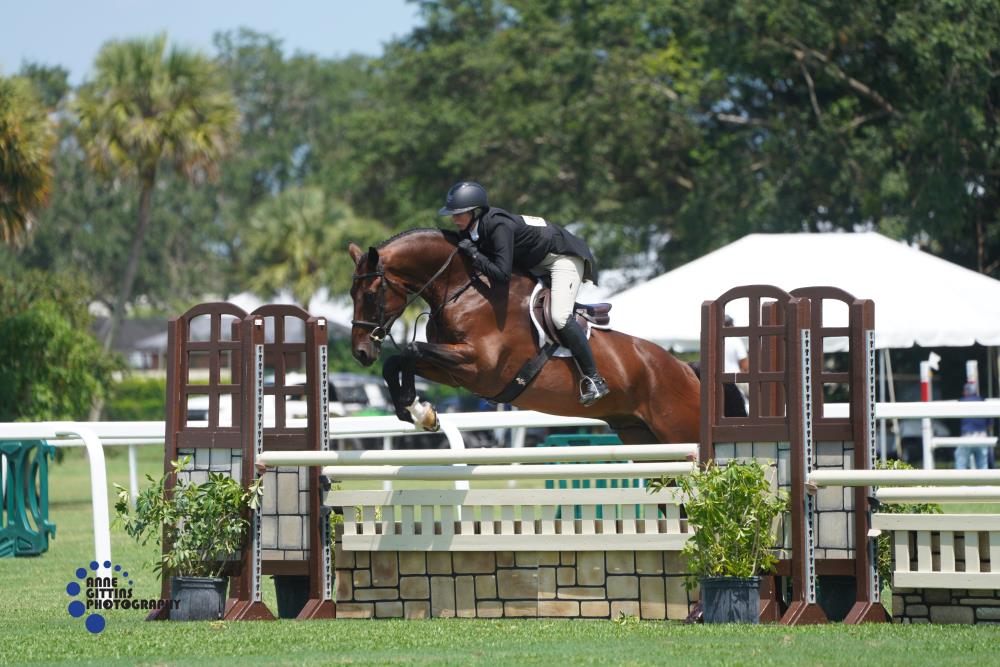 The handy round course, which was set by Andy Christiansen, posed several questions to challenge horses and riders. Hotz and Baudelaire once again proved to be up for the test, placing an impressive round that earned them another high score of 87 to secure their top finish. Calicchio of Wellington, FL, and City Walk captured runner-up honors with a total score of 172, while Ward of Plantation, FL, and Tavist rounded out the top three with 150 total points.
"The original plan was to show him this weekend in the hunters since it's his first time competing at the venue, but since the derby is such a great chance to get horses out on the grass, we just decided to try it with him for the experience. He was really great out there; the first round he felt great, and then I just played it safe in the handy. Now that shows have started back up here, we're planning to compete here at least two weekends every month until the winter season," Hotz concluded. 
Click above to watch the winning derby ride, presented by 
Freejump!
In the Take2 Thoroughbred Hunter division, Ward and Ane-McGreevy's Tavish captured the tricolor honors thanks to consistent results across five classes. The partnership earned for first-place ribbons, as well as a second-place finish to clinch the division championship. Ward also claimed the reserve honors aboard Irish Sweetheartm owed by Christina Fisher.
The ESP Summer II horse show will continue throughout the weekend, concluding with the $25,000 IDA Development Grand Prix on Sunday as the highlight event of the competition. 
To view the prize list for the 2022 ESP Summer Series, please click HERE.
Photo credit ©Anne Gittins Photography and ©ESP. These photos may only be used once in relation to this press release with proper credit.