The Winter Equestrian Festival showcases a variety of riders, from the young pony kids to the professional Grand Prix jumpers. This season, we're highlighting some of the amateur riders that are competing every day in multiple arenas around PBIEC.
Meet this week's athlete: Liz Maloney
Liz is an equine sports medicine veterinarian that owns her own practice in MA. She travels back and forth each week during circuit to see patients and compete. Her motto is "work to ride" because she earns a living Monday to Thursday, and then comes down Thursday night through Sunday to spend it!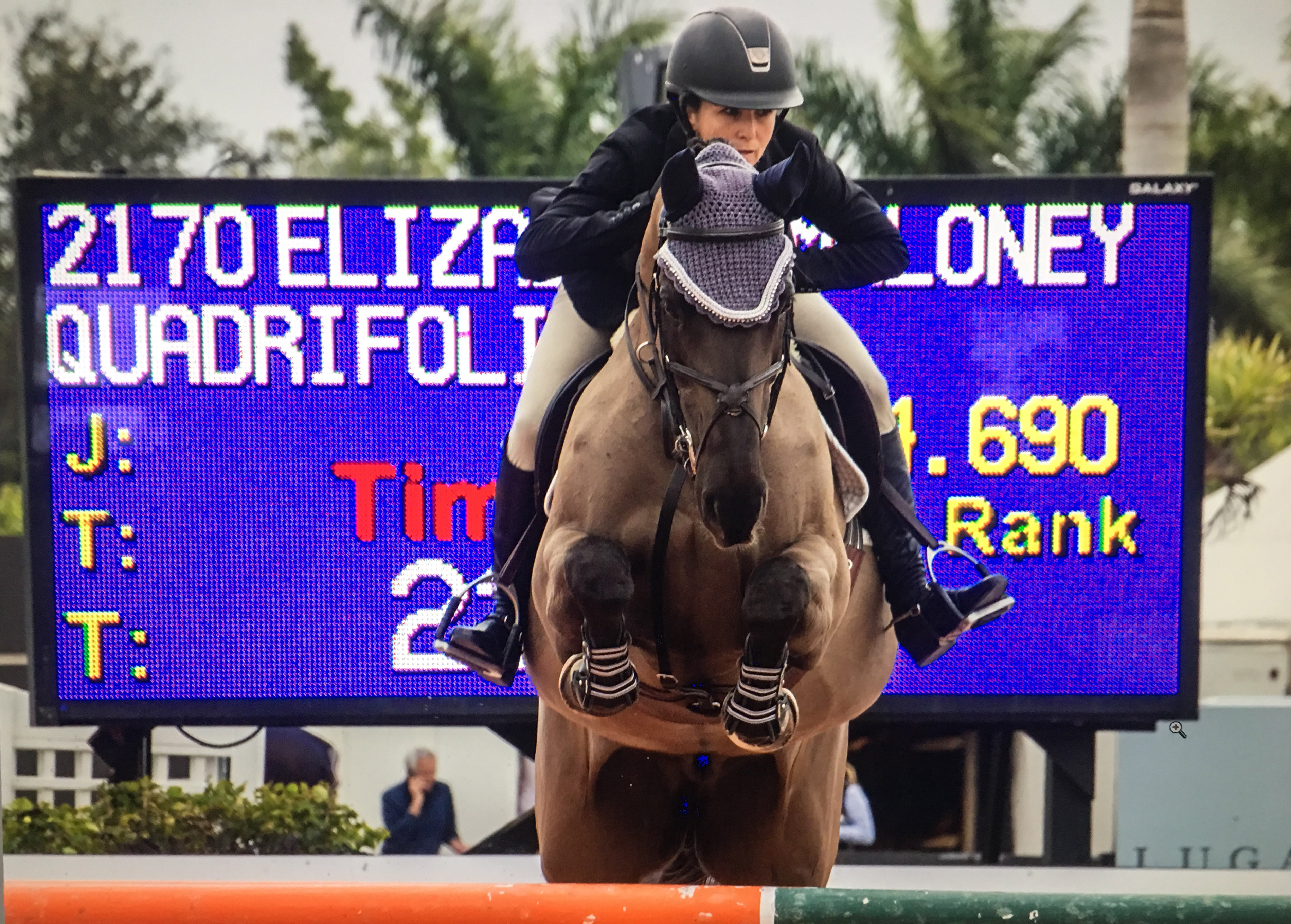 Hometown:
Franklin, MA
Horses:
Quadrifolio: 18 y/o gelding from Belgium
Calikot Hero: 10 y/o gelding from Belgium
Calida 87: 9 y/o mare from Germany
How long have you been riding for?
 I started when I was 8 years old, but had to take a break from it while I was at college and veterinary practice. I started up again about 17 years ago.
What is a fun fact about each of your horses?
"Q" has been showing at WEF for the past 10 years!
"Hero" used to be a breeding stallion.
"Calida" is 1/4 American Thoroughbred and is related to the famous racehorse Spectacular Bid!
 
Who do you train with?
I ride with Cory Hardy at Newbury Farm based out of Littleton, MA.
How long are you at WEF for?
All 12 weeks of the season.
What divisions are you competing in this season?
I'm competing in the Adult Jumpers, Low Amateur Jumpers, Medium Amateur Owner Jumpers.

What is your favorite place at WEF?
My favorite place is the in-gate of the jumper ring when I'm on deck. Because that's the moment when all of the hard work, preparation, and money comes to a head. And I haven't messed up yet, so I'm still in a good mood!
If you could create a new class/division at WEF what would it be?
An amateur division on Saturday nights in which competitors have to prove that they paid for the horse themselves, then trailer the horse to the show on their own (and back it up!), braid the horse, explain the horse's tack to the steward, walk the course, and then compete. Hopefully I could finish within the top 6 if it's not too big of a class.
What is a career highlight of yours?
A few years ago I took my horse that I do the medium amateur owner jumpers with and pretended to do the equitation at the New England Equitation Finals and we ended up placing 3rd.

 Who is your favorite professional rider to watch?
I like to watch Beezie Madden. I keep trying to figure out what she's doing because every time I watch her, it looks like she's doing nothing and she makes it seem so easy.
What is your favorite non-horse show thing to do in Florida?
Since I travel back and forth during the week, I don't have too much extra time besides competing. But I love walking out the door every morning and feeling the warm air instead of the sub-zero temps I go home to on Sunday night.
Good luck this season Liz!