Meet this week's athlete: Katherine Madruga!

©PeterPham
How did you get involved with riding?
My mom ran an animal charity when I was growing up, so she really got me into loving animals. I never really wanted barbies; I just wanted horses. So, for my fourth birthday, my mom had a pony at one of her charity events and I wouldn't get off of it. That's when she knew that I was really into the horses. We didn't know a lot about them, so she really tried to get me out there, and then I started taking western lessons. When I was about six or seven, they took me to watch a Grand Prix where I saw Richard Spooner on Robinson. After that, I became obsessed with [show] jumping. We didn't really have a way for me to do that at the time, but I knew that it was what I wanted to do.
How did you make the transition to English riding?
I kind of have an interesting background in horses, because I didn't have that much formal training. Most of my training was with western riding, like roping and barrel racing. I actually discovered show jumping through one of the ladies I rode horses for sometimes. Her husband won a Thoroughbred in a golf bet. She just trail rode for fun, so she asked me if I wanted to start riding the horse and see what I could do. I started training it to jump, and then she got me a trainer. I was good at it, so I kept going with it. Eventually, I got in with Julie Winkel as a junior rider and she gave me some opportunities to ride. I would go to Reno and take lessons with Will Simpson and Joe Pierce. I was also a working student. I just created the opportunities. I think there's a lot of opportunity in show jumping and people do want to help.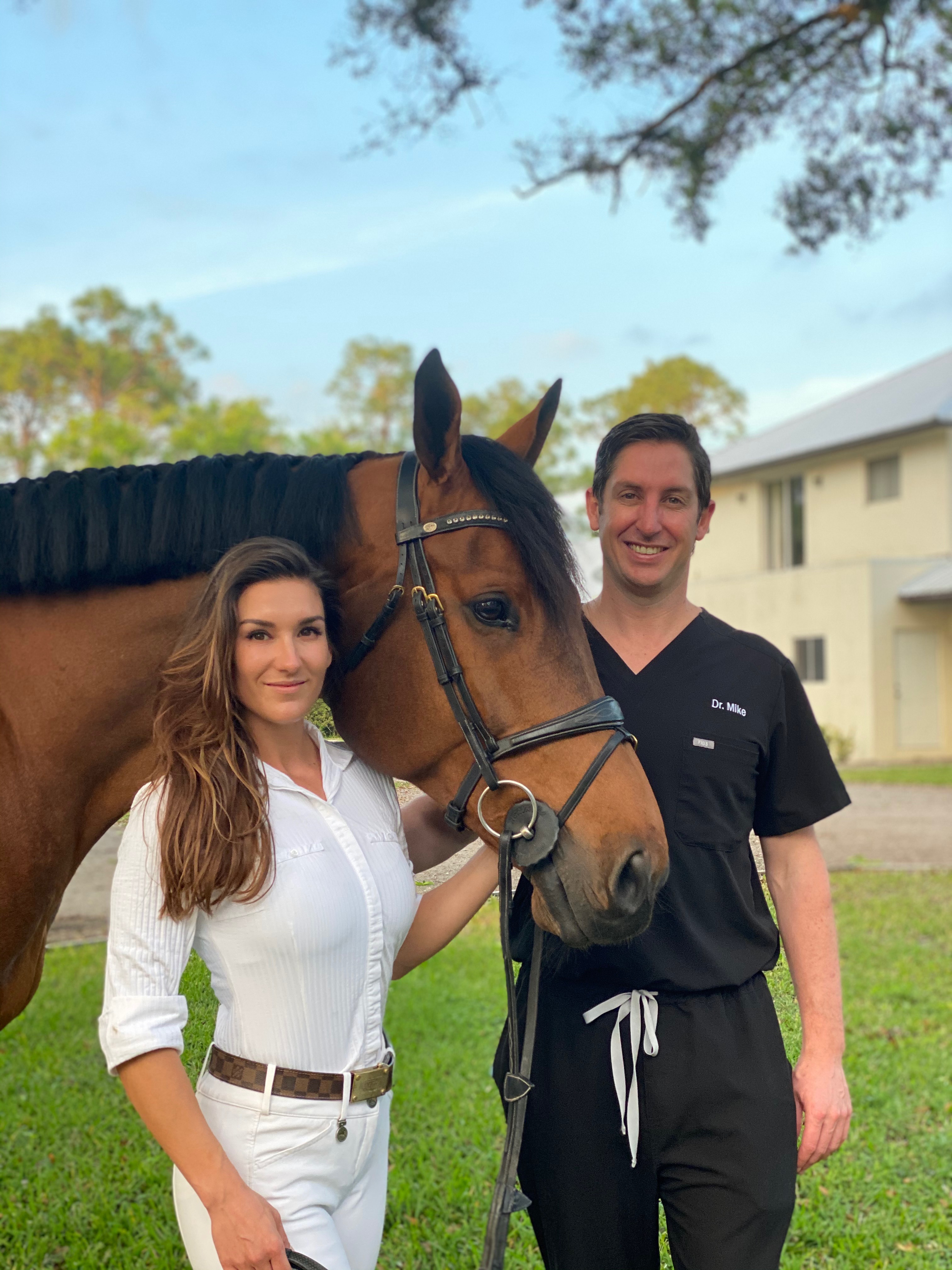 Photo courtesy of Katherine Madruga
How many years have you been competing at WEF?
Five years now! I originally came to ride with Marilyn Little. I really thought that I was going to be training her young horses, but then two weeks after I got here, I met Mike [Dr. Michael Frederick], my boyfriend who's a Harvard-trained Plastic Surgeon here in Palm Beach. That really shifted my career's direction. I went through the whole season working for her, which was great and I learned a lot, but I decided at the end of season that I wanted to be an amateur. So, I stopped showing, but kept riding with Marilyn after my decision to get my amateur status back for two years. In that time, I acquired RF Koko Chanel from her. Once I had my amateur status back, we started showing again. I had a very successful WEF season in the Medium and Highs that year, and then we sold her. I took some time away from riding following her sale, and then I met Ashlee Bond. I have gone all around the world riding and showing with her and it's been a wonderful partnership! I currently train with Ashlee when I'm traveling nationally and internationally, as well as with Gemma Poternoster of Southern Groves, who is wonderful and here [in Wellington] full-time.
Without my partner, Mike, I wouldn't be able to do this. It was a mutual decision for me to be able to enjoy what I love about horses without having to live a life on the road and without the means to be able to achieve my goals. I could be a professional, spend 20 hours a day at the barn, and not have a life outside of it, but I realized when I met him that I do want to have kids, be able to show, and achieve my goals on my own terms. Mike also allowed me the opportunity to travel, go to Europe, and be at the shows there.
Tell us a bit about your job!
Because of my background in charity with my mom and her animal rescue, I took over charity outreach for Mike because we're both really big into giving back to our community. We do events for Real Men Wear Pink as he does some breast reconstruction, and we also are heavily involved in Hearing the Ovarian Cancer Whisper [H.O.W]. His sister, Stacey, lost her fight with ovarian cancer and had the breast cancer gene, so we try to keep her memory alive in her honor. I also run Mike's social media and marketing. I think we're a really dynamic couple, we play off each other, and support each other really well. This is truly a dream come true. To be able to fly over to Europe, buy a horse that I like with no timeline, then just come back and develop it is amazing. I'm really, really lucky.

©SportFot
Tell us about your horse!
Right now, I have one horse named Lui [Louboutin F] that I'm producing to compete and potentially sell. My goal with him right now is to get back to the Highs [Amateur Owner Jumpers] by summertime. I actually bought him off of a video I received while traveling with Mike. The video had no information, but I loved what I saw, so I asked for more videos. I knew I had to try this horse, so we adjusted our trip and drove all the way back out to where we were to try him. The moment I sat on Lui it was like a match made in heaven.
Every day I get to go out to the barn, and I do my own grooming, the braiding, and the clipping. I really love it because it's my own thing and I can have as many goals as I want to. I appreciate the freedom to express that part of me, and without Mike, it wouldn't be possible. I'm really lucky I found a partner that will support this.

Photo courtesy of Katherine Madruga
What has riding taught you?
I think riding is so little of it. It's really the care, consistency, management, team, camaraderie, and the visions coming together that make it what it is. I think that's what you really see on Saturday nights here. You see McLain [Ward] and his team of people that helped bring him to the top, and with Kent [Farrington], it's the same way. The riding is the symptom of what's really happening. I think what riding has taught me is perseverance. If you show up every day, do the best you can, and continue to try even after a bad day, you'll get to where you want to go.
Thank you, Katherine! We wish you the best of luck at #WEF2020.