Meet this week's athlete: Ariel Bluman!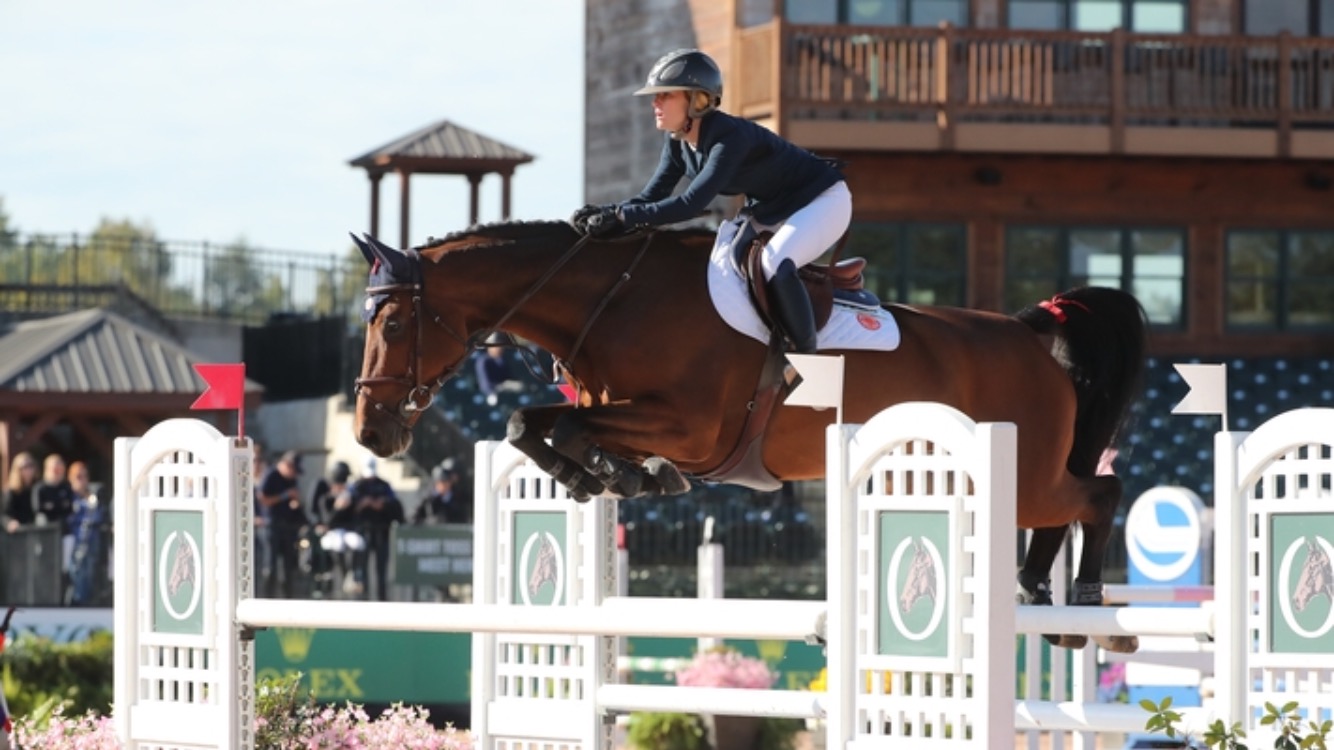 How did you get into riding? 
I started riding when I was at sleep-away camp when I was six years old. When I came home from camp, I went behind my parents back and found a phone number for a horse facility near my house. My older brother actually helped me look it up and I called them saying, 'Hi, I want to ride a horse named Peaches and she has one eye. Can I come this weekend?' I didn't realize there was only one Peaches with one eye and she lived at the summer camp I went to… but that's how it started! I took lessons at that facility for years. 
Growing up, I did a lot of local shows and schooling shows but I always had horses in my life and I've always loved them. I ended up leasing my first horse when I was 10, and then I came to WEF for my first season when I was 19 and in my second year of college. I wasn't really in the competitive world until I was older.
How did you and Daniel meet?
Well I had tried a couple of horses from McLain and we were friends on Facebook, so I saw a photo of McLain, Laura, and Daniel all together. I friended Daniel because I think at that point I had almost 1,000 people on my Facebook that I didn't really know and about 30 that I did know, so I just friended everyone. After we became friends he messaged me and that's how it all started!
How do you balance horse showing now that you have your son?
We haven't been on the road much because we had him right before WEF, so that gave us a good foundation to start off with him by waking up earlier and going over to the show. I think the test will be in Europe this summer when we are traveling every weekend. But you know, he is pretty calm for the most part. He sleeps a lot, so I don't foresee it being a major issue. It was the life he was born into so he'll figure it out!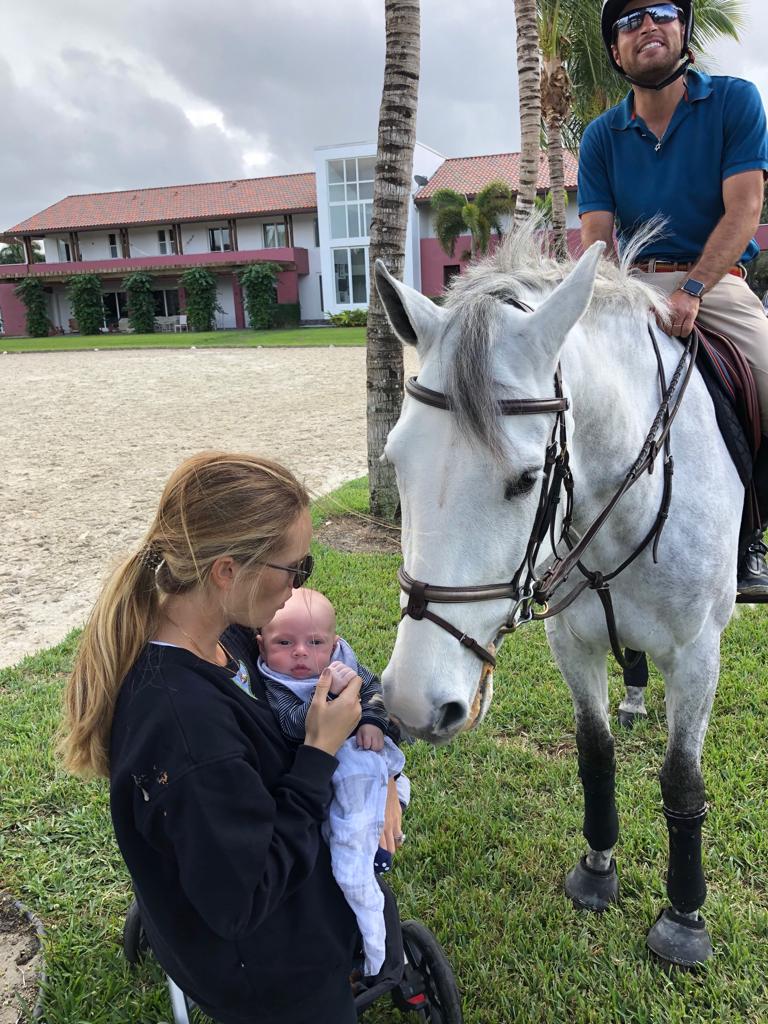 How do you help out with Bluman Equestrian?
Right now I help organize where people will stay at the shows, when sponsors are in town, and really just the overall logistics that the guys don't have as much time to do. I also have my real estate license so that helps me stay busy. 
What horse do you have now?
I have my mare, Euphoria. I actually bought her at the VDL auction two years ago. I had no intention of buying a horse at the auction because I had another horse at the time named Corona. I got Corona right after Daniel and I started dating and she's the one who helped me jump my first 1.40m. So when we went to the auction I really wasn't looking, but I had payed attention and Euphoria was the only horse I was personally interested in for myself.
The night of the auction, Daniel, Ilan and I were actually on the way to dinner and we all decided to stop over there and see what was going on. We had a few glasses of wine and were just having fun! The horse right before Euphoria had just sold for a ton of money, and I think people were so fixated on that, no one was paying attention to her. I kept telling Daniel that night that she was the one, and we realized that no one was bidding on her. So I made a deal with Daniel and Ilan to let me try and ride her first, and if it didn't work out then we could sell her. We ended up getting her, and at dinner we started watching videos of her in Europe and they kept telling me she was going to be too much horse for an amateur. But, I was determined to ride her!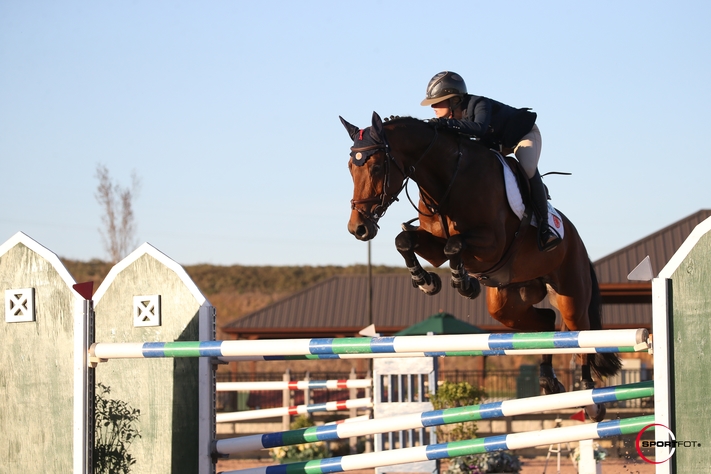 What do you show Euphoria in?
We go back and forth from the medium's to the low's and it just sort of depends on the weeks. If I make an error we move down, and then if I have a solid week we will go back up. You know it's weird though, a lot of people told me that once I had a child I would be a lot more careful and less competitive, but I actually feel the opposite. I feel so much stronger now. 
Euphoria's so competitive and I think I can count on my fingers the amount of times we haven't placed. She really never has rails and is always game. 
What do you work on at home that helps you in the competition ring?
Ilan and I have been focusing a lot on straightness. I think a lot of people forget how important it is for your horse to travel in a straight line. When I got back in the saddle this winter, Ilan noticed I was letting her get crooked. Since then, I have been doing a lot of no stirrup work and no lateral movements. I only go in straight lines and she can get really behind my leg so I want to keep her moving forward and activated. Within those straight lines I am always working on transitions and staying engaged when coming to a stop. That is something that is really hard because you want to go to your hand, but it takes just as much leg to stop a horse. 
I see a grid set up out in your arena, do you do a lot of those?
That is actually the same exact striding as one of the lines from the Saturday Night 1.50m class. It was a really long one stride to a very tight two stride, so we practiced that with horses we think might see that in their future. We do a lot of grid work, and we always take tricky lines from courses. You will see this same line show up a lot, which is a combination to a very short four stride. That line became a staple in our course building last year. 
What's something someone may not know about Euphoria?
When I got her, she wasn't super friendly. She's still not a kisser or the affectionate type which is funny because I don't really like being kissed or hugged either.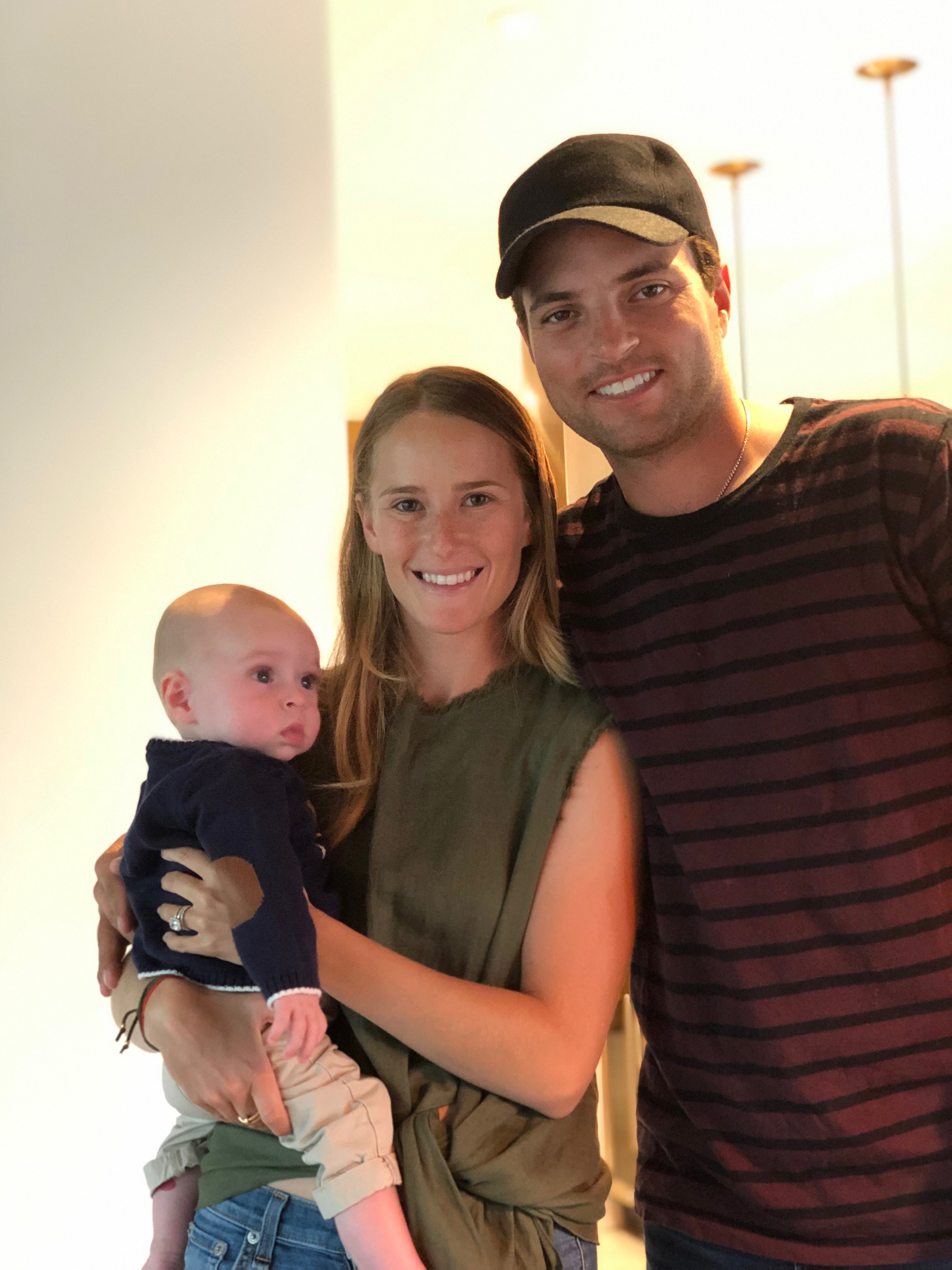 What advice would you give to another amateur coming to WEF for the first time?
It's really intimidating when you come here to show for the first time. You might be showing against someone who has seven horses and you only have one, or you're just leasing a horse because that was my first experience. I had leased a horse for the equitation and I really had no business being in the equitation ring. I told Daniel that story and he said, 'It's not that you have no business being in that ring because everybody has a business being in the ring. You might not be as successful as the others but don't let that discourage you because it's important to have these milestones in your career. You're not always going to win or have the best horse but it all adds to your success. At some point, something good is going to happen.' 
 Thanks for chatting with us Ariel, and your family is pretty adorable!