Wellington, FL –November 18, 2022 – The ESP Pre-Charity CSI3* show continued with FEI competition on Friday with the $37,000 Freejump Grand Prix Qualifier CSI3*. A field of 44 horse-and-rider combinations faced Andy Christiansen's (ECU) opening track to compete for a spot in Sunday's $137,000 Noltrex®Vet Grand Prix CSI3*. Ultimately, the USA's Alison Robitaille topped the class with Oakingham Lira, owned by Alison Firestone LLC.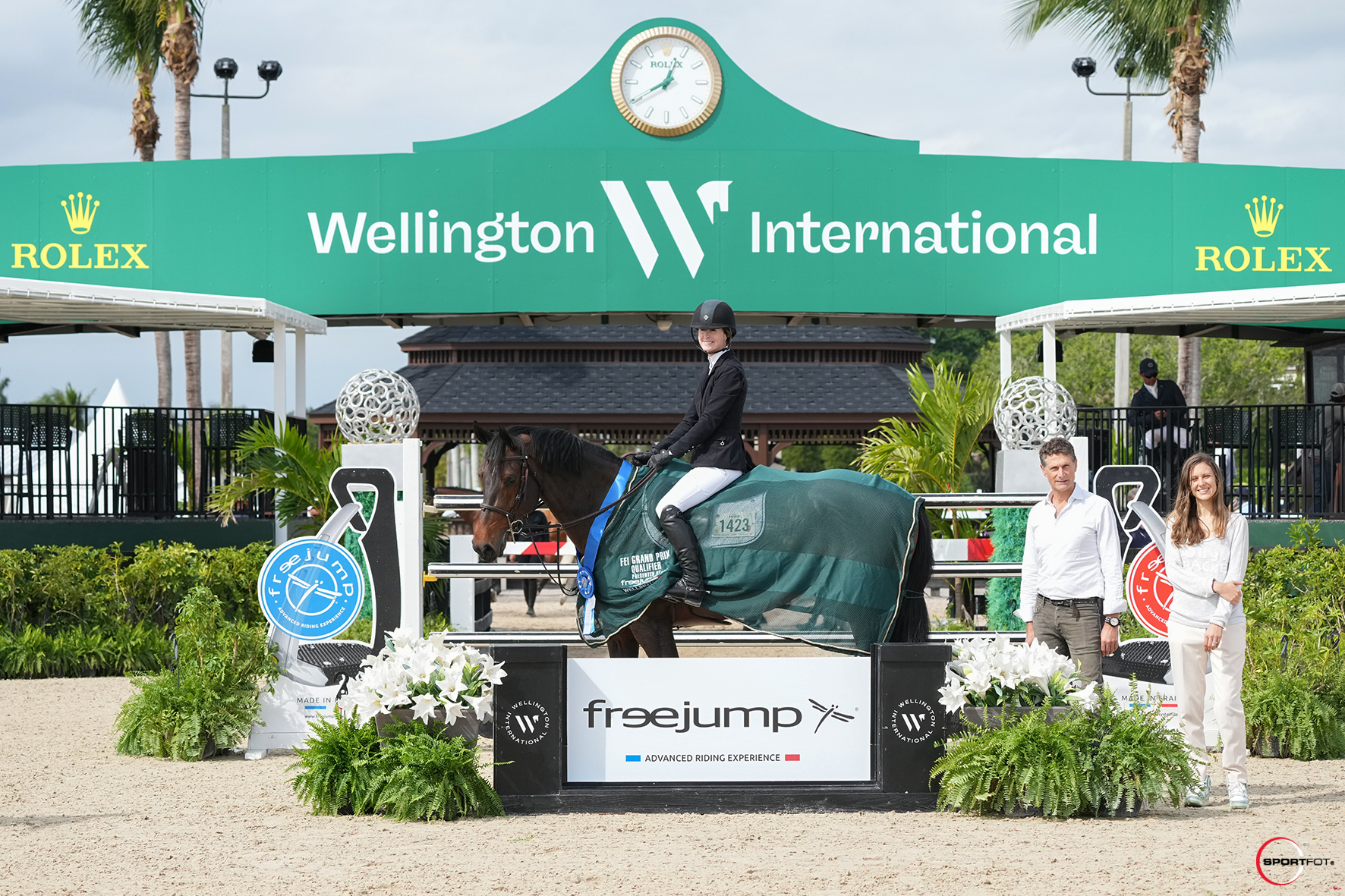 "My goal early last year was to be jumping the three-stars by the end of this year, so this is really great. I'm just so happy with how my horse feels; we've been building our partnership all year long. After walking in today, we really feel like a team," said Robitaille of her partnership with the nine-year-old Anglo European mare by Unknown x Unknown.
Following Robitaille's winning time of 41.66 seconds, David O'Brien (IRL) took home second place aboard Chansonette Farm LLC's El Balou Old. Sponsored by Freejump, O'Brien and his mount cleared the jump-off just two tenths of a second behind the winners, stopping the clock at 41.8 seconds. Fellow Irish rider Darragh Kerins and Lissino, owned by Eve Jobs, claimed third place with a jump-off time of 42.91 seconds.
Freejump CEO, Yann Dubourg, was also present at the class. "For a French company, or any European company to be here is a great pleasure. To have our name in this arena is exceptional, and we are very proud to have this partnership. To be here at the beginning of the season allows the riders to see how dedicated we are to this sport. Today was extra special because one of our sponsored riders, David O'Brien, rode a fantastic horse in our stirrups and it was great to see him place second in the class."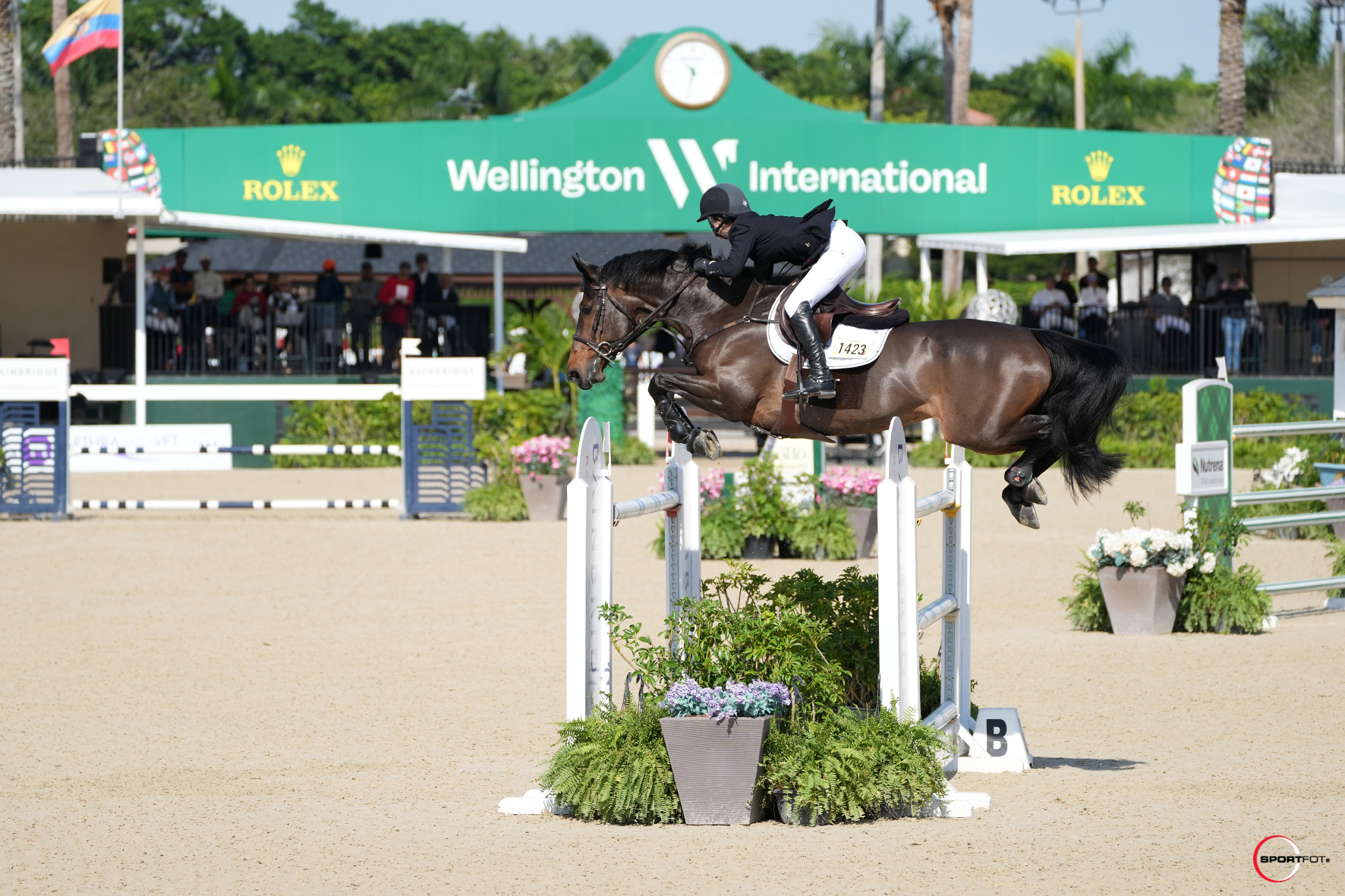 Robitaille and Oakingham Lira will return to the International Arena on Sunday to compete in the competition's featured event, the $137,000 Noltrex®Vet Grand Prix CSI3*. In additional to today's winning duo, the top 29 riders from the class will also return to the ring on Sunday to vie for the lion's share of the prize money.
For the full results of the $37,000 Freejump Grand Prix Qualifier CSI3*, please click HERE.
Earlier that morning, the $10,000 Bainbridge Companies 1.40m Open Stake awarded Ryan Genn (USA) and VDL Gerinus T, owned by Wilhelm Genn, top honors. As the second to go, Genn took an early lead with his quick jump-off time of 42.726 seconds that no one could beat. With a double-clear time of 44.611 seconds, Carolina Drummond (BRA) and her own entry, Joules VD Hooghoeve, claimed a second-place finish. Nicolette Hirt (USA) rounded out the podium with Iron Horse Equestrian's Calgary 5 after finishing the jump-off in 46.444 seconds with two time faults.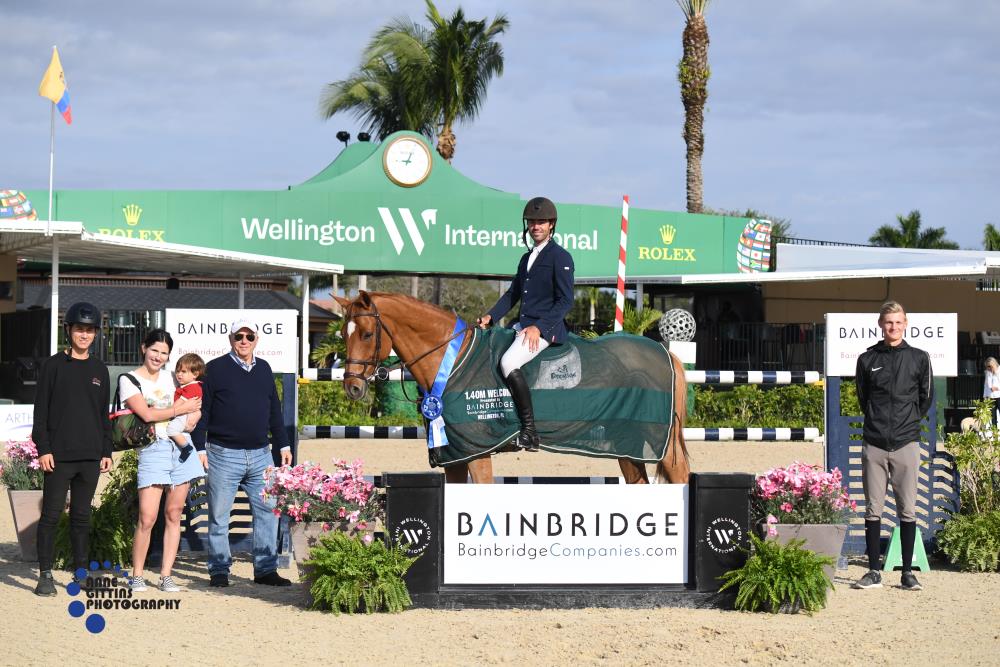 Kilkenny Carries Taylor Cawley to Victory in $2,500 USHJA National Hunter Derby presented by Pilates Rocks 
Over in the E.R. Mische Grand Hunter Ring, hunter derby riders took center stage to compete for the tricolor ribbon in the $2,500 USHJA Hunter Derby presented by Pilates Rocks, which served as the week's featured hunter class. Leading the way was GN Equestrian, LLC's Kilkenny, who carried Taylor Cawley of Wellington, FL, to the win as the best performer.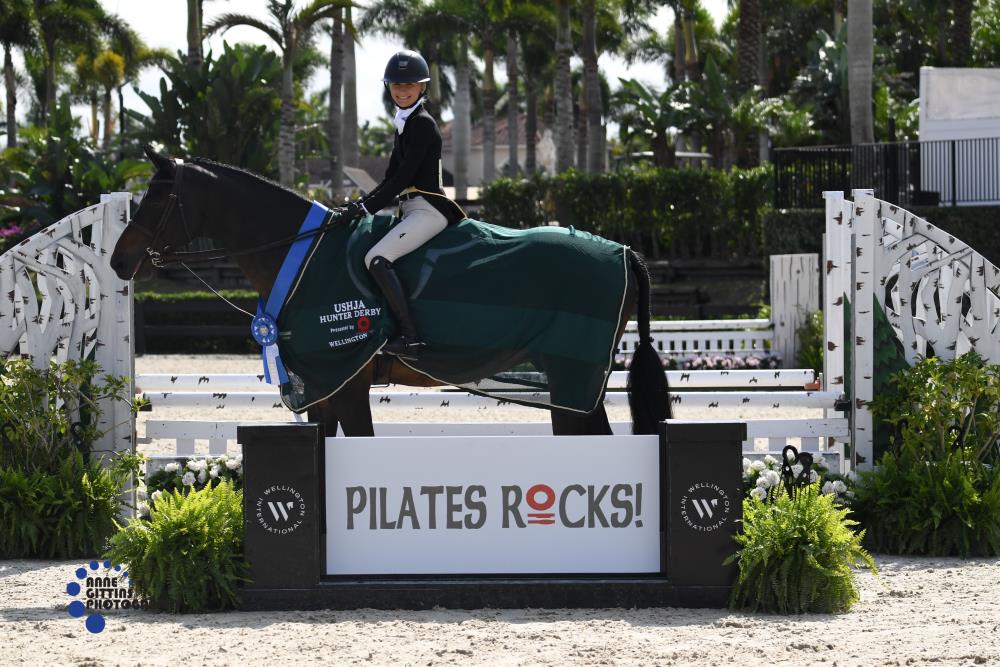 "This was only my third time riding this horse [Kilkenny], but he's super brave and I trust him a lot," remarked Cawley. "He was super confident and knew what he was doing, and we had so much fun today."
The class was held in a "Hunt and Go" format, meaning the first portion of the course was judged as the Classic round, while the latter half of the trip was scored as the Handy phase. Cawley and Kilkenny were up against a leading score of 158.1 but catapulted to the top after two consistent performances. The pair's trip in the Classic portion of the class was given a base score of 82 and two additional points for taking the high-option fences for a score of 84, and a matching Handy phase score to put the partnership at the top of the leaderboard.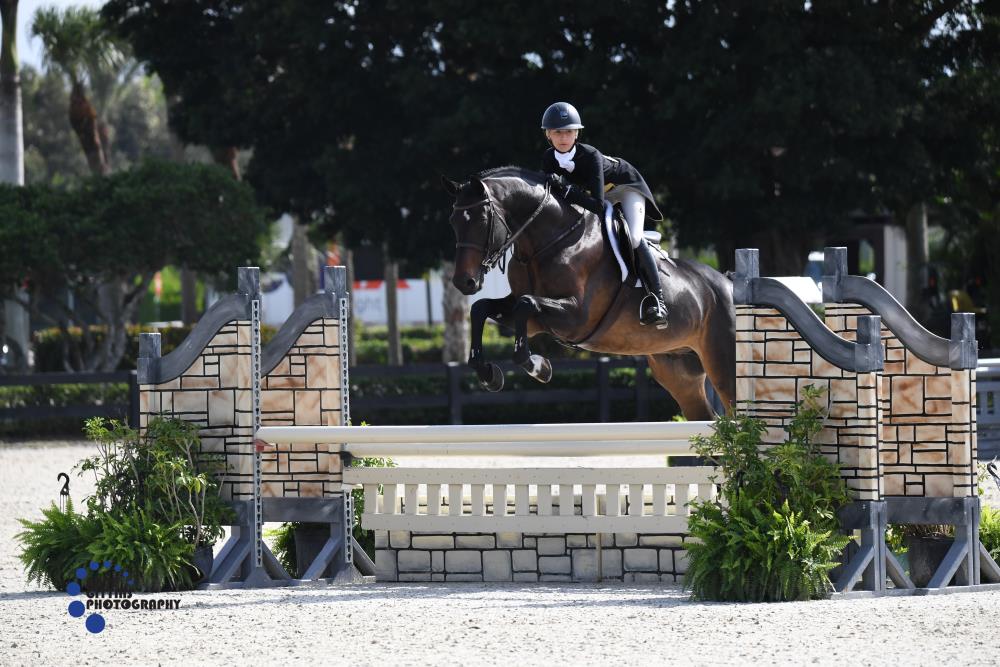 "For a hunt and go class, I think you have to focus a lot more because you only get one chance to go in the ring. Once you finish the hunt portion, you go right into the handy. Today, it started after the two-stride line with a tight turn back to a trot jump. I thought it was a great way to start the handy portion because it made you think about the turn you had to do," shared Cawley of the course designed. by Robert McGregor.
Taking second place in the class was horse-and-rider combination, Chaz Harpman of Wellington, FL, and Margot Hirsch's Evolutionary, with a cumulative score of 158.1. Angela Calicchio of Wellington, FL, rounded out the podium with City Walk, owned by Cali Horse Sales, LLC, with a total of 158 points.
For the full results of the $2,500 USHJA National Hunter Derby presented by Pilates Rocks, please click HERE.
The ESP Pre-Charity CSI3* show, the final installment of the ESP Fall Series, will continue through Sunday, November 20, culminating with the $137,000 Noltrex®Vet Grand Prix CSI3*. The 2022 ESP Holiday Series, presented by Arthramid®Vet, will begin on Thursday, December 1, and conclude on Sunday, December 31, ahead of the 2023 Winter Equestrian Festival. Over Thanksgiving weekend, the South Florida Hunter Jumper Association (SFHJA) will host the Annual SFHJA Charity Horse Show from November 23-27.
To view the prize list for the 2022 ESP Fall Series, please click HERE.
This press release content is published by ©Equestrian Sport Productions. This press release may only be repurposed by media outlets if appropriate credit is given in writing to the original publisher.
Photo credit ©Sportfot and ©Anne Gittins Photography. These photos may only be used once in relation to this press release with proper credit.