Wellington, FL –December 3, 2022 – The first "Saturday Night Lights" event of the season took place on Saturday evening with 41 elite contenders competing for the lion's share of the prize money in the $216,000 Holiday & Horses Grand Prix CSI4* presented by Arthramid®Vet. The highly anticipated class served as the feature event of the Holiday & Horses CSI4* show and of the ESP Holiday Series presented by Arthramid®Vet as a whole. Galloping to the top of the leaderboard, American rider Adrienne Sternlicht and Bennys Legacy edged out the competition and were ultimately crowned the winners under the lights of the International Arena.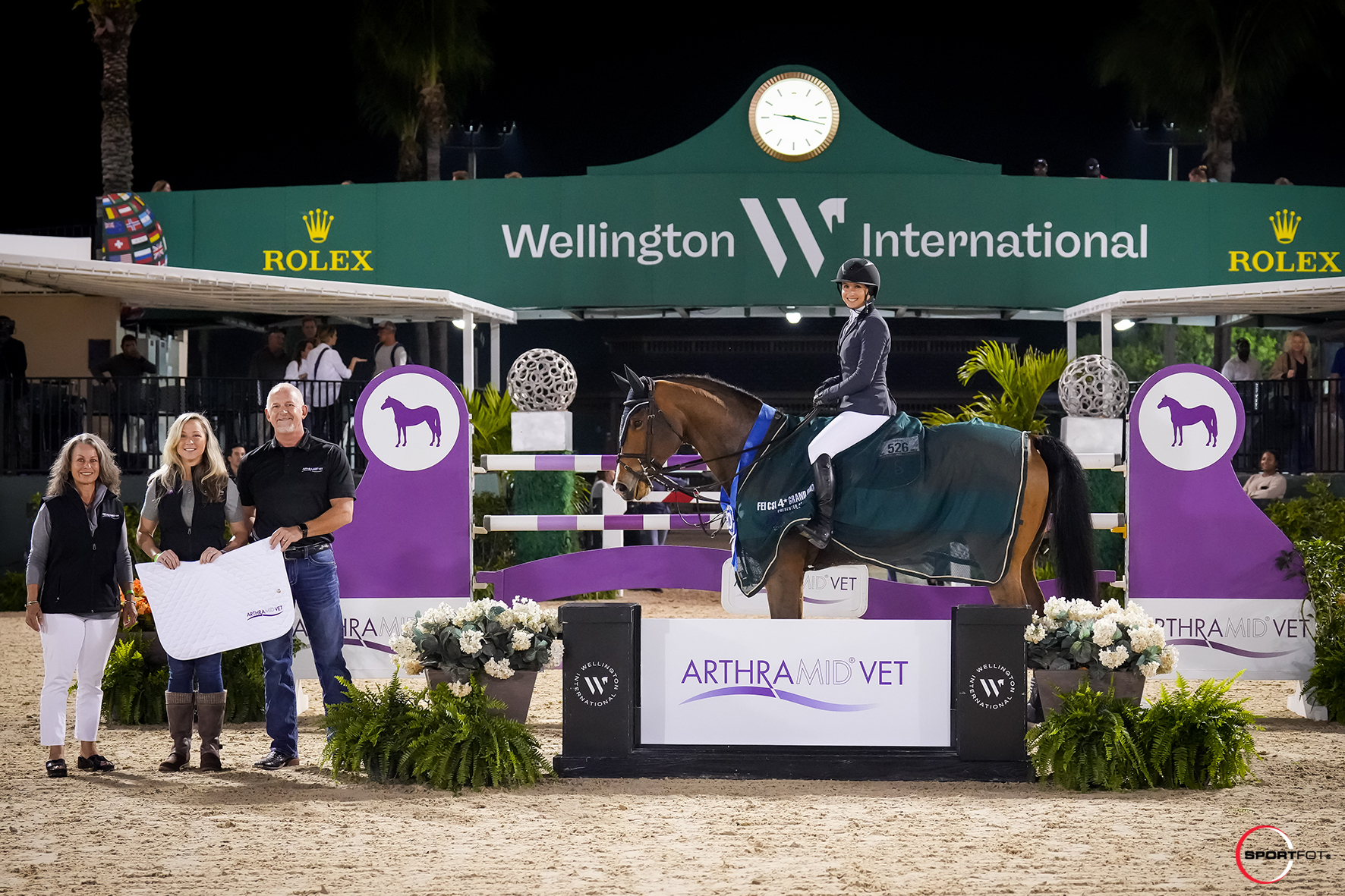 "I've had benny now for over three years, and he has exceeded all of my expectations, as well as everyone else's," shared Sternlicht of the 2008 Oldenburg gelding by Lupicor x Voltaire. "He's so reliable and we know each other so well. I'm really grateful to have him in my life; he's such a character, and everyone on my team completely adores him. Moving forward, I'll pick and choose and be very selective with him, so you won't see him out for at least two months." 
The class showcased an international field of riders representing 13 nations, including Mexico, the United States, the Dominican Republic, Ireland, Chile, Germany, Brazil, Great Britain, Australia, Colombia, Venezuela, Israel, and Lebanon. Anthony D'Ambrosio (USA) crafted a pattern of 13 fences in the first round, which ultimately saw seven pairs leave all the rails in their cups to qualify for the jump-off.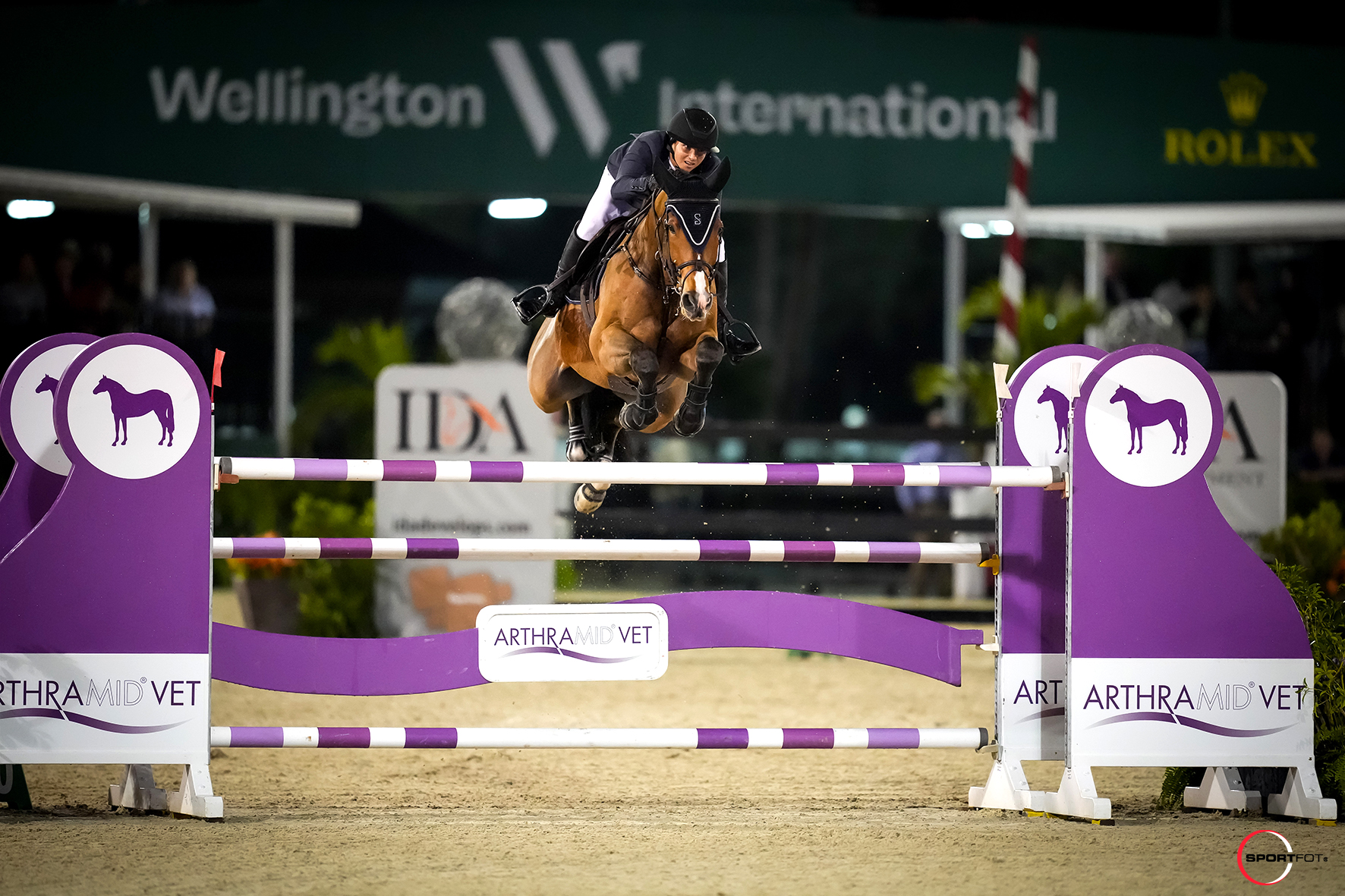 "I think Anthony always builds difficult tracks. You saw that the other day in the qualifier where there weren't many clear," Sternlicht commented. "Even though it's pre-circuit, you have quite a few top combinations here, and I thought the course was fair." She continued, "I think with the time allowed you had to be on it as a rider, which I'm always working on with this horse. I thought it was a good course with the right amount clear for this caliber of jumping." 
D'Ambrosio's shortened course posed several challenges for riders, and the first three pairs were unable to clear the course. Fourth to go in the jump-off, Brazil's Santiago Lambre was the first rider to navigate through the jump-off without lowering any fences. The lead changed hands again following Andrew Bourns' (IRL) speedy performance with Sea Topblue, but his lead was short lived as Sternlicht and Bennys Legacy, owned by Starlight Farms 1 LLC, shaved three-tenths of a second off his time, stopping the clock at 42.63 seconds. David Blake (IRL) was the final rider to test the short track, but lowered four fences, solidifying Sternlicht as the winner.  
Click to watch the winning jump-off ride!
With a double-clear time of 42.9 seconds, Bourns and Sea Topblue, the 2011 Irish Sport Horse gelding by Chacco-Blue x Unknown that's co-owned by Bourns and QBS Equestrian LLC claimed runner-up honors. Lambre earned the final podium placing with his fifteen-year-old Oldenburg stallion by Chacco-Blue x Cincaba Rouge, Chacco Blue II, with a double-clear time of 43.92 seconds. 
Sternlicht also commented on Wellington International's facility improvements, saying, "I think the place just looks a little bit more refined. It has always been an incredible facility, and it's really amazing the plans that they have for the future. The developments they've made are very horse-centric, and I think as athletes who love our equine athlete partners, that's most important for us, so it's great to see what they've done even within a short time." 
At the conclusion of the class, Sydney Shulman (ISR) was awarded the Michael Angelo Salon & Spa Style Award for her exemplary style of riding and sportsmanlike conduct in and out of the ring during the Holiday & Horses CSI4* competition.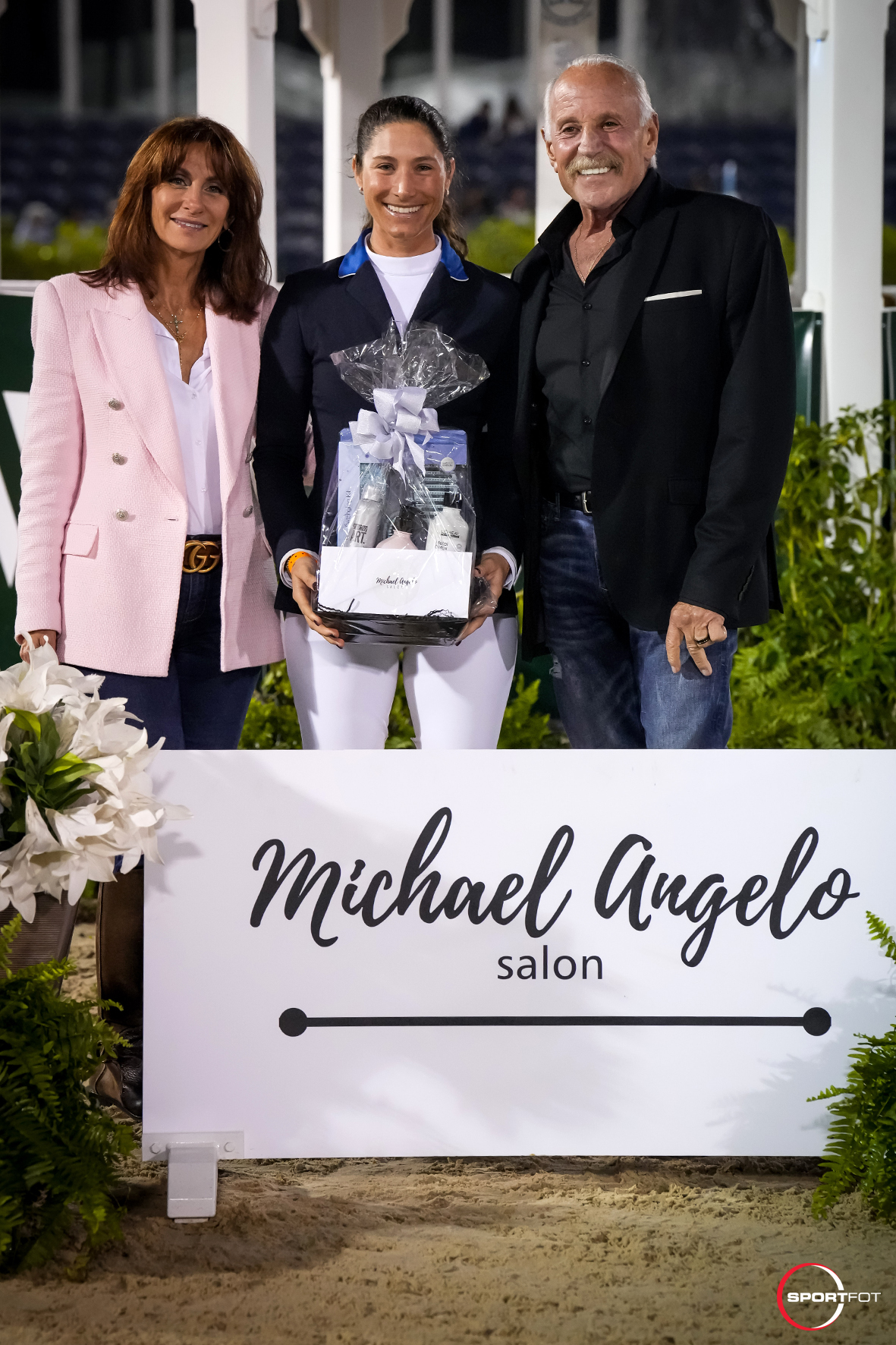 For the full results of the $216,000 Holiday & Horses Grand Prix CSI4* presented by Arthramid®Vet, please click HERE. 
Earlier on Saturday, 34 riders faced the opening track of the $5,000 Perfect Products 1.35m Open Stake. Taking the lead with a double clear performance, and a jump-off time of 31.125 seconds, was Molly Ashe Cawley (USA) and Loukas De La Noue, owned by Oakridge Farm. Following fractions of a second behind the leaders, Alannah Wagstaff (USA) and Great Thing, owned by Mill Pond Farm, Inc, claimed second place with a double-clear time of 31.993 seconds. Harry Allen (IRL) and Karlsson, owned by Ballywalter Stables, rounded out the podium with a fault-free jump-off performance in 32.861.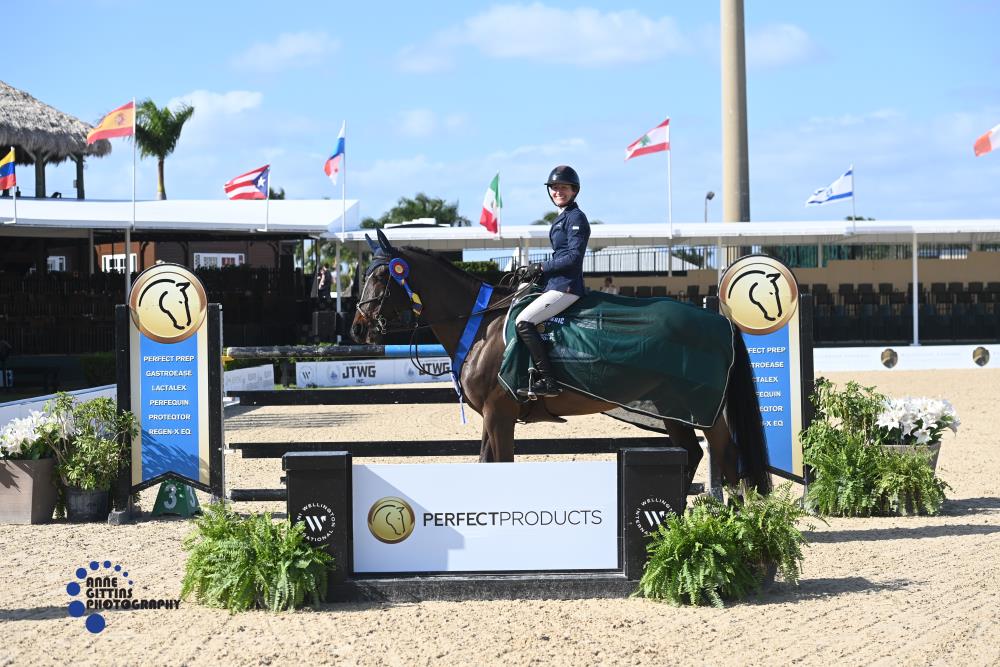 The final hunter derby of the week, the 1,000 2'6"/2'9" Hunter Derby, presented by Dever Golf Carts, took place on Saturday. Five horse-and-rider combinations tested the Classic and Handy round, with Danielle Menker and Diara Blue receiving the highest cumulative score to win the class. Menker of West Palm Beach, FL, the Sergent Stables, LLC entry, Diara Blue, earned a classic-round score of 83 and then improved to a score of 90 in the handy to secure their top placing by a wide margin. Cardinal, owned and ridden by Zara Humayun of Southwest Ranches, FL, claimed second place with a cumulative score of 142. Emily Simon of Norwell, MA, piloted her Wemchamps to a third-place finish with a total 126 points.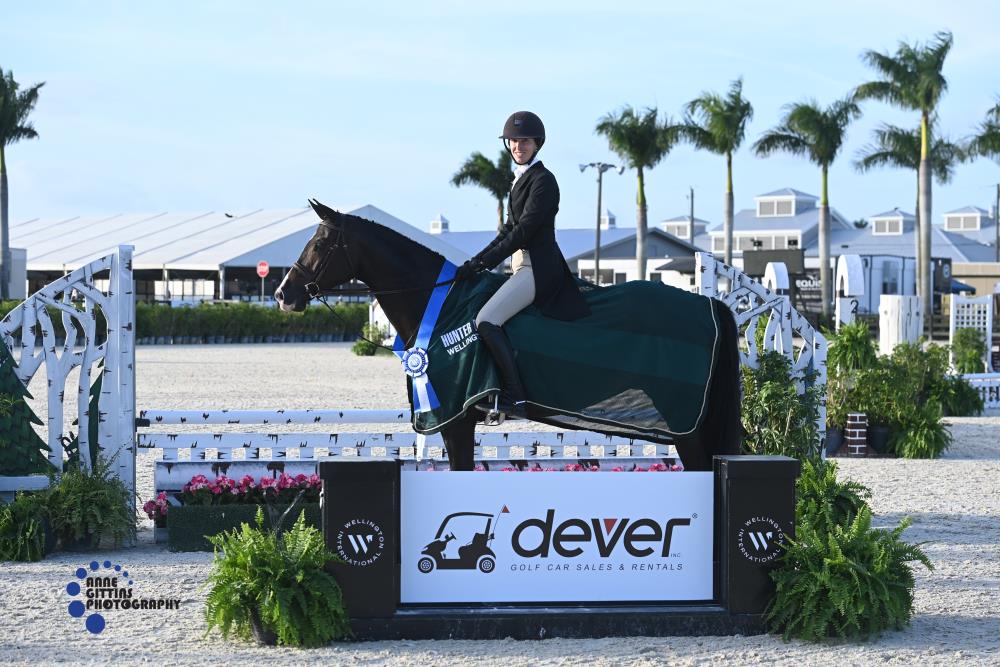 The ESP Holiday & Horses CSI4* will continue for just one more day. Following the conclusion of Sunday's competition, the ESP Holiday Series presented by Arthramid®Vet will feature six subsequent shows, culminating with the Holiday Finale from December 28-31, 2022, ahead of the 2023 Winter Equestrian Festival. The Holiday Festival II show will offer Grand Prix riders a final chance to compete under the lights ahead of the 2023 Winter Equestrian Festival with the $50,000 Zen Elite Grand Prix. 
To view the prize list for the 2022 ESP Holiday Series presented by Arthramid®Vet, please click HERE. 
This press release content is published by ©Equestrian Sport Productions. This press release may only be repurposed by media outlets if appropriate credit is given in writing to the original publisher. 
Photo credit ©Sportfot and ©Anne Gittins Photography. These photos may only be used once in relation to this press release with proper credit. 
Final Results: $216,000 Holiday & Horses Grand Prix CSI4* presented by Arthramid®Vet 
1. BENNY'S LEGACY: 2008 Oldenburg gelding by Lupicor x Voltaire
ADRIENNE STERNLICHT (USA), Starlight Farms 1 LLC: 0/0/42.63 
2.SEA TOPBLUE: 2011 ISH gelding by Chacco-blue
ANDREW BOURNS (IRL), Andrew Bourns: 0/0/42.9
3. CHACCO BLUE II: 2007 Oldenberg stallion by Chacco Blue x Cincaba Rouge
SANTIAGO LAMBRE (MEX), Santiago Lambre: 0/0/43.92 
4. COSMONA: 2011 Danish Warmblood mare by Cosmeo x Bogegardens Apollo
GIAVANNA RINALDI (USA), Anton Marano: 0/4/42.71 
5. GARANT: 2011 KWPN gelding by Warrant x Verdi TN
CALLIE SCHOTT (USA), Southern Arches LLC: 0/4/47.16 
6. KEOKI: 2009 Holsteiner gelding by Catoki x Cassini I
DAVID BLAKE (IRL), Pine Hollow Farm: 0/12/43.67 
7. LISSINO: 2011 Holsteiner stallion by Guardus Limbus x Lagumera B
DARRAGH KERRINS (IRL), Eve Jobs: 0/20/66.61 
8. VOLO'S DIAMOND: 2011 Oldenburg gelding by Stakkatol x Baloubet de Rouet
TANNER KOROTKIN (USA), Sandalwood Farms: 1/79.91 
9. AKUNA MATTATA: 2008 Holsteiner mare by Quinar x Landwind II
NICOLE SHAHINIAN-SIMPSON (USA), Silver Raven Farms: 4/73.63 
10. ARMIK: 2009 Oldenburg gelding by Armitage x Justinian xx
BRIAN COURNANE (USA), Brian Cournane and M/M Bob Stiller: 4/75.25