The 2022 ESP Holiday Series, presented by Arthramid®Vet, is right around the corner, and the Prize List is now available! Six events will make up the series, with competition taking place throughout the month of December. Things will commence on an exciting note with the Holiday & Horses show, which will feature CSI4* jumpers plus three derbies, and conclude on the final day of the year. Make sure to reserve your stalls as soon as possible, as these shows will be popular as horse-and-rider pairs prepare for the 2023 Winter Equestrian Festival!
If you're itching to get back under the lights, either as a competitor or spectator, we are excited to announce that the $216,000 Holiday & Horses Grand Prix CSI4* presented by Arthramid®Vet, will be held at 7 p.m. ET on Saturday, December 3! The gates will open at 6 p.m., and parking will be free! Additionally, there will be face painting for the kids, and the carousel will be open.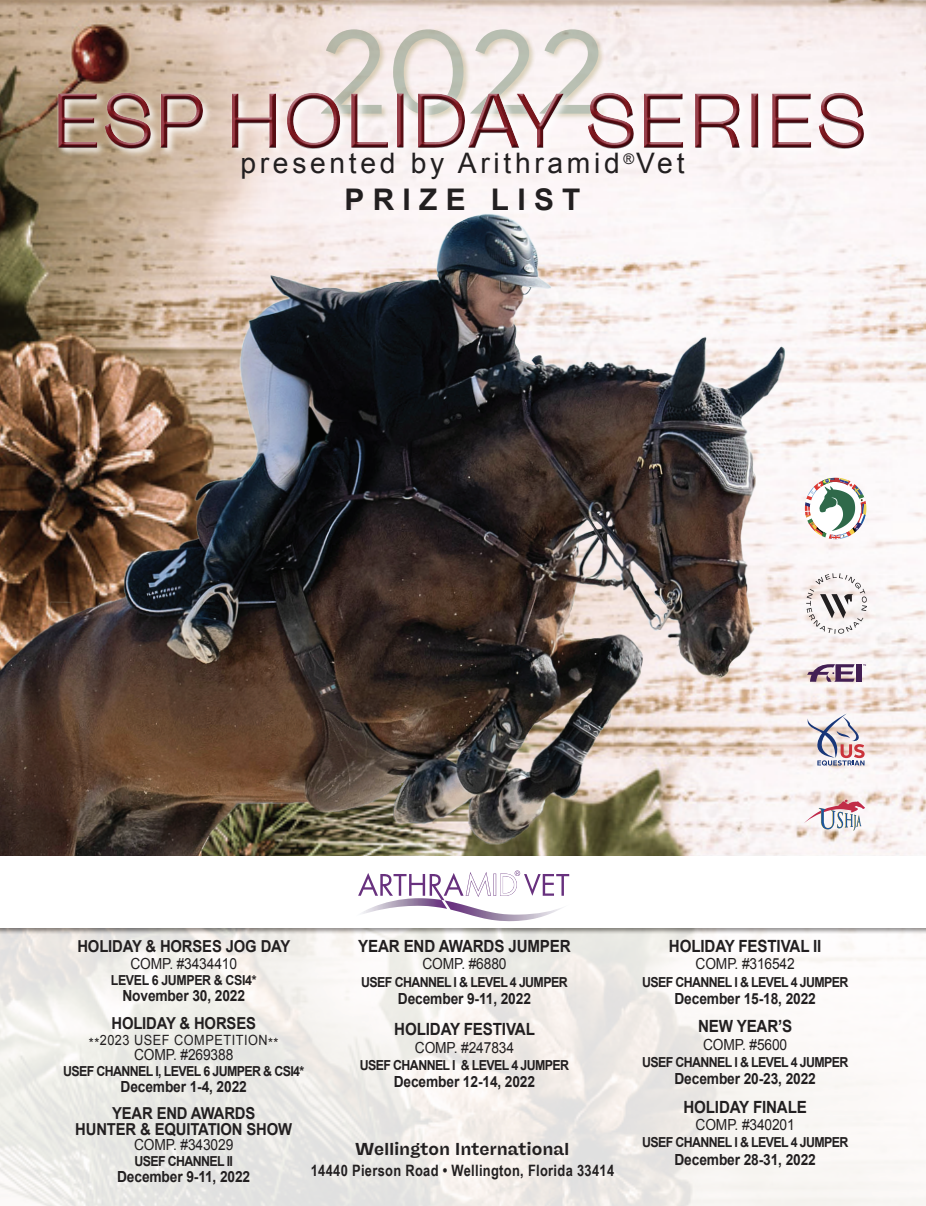 Each week of the Holiday Series will include jumper highlights such as a $25,000 National Grand Prix, a $10,000 Bainbridge Companies 1.40m Open Stake, a $5,000 1.35m Jumper Stake, and M&S and NAL Classics. For hunter riders, there will be a National Hunter Derby with prize money ranging from $2,500 to $10,000, a $1,000 2'6"/2'9" Hunter Derby presented by Score At The Top, as well as pony and hunter breeding classes.  
 The jewel of the Holiday Series, the Holiday & Horses show from December 1-4, will also feature a series of jumper and hunter highlights, such as:
 We look forward to having you join us for another exciting season of competition at Wellington International!